More info
CFX is a high performance crawler comes with the realistic chassis. It is 1:10 scale and applicable to the general ABS realistic body shelles. It has a great steering angle and the extreme smallest radius of gyration.
The transmission set of planetary-gear box is for the bigger deceleration ratio. And the operation is greater refined than usual transmission structures. The front motor structure as real car keeps the space for personal preferring interior settings. The steering servo at the vehicle axle helps for precise steering controls. The damper oil consistence and spring stiffness of the great hydraulic shock absorbers are adjustable for the best movements to the different car weights and terrains. CFX is the best choice which makes you have the best user experience.
 Attaching the extra MST designed water resistant receiver case and waterproof steering servo let car being able to drive on muddy road or wetland. Matching with the moderate hardness realistic all-terrain tire makes car having sufficient grip to any terrain.
Specifications
Wheelbase : 242/252/267 mm (adjustable
Width : 195 mm
Gear Ratio : 1:31.7  ~ 1:46.7
Tire width/diameter : 30x x 90 mm
Shaft driven full-time 4WD
Front and rear solid axle
Pinion gear module : M0.6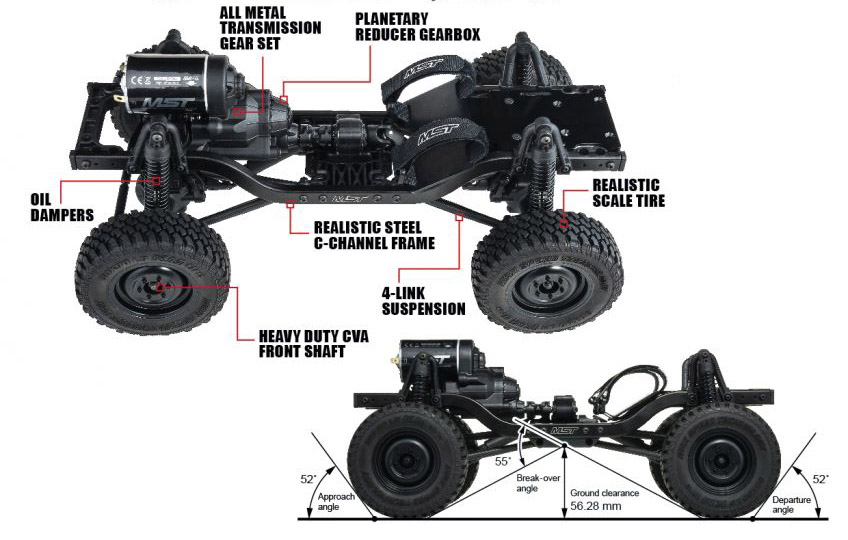 Data sheet
Manufacturer :

Max Speed Technology

Level of difficulty (1 to 3) :

2

Scale :

1/10

Type :

To build
Articles du blog en relation
CFX 1/10 4WD High Performance Crawler car kit
252,76 €
Viewed products
MCM undertakes
Deliver within 24/48h
To send your order within 24h (on working days) (according to the limit of the available stock) & to deliver within 24/48h.
MCM Crew
A team of specialists is at your disposal in your language (Fr, Du & En) from Tuesday till Saturday at +33 975184596 (No. non-premium rate) from 10:00 to 18:30 or by email.
A few figures
A store of 400m² located south of Brussels.
23 years of experience.
+ 110 000 products ref.
+ 35 500 products in stock.
+ 240 distributed brands.
MCM Group, the R/C specialist since 1996
MCM Racing, MCM Skyshop, MCM Slot, MCM Marine