More info
TELLO - Feel the fun
We set out to build the most fun drone ever, and we came up with Tello: an impressive little drone for kids and adults that's a blast to fly and helps users learn about drones with coding education. Get yourself a Tello to find out just how awesome flying can be!
New to Drones? No Problem.
Flying Tello couldn't be easier! Just pull out your phone to fly anytime or anywhere with intuitive controls.
Tello App
Getting started is extra easy with the Tello app's friendly UI. [1]
DJI Flight Tech
Industry-leading components to ensure stable flights.
Controller Compatibility
Precise control for unforgettable experiences.[2]
Smartphone VR Headset Compatibility
Fly with a breathtaking first-person view.
See the World from the Sky
Whether you're at a park, in the office, or hanging out at home, you can always take off and experience the world from exciting new perspectives. Tello has two antennas that make video transmission extra stable and a high-capacity battery that offers impressively long flights times.
Flight time : 13 minutes [3]
Image transmission distance : 100 m [4]
Quality : HD transmission 720p
2 antennas : Smart Switching
Fantastic Features for Endless Enjoyment
Thanks to all the tech that Tello's packing, like a flight controller powered by DJI, you can perform awesome tricks and with just a tap on screen. Flying has never been so fun and easy!
Throw & Go
Start flying by simply tossing Tello into the air.
8D Flips
Slide on screen to perform cool aerial stunts.
Bounce Mode
Tello flies up and down from your hand automatically.
Capture Great Pictures and Videos
Equipped with a high-quality image processor, Tello shoots incredible photos and videos. Even if you don't know how to fly, you can record pro-level videos with EZ Shots and share them on social media from your smartphone.
EZ Shots: Record coordinated short videos with Circle, 360, and Up & Away.
Electronic Image Stabilization: Capture smooth and stable aerial footage.
Intel Processor:
Professional processing yields high-quality footage.
5 MP Photos:
Preserve great memories with high-resolution pictures.
Relax! Tello's Super Safe.
Tello's lightweight, yet durable design combined with software and hardware protections make it so you can always fly with confidence.
Auto Takeoff/Landing
Lift off or land with a single tap.
Low Battery Protection
Alerts go off when your battery gets low.
Failsafe Protection
Land safely, even if you lose connection.161
Vision Positioning System
Smart tech that facilitates precise hovering.
Learn & Create
Play is an essential part of learning, so we made Tello programmable with Scratch, an MIT-developed coding system allows kids and teens to learn the basics of programming while having fun. If you're a more advanced user, you can also develop software applications for Tello using the Tello SDK.
Scratch
Simple, block-based visual programming.
SDK
Unlock new possibilities through software development.
DIY Accessories
Create customized Tello accessories.
Specifications
Weight: Approximately 80 g (Propellers and Battery Included)

Dimensions: 98×92.5×41 mm

Propeller: 3 inches

Built-in Functions: Range Finder, Barometer, LED, Vision System, 2.4 GHz 802.11n Wi-Fi, 720p Live View

Port: Micro USB Charging Port
Max Flight Distance: 100m

Max Speed: 8m/s

Max Flight Time: 13min

Max Flight Height: 30m
Detachable Battery: 1.1Ah/3.8V
Photo: 5MP (2592x1936)

FOV: 82.6°

Video: HD720P30

Format: JPG(Photo); MP4(Video)

EIS: Yes
Data sheet
Manufacturer :

DJI innovations

Level of difficulty (1 to 3) :

1

Type :

Bind 'n Fly

Drones & Multirotors :

Quadcopter

Categorieën van drones :

Free time drones
Composition Kit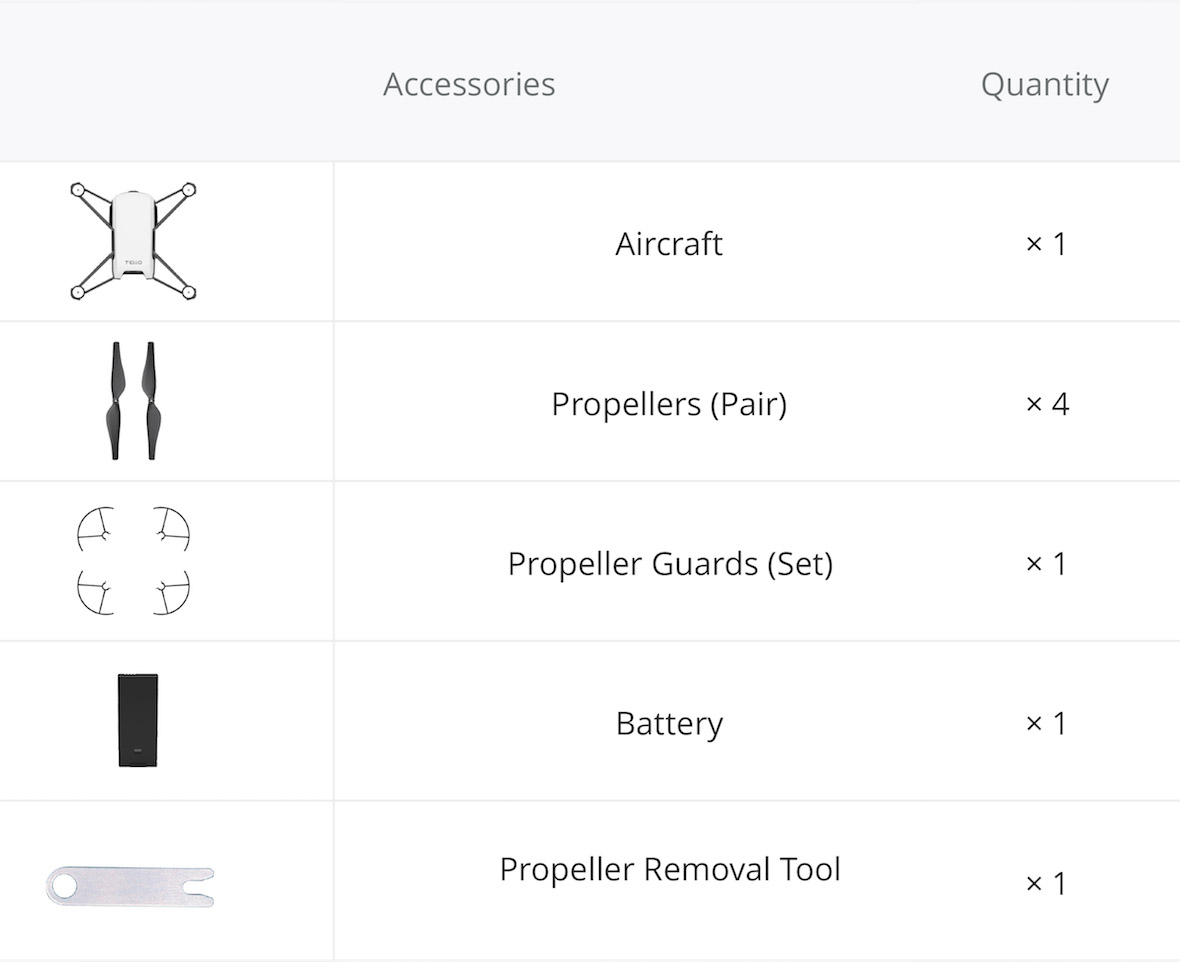 Ryze Tello - with DJI
109,00 €
Viewed products
MCM undertakes
Deliver within 24/48h
To send your order within 24h (on working days) (according to the limit of the available stock) & to deliver within 24/48h.
MCM Crew
A team of specialists is at your disposal in your language (Fr, Du & En) from Tuesday till Saturday at + 32 2 376 24 05 (No. non-premium rate) from 10:00 to 18:30 or by email.
A few figures
A store of 400m² located south of Brussels.
23 years of experience.
+ 110 000 products ref.
+ 35 500 products in stock.
+ 240 distributed brands.
MCM Group, the R/C specialist since 1996
MCM Racing, MCM Skyshop, MCM Slot, MCM Marine