More info

At a dire moment of WWII the U.S. Navy was desperate for a fighter capable of returning the wallop enemy aircraft were serving. Grumman Aircraft answered the call with not just a capable aircraft, but a match that could be produced quickly and in massive numbers. Pilots of the new F6F Hellcat returned fire and then some by downing more foes over the Pacific than any other aircraft. Today, the roar of a Hellcat is an air show treat that embodies the rewards freedom and hard work has to offer.
The Hangar 9® F6F Hellcat 15cc Sport Scale ARF is a warbird model designed for legendary fun. Lightweight laser-cut construction combines with quality craftsmanship to deliver a durable, all-wood airframe. The result is an outstanding appearance with great performance and friendly flying manners. Its genuine UltraCote® film covering is professionally finished with a look that's classic. Standard fixed landing gear feature stability and ruggedness for grass field operation. Plus, functional electric retracts are a drop-in option.
The basic build is simple so that your time at the bench can brief and enjoyable as possible. The hardware package is complete with everything needed for an internal-combustion or electric power installation. Choose a 15cc gas engine such as the easy-to-use Evolution® 15GX, and get long flights that cost only pennies per flight. Engineered into the fuselage is a large top-hatch that allows convenient access and quick electric flight battery changes. The fiberglass cowling provides enough space to conceal any of the recommended engine or motor recommendations. The two-piece, plug-in wing design includes tool-free assembly in addition to ease of transport and storage.
In the air, this Hellcat proves its heritage with maneuverability that's rock-solid, friendly stall manners and a feel at the controls that will have you wanting more. Whether this F6F Hellcat is your first warbird or a fun addition to a growing fleet, don't be surprised if a Hangar 9 ARF is all you'll ever want to fly.
Lightweight Construction
Laser-cut, lightweight balsa and plywood construction is utilized to bring the F6F Hellcat 15cc to life as a great looking model that's constructed to exacting standards and the needs of the sport pilot.
Ease of Assembly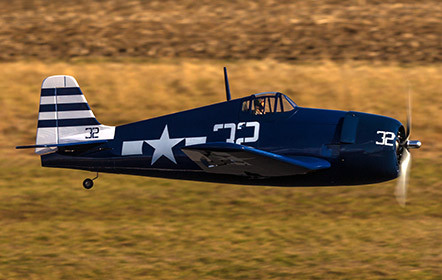 Light wing-loading and a semi-symmetrical airfoil offer flight performance that's comfortable at a wide range of speeds. Spektrum™ standard-size servos are the ideal choice for completing the assembly with performance that feels crisp.
Scale Detail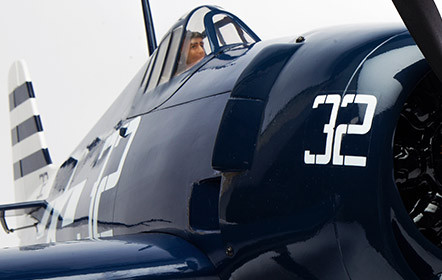 Beyond the factory applied genuine UltraCote® covering and the beautiful finish it provides, other iconic details include a dummy engine, simulated cowl flaps molded into the matching fiberglass cowl and a painted pilot figure, just to name a few. Plus, you can personalize this Hellcat easily by choosing one of the three nose-art decals provided.
Optional Retracts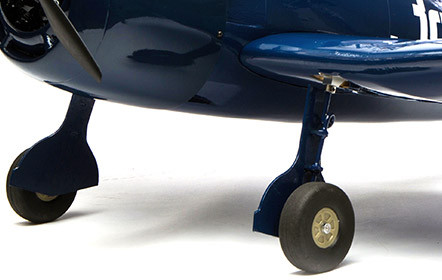 Rugged fixed landing gear allows you to keep the project simple. Or, you can take the scale experience to the next level with the installation of optional E-flite® 60–120, 95° Electric Rotating Retracts (EFLG520, sold separately). They feature all-metal durability, a great fit and only require an open channel on your receiver to operate.
Power It the Way You Want It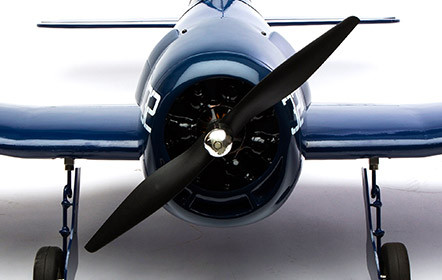 The F6F Hellcat 15cc Sport Scale ARF is designed so that the Evolution® 15GX, 15cc gas engine, Saito FG-21B gas four-stroke or the E-flite® electric Power 60B brushless outrunner bolt straight in. All hardware for each power system option is included along with an electric motor mount so you can install the assembly right away and get into the air faster. The Hangar 9 F6F Hellcat 15cc ARF is also the perfect replacement airframe for the stock motor, ESC, and recommended flight battery used in the giant E-flite® Carbon-Z® T-28.

Key features
Quality construction that's lightweight, with laser-cut balsa and plywood
Factory-applied, genuine Hangar 9® UltraCote® film covering
Realistic markings and graphics, plus three nose-art decal choices
Large top-hatch makes access to electronics and batteries convenient
Two-piece, plug-in wing with anodized-aluminum tube support
Tool-free field assembly for easy transport and storage
Rugged fixed landing gear and four-inch tires included
Retract ready—optional E-flite® electric retracts drop right in
Painted fiberglass cowl with simulated engine detail
Gear doors and cockpit details increase realistic appeal
Easy-to-install gas/petrol engine and electric power mounts included
Pre-hinged control surfaces help you save on build time
Complete hardware kit included
Specifications
| | |
| --- | --- |
| Approximate Assembly Time: | 15-20 Hours |
| Completion Level: | Almost Ready-to-Fly |
| Engine Size: | 15cc 2-stroke to 21cc 4-stroke gas/petrol (Sold Separately) |
| Flaps: | No |
| Flying Weight: | 9.0â10.0 lb (4.1â4.5 kg) |
| Length: | 47.8 in (1.21 m) |
| Minimum Required Radio: | 4+ channel, 5+ channel for the retract option (Sold Separately) |
| Minimum Speed Control: | 80A (Sold Separately) |
| Motor Size: | 1800W Outrunner (Sold Separately) |
| Recommended Motor Battery: | 6S 5000mAh-7000Mah (Sold Separately) |
| Retracts: | Optional |
| Wing Area: | 698 sq in (45.1 sq dm) |
| Wingspan: | 64.0 in (1.63 m) |
Data sheet
Manufacturer :

Hangar 9

Matter :

Wood & Fibre

Kits :

Warbirds

Type :

Almost ready to Fly

Drive :

Nitro
What you need to complete
15cc 2-stroke to 21cc 4-stroke gas/petrol engine or equivalent electric motor system
Full-range, 4+ channel transmitter and receiver (5+ for the retract option)
(5) Standard-size servos (4 for the electric power option)
(2) Batteries for receiver and engine ignition (for the gas power option)
Propeller
Composition Kit
(1) The Hangar 9® F6F Hellcat 15cc Sport Scale ARF
(1) User Manual
F6F Hellcat 15cc ARF
389,99 €
Viewed products
MCM undertakes
Deliver within 24/48h
To send your order within 24h (on working days) (according to the limit of the available stock) & to deliver within 24/48h.
MCM Crew
A team of specialists is at your disposal in your language (Fr, Du & En) from Tuesday till Saturday at +33 975184596 (No. non-premium rate) from 10:00 to 18:30 or by email.
A few figures
A store of 400m² located south of Brussels open from tuesday till friday from 12.30 till 18.30 & saturday from 10.00 till 18.30.
25 years of experience.
+ 110 000 products ref.
+ 35 500 products in stock.
+ 240 distributed brands.
MCM Group, the R/C specialist since 1996
MCM Racing, MCM Skyshop, MCM Slot, MCM Marine