More info
Commanding any surface is simple when you pilot the SENTON 6S. Battle-hardened to withstand a diverse range of environments, this all-terrain beast will take your breath away, time-after-time.
The head-turning pre-painted and decaled polycarbonate bodyshell will make you stand out from the crowd from the first time you launch the SENTON 6S into action.
Designed FAST. At the heart of the SENTON is the ARRMA 6S 185 BLX brushless system that provides brutal power and blistering top speed.
The SENTON 6S BLX looks even better up-close and personal with great attention to detail on the highly detailed decals and body aesthetics.
Chucking dirt and mud has never been easier. The SENTON 6S is also ready to attack the local parking lot, grass field, beach or gravel pit. You choose the surface, and let the SENTON 6S make the crazy action a reality.
Designed TOUGH. With a 3mm thick anodized aluminum chassis, three full-metal geared differentials, strong suspension components and steel driveshafts throughout, the SENTON 6S BLX is ready for whatever you can throw it at.
The equipped rear polycarbonate wing and aero slotted bodyshell will keep your SENTON 6S stable and planted, even when you choose to attack fast asphalt speed runs. Just pull the trigger and hold on tight as you unleash the on-board 6S BLX brushless power.
Don't just bash, BLAST. With seemingly endless power on tap, and a superbly set-up chassis, you are assured to have a blast with the SENTON 6S BLX.
Secure battery mount system holds your batteries in TIGHT.


Two hook-and-loop straps, fitted perpendicular to each other, provide a secure fit for your batteries. The secure fit means batteries can be safely mounted side-by-side, or one on top of the other.

The battery tray incorporates a balance plug stowage area. Battery balance plugs are held in place with a rubber strap, keeping them away from rotating parts.

Wire routing clips fit to the long hook-and-loop strap and keep battery-to-ESC wires away from rotating parts of the model. The front upper brace of the battery adjusts itself to the height of your battery packs.
Durable composite and steel is combined with premium anodized aluminum, for perfectly balanced strength and performance. Durable multi-spoke wheels and aggressive dBoots all-terrain tires are ready for any environment.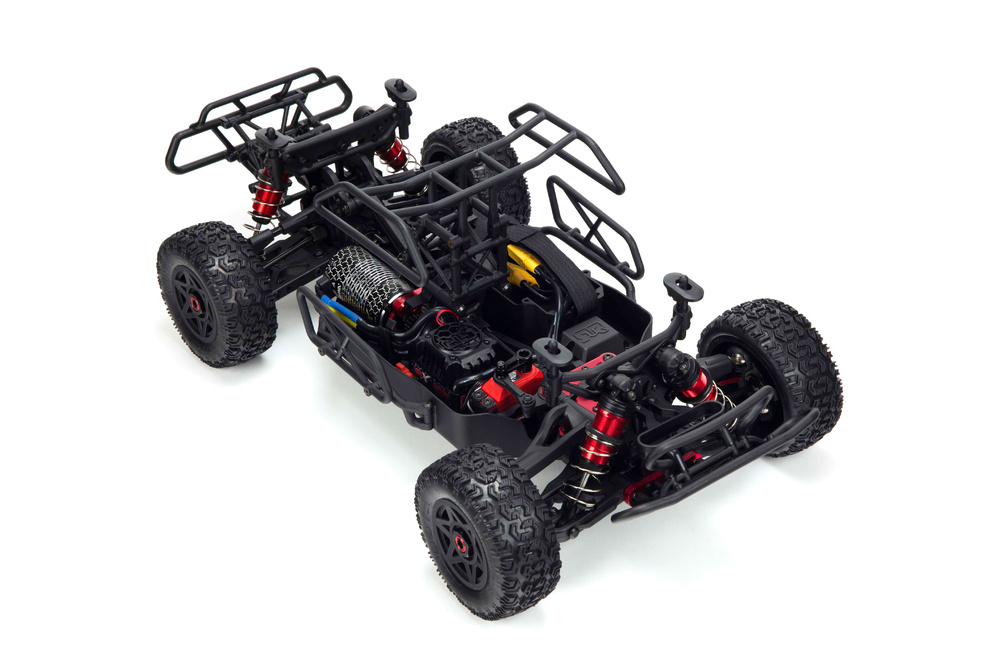 Soaking-up a wide range of surfaces is made easy with the red anodized adjustable shocks. Factory set to handle everything from fast speed runs to snow and mud chucking, no matter where you choose to bash, these high-quality units will keep you stable and in-control.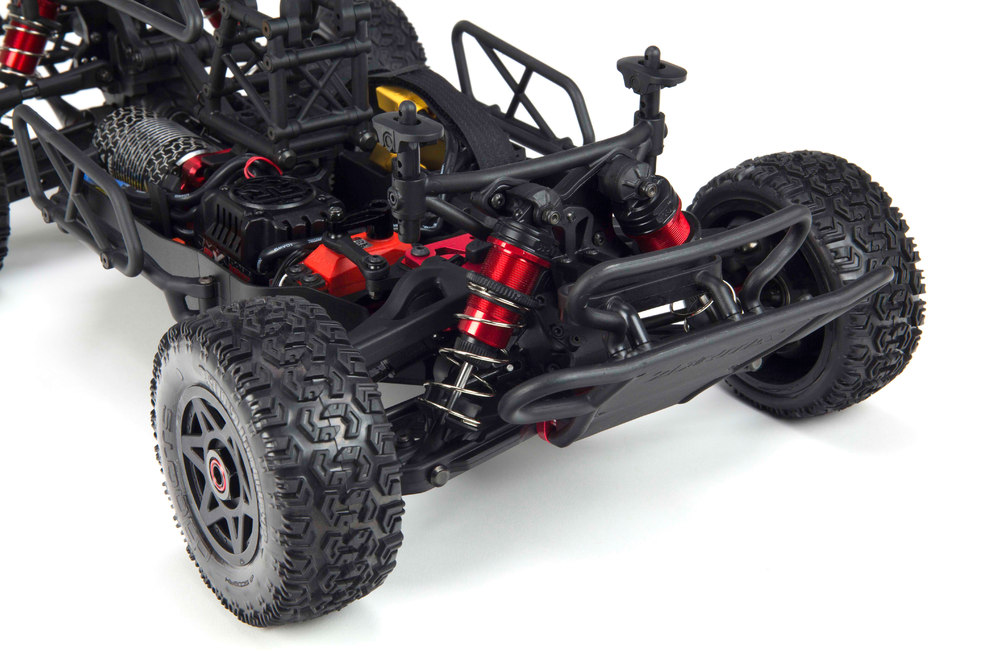 Shock cap protectors keep the shock caps looking good. They also protect the body from coming into contact with the shock caps and shock mounting hardware, prolonging the life of the body.

The shocks on the SENTON 6S BLX now feature high-quality moulded caps and preload adjusters.
Designed to provide an exhilarating driving experience, you can choose to run 4S or 6S LiPo power to access awesome performance and consistent handling. From the mud drenched fields to the dry and dusty sand dunes, the SENTON 6S is primed for bashing supremacy.
Updated front and rear composite chassis braces on the SENTON 6S offer increased strength and durability.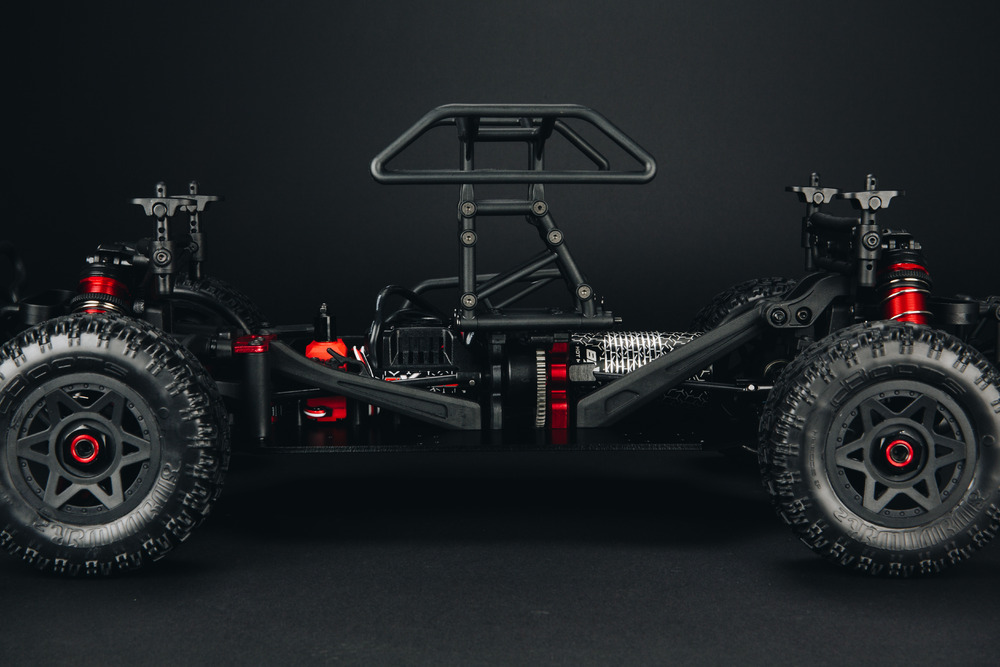 The radio box protects the receiver from dirt and water ingress. ESC and servo wires pass through a foam seal that slides into the side of the radio box, meaning that these wires stay in place when the lid is removed.

There is a continuous rubber seal between the radio box base and the lid, protecting the receiver from the elements.

The radio box also has a large internal volume, allowing more room to fit aftermarket receivers.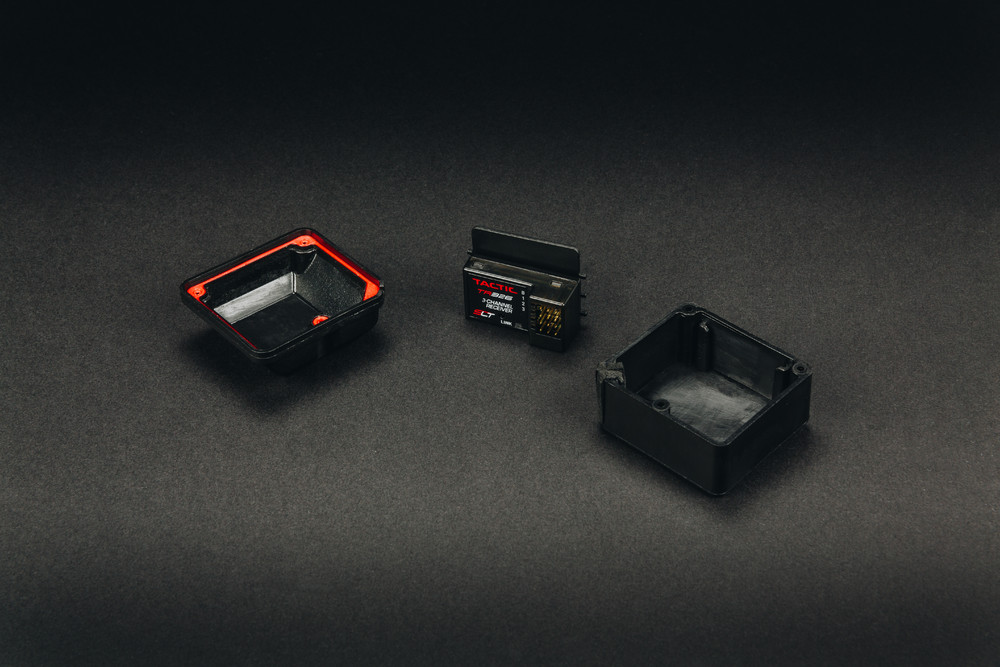 Ready for anything you encounter, the SENTON 6S is equipped with strong and durable black multi-spoke wheels. Mounted with dBoots tires and crowned with cool red anodized aluminum wheel nuts, you can hit the bashing spot and leave your mark with this action-ready combination.
Heavy-duty 4mm steel shock shafts take big-hits in their stride and offer amazing durability.
A purposeful servo mount increases stiffness in the mounting of the servo, sharpening steering feel.
Beefy front and rear gearboxes are strategically strengthened in key areas for high durability.
Equipped with three metal-geared differential units, as standard, ARRMA understand the importance of durability and control. Easy-access front and rear diff units will allow you to carry-out maintenance in minutes. This means you spend less time wrenching, so you can have more time bashing.
The included BLX185 150A waterproof ESC provides consistent power control and is 6S LiPo ready.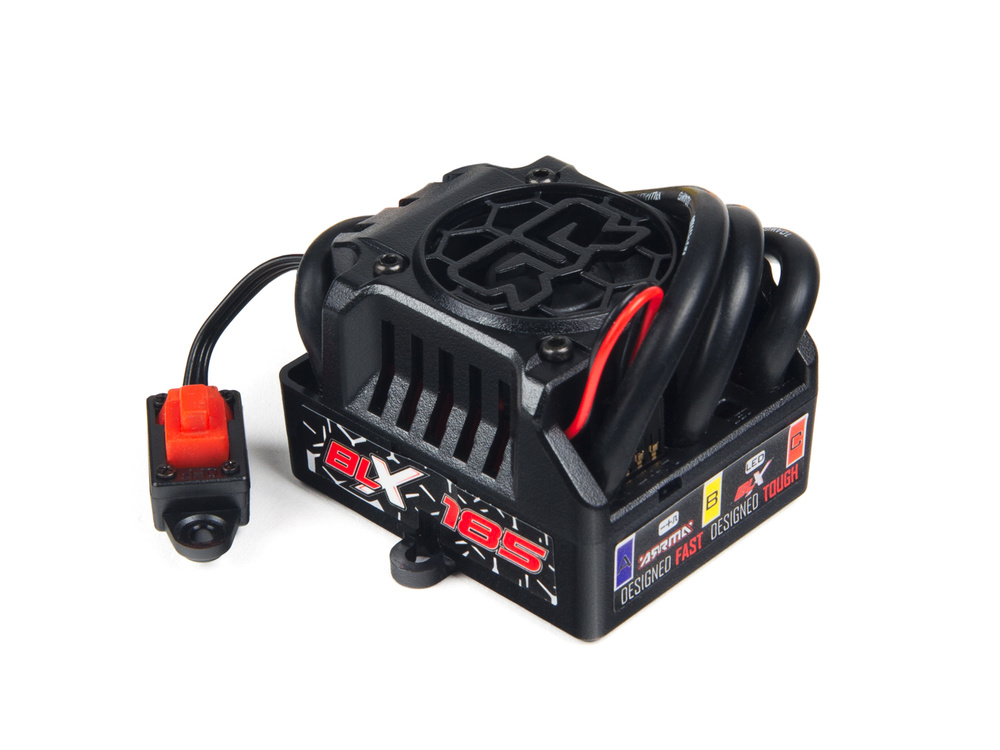 Fitted with reliable XT90 connectors and sporting a built-in cooling fan for reduced heat during intense driving action, the BLX185 ESC has over-voltage protection, and a two-stage LiPo cut off for added cell management.

The fitted 10AWG high-quality wires and 6V BEC unit are combined with a three-mode throttle profile (FWD/REVERSE/BRAKE) to provide the ultimate driving experience.

Recommended battery specification: 5000mAh - 35C minimum - per battery pack
The BLX 2050kV brushless motor provides speed and torque and is perfectly balanced for use with our BLX185 ESC unit.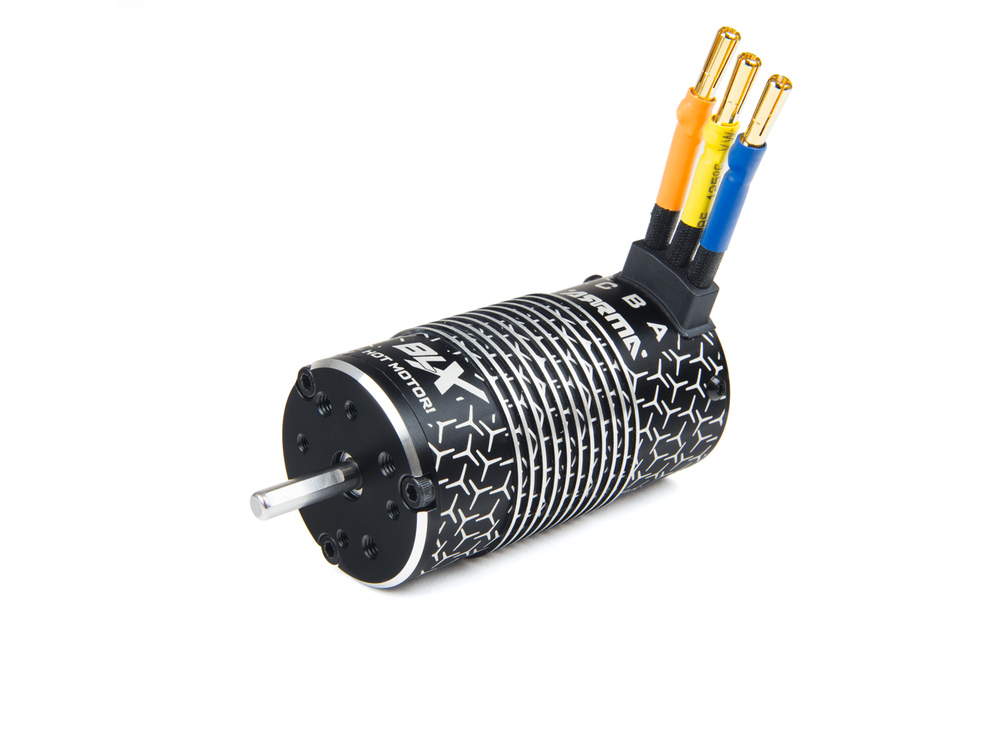 A beautifully etched black aluminum motor can provides a premium look, whilst a four-pole internal configuration keeps the power supply smooth and consistent.

Gold bullet connectors allow fast and easy wire removal when you need to clean your vehicle.

The aluminum motor can provides increased heat dissipation from the finned body section.

A dual motor shaft flat section provides safe and secure pinion gear fit.
The ADS-15M steering servo benefits from metal gears and is fully waterproof.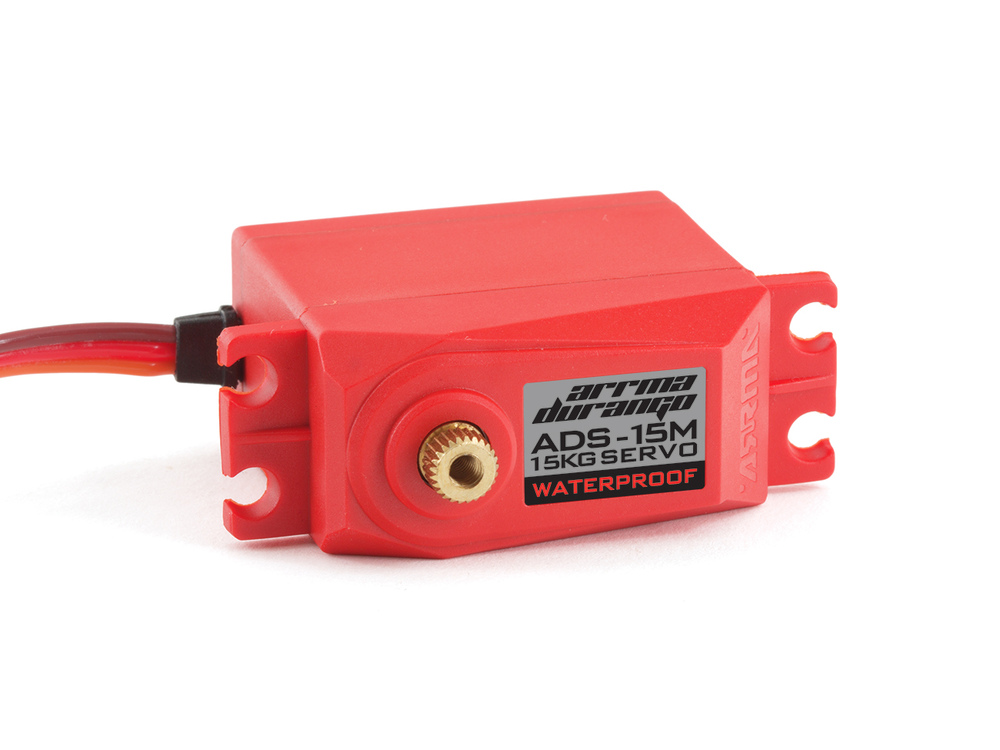 To provide fast and consistent steering response, the ADS-15M has 208oz-inch (15kg-cm) of torque at 7.2v.

At 1.6 x 0.8 x 1.5" (41 x 20 x 38mm) in size, this high-power steering servo is compact and highly capable.
The TTX300 radio system offers fast and consistent control for your ARRMA vehicle. Using 2.4Ghz technology, your ARRMA vehicle is controlled by a wheel and trigger style radio transmitter.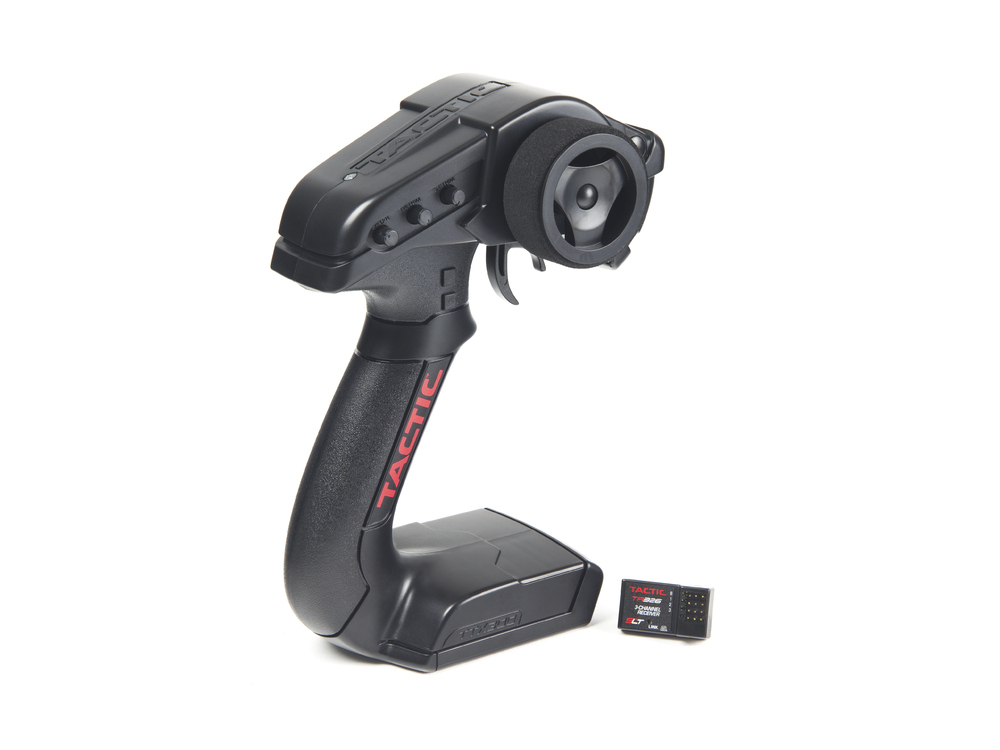 Ideal for new RC users and experienced bashing fans alike. Adjustable steering and throttle trim will allow you to easily tune your control experience to suit your individual needs.
Ready to run out of the box. The SENTON 6S BLX is supplied fully built, with high quality electronics pre-installed.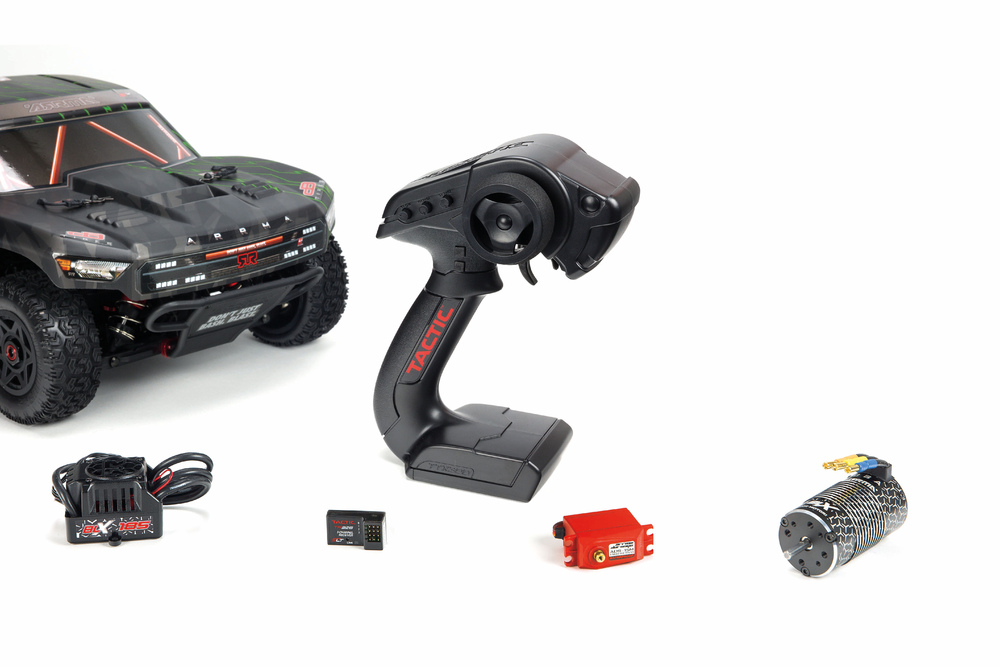 Just add batteries, a charger and a LiPo charging bag and you are ready to blast to 60+mph speeds.
A high-quality 2.4Ghz radio transmitter and receiver, wheels and high-performance dBoots tires, waterproof ESC and steering servo are all included, as standard. All you will need is a sense of adventure and an appetite for fun.

Please note: Some ARRMA vehicles are not supplied with a battery or wall charger - Check the Tech Spec button on the vehicle's main kit page for more information.
Designed to be FAST, designed to be TOUGH. ARRMA want you to progress your RC experience by accessing more power, resulting in faster performance.

With an easy-to-access upgrade path, you can increase the inbuilt potential of your ARRMA vehicle as your skills develop; increasing your performance has never been easier. Follow our dedicated Speed Card information to better understand how you can keep getting faster.
Fully waterproof ESC, steering servo and radio receiver box are standard. This means that hitting the roughest terrains, in the most extreme conditions, will be no problem. Rain, mud, snow, dirt and anything else you want to bash your way through.

ARRMA waterproof electronics are ready for action.
Learn the path to ultimate BLX brushless performance. Push harder and blast beyond previous limits.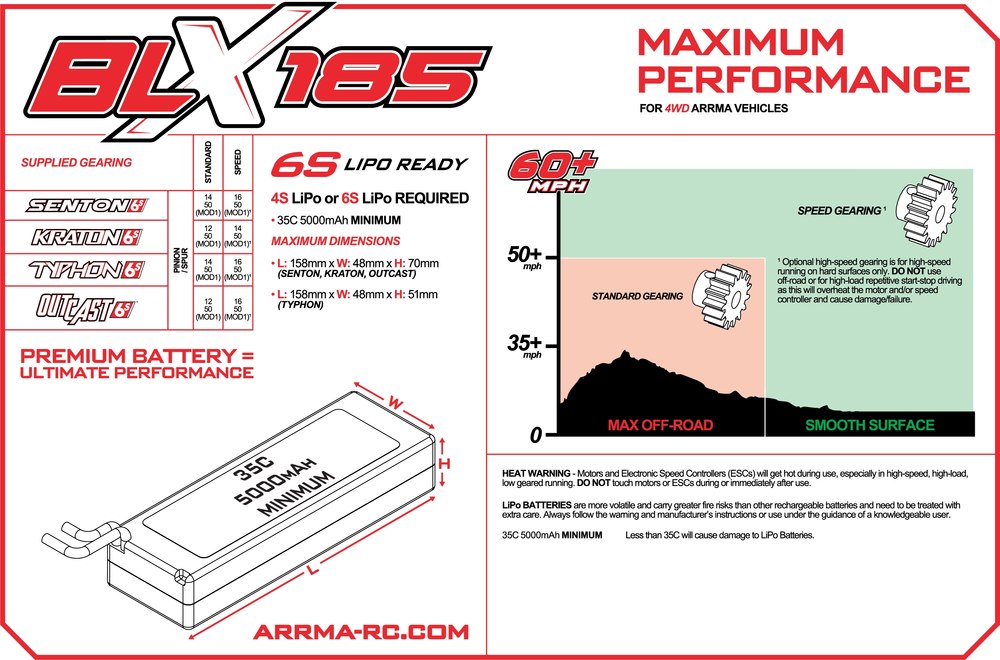 Specifications
SCALE : 1/10
MAX SPEED POSSIBLE : 60+

Km/H

/ 96+

km/h

POWER TYPE : Brushless
BUILD STATUS : RTR
BUILD CONFIGURATION OPTIONS : Mid Motor
DRIVE TYPE : 4WD
VEHICLE TYPE : Short Course
SURFACE : Off-road
LENGTH : 550

mm

/ 21.65

"

WHEELBASE : 328

mm

/ 12.91

"

RIDE HEIGHT : 27

mm

/ 1.06

"

FRONT WIDTH : 295

mm

/ 11.61

"

REAR WIDTH : 294

mm

/ 11.57

"

HEIGHT : 195

mm

/ 7.68

"

LOCKING DIFFS : No
NUMBER OF DIFFERENTIALS : 3
WEIGHT (NO BATTERY) : 3.8

kg

/ 8

lbs

6

oz

BATTERY MAX DIMENSIONS : 158x48x70

mm

/ 6.22x1.89x2.76

"
Data sheet
Manufacturer :

Arrma

Level of difficulty (1 to 3) :

2

Scale :

1/8

Type :

Ready to Run

Drive :

Electric Brushless
What you need to complete
Two 2-3S 5000mAh 35C minimum LiPo with XT90 connector, Onyx 11.1V 5000mAh 35C batteries recommended, or one or one 4-6S LiPo battery
Suitable Charger
LiPo charge bag, maintenance and trail equipment
Composition Kit
(1) RTR Senton 6S BLX Short Course Truck with 2.4GHz Radio, Brushless Motor, ESC, and Painted Body
(1) User Manual
AR102673 2018 1/10 Senton 1/10 BLX 4WD SC Blk/Grn
529,99 €
Viewed products
MCM undertakes
Deliver within 24/48h
To send your order within 24h (on working days) (according to the limit of the available stock) & to deliver within 24/48h.
MCM Crew
A team of specialists is at your disposal in your language (Fr, Du & En) from Tuesday till Saturday at + 32 2 376 24 05 (No. non-premium rate) from 10:00 to 18:30 or by email.
A few figures
A store of 400m² located south of Brussels.
23 years of experience.
+ 110 000 products ref.
+ 35 500 products in stock.
+ 240 distributed brands.
MCM Group, the R/C specialist since 1996
MCM Racing, MCM Skyshop, MCM Slot, MCM Marine