More info
Reach extremes of 70+ mph with the ready-to-run ARRMA® TYPHON™ 6S BLX 4WD 1/8 scale speed buggy. Designed fast, designed tough, and outfitted with the 2.4GHz Spektrum™ STX2® radio system, it's all set for fast action on all terrain, in all conditions!
To give intermediate-level bashers such incredible speed, ARRMA® equips this new TYPHON™ speed buggy with powerful, 6S-capable brushless electronics. Its 2050Kv brushless motor is paired with the BLX185 ESC, featuring IC5™ connectors and compatible with standard EC5™ connectors. The waterproof electronics ably support all-weather bashing. Add your favorite 4S or 6S LiPo battery and watch this buggy smash your bashing speed expectations, especially while running with the optional recommended pinion gear.
New, low-drag buggy wheels arrive outfitted with super-aggressive, multi-surface DBoots® KATAR B tires. A new, low-drag wing helps keep the vehicle grounded. Both contribute to confident control and responsive handling at thrilling high speeds.
The TYPHON™ 6S BLX 4WD speed buggy blasts over dirt, asphalt, grass - all terrain and all conditions - with adjustable oil-filled shocks soaking up the bumps. The shocks are mounted on black-anodized aluminum towers and include aluminum shock caps and protectors to maintain their super-smooth damping.
For the durability needed to support such intense brushless performance, ARRMA® uses a strong anodized aluminum chassis as its foundation. Front and rear composite chassis braces and composite chassis side pods lend more strength. All-metal diff outdrives and gearbox internals plus durable steel driveshafts all contribute to a reliable, heavy-duty drivetrain that holds up to extreme bashing. A new "never loose" aluminum steering servo saver and "never pop" ball ends supply more precision, reliability and confidence.
ARRMA® holds your maintenance downtime to the minimum with an efficient, driver-friendly design. A sliding mount gives you quick, hassle-free access to the motor. The center diff is easy to reach and can be removed by taking out just four bolts. Topping it all off is a sleek buggy body with streamlined good looks, featuring a matte paint scheme in black and red with forged composite detail.
The ready-to-run TYPHON™ 6S BLX 4WD includes the new Spektrum™ 2.4GHz STX2® transmitter and comes with its SRX200 receiver and ADS-15M metal-geared servo already factory-installed. The only required items are a 4S or 6S LiPo battery, compatible charger, safe charging bag, and four AA transmitter batteries.
PREMIUM LOOKS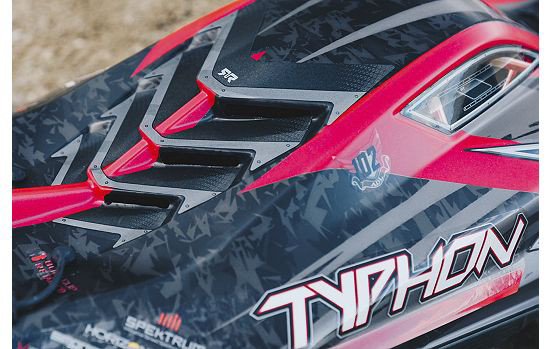 New body includes forged composite details and a matte painted finish.
TAKES THE ROUGH WITH THE TUMBLE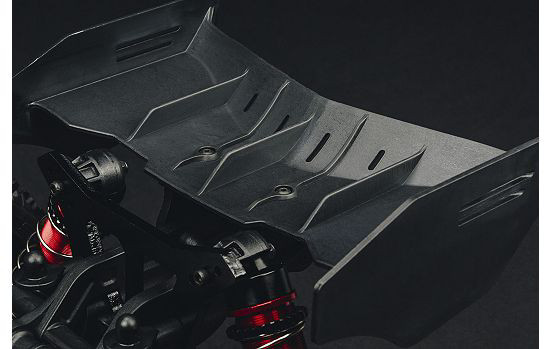 New high-speed, low-drag wing includes strengthened wing mounts to take the hits and keep going.
READY FOR ANYTHING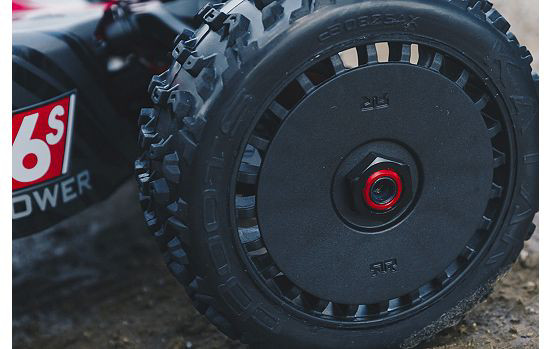 High-speed wheels and multi-terrain DBoots® Katar B tires for thrilling speed, agressive driving, and fun in all conditions.
SLIP & SLIDE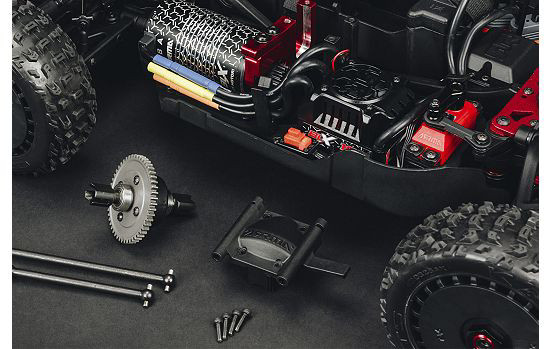 Sliding motor mount for easy meshing and removal, and easy-access 4-bolt center diff
TIGHT & TRUE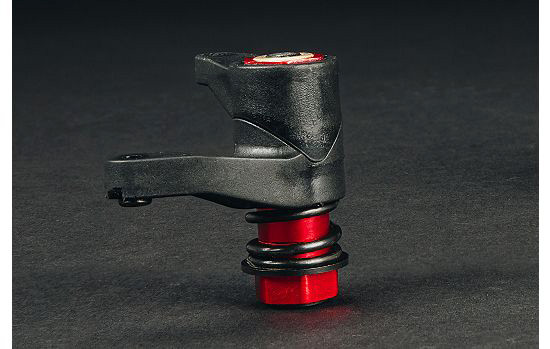 New servo saver design that will never loosen, for maximum servo protection.
CAPTIVATING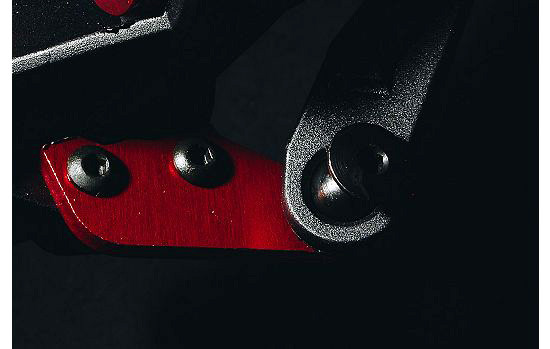 Captured steering ball ends that will never pop off
SIGNED, SEALED, & DELIVERED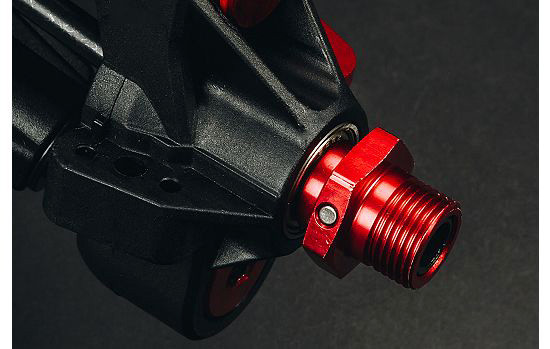 New, updated hubs and hub nut o-rings that will never come loose
ANODIZED ALUMINUM SHOCK CAPS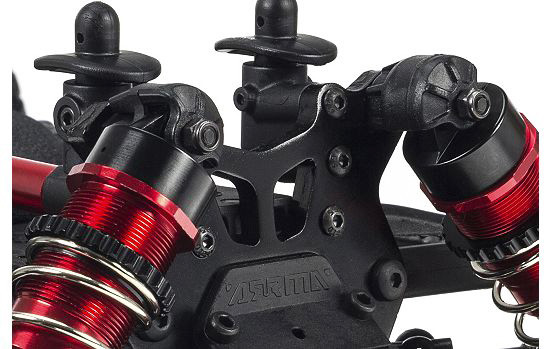 Anodized aluminum shock absorbers feature aluminum caps and adjustment collars and composite shock cap protectors
HEAVY-DUTY SHOCK DESIGN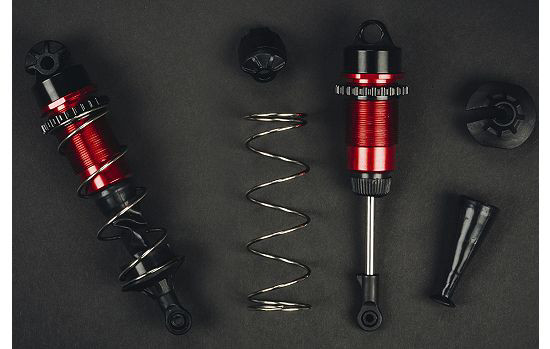 Heavy duty red anodized aluminum shocks with 4mm shock shafts
VERTICALLY ADJUSTABLE END-COVER
Ensures your batteries are firmly secured.
BLX185 ESC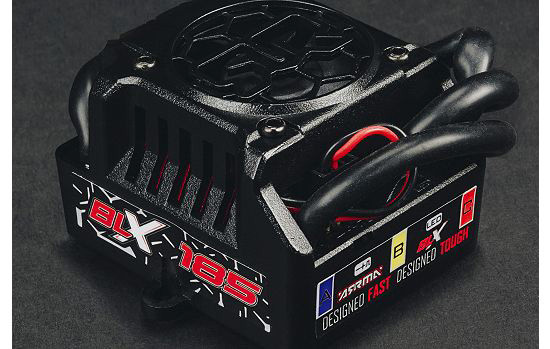 Waterproof and dustproof design *
150A, 6S LiPo ready (3S, 4S and 6S LiPo compatible)
Fitted with reliable IC5™ connectors (EC5™ compatible)
Integrated fan for reduced heat during extreme running
High quality 10awg wires
Low voltage cut off and thermal overload protection
User programmable punch and brake settings
Capable of 70+ mph (113+ km/h) speeds **
* For details on waterproof standards, please refer to the product instruction manuals.
** Speed achievable in optimum conditions on 6S LiPo with optional pinion gear.
BLX4074 2050Kv BRUSHLESS MOTOR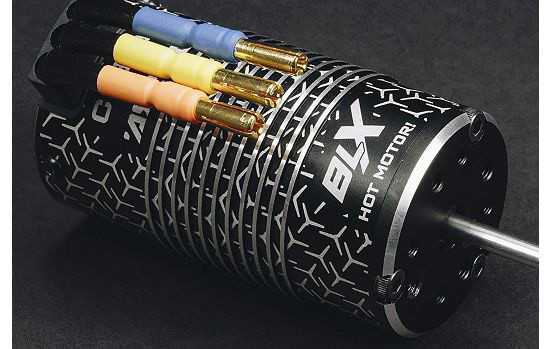 Beautifully etched aluminum can
4-pole construction for smooth and consistent power
Gold bullet connectors for reliable and efficient connection
Finned motor can for increased heat dissipation
Super strong 5mm shaft
Capable of 70+ mph (113+ km/h) speeds *
* Speed achievable in optimum conditions on 6S LiPo with optional pinion gear.
OPTIONAL SPEED PINION INCLUDED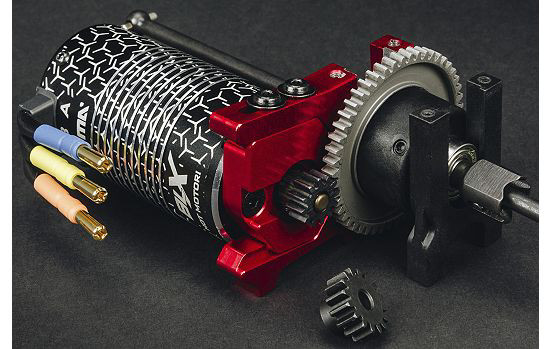 Red anodized motor mount and mod 1 spur and pinion gears to handle increased speed and optimum performance.
HEAVY-DUTY DRIVETRAIN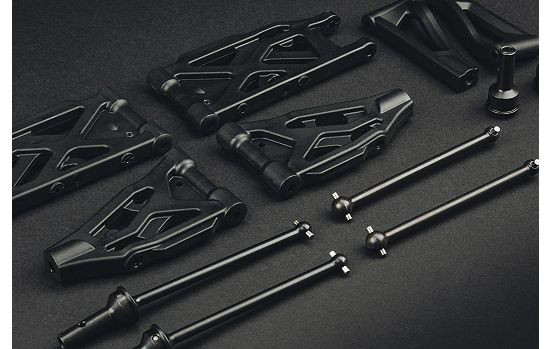 Tough A-arms and durable steel driveshafts and components keep you bashing for longer
SPEKTRUM STX2 RADIO SYSTEM
Complete 2.4GHz radio system including a 2Ch waterproof receiver *
Built-in 3-position throttle limiter
Steering & throttle rate & trim adjustments with throttle and steering reversing
FHSS 2.4GHz protocol** offers extended range and interference free performance
* For details on waterproof standards, please refer to the product instruction manuals.
** Not compatible with DSM, DSM2 or DSMR 2.4GHz protocol
ADS-15M SERVO
Strong metal gears used throughout
Waterproof and dustproof case *
25 tooth output spline
Torque: 14kg-cm @6V
Speed: 0.16sec/60degree @6V
Dimensions: 40x38x20mm (Industry standard size)
* For details on waterproof standards, please refer to the product instruction manuals.
Specifications
| | |
| --- | --- |
| Approximate Assembly Time: | No assembly required |
| Ball Bearings: | Full ball bearing drivetrain |
| Body: | Trimmed and painted molded polycarbonate |
| Charger: | Required, compatible with selected battery |
| Chassis: | 0.12" (3mm) thick 6061-T6 aluminum |
| Completion Level: | Ready-To-Run |
| Differential: | Three, metal gear, front & rear filled with 7,000cst silicone diff oil, center filled with 100,000cst silicone diff oil |
| Drivetrain: | 4WD Shaft Drive |
| Final Drive Ratio: | 11.79:1 |
| Gear Pitch: | 1.0 Module |
| Ground Clearance: | 1.85" (47mm) |
| Height: | 7.48" (190mm) |
| Internal Gear Ratio: | 3.3:1 |
| Length: | 20.08" (510mm) |
| Max Battery Dimensions: | 6.22 x 2.76 x 1.89" (158 x 70 x 49mm) |
| Motor Size: | 4074, 2050Kv with new sliding mount for easier maintenance |
| Motor Type: | Non-sensored brushless |
| Pinion: | 14T |
| Radio: | Spektrum STX2 2-channel |
| Servos: | Waterproof high torque |
| Shock Type: | Oil-filled, coil-over springs, filled with 550cst silicone shock oil |
| Size/Scale: | 1/8 |
| Speed Control: | BLX185 150A w/cooling fan, 6.0V/3A continuous output, 12A max, IC5 battery connector |
| Spur Gear: | 50T |
| Suspension: | Independent |
| Tire Diameter: | 4.65" (118mm) |
| Tire Tread: | dBoots KATAR B |
| Vehicle Type: | Speed Buggy |
| Water-Resistant: | Yes |
| Weight: | 7.52lbs (3.42kg) |
| Wheel Diameter: | 3.27" (83mm) |
| Wheel Hex Size: | 17mm Hex |
| Wheel Type: | 17mm hex |
| Wheel Width: | Rear, 1.6" (41mm) |
| Wheelbase: | 12.91" (328mm) |
| Width: | 12.2" (310mm) |
Data sheet
Manufacturer :

Arrma

Level of difficulty (1 to 3) :

2

Scale :

1/8

Type :

Ready to Run

Drive :

Electric Brushless
What you need to complete
(2) 2S or 3S 35C+ 5000mAh LiPo batteries with IC5/EC5 connector or
(1) 4S or 6S 35C+ 5000mAh LiPo battery and harness with IC5/EC5 connectors
Suitable LiPo balancing charger
(4) AA batteries (for transmitter)
LiPo charging bag or case (recommended)
Composition Kit
(1) ARRMA TYPHON 6S BLX 4WD 1/8 Speed Buggy RTR
(1) Spektrum 2.4GHz STX2 Radio Transmitter
(1) Product Manual
1/8 TYPHON 6S BLX 4WD Brushless Buggy RTR, Red/Grey
489,99 €
Viewed products
MCM undertakes
Deliver within 24/48h
To send your order within 24h (on working days) (according to the limit of the available stock) & to deliver within 24/48h.
MCM Crew
A team of specialists is at your disposal in your language (Fr, Du & En) from Tuesday till Saturday at + 32 2 376 24 05 (No. non-premium rate) from 10:00 to 18:30 or by email.
A few figures
A store of 400m² located south of Brussels.
23 years of experience.
+ 110 000 products ref.
+ 35 500 products in stock.
+ 240 distributed brands.
MCM Group, the R/C specialist since 1996
MCM Racing, MCM Skyshop, MCM Slot, MCM Marine