More info
As the newest member of the FMS multi-purpose aircraft lineup, the 1220mm ranger retains all of the fantastic features that pilots have come to expect from FMS- stable flight characteristics, easy to assemble airframe and realistic, general-aviation inspired design.
Built with ultralight EPO foam, the large, high-winged airframe configuration gives the ranger low wing-loading and extraordinary amounts of lift, even at slow speeds. Robust plastic struts give extra strength to the wings during aerobatic maneuvers and the patented high-strength tricycle landing gear makes ground handling a breeze.
A great aircraft is nothing without a great, dependable power system- FMS has equipped the ranger with a 3136/1200KV outrunner motor with 20A Predator ESC, which allows the ranger to climb almost vertically on demand!
In the box, the ranger comes with two sets of landing gears- a high-strength metal landing gear for ground operations and a pair of floats with an integrated rudder for water operations.
Designed with a yellow and white high-visibility color scheme, the ranger can always be easily orientated even in gloomy, overcast weather.
Like the Super-EZ and the Kingfisher, the ranger is designed with ease of assembly in mind. Requiring only 6 (wheeled landing gear) or 10 (floats) screws to completely assemble, the longest wait time is the time it takes to charge the battery!
The ranger comes also with a free 6 axis stilisation sytem.
Don't miss out on one of the most revolutionary FMS aircraft, the amphibious ranger!
Key features
High-spec power system: 3136/1200KV motor, Predator 20A ESC, 11.1V 1300mAh 25C battery (Included in RTF sets)
Two landing gear types included- Tricycle and floats!
High strength, lightweight metal landing gear for all-terrain operations.
Screw-together and twist-lock assembly, completed in 3-10 minutes
10-15 minute flight times (RTF specification)
One piece horizontal stabilizer for precise flight characteristics
6 Axis flight control system offered
Data sheet
Manufacturer :

FMS

Level of difficulty (1 to 3) :

1

Matter :

EPP / EPO Foam

Kits :

Trainers

Type :

Ready to Fly

Drive :

Electric
Composition Kit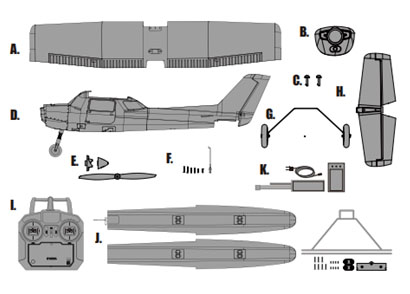 Plane 1220mm Ranger RTF kit (M2) with Floats & free reflex system
238,99 €
MCM undertakes
Deliver within 24/48h
To send your order within 24h (on working days) (according to the limit of the available stock) & to deliver within 24/48h.
MCM Crew
A team of specialists is at your disposal in your language (Fr, Du & En) from Tuesday till Saturday at + 32 2 376 24 05 (No. non-premium rate) from 10:00 to 18:30 or by email.
A few figures
A store of 400m² located south of Brussels.
23 years of experience.
+ 110 000 products ref.
+ 35 500 products in stock.
+ 240 distributed brands.
MCM Group, the R/C specialist since 1996
MCM Racing, MCM Skyshop, MCM Slot, MCM Marine