More info
The Traxxas Bandit takes RC fun to a whole new level with faster speeds, innovative technology, and hobby-grade durability with a price that starts at just $149.99! On-road or off-road, the Bandit's sleek chassis keeps weight down low for razor-sharp handling and blazing speed. The powerful Titan® 12-Turn modified motor and high-current XL-5® Electronic Speed Control deliver lightning-fast acceleration and incredible 35+mph* performance. Pull the trigger and Bandit rips massive rooster tails, soars over jumps, and lays down the power for serious excitement at every turn. Traxxas' exclusive waterproof electronics make even the wildest all-weather adventures possible. Step up to genuine Traxxas quality and performance and discover a whole new level of fun with the Traxxas Bandit!
Modified Muscle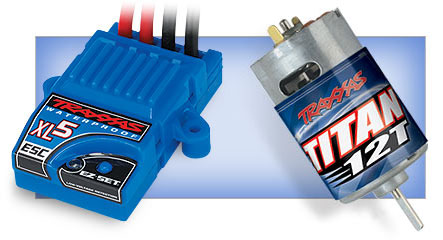 The Titan 12T 550 modified motor pumps out incredible power with virtually maintenance-free operation, and long-lasting performance. The Titan's integrated cooling fan pulls cool air through vent tunnels molded into the motor plate to keep temperatures down. A cooler running motor equates to faster speeds, longer runtime, and extended motor life. The XL-5 Electronic Speed Control offers high current handling, EZ-Set® one-button setup, and smooth high-frequency control. Once reserved for high-end replacement ESCs, the XL-5 comes standard with three drive profiles, low voltage detection, thermal shutdown protection, gold-plated connectors, and incredibly low resistance. The patented Traxxas High-Current Connector opens the door for unrestricted current flow with today's high-power batteries.
Sealed Electronics Extend Your Driving Fun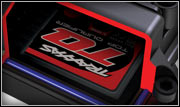 The Bandit's exclusive sealed and watertight electronics provide the freedom to drive through water, mud, snow, and other wet-running conditions. The XL-5 electronic speed control and the mini receiver are sealed against the elements. It opens up a whole new world of adventure and fun.
100% Assembled and Ready for your Battery and Charger
The Bandit comes out of the box Ready-To-Race® with the TQ™ 2.4GHz 2-channel radio system, waterproof XL-5 Electronic Speed Control and Titan 12T motor. Bandit is fun to drive and easy to own, with legendary durability, low-maintenance design, and unmatched parts support from thousands of hobby stores worldwide.
Key features
Fast, Affordable Fun
TQ™ 2.4GHz Radio System
Waterproof Electronics for All-Weather Driving
Excitement in Water, Mud and Snow!
35+mph* Top Speed!
Titan® 12-Turn 550 Modified Motor
XL-5 Waterproof Electronic Speed Control
ProGraphix® Painted and Trimmed Body
Included Optional 31-Tooth Pinion Gear
Battery and Charger Sold Separately
Specifications
BANDIT (#24054-4) SPECS
Length:
 
16.25" (413mm)
Front Track:
 
9.84" (250mm)
Rear Track:
 
9.84" (250mm)
Weight:
 
48oz (1.36 kg)
Height (Overall):
 
7" (178mm)
Wheelbase:
 
11.25" (286mm)
Front Shock Length:
 
Long
Rear Shock Length:
 
XX-Long
Front Tires (Pre-Glued):
 
Alias™ Ribbed 2.2"
Rear Tires (Pre-Glued):
 
Alias™ Step-Pin 2.2"
Front Wheels:
 
2.2" Mirror-Chrome (Tracer™)
Rear Wheels:
 
2.2" Mirror-Chrome (Tracer™)
Electronic Speed Control:
 
XL-5™ Electronic Speed Control
Motor (Electric):
 
Titan® 12T 550 (12-Turn 550)
Steering Servo:
 
#2056 High Torque Waterproof
Transmitter:
­
TQ 2.4GHz Radio
Receiver:
 
#6519 3-Channel Micro
Gear Ratio (Internal):
 
2.72 (Final Drive: 10.17)
Differential Type:
 
Planetary Steel Gear
Gear Pitch:
 
48-Pitch
Transmission:
 
Magnum 272™
Steering:
 
Bellcrank
Chassis Type:
 
Modified Tub
Chassis Material:
 
Fiber-Composite
Top-Speed:
 
35+mph**
Skill Level:
­
1
*Battery Tray Dimensions:
­
139mm x 47.5mm x 28mm
Required Items:
­
NiMH or LiPo Battery, Charger, 4 "AA" Batteries (Transmitter)
*Battery expansion kit available (#3725X)
**With 7-cell battery and included optional 31-tooth pinion gear
XL-5 (WATERPROOF) ESC SPECIFICATIONS
Input voltage:
­
4-7 Cells (4.8 to 8.4 Volts DC)
Case Size:
­
1.23"W x 2.18"D x 0.61" H
Weight:
­
2.44 Ounce
Motor Limit:
­
15-turns** (540 Size)
12-turns** (550 Size)
On Resistance Forward:
­
0.007 Ohms
On Resistance Reverse:
­
0.014 Ohms
BEC Voltage:
­
6.0 VDC
BEC Current:
­
1A
Power Wire:
­
14 Gauge / 5"
Input Harness Wire:
­
26 Gauge / 9"
PWM Frequency:
­
1600 Hz
Low Voltage Detection (LVD):
­
2-Stage indicators, switchable (on or off)
Thermal Protection:
­
Thermal shutdown
Profile selection:
­
Sport Mode:
    100% FWD, 100% brakes, 100% REV
Race Mode:
    100% FWD, 100% brakes, no REV
Training Mode:*
    50% FWD, 100% brakes, 50% REV
Single-button setup:
­
Yes, Traxxas EZ-Set®
Data sheet
Manufacturer :

Traxxas

Level of difficulty (1 to 3) :

1

Scale :

1/10

Type :

Ready to Run Basic

Drive :

Electric
What you need to complete
Composition Kit
Fully assembled, waterproof, Ready-To-Race®, with TQ™ 2.4GHz radio system, XL-5 Electronic Speed Control, and ProGraphix® painted body
Bandit XL-5 TQ (no battery/charger), Red
189,95 €
Viewed products
MCM undertakes
Deliver within 24/48h
To send your order within 24h (on working days) (according to the limit of the available stock) & to deliver within 24/48h.
MCM Crew
A team of specialists is at your disposal in your language (Fr, Du & En) from Tuesday till Saturday at + 32 2 376 24 05 (No. non-premium rate) from 10:00 to 18:30 or by email.
A few figures
A store of 400m² located south of Brussels.
23 years of experience.
+ 110 000 products ref.
+ 35 500 products in stock.
+ 240 distributed brands.
MCM Group, the R/C specialist since 1996
MCM Racing, MCM Skyshop, MCM Slot, MCM Marine