More info
Experience the pinnacle of short course truck performance with the Slash 4X4 Ultimate. Fully loaded out of the box, the Slash Ultimate features brutal Velineon® brushless power and Traxxas Stability Management™ (TSM) with a high-speed metal gear servo. Carve corners like a pro thanks to the low-CG chassis, installed sway bars, and ultra-smooth blue PTFE-coated aluminum GTR shocks. Slash 4X4 Ultimate packs a full complement of aluminum hop-up parts and performance accessories for added strength and show-stopping looks. Slash 4X4 Ultimate arrives fully assembled with factory-installed telemetry sensors and a Wireless Link equipped TQi™ 2.4GHz radio system. Simply add the battery of your choice (sold separately) and you're ready for intense tire-scorching action.
Factory-Equipped for Pro-Level Performance
The Slash 4X4 Ultimate delivers a full complement of premium accessories to deliver competition-grade short-course performance and bomb-proof durability. The C-hubs, steering blocks, and rear hub carriers are constructed of solid aluminum for strength and blue-anodized for style. Traxxas soft S1 compound rubber tires enhance grip, and high-traction handling can be precisely tuned with the front and rear sway bars. No other electric short-course truck matches the Ultimate's convenience, competition-grade specs, and pro-level performance.
Key features
NEW

High-volume, blue PTFE-coated aluminum GTR shocks

NEW

High-speed metal gear servo (#2075R)

NEW

Upgraded Extreme-Duty driveshafts

NEW

Heavy-duty suspension arms
Traxxas Stability Management (TSM)
Performance-optimized dark charcoal gray low-CG chassis
TQi 2.4GHz high output radio system with Traxxas Link Wireless Module™

Factory installed telemetry sensors
Telemetry-ready 5-channel 2.4GHz micro receiver

ProGraphix™ painted body
Blue-anodized 6061-T6 aluminum C-hubs
Blue-anodized 6061-T6 aluminum steering blocks
Blue-anodized 6061-T6 aluminum rear hub carriers
Blue-anodized 6061-T6 aluminum axle nuts
Adjustable front and rear sway bars
Included optional extra-stiff sway bar set
Specifications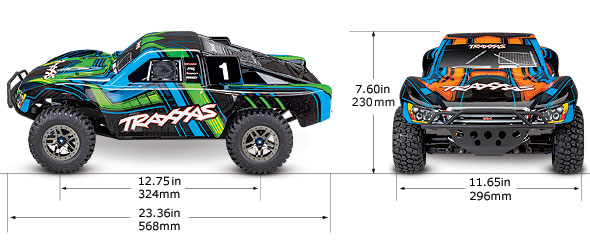 SLASH 4X4 ULTIMATE (#68077-4) SPECS
Length:
 
22.36 Inches (568mm)
Front Track:
 
11.65 Inches (296mm)
Rear Track:
 
11.65 Inches (296mm)
Center Ground Clearance:
 
1.85 Inches (47mm)
Weight:
 
80.4oz (2.28kg)
Height (overall):
 
7.60 Inches (193mm)
Wheelbase:
 
12.75 Inches (324mm)
Shocks:
 
GTR threaded aluminum-body with titanium-nitride shafts
Shock Length:
 
GTR Long (front), XX Long (rear)
Tires:
 
2.2/3.0", S1 compound, pre-glued with foam inserts
Tire Diameter:
 
4.31 Inches (109.5mm) (front and rear)
Wheels (front/rear):
 
2.2/3.0" Split-Spoke, Black Chrome
Wheel Diameter:
 
2.2 Inches (56mm) Outer
3.0 Inches (76mm) Inner
Speed Control Type:
 
VXL-3s™ Electronic Speed Control
Motor (electric):
 
Velineon® 3500 Brushless
Overall Drive Ratio:
 
11.82 (stock, out-of-box)
Differential Type:
 
Hardened steel bevel, sealed, limited slip
Gear Pitch:
 
32
Chassis Structure/Material:
 
Molded tub / nylon composite
Drive System:
 
Shaft-driven, direct drive 4WD
Steering:
 
Dual-bellcrank with integrated servo saver
Radio System:
 
TQi 2.4 GHz radio system with Traxxas Stability Management®
Body:
 
ProGraphix® pre-painted
Top Speed:
 
60+mph*
Battery Tray Dimensions:**
 
165mm x 49.5mm x 23mm, 25mm
Required Items:
 
Traxxas battery pack, Traxxas iD charger, 4 "AA" batteries (for transmitter)
*With optional gearing and 3S LiPo battery (items sold separately).
**Battery expansion kit available
Data sheet
Manufacturer :

Traxxas

Level of difficulty (1 to 3) :

2

Scale :

1/10

Type :

Ready to Run Basic

Drive :

Electric Brushless
What you need to complete
Composition Kit
Fully assembled, Ready-To-Race® with Traxxas Stability Management®, 2.4GHz radio system with Traxxas Link™ Wireless Module, Velineon® Brushless Power System, and ProGraphix™ painted body.
Slash 4X4 Ultimate LCG VXL TQi TSM (no battery/charger), Orange
549,95 €
Viewed products
MCM undertakes
Deliver within 24/48h
To send your order within 24h (on working days) (according to the limit of the available stock) & to deliver within 24/48h.
MCM Crew
A team of specialists is at your disposal in your language (Fr, Du & En) from Tuesday till Saturday at + 32 2 376 24 05 (No. non-premium rate) from 10:00 to 18:30 or by email.
A few figures
A store of 400m² located south of Brussels open from tuesday till friday from 12.30 till 18.30 & saturday from 10.00 till 18.30.
25 years of experience.
+ 110 000 products ref.
+ 35 500 products in stock.
+ 240 distributed brands.
MCM Group, the R/C specialist since 1996
MCM Racing, MCM Skyshop, MCM Slot, MCM Marine