More info
The Traxxas Slash VXL Pro 2WD Short-Course Truck with Traxxas Stability Management!
The Traxxas Slash VXL puts you in the driver's seat for intense fender-to-fender, high-flying off-road action. Since its introduction, the Slash has set the standard for durability, performance, and technology. Traxxas Stability Management® puts Slash VXL's tire-shredding power to the ground while making it incredibly agile and easily controllable. Extreme Velineon brushless power provides screaming 60+mph† speed while the advanced TQi™ radio system keeps everything under precise control. With just one drive you will see why the Traxxas Slash VXL elevates short course performance to a whole new level.
Traxxas Stability Management

Traxxas Stability Management (TSM) allows you to experience all the extreme power, speed, and acceleration that was engineered into the Slash VXL by making it much easier to control on common slippery surfaces such as loose dirt, smooth concrete, and even ice and snow. Punch it off the line and TSM goes to work sensing the vehicle's direction and making steering corrections to provide straight-ahead full-throttle acceleration without fishtailing, spinouts, and loss of control. TSM also works during cornering, first making intuitive corrections to maintain your line, and then allowing you to hammer the throttle earlier in the turn for much faster exit speeds. Braking is dramatically improved as TSM works to keep you arrow straight until you come to a complete stop. TSM acts as your on-board co-pilot in the vehicle that "feels" what the vehicle is doing and makes corrections for vehicle movements that you cannot even detect, well before the vehicle gets out of control.
Traxxas TSM gives you all the benefits modern electronic stabilization has to offer without intruding on your driving fun. Traxxas engineers developed superior tuning algorithms that run on high-speed, precision electronic components to create a system that works invisibly, in the background, without ever limiting your throttle. TSM can be fine tuned (or turned off) for different surfaces by simply adjusting the multi-function knob on the TQi transmitter, or by adjusting the slider in the Traxxas link app. The result is that you are driving faster, with more ease, and having more fun,with that fully connected feeling at the controls that you expect. In fact, you may not even realize how much TSM is helping you until you turn it off and test your driving skills without it!
Precision 2.4GHz Control Radio System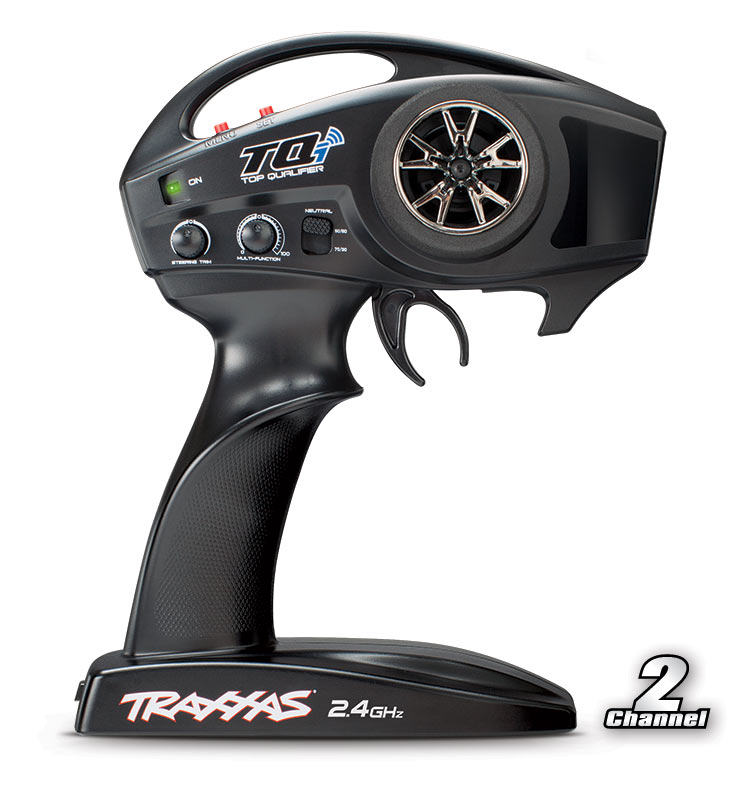 Slash VXL is equipped with the world's most advanced Ready-To-Race® radio system. There are no channels or frequencies to manage, so the focus is on having fun. The TQ's ergonomic design is comfortable for all-day driving, and its sleek lines are enhanced by an internal antenna that is impervious to damage.

The Traxxas® TQi™ arrives with a full complement of tuning features and offers the unbeatable convenience of "no channels, no crystals" 2.4GHz technology—but that's just the beginning. Automatic model recognition instantly recalls your settings for up to 30 Traxxas Link-enabled models. Just switch on and drive, no naming or "model memory" settings required. Power up the transmitter and the model you want to drive, and the settings for that model are dialed in immediately! The TQi 2.4GHz transmitter is fully adjustable: steering and throttle end points can be set precisely, and the Multi-Function knob can be programmed to control Traxxas Stability Management (TSM), Steering Sensitivity (Expo), Throttle Sensitivity (Expo), Steering Percentage (Dual Rate), Braking Percentage (Dual Rate), or Throttle Trim. TQi's ergonomic case design provides all-day driving comfort, and the unique internal antenna contributes to its sleek, modern look.
Training Mode™
Traxxas' exclusive patented Training Mode let's everyone get in on the racing action. Just press a button to limit full-throttle power to 50%. This allows young or new drivers to safely develop their control skills before unlocking full power to the Velineon motor. Training mode even makes it easy to hand the transmitter over to your friends who have never driven a radio controlled truck before.
Traxxas Link Wireless Module Compatible
The TQi's most important new feature may already be in your pocket. The TQi can be equipped with an Traxxas Link Wireless Module (#6511, sold separately) that turns your Android, iPad® iPhone® or iPod touch® (sold separately) into a powerful tuning tool for your Traxxas model. The full-color display combines with the free Traxxas Link™ App to deliver an intuitive, high-definition, full-color graphical user interface that unlocks the mysteries of optimizing your radio system for ultimate vehicle control. Traxxas Link also opens the door to telemetry capability when you add optional sensors to your model.
Waterproof Electronics For No-Limits R/C Excitement
Now a hallmark of Traxxas vehicles, Slash VXL is the latest model to be equipped with fully waterproof electronics to keep the fun rolling in water, mud and snow while lesser cars stay on the bench. The patented sealed receiver box houses Traxxas' newest 5-channel micro receiver and can accept aftermarket receivers as well, without compromising the models' waterproof properties. The VXL-3s electronic speed control and high-torque, digital servo are sealed against the elements giving you the freedom go places other cars wouldn't dare to venture.
Proven, Class-Leading, Velineon Brushless Power
The Velineon Brushless Power system takes the guesswork out of enjoying the benefits of world-class brushless power. The system components work together as an optimized package, engineered from the start to deliver the ultimate in efficiency, speed, and run time. With the Slash VXL, Your battery selection determines your speed and skill level. Velineon accepts the widest range of battery types, including 3-cell Lithium Polymer packs (3S LiPo packs). These packs pump out over 11 volts of power for intense, skill level 5 speeds beyond 60mph! Nothing else even comes close. Built-in low-voltage detection in the VXL-3s™ Electronic Speed Control conveniently helps you maintain your LiPo battery packs in top condition.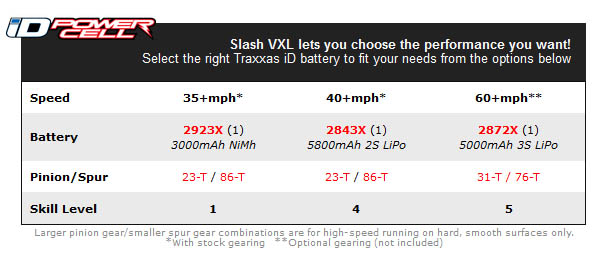 Larger pinion gear/smaller spur gear combinations are for high-speed running on hard, smooth surfaces only.
Slash VXL's Traxxas Velineon Brushless Power system defines a whole new generation of outrageous electric power that doesn't know limitations and boundaries. Pour in the voltage and out comes the speed in tidal waves of force harnessed by precision throttle control. The Velineon 3s Brushless Power System features system components that work together as an optimized package, from the patented Traxxas High-Current connector to the custom-wound motor. It's engineered together from the start to deliver the ultimate in efficiency, speed, and run-time along with precision throttle response and refined control. It's brushless performance the Traxxas way: wicked fast and easy to use. Just plug it in and it works, no special knowledge or programming skills required.
Velineon VXL-3s Electronic Speed Control
The Velineon VXL-3s speed control is loaded with high-grade technology to precisely deliver maximum power to the motor. It's engineered for today's battery technology and beyond. Two-stage low voltage detection allows full LiPo compatibility, including powerful 11.1-volt 3S packs!
Velineon 3500 Brushless Motor
Extreme performance is standard equipment with the sensorless Velineon motor. Ultra high-temperature Neodymium magnets, high-speed ball bearings, and a precision balanced rotor deliver power and long life with near zero maintenance. Since there are no brushes or commutator to wear out, you always get the same blistering acceleration and ballistic top speed run after run.
Dual-Bellcrank Steering With Integrated Servo Saver
Originally developed for Slash 4X4, the Slash VXL's steering bellcranks feature optimized geometry and a cam-type servo-saver to protect the servo's gears from crash damage without compromising steering precision.
New Heavy-Duty Driveshafts
Brutal brushless horsepower would stress ordinary drivetrain components to their limits, so Slash VXL steps up with new, extra-strong telescoping universal-joint driveshafts. In combination with Slash's Brushless Ready steel-gear transmission, the result is a Traxxas-tough driveline that makes certain every watt of Velineon power is transformed into rocket-like thrust.
100% Fully Assembled and Ready-To-Race®
Traxxas backs the Slash VXL and all of our products with top-notch support that is second to none. A staff of skilled representatives is on-hand to answer your questions via phone, website, or email. Unmatched parts support allows Slash VXL to be serviced with parts and support from thousands of hobby dealers worldwide. Your investment is also protected by the Traxxas Lifetime Electronics Warranty. Traxxas goes the extra mile to ensure that your R/C experience is easy and fun (and fast!). Follow the details link on the left to go in depth on all the Slash VXL performance benefits, and also be sure to check out the videos page to see Slash VXL in action for yourself.
Key features
Traxxas Stability Management (TSM)
Velineon Brushless Power System
Dual-bellcrank steering system with integrated servo-saver
Heavy-duty driveshafts
Brushless-optimized suspension settings
TQi 2.4GHz Transmitter and Receiver
Access the Traxxas Link App with the
Traxxas Link Wireless Module (#6511) (sold separately)
Waterproof Electronics
Digital high-torque waterproof steering servo
Specifications
Length
22.36 inches (568mm)
Front Track
11.65 inches (296mm)
Rear Track
11.65 inches (296mm)
Weight
90.37oz (2.562kg)
Height (overall)
8.425 inches (214mm)
Wheelbase
13.2 inches (335mm)
Front Shock Length
Long
Rear Shock Length
XXLong
Front Tires
Slash 2.2 (Pre-Glued with Inserts)
Rear Tires
Slash 2.2 (Pre-Glued with Inserts)
Front Wheels
2.2" Satin or Chrome-Finish
Rear Wheels
2.2" Satin or Chrome-Finish
Speed Control Type
VXL-3s™ Electronic Speed Control
Motor (electric)
Velineon® 3500 Brushless
Gear Ratio (internal)
2.72 (final drive: 10.2)
Differential Type
Steel Composite Planetary
Gear Pitch
48-Pitch
Transmission
Metal Gear Magnum 272™
Steering
Bellcrank
Chassis Type
Long-wheelbase fiber-composite chassis
Chassis Material
Composite Nylon
Center Ground Clearance
3.5 inches (89mm)
Top Speed
40+mph**
Skill Level
1
Radio System (transmitter)
TQi™ 2.4GHz (2-channel)
Radio System (receiver)
Traxxas Stability Management® (#6533)
Officially-Licensed Race Replicas
Traxxas, Race Edition (Traxxas Blue)
Traxxas, Race Edition (Traxxas Red)
*Battery Tray Dimensions:
165mm x 49.5mm x 23mm, 25mm
Data sheet
Manufacturer :

Traxxas

Level of difficulty (1 to 3) :

1

Scale :

1/10

Type :

Ready to Run Basic

Drive :

Electric Brushless
What you need to complete
Composition Kit
Fully assembled, Ready-To-Race® with Traxxas Stability Management®, TQi™ 2.4GHz radio system, Velineon® Brushless Power System and Race Replica painted body.
Slash 2WD VXL TQi TSM (no battery/charger), Hawaii
379,95 €
Viewed products
MCM undertakes
Deliver within 24/48h
To send your order within 24h (on working days) (according to the limit of the available stock) & to deliver within 24/48h.
MCM Crew
A team of specialists is at your disposal in your language (Fr, Du & En) from Tuesday till Saturday at + 32 2 376 24 05 (No. non-premium rate) from 10:00 to 18:30 or by email.
A few figures
A store of 400m² located south of Brussels.
23 years of experience.
+ 110 000 products ref.
+ 35 500 products in stock.
+ 240 distributed brands.
MCM Group, the R/C specialist since 1996
MCM Racing, MCM Skyshop, MCM Slot, MCM Marine