More info
Spektrum Firma 120A Smart ESC for surface vehicles is waterproof and delivers power and intelligence all-in-one. Without additional sensors or modules, they feed battery and ESC telemetry data straight to your radio in real time, all over one connection.
WATERPROOF
The all-weather, waterproof design of Spektrum™ Firma™ Smart ESCs allows them to perform in nearly any terrain under almost any conditions. Firma ESCs keep you going through dust, gravel, snow, and water.
EC3™/EC5™ BACKWARDS COMPATIBLE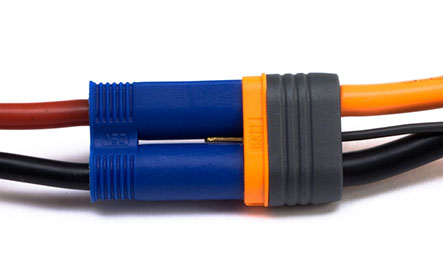 Firma™ ESCs feature IC™ series battery connectors. The IC series of connectors are designed from the ground up to provide a more solid connection, higher heat resistance, and effortless installation. When used with an IC3™ or IC5™ connector-equipped Spektrum™ Smart battery, the ESC can receive and transmit battery telemetry data. EC3 and EC5 are also compatible with Firma ESCs for basic operation and ESC telemetry. 
ONE-WIRE TELEMETRY
No need to connect multiple wires, sensors, modules, and links. With Firma™ ESCs, simple one-wire telemetry transmits a wide range of data directly to your transmitter in real time, including RPM, voltage, temperature, balance, capacity, and speed.
SMART TECHNOLOGY BATTERY DATA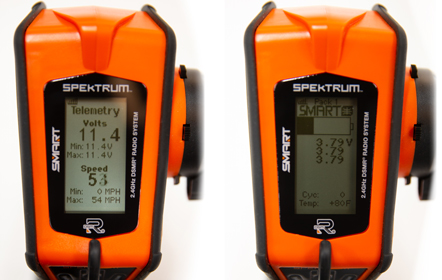 When used with a Spektrum™ Smart LiPo battery, your Firma™ ESC provides you with the benefit of battery telemetry that's automatically transmitted to your compatible Spektrum radio in real time. On your transmitter screen you'll be presented with helpful information such as number of cycles, battery percentage, individual cell voltage and more! 
MULTIPLE PROGRAMMING OPTIONS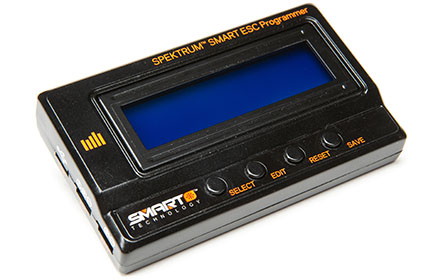 Multiple programming options are available. Button programming can be used with nothing more needed. Using the Smart Firma™ ESC Programming Box, you can easily change settings at the track to suit driving conditions. An easy-to-use Smart Link USB Updating and PC Programmer app is also available. 
FAST, POWERFUL M4 PROCESSOR
The Firma™ ESCs' 32-bit M4 processor produces higher resolution signal input and more accurate motor output.
Key features
Smart all-in-one telemetry
Fast, powerful 32-bit ARM M4 processor
Waterproof
Multiple options for easy programming:

Button programming
Smart ESC Programming Box
SmartLink USB Updating and Programmer application

Multi-point protection:

Over-current protection
Automatic LiPo low-voltage cutoff
Thermal protection
Failsafe protection

Developed and designed by Spektrum™ engineers, in partnership with the industry's leading ESC manufacturer
Ideal for 1/8th scale surface applications running on 4s Lipo setups
High current adjustable BEC (6v or 7.4v @ 4 Amps)
Compact for easy installation in most applications
Ready to install — no soldering required
Rugged plastic case with mounting tabs
Aluminum heat sink for high efficiency
Cooling fan
Adjustable high-power BEC
Firmware updatable through the Smart ESC Programming Box
High heat-resistant IC™ connectors, backwards compatible with EC™ connectors
Limited 1-year warranty
Specifications
| | |
| --- | --- |
| Auto Cutoff | Yes |
| Battery Type | LiPo (3.7V per cell) |
| BEC Continous Current | 4A |
| BEC Voltage | 6 and 7V selectable |
| Brakes | Yes |
| Connector Type | IC5 |
| Drive Type | Forward/Brake/Reverse |
| Input Voltage | 6.0V - 14.4V (2-4S LiPo, 5-12 cell NiMH) |
| Low-Voltage Cutoff Programmable | Yes |
| Maximum Burst Current | 830A |
| Maximum Continuous Current | 120A |
| Motor Connector | 4mm Female Bullet |
| Overload Protection | Yes |
| Product Height | 1.33" (34 mm) |
| Product Length | 1.7" (43 mm) |
| Product Weight | 0.337lbs (153g) |
| Product Width | 1.53" (39 mm) |
| Programmable | Yes |
| Reverse | Yes |
| Technology | Smart |
| Time Delay Brake | Yes |
| Water-Resistant | Yes |
What you need to complete
Spektrum™ Surface Receiver
Spektrum Smart Technology LiPo Battery
Spektrum Transmitter
Composition Kit
(1) Spektrum™ Firma™ Smart ESC
(1) Spektrum Smart sticker sheet
(1) Product Manual
Firma 120 Amp Brushless Smart ESC 4S
109,99 €
Viewed products
MCM undertakes
Deliver within 24/48h
To send your order within 24h (on working days) (according to the limit of the available stock) & to deliver within 24/48h.
MCM Crew
A team of specialists is at your disposal in your language (Fr, Du & En) from Tuesday till Saturday at + 32 2 376 24 05 (No. non-premium rate) from 10:00 to 18:30 or by email.
A few figures
A store of 400m² located south of Brussels open from tuesday till friday from 12.30 till 18.30 & saturday from 10.00 till 18.30.
25 years of experience.
+ 110 000 products ref.
+ 35 500 products in stock.
+ 240 distributed brands.
MCM Group, the R/C specialist since 1996
MCM Racing, MCM Skyshop, MCM Slot, MCM Marine