More info
Return to the 80s with this licensed RC4WD Trail Finder 2 "LWB" RTR W/ 1987 Toyota XtraCab hard body set. Featuring an array of nostalgic attributes reminiscent of its full size counterpart, this RC truck body comes with a classic, captivating design. Starting with its all-black glossy finish, this model exudes a premium, polished appearance.

Bringing with it an array of officially licensed products, this RTR comes with a KC HiLiTES KC light set mounted to the installed headache rack, RC4WD Goodyear Wrangler All-Terrain Adventure 1.55" tires and custom painted OEM 6-Lug stamped steel 1.55" beadlock wheels. Cap off this premium tire and wheel combination with CNC machined scale Yota style hubs.

This TF2 long wheel base chassis is equipped with an R3 single speed transmission, 540 crawler brushed motor, RC4WD ultimate scale shocks and Outcry III waterproof ESC, ensuring you get the same great performance and durability.
Drivetrain
The R3 single speed transmission comes with a cast aluminum case and wider gears to allow for more use along with a Delrin spur with slipper clutch.

The TF2 long wheel base chassis includes the detailed hammer transfer case. Featuring .8 mod widened gears and a tough metal exterior, this heavy duty scale case is off road ready!

Drawing on the success of the RC4WD MOA gear sets, the TF2 RTR Drivetrain has the most durable gears RC4WD has to offer so the TF2 RTR will stay on the trail, day after day.

Featuring some of the most detailed axles on the market, RC4WD Yota II ultimate scale cast axles are fitted with innovative round knuckles, rugged leaf spring perches and compact pumpkins. The front pumpkin is also offset, replicating the set up of a full-size rig!

With dedicated detail and profound performance, this RC truck's drive shaft design features bulletproof steel universals and a high quality plastic shaft for great driveline angles.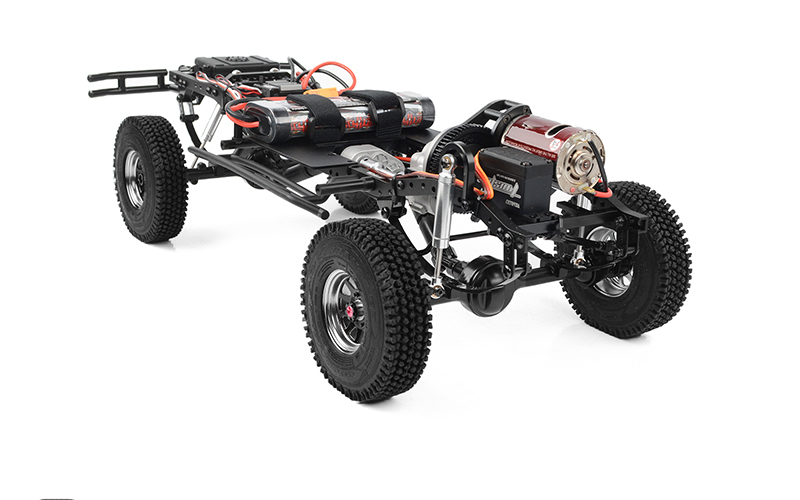 Suspension
The TF2 long wheel base chassis has a multi-purpose, molded fuel cell that serves as an electronics storage box and provides additional RC realism by storing away any protruding wires.

The RC4WD ultimate scale RC shocks are not only designed for a pristine scale look, but for peak performance as well. Precisely machined from billet aluminum and internally sprung, these scale shocks are ready to tackle any turbulent terrain.

With solid strength in mind, the ladder frame design of the TF2 long wheel base chassis is made with CNC machined, billet aluminum and comes with scale shock hoops, a chassis servo mount and transmission and transfer case mounts.

The TF2 long wheel base RTR includes a set of OEM 6-Lug stamped steel 1.55'' beadlock wheels (black and chrome). These are stamped steel construction and come with scale hex bolts and hubs.

Every off-road truck needs a tough set of tires, and the TF2 long wheel base RTR comes equipped with Goodyear Wrangler All-Terrain Adventure 1.55" Tires in an X2S3 compound to deliver the traction needed to get you through the roughest terrain.

Details
The XtraCab Body Set features a plethora of scale characteristics including opening doors, hood and rear tailgate along with the ultra detailed Yota 22RE engine bay.

The XtraCab has a complete molded plastic engine bay that comes painted with decals installed for an extremely scale appearance.

The included headache rack is made up of a hollow tube design to help keep weight down and has a pre-installed officially licensed KC HiLiTES KC light set mounted along the top.

The replicated classic double steel tube front and rear bumpers give the truck a retro recognizable look. They wrap around the front and rear ends, giving optimal protection from trail damage.

The molded and branded bumper end caps keep debris out of the hollow bumpers while maintaining a stylish appearance.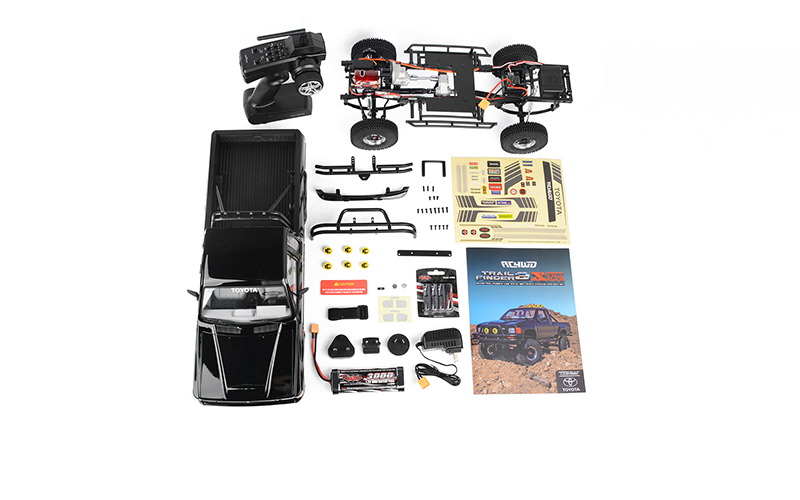 Electronics
The TF2 long wheel base chassis includes a high quality XR3 3 channel 2.4Ghz radio system. Expanding user experience, this radio system comes with a total of three radio positions!

The TF2 long wheel base chassis is powered by the tough and durable RC4WD 45 turn crawler motor. With long lasting performance at its core, this power machine comes tuned for rock climbing and scale driving.

The popular RC4WD Outcry III waterproof ESC brushed speed controller with built-in drag brake is included for reliable, constant power on demand at any time.

With a massive 277.6oz@6V of torque and a full metal geared drivetrain, the RC4WD Twister metal gear digital servo has the power and performance needed to outmaneuver and overcome tough terrain.

It's ALL in the box! Everything you need is provided to get you on the trails today!
Key features
1987 Toyota XtraCab hard body set in black
Realistic billet aluminum ladder frame chassis
R3 single speed aluminum transmission
Center mounted realistic hammer transfer case
540 Crawler brushed motor 45T
Outcry III waterproof ESC
6-Cell 3000MAH NiMH battery pack
Yota II Ultimate scale cast axles
Twister high torque metal gear digital servo
RC4WD ultimate scale shocks
OEM 6-lug stamped steel 1.55" beadlock wheels (black and chrome)
Goodyear Wrangler All-Terrain Adventure 1.55" tires
Yota 22RE engine bay
RC4WD Marlin Crawler side plastic sliders for TF2 LWB
Double steel tube front bumper
Double steel tube rear bumper
Double steel tube headache rack
KC HiLiTES KC light set
Scale Aisin/Yota style hubs
NiMH peak battery charger
Specifications
Wheelbase 314mm
Width 212mm
Height 227mm
Ground clearance 59.8mm
Data sheet
Manufacturer :

RC4WD

Scale :

1/10

Type :

Ready to Run

Drive :

Electric (Brushed)
What you need to complete
Trail Finder 2 LWB with 1987 Toyota XTRAcab Bodyset
891,79 €
Viewed products
MCM undertakes
Deliver within 24/48h
To send your order within 24h (on working days) (according to the limit of the available stock) & and delivered quickly.
MCM Crew
A team of specialists is at your disposal in your language (Fr, Du & En) from Tuesday till Saturday at + 32 2 376 24 05 (No. non-premium rate) from 10:00 to 18:30 or by email.
A few figures
A store of 400m² located south of Brussels open from tuesday till friday from 12.30 till 18.30 & saturday from 10.00 till 18.30.
25 years of experience.
+ 110 000 products ref.
+ 35 500 products in stock.
+ 240 distributed brands.
MCM Group, the R/C specialist since 1996
MCM Racing, MCM Skyshop, MCM Slot, MCM Marine