More info
The Traxxas Slash VXL 2WD Short-Course Truck with Traxxas Stability Management!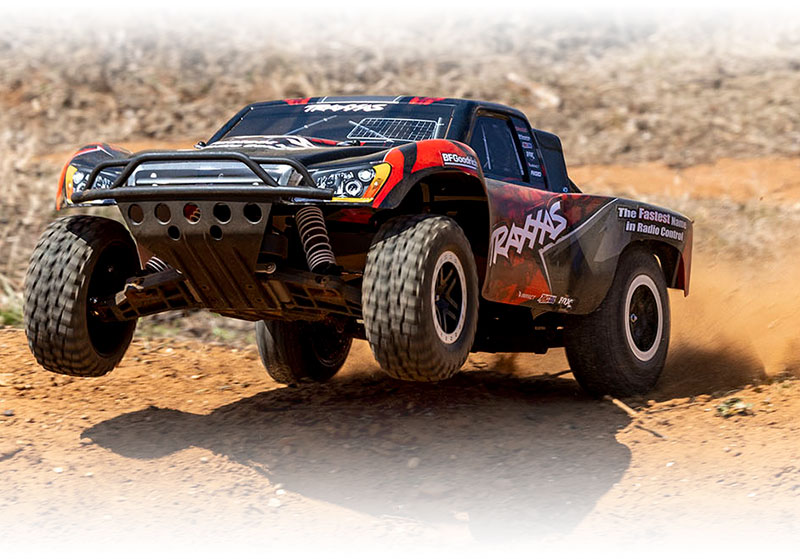 The Traxxas Slash VXL puts you in the driver's seat for intense fender-to-fender, high-flying off-road action. Since its introduction, the Slash has set the standard for durability, performance, and technology. Traxxas Stability Management® puts Slash VXL's tire-shredding power to the ground while making it incredibly agile and easily controllable. Extreme Velineon brushless power provides screaming 60+mph† speed while the advanced TQi™ radio system keeps everything under precise control. With just one drive you will see why the Traxxas Slash VXL elevates short course performance to a whole new level.
Pro Series Magnum 272R™ Transmission
The Magnum 272R uses a new low-profile housing with a rock-solid 3.2 mm aluminum motor plate. A hardened steel top shaft and all-metal gears send power to a sealed, silicone-filled 4-gear differential for maximum traction. A removable panel gives you easy access to the differential for tuning with different viscosity fluids. Originally developed for the hard-hitting Drag Slash, the Magnum 272R delivers competition-grade performance for your Slash VXL.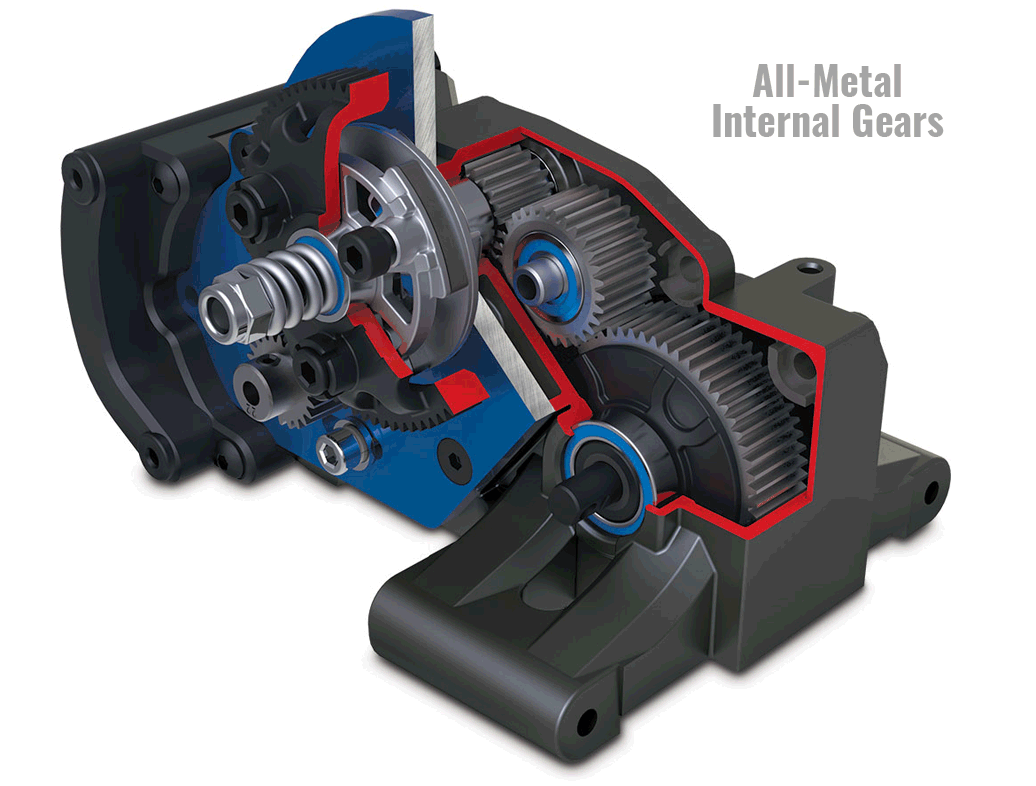 Class-Leading Velineon Brushless Power
The Velineon brushless motor and electronic speed control (ESC) deliver the ultimate in efficiency, speed, and run time. With the Slash VXL, your battery selection determines your speed and skill level. Velineon accepts a wide range of batteries, including powerful 3-cell LiPo packs. These packs pump out over 11 volts of power for intense, skill level 5 speeds beyond 65 mph! Built-in low-voltage detection in the VXL-3s™ ESC helps you maintain your LiPo packs in top condition.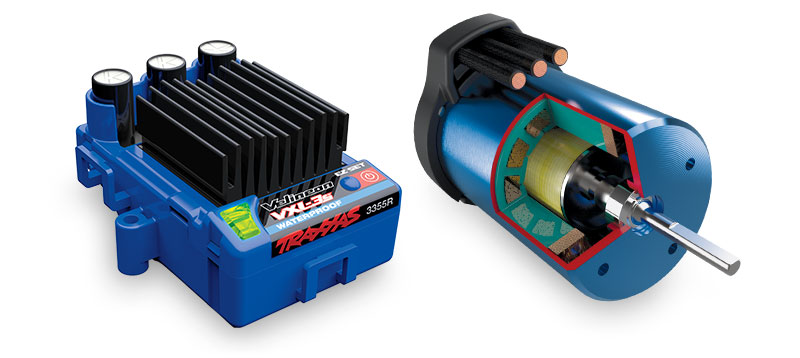 Traxxas Stability Management®
Traxxas Stability Management (TSM) works behind the scenes to help prevent spinouts and loss of control on slippery surfaces. TSM senses the vehicle's direction and makes steering corrections to provide full throttle acceleration without fishtailing or spinouts. When cornering, TSM intuitively corrects the vehicle's line for faster exit speeds.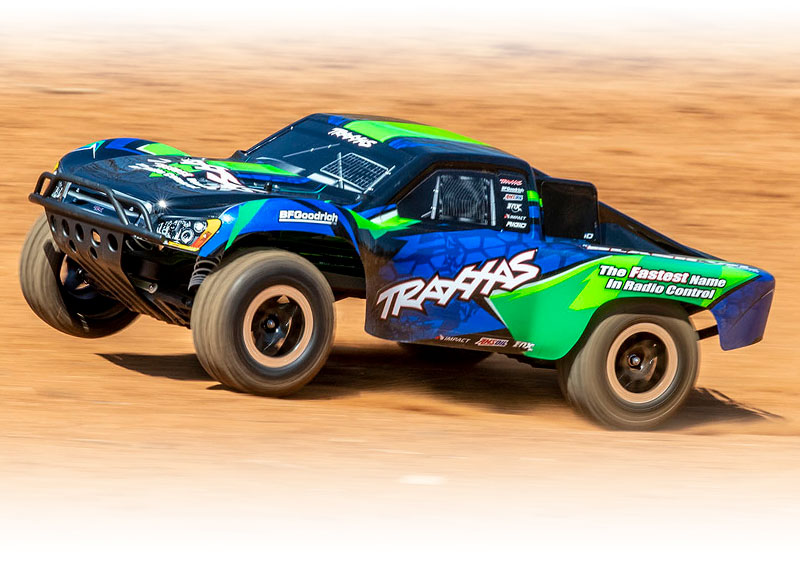 Key features
NEW Magnum 272R transmission

Aluminum motor plate
All-metal internal gears
Sealed beveled-gear differential

NEW ProGraphix® paint
Velineon® brushless power system
Traxxas Stability Management TSM®
TQi 2.4GHz transmitter and receiver
Waterproof electronics
Digital high-torque waterproof steering servo
Precision steel turnbuckles with heavy-duty rod ends
100% Fully assembled and Ready-To-Race®
Battery and charger sold separately
Specifications
Length
­
22.4 inches (568 mm)
Front Track
­
11.65 inches (296 mm)
Rear Track
­
11.65 inches (296 mm)
Weight
­
90.4 ounces (2.56 kg)
Height (overall)
­
8.43 inches (214 mm)
Wheelbase
­
13.2 inches (335 mm)
Front Shock Length
­
Long
Rear Shock Length
­
XXLong
Front Tires
­
Slash 2.2 (Pre-Glued with Inserts)
Rear Tires
­
Slash 2.2 (Pre-Glued with Inserts)
Front Wheels
­
2.2" Satin or Chrome-Finish
Rear Wheels
­
2.2" Satin or Chrome-Finish
Speed Control Type
­
VXL-3s™ Electronic Speed Control
Motor (electric)
­
Velineon® 3500 Brushless
Gear Ratio (internal)
­
2.72 (final drive: 10.2)
Differential Type
­
Steel Composite Planetary
Gear Pitch
­
48-Pitch
Transmission
­
Metal Gear Magnum 272™
Steering
­
Bellcrank
Chassis Type
­
Long-wheelbase fiber-composite chassis
Chassis Material
­
Composite Nylon
Center Ground Clearance
­
3.5 inches (89 mm)
Top Speed
­
60+mph*
Skill Level
­
1
Radio System (transmitter)
­
TQi™ 2.4GHz (2-channel)
Radio System (receiver)
­
Traxxas Stability Management® (#6533)
Officially-Licensed Race Replicas
­
Traxxas, Race Edition (Traxxas Blue)
Traxxas, Race Edition (Traxxas Red)
**Battery Tray Dimensions
­
165 mm x 49.5 mm x 23 mm, 25 mm
Required
­
NiMH or LiPo Battery, Charger, 4 "AA" batteries (transmitter)
Data sheet
Manufacturer :

Traxxas

Scale :

1/10

Type :

Ready to Run

Drive :

Electric Brushless
Composition Kit
Fully assembled with Traxxas Stability Management TSM®, TQi™ 2.4GHz radio system, Velineon® Brushless Power System, Pro Series Magnum 272R™ Transmission,  and ProGraphix® race replica painted body
Slash VXL TQi TSM Pro Series Magnum 272R Transmission - Fox
409,95 €
Viewed products
MCM undertakes
Deliver within 24/48h
To send your order within 24h (on working days) (according to the limit of the available stock) & to deliver within 24/48h.
MCM Crew
A team of specialists is at your disposal in your language (Fr, Du & En) from Tuesday till Saturday at +33 975184596 (No. non-premium rate) from 10:00 to 18:30 or by email.
A few figures
A store of 400m² located south of Brussels open from tuesday till friday from 12.30 till 18.30 & saturday from 10.00 till 18.30.
25 years of experience.
+ 110 000 products ref.
+ 35 500 products in stock.
+ 240 distributed brands.
MCM Group, the R/C specialist since 1996
MCM Racing, MCM Skyshop, MCM Slot, MCM Marine