More info
Built Slash Tough!
The Traxxas Slash set the standard for durability, performance, and fun by which all other short course trucks are measured. Outfitted with the powerful Titan 12T 550 motor and bulletproof reliability of the XL-5 electronic speed control, the Slash takes on any high-flying, fender-banging, adventure you can throw at it. Waterproof electronics keep the fun going through wet weather conditions and LED lighting extends your driving fun after dark. Grab your transmitter, rip some 4-wheel roost, and discover why nothing else is built like a Slash!
Modified Muscle
The Titan® 12T 550 motor pumps out incredible power with an integrated cooling fan to keep temperatures down. The XL-5 Electronic Speed Control provides smooth, reliable power delivery with EZ-Set® one-button setup and three different drive profiles.
Includes Battery and Charger
Slash 4X4 includes a powerful 8.4-volt 3000 mAh Power Cell rechargeable NiMH battery pack to reach its blazing 35+mph top speed. A powerful 4-amp 12V DC fast charger comes in the box for quick charging in the field. An optional TRX2976 40-watt AC adapter (sold separately) transforms a common wall outlet into a robust power source for the included 4-amp NiMH fast charger.
New LED Lighting
Slash 4X4 now includes LED lighting as standard equipment for more fun after dark. Thick impact-resistant bumpers protect the lights against crash damage with fully-waterproof construction for all-weather fun.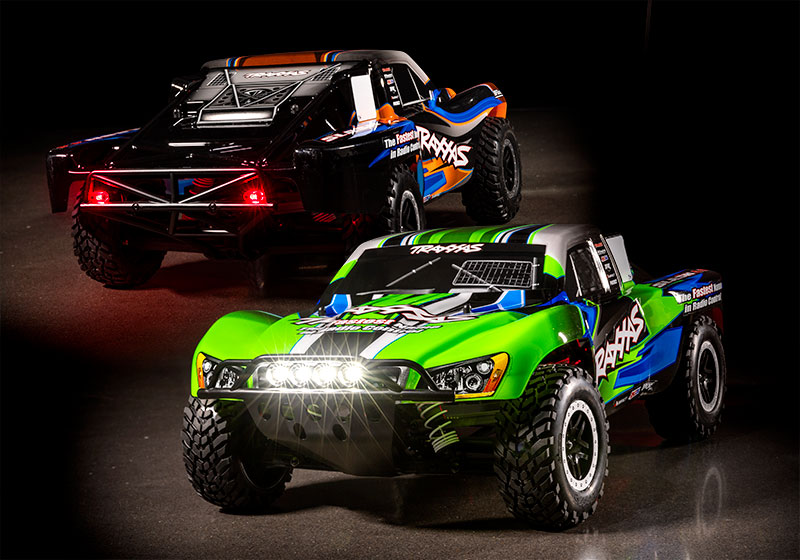 100% Fully Assembled and Ready-To-Race®
Slash 4X4 comes Ready-To-Race® out of the box with the TQ 2.4GHz 2-channel radio system, waterproof XL-5 ESC, and included 8.4V battery and charger. With over 30 years in the hobby industry, Traxxas goes the extra mile to ensure that your RC experience is easy and fun. A staff of skilled representatives is on-hand to answer your questions via phone, chat, or email.
Key features
NEW Factory-installed front and rear LED lighting
NEW ProGraphix® paint
Includes battery and charger

4-amp DC Peak-Detecting Fast Charger
Traxxas 3000 mAh 8.4V 7-cell NiMH battery with iD®

TQ™ 2.4GHz radio system
Waterproof electronics all-weather, all-season RC excitement
Titan® 12-turn 550 motor
XL-5 electronic speed control
Sealed, steel-gear front and rear differentials
Shaft-driven 4WD with heavy-duty axles
Rugged modular composite frame
100% Fully assembled and Ready-To-Race®
Specifications
Length:
­
22.4 inches (568 mm)
Front Track:
­
11.65 inches (296 mm)
Rear Track:
­
11.65 inches (296 mm)
Center Ground Clearance:
­
2.83  inches (72 mm)
Weight:
­
93.76 ounces (2.66 kg)
Height (overall):
­
7.60 inches (193 mm)
Wheelbase:
­
12.75 inches (324 mm)
Shock Length:
­
Long (front), XXLong (rear)
Tires:
­
Traxxas 2.2" pre-glued with foam inserts
Tire Diameter:
­
4.31 inches (109.5 mm) (front and rear)
Wheels (front/rear):
­
2.2" black and silver Split-Spoke
Wheel Diameter:
­
2.2" (56 mm) outer
3.0" (76 mm) inner
Speed Control Type:
­
XL-5™ Electronic Speed Control
Motor (electric):
­
Titan® 12T 550 (12-turn)
Overall Drive Ratio:
­
19.23 (stock, out-of-box)
Differential Type:
­
Hardened steel bevel, sealed, limited slip
Gear Pitch:
­
32
Chassis Structure/Material:
­
Molded tub / nylon composite
Drive System:
­
Shaft-driven, direct drive 4WD
Steering:
­
Dual-bellcrank with integrated servo saver
Radio System:
­
TQ™ 2.4GHz (2-channel)
Body:
­
ProGraphix, Traxxas Slash
Skill Level:
­
1
*Battery Tray Dimensions:
­
165 mm x 49.5 mm x 23 mm, 25 mm
Included Charger:
­
Traxxas 4-amp DC Peak Detecting Fast Charger
Included Batteries:
­
Traxxas 7-cell NiMH battery with iD®
Required Items:
­
4 "AA" Batteries (for transmitter)
Data sheet
Manufacturer :

Traxxas

Scale :

1/10

Type :

Ready to Run
Composition Kit
Fully assembled, Ready-To-Drive®, TQ 2.4GHz Radio System, XL-5 electronic speed control, 4-amp DC Peak Detecting Fast Charger, 7-cell NiMH battery with iD®,  LED lighting, and ProGraphix® painted body.
Slash 4X4 TQ 2.4GHz LED lights (incl. battery/charger) - Red
359,95 €
Viewed products
MCM undertakes
Deliver within 24/48h
To send your order within 24h (on working days) (according to the limit of the available stock) & to deliver within 24/48h.
MCM Crew
A team of specialists is at your disposal in your language (Fr, Du & En) from Tuesday till Saturday at + 32 2 376 24 05 (No. non-premium rate) from 10:00 to 18:30 or by email.
A few figures
A store of 400m² located south of Brussels open from tuesday till friday from 12.30 till 18.30 & saturday from 10.00 till 18.30.
25 years of experience.
+ 110 000 products ref.
+ 35 500 products in stock.
+ 240 distributed brands.
MCM Group, the R/C specialist since 1996
MCM Racing, MCM Skyshop, MCM Slot, MCM Marine