Ford Mustang GT / 4TecSupercar TQ 2.4 no charg,batt
More info
An American Icon
Icon. There is no better word to describe the Ford Mustang. For over 45 years, the Mustang has outsold every other sports car in America. Sleek, unmistakable body lines cut through the air with authority while a thoroughly modern chassis keeps the Mustang planted in the curves. Add a massively powerful 5.0L V8 engine and you have the recipe for an American legend.
Traxxas honors the unique spirit and attitude of the Ford Mustang with this 1/10 scale replica. Every aspect from the sculpted front grille to the sloping Fastback design is captured in faithful detail. The Traxxas Mustang GT begs to be driven hard on the all-new 4-TEC™ 2.0 chassis. Test drive the Traxxas Mustang GT today and discover the soul of the American muscle car.
Detailed replica body
Traxxas Artfully captures the spirit and unmistakable shape of Ford's Mustang GT with this fully licensed replica body. The low, muscular syance is accentuated by wide tires riding on beautiful black chrome rims. With the all new 4-Tec 2,0 chassis underneath, this is one pony car that drives as good as it looks.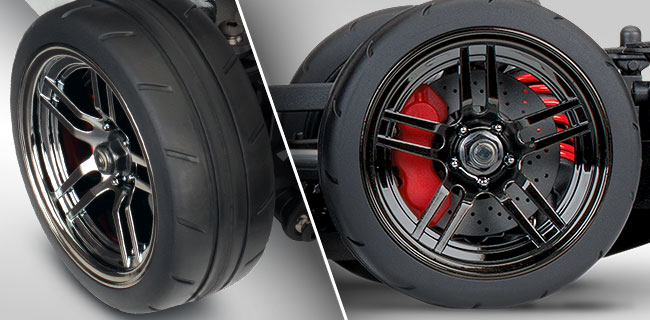 Replica tires & wheels
Sticky street tires feature an aggressive tread pattern and wrap around gorgeous replica wheels with lug nut details. The replica brake discs incorporate standard 12mm wheel hexes and feature red brake calipers. The brake calipers even switch from leading to trailing orientation to give your ride that fully authentic look.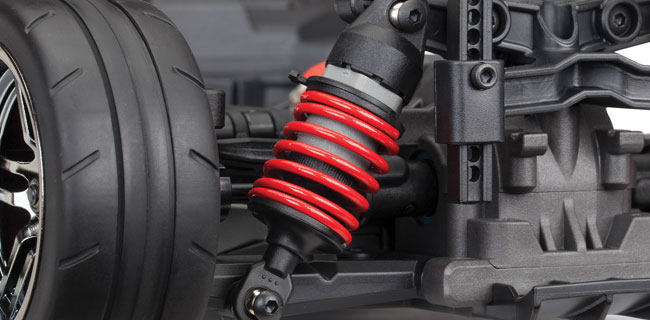 Oil-filled ultra shocks
4-Tec 2,0 rides on oil-filled ultra shocks utilizing x-ring technology for a perfect seal and silky-smooth performance. They are fully tunable with a wide range of oils, springs and pistons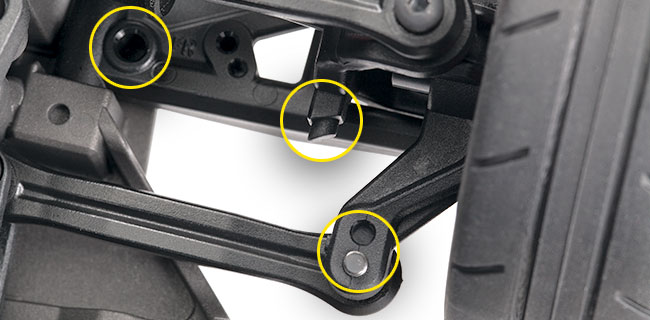 High performance suspension adjustments
The 4-Tec 2,0 features a high angle steering option with separate mounting holes in the linkages. With minor modifications, high angle steering allows your Mustang to rotate further for epic drifting around corners.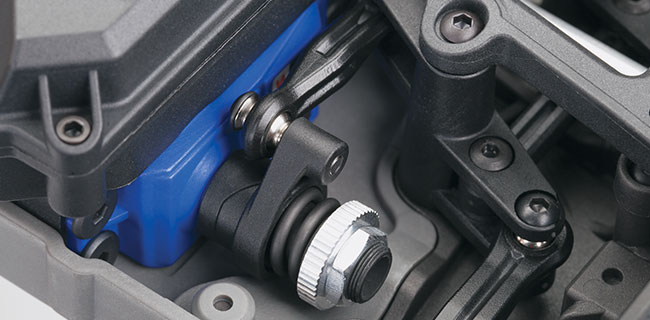 Integrate servo saver
Conventional servo saver earned a reputation for sloppy steering in on road cars. 4-Tec 2,0 changes all that with its integrated servo saver that's secure directly to provide precise and responsive handling in all situations.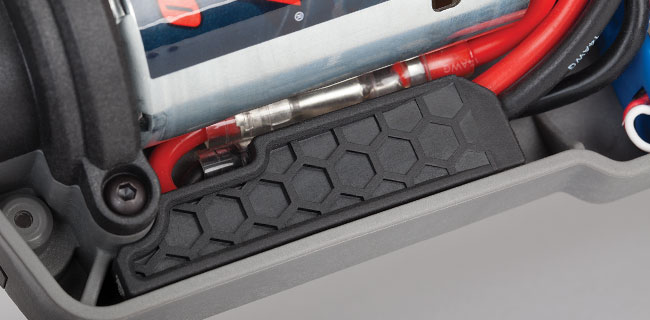 Molded wire retainer
A simple wire clip would look out of place with this futurustic high tech chassis. Traxxas designed a trick molded wire retainer to keep wiring secured safely ou the way
Fixed gear mesh system
Setting the perfect gear mesh can be a complicated and arduous process. The Mustang GT eliminates the hassle with its innovative fixed positioning system. Use the convenient chart included in the user manual to select the proper hole for your pinion gear.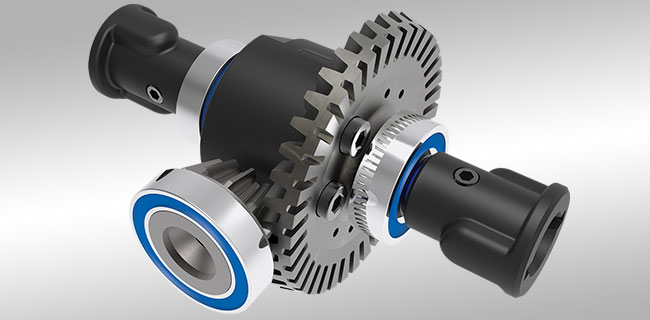 Proven sealed differentials
The 4-Tec 2,0 chassis features the same sealed, beveled-gear differential in the front and rear as the ultra rugged slash 4x4 tune the performance by varying the viscosity of the fluid inside
Key features
Officially Licensed Ford Mustang GT body
High-performance waterproof XL-5 electronic speed control
Adjustable Body Mounts
TQ 2.4 GHz radio system
Steering
Low center of gravity chassis
High performance suspension
Adjustable battery hold down
Efficient direct all-wheel drive
Rubber sealed ball bearings
Specifications
| | |
| --- | --- |
| Length: | 18.1 inches (460mm) |
| Front Track: | 7.7 inches (196mm) |
| Rear Track: | 7.9 inches (200mm) |
| Ground Clearance: | 0.3 inches (9mm) |
| Weight: | 3.2lbs (1.45kg) with body (no battery) |
| Height (ride): | 5.07 inches (129mm) |
| Wheelbase: | 10.1 inches (256mm) |
| Shock Length: | Short (front and rear) |
| Tire Diameter: | 2.6 inches (66mm) |
| Tire Width (front): | 1.0 inches (26mm) |
| Tire Width (rear): | 1.2 inches (30mm) |
| Wheel Diameter: | 1.9 inches (48mm) |
| Speed Control: | XL-5™ Electronic Speed Control |
| Motor (electric): | Titan® 12T 550 (12-Turn) |
| Transmission: | Single Speed Direct Drive |
| Overall Drive Ratio: | 9.49 |
| Differential Type: | Sealed, Hardened Steel Bevel, Limited Slip |
| Gear Pitch: | 48 |
| Chassis Structure/Material: | Molded Tub / Nylon Composite |
| Brake Type: | Electronic |
| Drive System: | Shaft-Driven 4WD |
| Steering: | Dual-Bellcrank |
| Radio System: | TQ™ 2.4GHz Transmitter |
| Servo: | #2075 High Torque Waterproof |
| Top Speed: | 30+mph (with included optional pinion gear) |
| Skill Level: | 1 |
| Battery Tray: | 158mm long / 46mm wide / 23 or 26mm high |
Data sheet
Manufacturer :

Traxxas

Scale :

1/10

Type :

Ready to Run Basic

Drive :

Electric (Brushed)
What you need to complete
Mustang GT requires the use of a 7-Cell NiMH "flat pack" or 2-Cell LiPo Battery equipped with a Traxxas High Current Connector.
Traxxas EZ-Peak Plus model #2970 recommended.
Four AA alkaline batteries for the transmitter
Composition Kit
Traxxas Mustang GT, Ready-To-Race® Model with Titan™ 12T 550 Motor
XL-5™ Waterproof Electronic Speed Control
TQ™ 2.4GHz Radio System
Quick Start Guide
High Quality Maintenance Tools
Optional High Speed Pinion Gear
Ford Mustang GT / 4TecSupercar TQ 2.4 no charg,batt
279,95 €
Viewed products
MCM undertakes
Deliver within 24/48h
To send your order within 24h (on working days) (according to the limit of the available stock) & to deliver within 24/48h.
MCM Crew
A team of specialists is at your disposal in your language (Fr, Du & En) from Tuesday till Saturday at + 32 2 376 24 05 (No. non-premium rate) from 10:00 to 18:30 or by email.
A few figures
A store of 400m² located south of Brussels open from tuesday till friday from 12.30 till 18.30 & saturday from 10.00 till 18.30.
25 years of experience.
+ 110 000 products ref.
+ 35 500 products in stock.
+ 240 distributed brands.
MCM Group, the R/C specialist since 1996
MCM Racing, MCM Skyshop, MCM Slot, MCM Marine