Crawling kit - EMO X 1/8 RTR kit (Grey)
More info

The Rhino EMO X uses the appearance of a classic hard off-road vehicle, with a competitive style of modification, with a simulated racing driver, a hidden shell buckle, a full-size spare tire, tough and aggressive. The shell is made of high-quality thickened PC materials. The vehicle is standard equipped with a cool flash lighting system independently controlled by a single channel, which is a single bright, full bright, flash and flash switch.

Front-facing, low-center-of-gravity performance chassis
The Rhino EMO X still adheres to the low center of gravity layout, but this time the battery is at the forefront, as long as the size of the battery is changed, the climbing characteristics can be changed. Various upgrades such as unsprung counterweights will be released in succession, so that everyone can adjust vehicle characteristics more simply and professionally.

Newly designed rear axle balance link
During the control process of climbing car, such as rushing up a slope to pull ash or continious sharp steering, the ball head of the rear axle tie rod will be subjected to a large lateral force, which may cause the ball head to be buckled or even broken. Rhino EMO X is equipped with a rear axle balance link as standard, which is used to absorb and decompose the lateral impact force on the rear axle, effectievely protect the suspension link mechanism, and ensure that the rear axle is not affected by twisting of the rear axle through the mutual rotation of the axes. And compared with the unilateral thrust rod, there will be no unilateral deviation of the rear axle.
Strengthened structure and thickened axle
With the diversified development of climbing car gameplay, Rhino EMO X newly designed front and rear axles with strengthened structures. The door side deceleration components are installed with cross-section screws to ensure that they will not be damaged under high torque conditions. The tie rod seat is made of integral molding, which is stronger than the post-mounted tie rod seat, and will not break the tie rod seat due to twisting or overturning. The new axle continues to retain the 8-degree kingpin caster, which improves the road feel and improve the effiency of the steering servo, making the control more precise and delicate, the front and rear power input shafts are raised by 10 degrees, so that the angle of transmission shaft is smaller, which can be obvisously offset the tension of the steering wheel. The non-uniform velocity effect of the knuckles improves driving confort and reduces mechanical wear.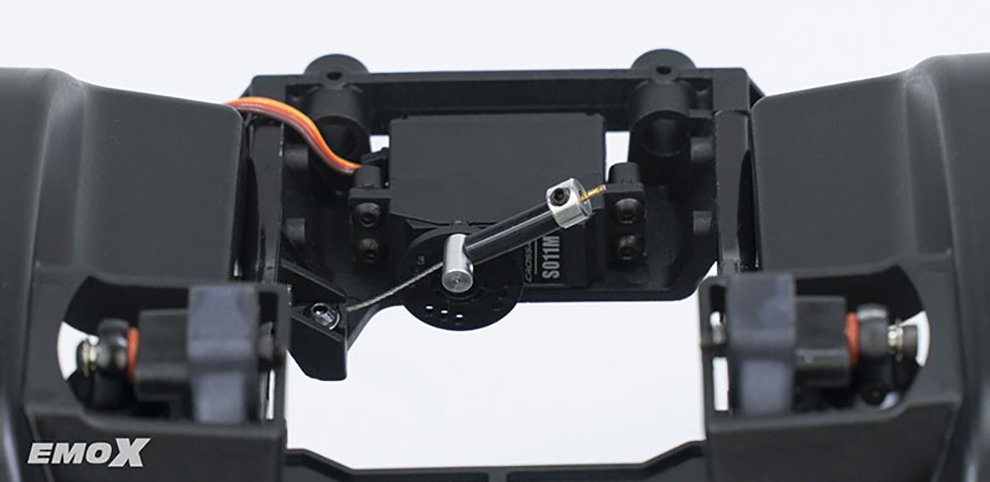 Differential lock mechanism without rudder adjustment (industry first)
The differential lock control of Rhino EMO X adopts and adjustment-free installation. The servo stroke is used 100% without adjustment. You will no longer be afraid to upgrade the remote control and burn out the servo in the future. With the new self-lubricating steel wire assembly, it is water & dust proof and can be loked in seconds. RTR is equipped with 6-channel remote control, the front and rear differentials can be independent lock, front lock and rear differential, front differential and rear lock, same lock and same differential. More fun to play. The inlay structure of the lock differential is fully metalized, which is stronger and more durable, and can be opened and locked without parking.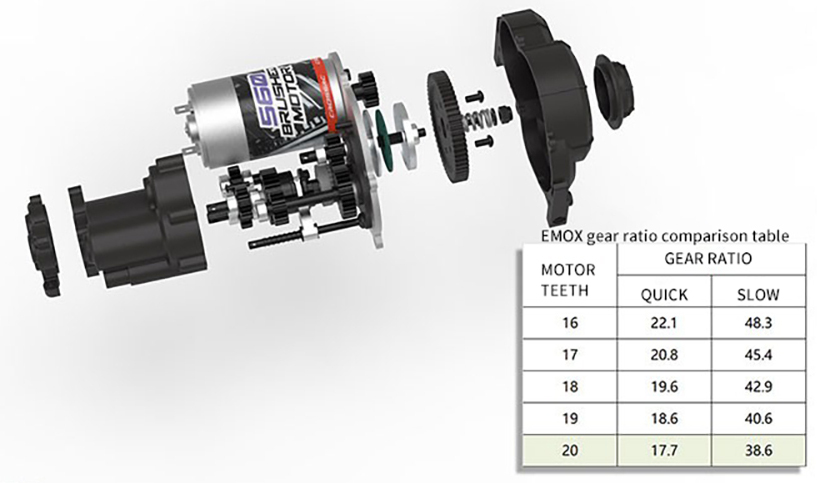 Quick-adjust limited slip transmission
With the newly designed two-speed gearbox, no need to remove any screws to adjust the limited slip, just unscrew the cover to adjust. The new gearbox integrates a splitter, and uses all-metal shifting and transfer gears, which are stronger and more duravle. The large tooth adopts MO.8 gear, the motor gear upgrade range is wider, and the upgrade of the brushless system is simpler. The original factory is equipped with a 560 high-speed, high-torque self-cooling brushed motor as standard, which can be used for both climbing and crossing.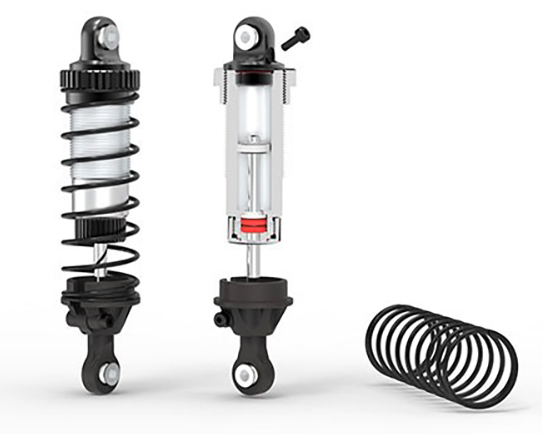 Large diameter shock absorber
Rhino EMO X adopts 21mm large-diameter shock absorber, full CNC machining hydraulic cylinder, upper cover vent design, oil filling and maintenance are easier. The spring seats is fastened with screws, so you are no longer afraid of losing it during trail running.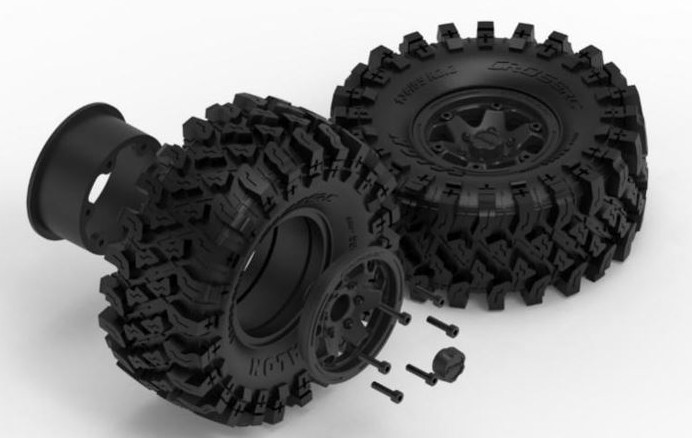 Lightweight nylon sandwich wheels and newly designed "TALON" MT tires
The 2.2-inch lightweight nylon clip wheel hub can dignificantly reduce the load on the shaft and make the car's dynalic performance more prominent. After the actual performance of MUD tires and the use experience of international excellent products, we refuse to copy and insist on originality. We comprehensively designed the brand-new "TALON" MT tire with larger studs and snow lines, while also taking into account the grip of the tire wall. The diameter is 136mm, and the width is 55mm. It also compatible with the common 2.2-inch wheels on the market. It is produced with professional synthetic materials, which is high-grip, durable and not easy to puncture.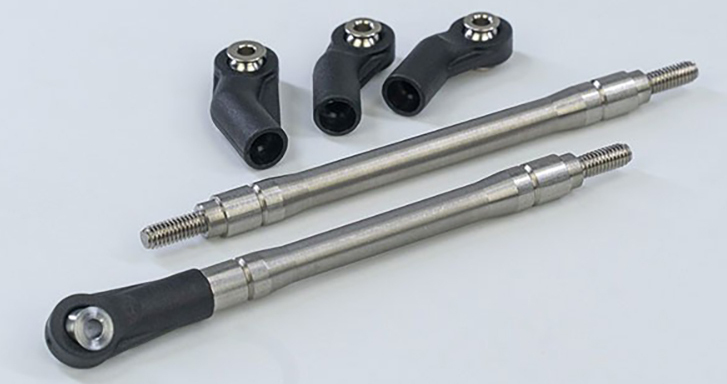 Newly designed reinforced M4 ball head buckle and steel tie rod
The newly designed M4 ball head buckle enhances the support in the direction of force, and at the same time cooperates with the tie rod. Embedded fit, the maximum diameter is 7mm, and the shaft diameter is 6mm, greatly improving the suspension pull.
Rhino EMO X adopts all metal gears (except large teeth) ABEC3 level rubber covered ball bearings, and the most important special cold-resistant nylon. They were also sent to cities at -30° for low-temperature snow test to ensure that all regions of the world you can play with confidence.
Key features
High-quality Finished Body
High power LED with strobe and flash mode
Front and rear adjustable upper fulcrum
Axle High-strength nylon door bridge
Hub lightweight nylon clip tire wheels
Specifications
| | |
| --- | --- |
| Lenght : | 575 mm |
| Wheelbase : | 375 mm |
| Tire : | 136*55 mm R2.2 Talon M/T |
| Gearbox : | Limited-slip 2 speed metal gear transmission |
| Drive shaft : | Metal head out-of-pin CVD |
| Front suspension : | Three-link + push rod |
| Rear suspenssion : | Four-link + balance link |
| Shock absorber : | Diam. 16 mm aluminium alloy CNC |
| Differential : | Powder metallurgy 4+2 gear dif. |
| Differential lock : | Self-lubricating cable-type inlay |
| Motor : | 560 25T carbon brush climbing |
| Steering gear : | 25 Kg HV standard |
| Var. speed & dif. Lock servo : | 3 KG 25g HV |
| Electronic governor : | Hobbywing 880 BEEC7.4V |
| Remote control systèm : | 2.4 Ghz 6 channel |
| Vehicle reduction ratio 16T Hi.gear/Lo.gear | 22.1 / 48.3 |
| Vehicle reduction ratio 17T Hi.gear/Lo.gear | 20.8 / 45.4 |
| Vehicle reduction ratio 18T Hi.gear/Lo.gear | 19.6 / 42.9 |
| Vehicle reduction ratio 19T Hi.gear/Lo.gear | 18.6 / 40.6 |
| Vehicle reduction ratio 20T Hi.gear/Lo.gear | 17.7 / 38.6 |
| Battery size requirements | 135 x 50 x 40 |
Data sheet
Manufacturer :

Cross-RC

Scale :

1/8

Type :

Ready to Run

Drive :

Electric (Brushed)
Crawling kit - EMO X 1/8 RTR kit (Grey)
609,99 €
Viewed products
MCM undertakes
Deliver within 24/48h
To send your order within 24h (on working days) (according to the limit of the available stock) & to deliver within 24/48h.
MCM Crew
A team of specialists is at your disposal in your language (Fr, Du & En) from Tuesday till Saturday at + 32 2 376 24 05 (No. non-premium rate) from 10:00 to 18:30 or by email.
A few figures
A store of 400m² located south of Brussels open from tuesday till friday from 12.30 till 18.30 & saturday from 10.00 till 18.30.
25 years of experience.
+ 110 000 products ref.
+ 35 500 products in stock.
+ 240 distributed brands.
MCM Group, the R/C specialist since 1996
MCM Racing, MCM Skyshop, MCM Slot, MCM Marine