More info
Size wins
At the end of the day, size always wins. X-Maxx plows over obstacles and muscles through extreme terrain that leaves lesser trucks stranded. Mammoth 8-inch tall tires, long-arm suspension, and huge ground clearance dwarf the surroundings for virtually unstoppable monster truck fun.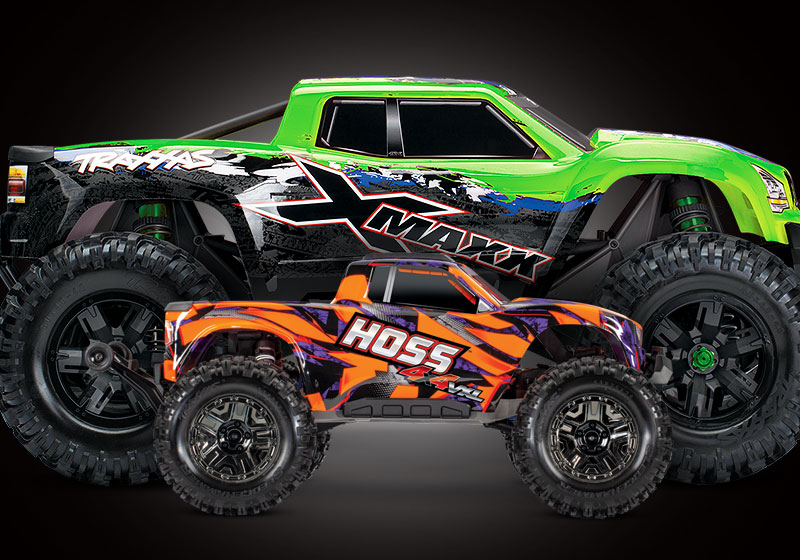 Extreme power
At Traxxas, too much power is never enough! The durability of the new VXL-8s is matched only by the sheer ferocity of its 8s 30+ volt dual LiPo muscle. The speed-tuned 1200XL Big Block motor propels with brutal authority and exacting quickness that warps your senses. No matter what you have driven in the past, nothing will prepare you for.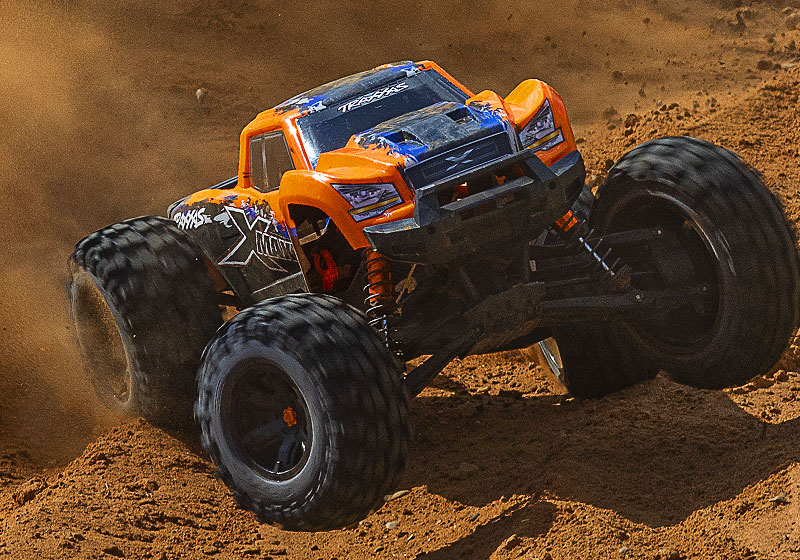 Maxx-duty drivetrain
X-Maxx puts the power to the ground through tough all-steel drivetrain gears, the revolutionary Cush Drive system, and our strongest driveshafts ever. The all-new Torque-Biasing Center Drive improves driveline durability and drives larger module ring and pinion gears on the toughest differentials we have ever produced.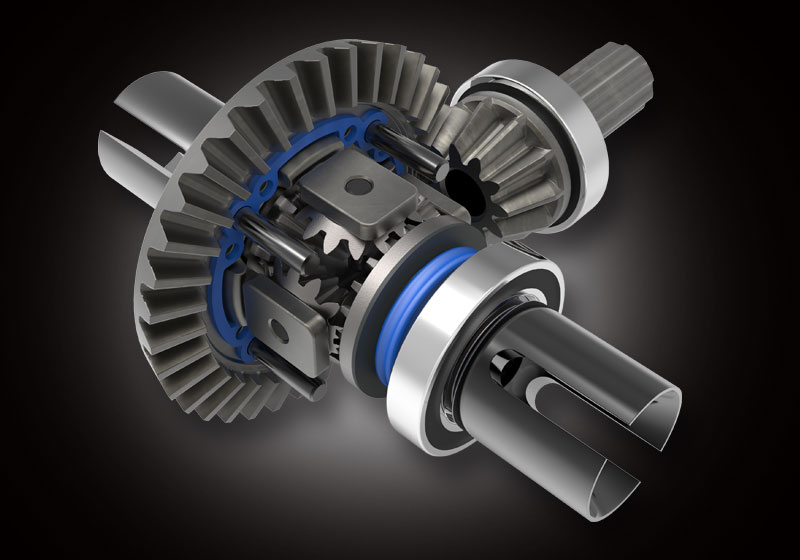 Innovation
Insightful engineering and precise integration of innovative solutions set in an all-new category of superior performance. It's as satisfying and rewarding to use as it is fun and exciting to drive.
All-new design
For 80+ km/h tire-scorching 30+volt power, Traxxas developed new 4-cell 6700mAh iD LiPo battery packs and the new 4s capable EZ-Peak Live multi-chemistry charger.
Maxx muscle
The new VXL-8s speed control is an all-new Traxxas design that incorporates advanced microprocessor control with sophisticated software for smooth responsive performance and a rich feature set. The VXL-8s delivers real-time telemetry to the Traxxas Link app with the optional TQi Wireless Module (part #6511, sold separately).
Integrated wheelie bar
A wheelie bar is mandatory equipment for  staggering acceleration. The wheelie bar helps prevent backflips under full-throttle acceleration and flexes to absorb impacts on less-than-perfect landings. Best of all, it features a convenient handle to transport.
TQi radio system
The fully featured Traxxas TQi 2.4GHz radio system delivers superiore speed, precision, and control. It is Traxxas Link enabled so you can add a module (part #6511, sold separately) and connect wirelessly to the Traxxas Link app using your smart phone. The Traxxas Link app allows you to adjust your settings and view real time telemtry.
Traxxas stability management
Traxxas Stability Management TSM works behind the scenes to help harness X-Maxx's brutal power for maximum acceleration and ultimate control. Adjust the amount of assistance from off to 100% right from your transmitter.
Superior driveline protection
X-Maxx's rugged and direct driveline reduces rotational mass and delivers superior durability. The driveline lies completely shieleded inside the chassis for worry-free running, safe from rocks and other debris.
Torque-biaising center drive
The cast allow torque-biaising center drive improves durability and controls front-to-rear power distribution for absolutely mind-bending four-wheel drive acceleration. It's tuned to allow instant, wheels-up punch off the line and seamless, virtually invisible operation at speed.
Traxxas self-righting
Pioneered by X-Maxx, this patent-pending Traxxas innovation flips the X-Maxx back onto its wheels after a roll over. In most situations, the fun does not have to stop just to rescue an upside down truck.
Fully waterproof
Water? Mud? Snow? X-Maxx says "Bring it on!" Traxxas was first to offer patented innovative waterproofing solutions to extend your fun into environments that were previously off limits to lesser trucks.
Clipless body mounting
Traditional clip and post body mounting solutions would not survive in an X-Maxx world. Instead, X-Maxx uses an innovative body latching system that secures the body firmly and easy.
New body reinforcement
With intense 8S power, X-Maxx will spend a lot of time reared up on two wheels. Body reinforcement has been added where it is needed most for extra protection during rollovers or when self-righting.
Easy battery access
Traxxas engineers paid special attention to make sure the touch points on X-Maxx are easy to use. The snap-lock battery retainers are integrated into the chassis and keep a firm, secure grip on the batteries. A conventional pin or latch system would have been out of place on something as radical as the X-Maxx.
4S LiPo batteries & EZ-peak live charger
For 80+km/h tire-scorching 30+ Volt power, Traxxas developed a new 4-cell 6700mAh iD LiPo battery packs and the new 4S capable EZ-peak live multi-chemistry charger.
Details
The full X-Maxx experience of strength, power, and agility relies on all the carefully engineered details that begin to emerge when you peel back the layers. Old conventions were discarded as every system and dimension was examined and taken to a level worthy of the Maxx legacy.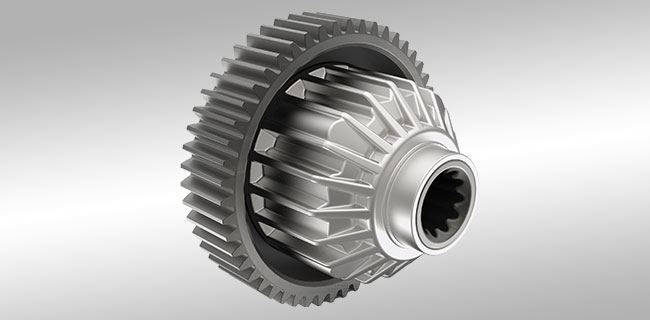 Torque-biaising center drive
The all new torque-biaising center drive absorbs shocks to imprrove the driveline durabilty. The center drive also distributes power to all four wheels for mind-bending four-wheel drive acceleration without the side effects of a typical center differential. Center differentials allow tires in the air to balloon uncontrollably, while the torque-biaising center drive allows wheelies off the line with seamless power distributed to all four wheels.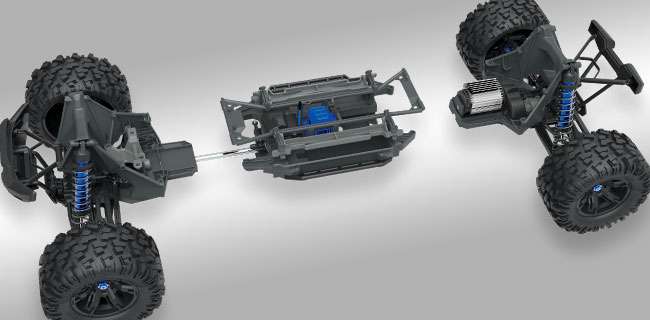 Modular chassis design
The interlocking modular chassis design keeps the motor and the gear drive together as a unit to virtually eliminate gear-crunching chassis flex. Plus, the design provides easy access to critical components, making any needed maintenance or repairs a snap to perform.
New 8s-rated tires
The wheels and tires are massive and so is the grip from the hyper-aggressive all-terrain tread. Traxxas specially-engineered a new tire compound and mounting system to cope with X-Mass's ferocious speed. Full-throttle tire-squealing acceleration is more fun than ever without the worry of ripping a tire off the bead. Our engineers overlooked nothing to ensure X-Maxx delivers the bulletproof durability you expect from a Traxxas truck.
GTX aluminium shocks
X-Maxx's four enormous high-performance oil-filled GTX aluminium shocks smooth out the roughest terrain for the super-plush ride that made Maxx trucks famous. The large oil volume dissipates heat for all-day shredding while an integrated wiper seal keeps the shafts clean, reducing seal wear for long life.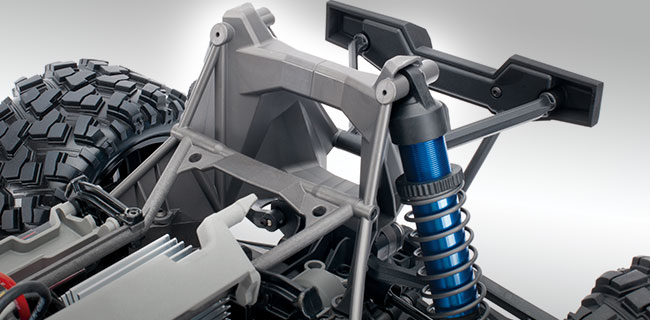 Shock tower design
X-Maxx's shock towers introduce an exclusice Traxxas look that offers rigid, triangulated structure and an authentic off-road look that fills in the wheel openings of the truck. They also serve as convenient carry handles and provide level supports for the X-Maxx when placed upside down for cleaning.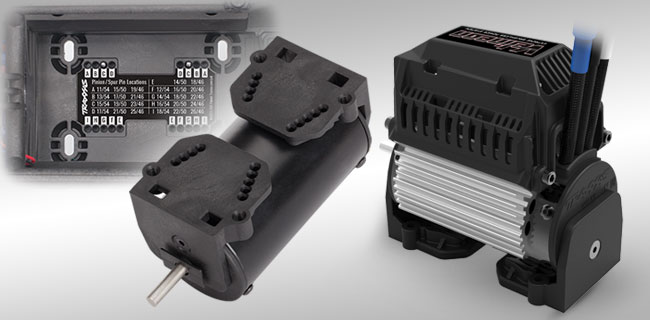 Rock-solid motor mount with dual cooling fans
The all-new motor mount design cradles the motor so it can't flex on the mount. Gear mesh is held fimly in place by keyed pins so there's no need for tricky adjustments. Eliminating flex means longer gear life, even in the most punishing conditions. The new dual-fan assembly helps cool the motor for extended run times and maximum fun.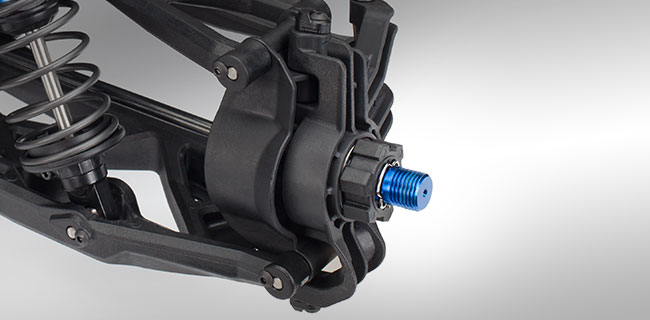 Monster travel
Achieving X-Maxx's huge suspension travel, tight turning circle, and incredible strength required hundreds of hours of modeling, development, and testing to package all of that capability in these sophisticated components. Exciting visual form follows unsurpassed function and performance.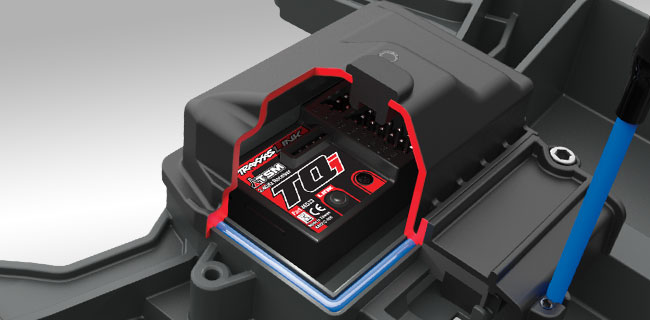 Waterproof from the start
Waterproofing our models has never been an afterthought at Traxxas. Patented Traxxas innovation seals out the water so that your playground doesn't end when the fun involves water, snow and mud. Dirty truck? Just hose it off. The new style box allows fast radio access without removal.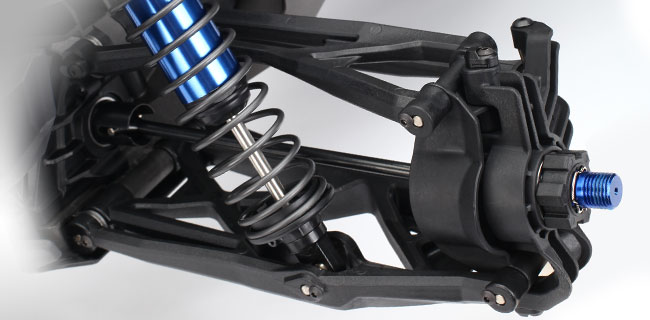 Double shear connections
X-Maxx uses double shear connections when the mission requires incredible strength. Suspension hinge points, shock mounting, and even the steering servo output shaft are engineered to redefine Traxxas Tough. Captured, high-strength steel suspension pins are used throughout and will never unscrew or back out.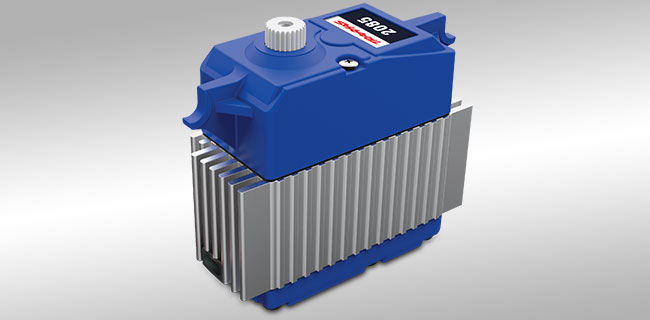 Steering authority
A new servo was created to deliver the strength and the torque necessary to give X-Maxx unmatched steering authority. The quick steering and tight turning circle, combined with advanced suspension geometry, gives X-Maxx nimbleness and control that you might not expect form such a large vehicle.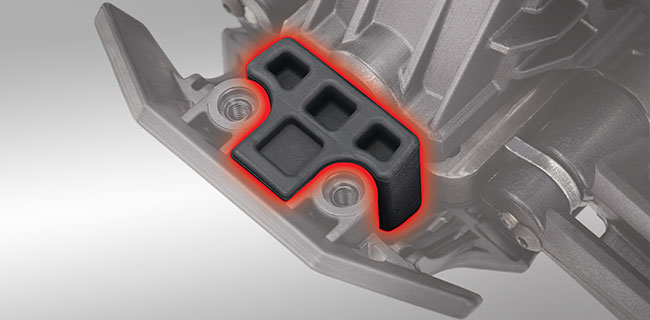 Impact cushions
X-Maxx is equiped with new energy-absorbing impact cushions behind the front and rear bumpers to help soften the blows and make X-Maxx even more durable in demanding situations - even the unexpected ones.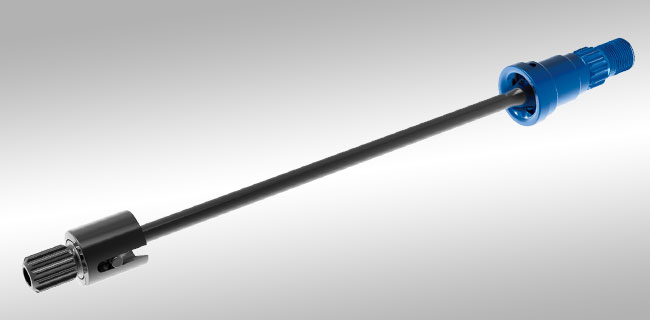 New CV driveshafts
Traxxas turned the X-Maxx with our strongest driveshafts to harness the twisting power of the motor's extreme torque. This rugged design maximizes suspension travel, steering angles, and overall durability. The differential outputs are splined for incredible strength, and they center bolt to the differential for easy cleaning and service. Splined wheel hexes eliminate axle pins that require through holes that create a weak point in shafts.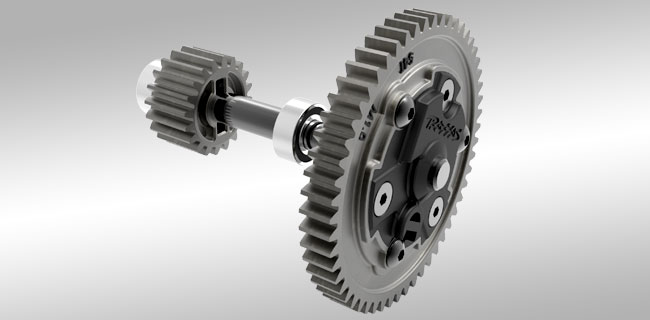 Shock-absorbing cush drive
Conventional slipper clutches could not withstand the monster torque loads of the 8s X-Maxx. Instead, our engineers adapted the revolutionary cush drive system from the 160km/h XO-1 Supercar and strenghtened it with a steel spur gear. Instead of slipping, the cush drive sends pure uninterrupted power straight to the torque-biaising center drive for unimaginable acceleration.
Aluminium splined driveshaft
The tough aluminium center driveshaft carries the power to the front and rear differentials. Splined drives are used throughout for precise engagement, incredible strength, and smooth running.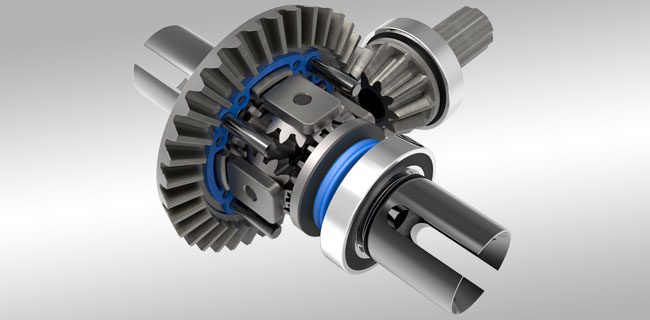 New maxx-duty sealed diffs
The new X-Maxx differentials feature our largest module steel ring and pinion gears ever to handle the rigors of challenging off-road situations. The differentials are sealed and filled with heavyweight oil, which gives the feel of limited-slip differentials. What the driver feels is confidence as the X-Maxx power slides through turns with massive roost and total control.
Full contact sealed bearings
X-Maxx features full contact sealed bearings in outboard locations to keep out the grime and grit. Less downtime for cleaning and maintaining bearings equals more run time for X-Maxx.
Specifications
| | |
| --- | --- |
| Overall Drive Ratio: | 8.11 (stock, out-of-box) |
| Differential Type: | Sealed, Hardened Steel Bevel, Limited Slip |
| Gear Pitch: | 1.0-Pitch |
| Chassis Structure/Material: | Composite Nylon Tub |
| Brake Type: | Electronic |
| Drive System: | Shaft-Driven 4WD |
| Steering: | Bellcrank |
| Radio System: | TQi™ 2.4GHz Transmitter with TSM® receiver™ |
| Servo: | Torque: 365oz. Speed: 0.17 sec/ 60 degrees(6.0V) |
| Top Speed: | 50+ MPH with two 4s LiPo batteries and optional pinion gear |
| Skill Level: | 6 |
| Battery Tray: | 197mm x 51.5mm x 44mm |
| Required Batteries: | 4 "AA" (transmitter) |
| | |
| --- | --- |
| Length: | 30.67 inches (779mm) |
| Front Track: | 22.26 inches (540mm) |
| Rear Track: | 20.66 inches (525mm) |
| Ground Clearance: | 4 inches (102mm) |
| Weight: | 19.1lbs (8.66kg) |
| Height (ride): | 13.79 inches (350mm) |
| Wheelbase: | 18.92 inches (480mm) |
| Shock Length: | 7.4 inches (187mm) |
| Tires (pre-glued): | 8.0x4.0 inches (203mm) |
| Wheels: | 4.3x5.7 inches (110x145mm) |
| Speed Control: | Velineon VXL-8s |
| Motor (electric): | Velineon 1200XL |
| Transmission: | Single-Speed |
Data sheet
Manufacturer :

Traxxas

Scale :

1/8

Type :

Ready to Run

Drive :

Electric Brushless
What you need to complete
Composition Kit
Fully assembled and Ready-To-Race® with TQi™ 2.4GHz radio system with Traxxas Stability Management, VXL-8s Brushless Power System, and ProGraphix® painted body.
X-Maxx 4WD VXL-8S TQi TSM(no battery/charger) SolarFlare+FREE TRX7885
1 199,95 €
MCM undertakes
Deliver within 24/48h
To send your order within 24h (on working days) (according to the limit of the available stock) & and delivered quickly.
MCM Crew
A team of specialists is at your disposal in your language (Fr, Du & En) from Tuesday till Saturday at +33 975184596 (No. non-premium rate) from 10:00 to 18:30 or by email.
A few figures
A store of 400m² located south of Brussels open from tuesday till friday from 12.30 till 18.30 & saturday from 10.00 till 18.30.
25 years of experience.
+ 110 000 products ref.
+ 35 500 products in stock.
+ 240 distributed brands.
MCM Group, the R/C specialist since 1996
MCM Racing, MCM Skyshop, MCM Slot, MCM Marine