More info
Rustler® 4X4 VXL revolutionized the stadium truck experience with its tough-as-nails chassis and 4-wheel drive traction. Rustler 4X4 VXL Ultimate takes it to the next level with more strength, more technology, and more fun! Outfitted with over $400 in premium upgrades, Rustler 4X4 VXL Ultimate is like a whole new truck. Experience the pinnacle of stadium truck performance with Rustler 4X4 VXL Ultimate.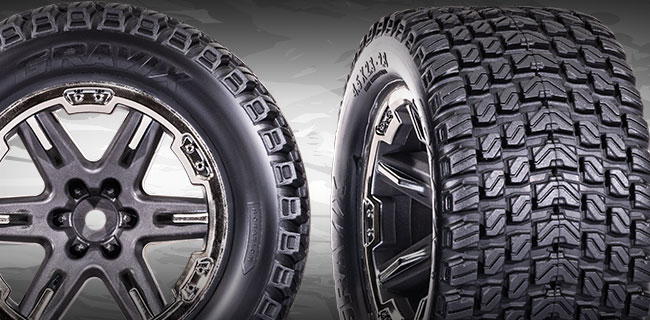 2,8" Gravix Tires
Pioneered ont he 60+ mph XRT, gravix race tires are a revolutionary new hybrid design with densely packed biting edges and sipes. They deliver outstanding grip on hard-packed surfaces along with fast and quiet-running precision on pavement.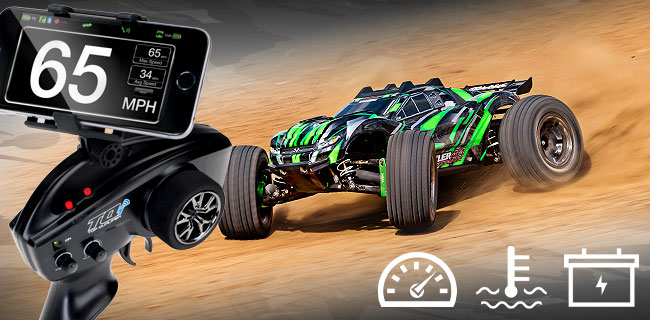 Factory-installed telemetry sensors collect and record Rustler 4x4 Ultimate's telemetry data as you drive. Add the free Traxxas Link app to your mobile device to view real_time speed, RPM, temperature, and battery voltage data. The full-color app dashboard is fully customizable with up to nine different dial or digital readout gauges.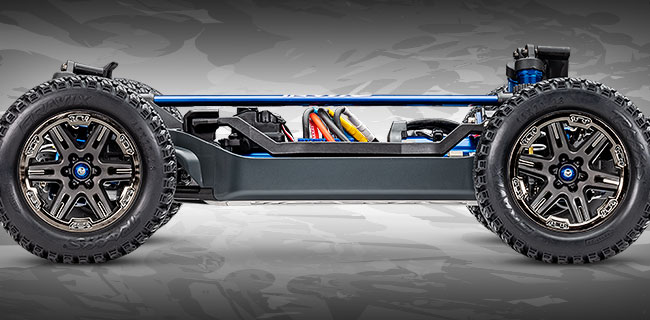 Low-CG chassis
Rustler's innovative charcoal gray low-CG chassis positions weight down low for aggressive handling. A wide track and extended wheelbase keep Rustler planted in the turns to provide the perfect balance of stability and quick responses.
RTX wheels
Large 2,8" RTX wheels give Rustler 4x4 Ultimate terrain_conquering ground clearance with a splash of style. Black chrome beadlock trim contrasts the charcoal gray wheels for a high-tech look.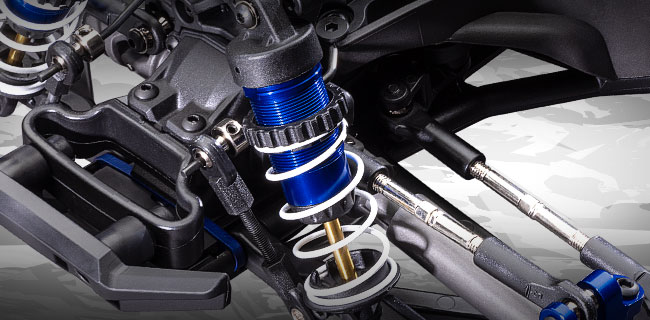 GTR shocks
Gtr shocks represent the peak of suspension technology. The blue PTFE-coated aluminium shock bodies hold over 70% more oil than the standard Ultra Shocks and their slick titanium-nitride coated shafts resist scuffing, increase durability, and eliminate "stiction." X-ring seals keep oil in and dirt out for smooth, consistent damping, and plush suspension action. Spring preload and ride height changes are simple as turning the threaded collars-no spacers required.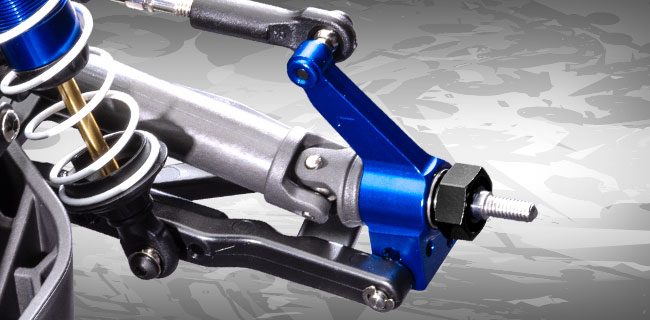 Aluminium Hub carriers
6061-T6 aluminium stub axle carriers add both strength and beauty to Rustler 4x4 Ultimate without compromising its carefully tuned suspension geometry.
Aluminium center driveshaft
The colo_matched center driveshaft is formed from extruded alumilnium and extremely lightweight for lower rotating mass. There are no dogbones to wear out, no drive cups to wobble and the shaft runs perfectly straight and true with superior rigidity and durability.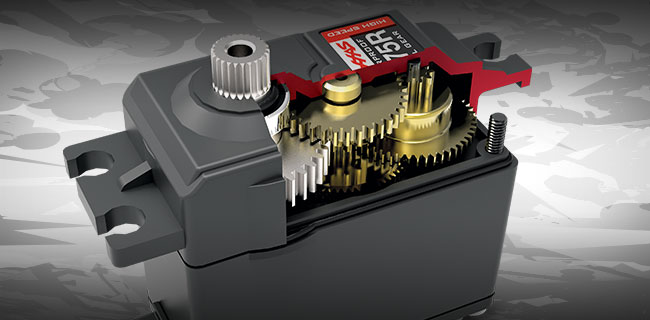 High speed metal gear servo
Rustler 4x4 Ultimate needs a fast and powerful servo to match its lightning-quick reflexes. the fully waterproof 2075R digital metal gear servo combines commanding steering authority with the superior durability of all_metal gears for the ultimate driving experience.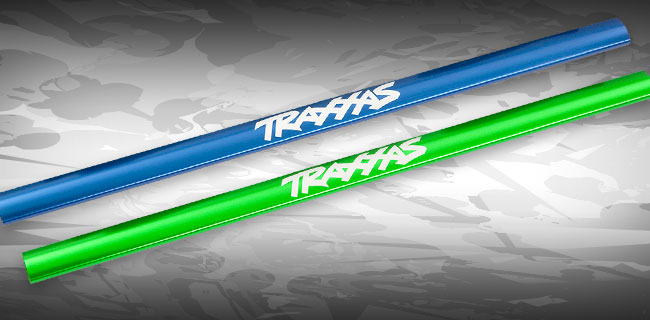 Chassis stiffener
A brightly anodized aluminium chassis stiffener provides structural reinforcement for high loads and hard landings. Made from thick extruded aluminium, the oval_shaped stiffener increases torsional rigidity and dramatically strengthens Rustler 4x4 Ultimate's chassis to reduce flex.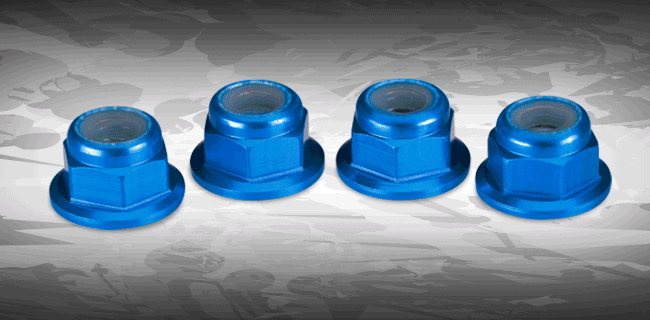 Aluminium Wheel nuts
Rustler aluminium wheel nuts lock tightly onto the wheeld for intense tire-shredding action. The color-matched anodized finish contrasts the dark wheels for maximum impact.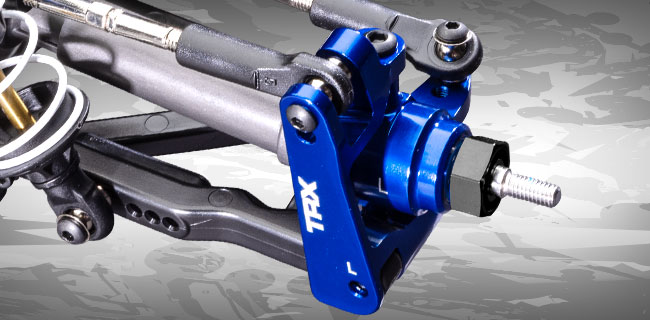 Aluminium caster and steering blocks
Rustler 4x4 Ultimate's caster and steering blocks combine the strength of 6061-T6 aluminium with carefully engineered steering and suspension geometry. The brillant-blue anonized finish adds high-tech style with laser-etched logos to show off your genuine Traxxas performance parts.
Key features
2,8" Gravix tires
Factory-installed telemetry
Low-CG chassis
RTX wheels
GTR shocks
Aluminium Hub carriers
Aluminium center driveshaft
High speed metal gear servo
Chassis stiffener
Aluminium wheel nuts
Aluminium caster and steering blocks
Adjustable sway bars
TQi transmitter with wireless module
Specifications
| | |
| --- | --- |
| Length: | 18.78 inches (477 mm) |
| Width: | 12.94 inches (329 mm) |
| Ground Clearance: | 1.1 inches (27 mm) |
| Weight: | 5.70 pounds (2.59 kg) |
| Height: | 6.35 inches (161 mm) |
| Wheelbase: | 11.62 inches (295 mm) |
| Front Shock Length: | 3.45 inches (88 mm) - Long |
| Rear Shock Length: | 3.98 inches (101 mm) - XX-long |
| Tires (pre-glued): | 4.5″ x 2.3″ (114 mm x 58 mm) Gravix™ |
| Wheels: | 2.8 inches (71 mm) Charcoal gray RXT™ w/black chrome beadlock |
| Speed Control: | VXL-3s™ |
| Motor (electric): | Velineon® 3500 Brushless |
| Transmission: | Single speed |
| Transmission: | Single speed |
| Overall Drive Ratio: | 13.97:1 |
| Differentials: | Sealed, 2-gear |
| Chassis Structure / Material: | Composite tub |
| Brake Type: | Electronic |
| Drive System: | Shaft driven 4WD |
| Steering: | Bellcrank with integrated servo saver |
| Radio System: | TQi™ 2.4 GHz 2-ch transmitter with wireless module and 6533 TSM® receiver |
| Servo: | High-Speed Waterproof Metal Gear 2075R |
| Top Speed (optional gearing): | 65+ mph with 3-cell LiPo and 20/54 gearing |
| Skill Level: | 1 |
| Battery Compartment: | 162 mm x 50 mm x 25 mm *42 mm with optional battery strap (sold separately) |
Data sheet
Manufacturer :

Traxxas

Scale :

1/10

Type :

Ready to Run

Drive :

Electric Brushless
What you need to complete
Batteries

Rustler 4X4 VXL requires a single NiMH or LiPo battery.

Charger

Traxxas EZ-Peak® Live charger is recommended for easy and fast charging performance

AA Alkaline Batteries

Four AA alkaline batteries for the transmitter
Composition Kit
Rustler 4X4 Ultimate with Velineon

VXL-3s

and 3500 kV motor
Quick Start Guide
TQi 2.4 GHz radio system
High quality maintenance tools
Viewed products
MCM undertakes
Deliver within 24/48h
To send your order within 24h (on working days) (according to the limit of the available stock) & and delivered quickly.
MCM Crew
A team of specialists is at your disposal in your language (Fr, Du & En) from Tuesday till Saturday at + 32 2 376 24 05 (No. non-premium rate) from 10:00 to 18:30 or by email.
A few figures
A store of 400m² located south of Brussels open from tuesday till friday from 12.30 till 18.30 & saturday from 10.00 till 18.30.
25 years of experience.
+ 110 000 products ref.
+ 35 500 products in stock.
+ 240 distributed brands.
MCM Group, the R/C specialist since 1996
MCM Racing, MCM Skyshop, MCM Slot, MCM Marine