ES6255- Metal case/gear Brushless HV digital Servo - 40x20x38,4mm 72g
More info
This HV brushless servo may be powered with a 2S LiPo pack. Is is suitable for RC cars, giant airplanes and boats.
A good choice if velocity of servos is important for the model.
Key features
Motor : Brushless sensored motror, no heat generation, and longer life span.
Potentiometer : NOBLE potentiometer, assuring high accuracy and coherence.
Gear set : Helical gear set operate much more smoothly and quietly than spur gear set. Made of 7075 hard anodized aluminium which is widely used in aviation industry, enhancing servo hardness and smoothness.
Special inner structure : enhanced stainless structure, making the servo stronger ansd tougher.
EMAX created brushless drive PCB, high sensitivity, dead band less than 1 us, overcomes the abrupt movement of the gears.
Specifications
Type de servo / Servo type : Digital / Digital
Moteur / Motor : Brushless à capteur / Sensored brushless
Roulement / Bearing : Oui / Yes
Pignons / Gear : Métal hélicoidaux / Metal Helical
Tension / Voltage : 6,0-8,4 V
Couple de blocage / Stall torque : 13.6 kg.cm@6,0 V, 17 kg.cm@8,4V
Vitesse / Speed : 0,08 s/60° @6,0 V, 0,07 s/60°@8,4V
Dimensions / Size : 40 x 20 x 38.4 mm
Poids / Weight : 72 g
Connecteur / Plug : Compatible JR/Futaba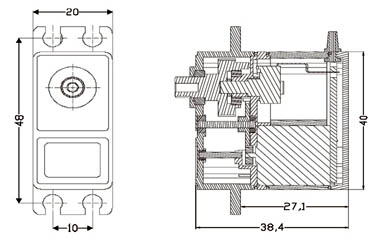 Composition Kit
Servo
Servo arms
Hardware
ES6255- Metal case/gear Brushless HV digital Servo - 40x20x38,4mm 72g
109,99 €
MCM undertakes
Deliver within 24/48h
To send your order within 24h (on working days) (according to the limit of the available stock) & to deliver within 24/48h.
MCM Crew
A team of specialists is at your disposal in your language (Fr, Du & En) from Tuesday till Saturday at + 32 2 376 24 05 (No. non-premium rate) from 10:00 to 18:30 or by email.
A few figures
A store of 400m² located south of Brussels.
23 years of experience.
+ 110 000 products ref.
+ 35 500 products in stock.
+ 240 distributed brands.
MCM Group, the R/C specialist since 1996
MCM Racing, MCM Skyshop, MCM Slot, MCM Marine