More info
Telemetry isn't the only feature that sets the R7003SB apart from other receivers.
Its flexibility is unequaled. The R7003SB allows you to select from 11 modes of operation. Instead of using ports 1 and 2 for channels 1 and two, you can program them to operate channels 1 and 5 instead. But you can also use port 1 as the S.Bus or S.Bus2 port...or choose from eight other configurations
The chart at right shows all 11 possibilities. And picking the one that's right for you is as easy as programming it into the R7003SB.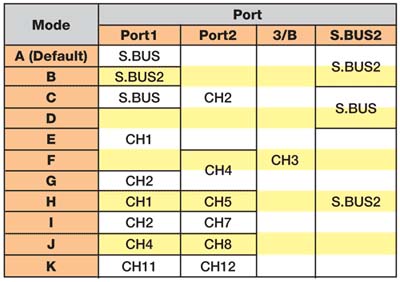 Key features
Small and lightweight
Includes programmable ports
Included cable lets you monitor the voltage of an external (non-Rx) battery
Full-range receiver
Dual-Antenna Diversity
Continuous Channel Shifting
Pre-Vision
Specifications
Modulation: FASSTest;
Type: SBus.2; programmable; bi-directional; telemetry-enabled
# of PWM channels: 3 with non-S.Bus/S.Bus2 radio systems up to 18 with S.Bus/S.Bus2 systems
Compatible with: FASSTest transmitters
Dimensions: 1.50 x 0.89 x 0.37 in (37 x 23 x 9.3 mm)
Weight: 0.25 oz (7.1 g)
Includes: Futaba R70038SB FASSTest Receiver & External Voltage Cable
Input Power: up to 2S LiPo
Voltage Range: 3.5-8.4V (receiver)
External Voltage Range: 0-70V
RECEPTEUR R7003SB
97,99 €
Viewed products
MCM undertakes
Deliver within 24/48h
To send your order within 24h (on working days) (according to the limit of the available stock) & to deliver within 24/48h.
MCM Crew
A team of specialists is at your disposal in your language (Fr, Du & En) from Tuesday till Saturday at + 32 2 376 24 05 (No. non-premium rate) from 10:00 to 18:30 or by email.
A few figures
A store of 400m² located south of Brussels.
23 years of experience.
+ 110 000 products ref.
+ 35 500 products in stock.
+ 240 distributed brands.
MCM Group, the R/C specialist since 1996
MCM Racing, MCM Skyshop, MCM Slot, MCM Marine