More info
Instead of having to reconfigure a bank of servo-reversing and wing-type switches every time you want to fly a different model, the DXe lets you instantly change those settings using a mobile device or PC.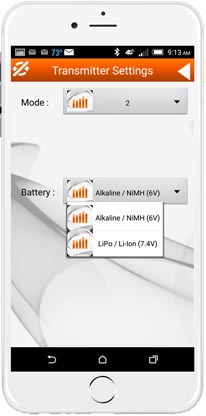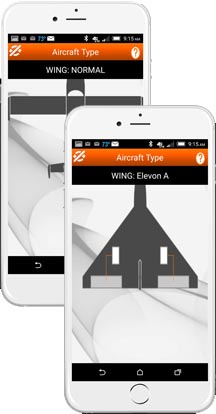 Save and transfer          Select transmitter         Enable trainer function  Choose normal or

model setups                  mode and battery                                                elevon wing type
                                        type

Point and Click Programming
If you've ever managed a music library on your PC or smart phone, you can program the DXe. All you need is the free Spektrum programming app or software and a Spektrum programming cable (sold separately). Using this interface you can create and save basic model setups with different settings for:

• Servo Reversing
• Stick Configuration: Mode 1-4
• Wing Type: Normal or Delta/Elevon
• Expo: On or Off

Once saved to your PC or mobile device, you can upload the setup for a specific model to the DXe with a simple point and click. You can also use the interface to upload pre-programmed setups for Bind-N-Fly® aircraft.

The Spektrum programming app is available at Google Play and iTunes app stores. The PC software can be downloaded from spektrumrc.com.

More than Meets the Eye
While the DXe looks and functions like a basic 6-channel transmitter out of the box, it gives pilots the control functions they need to fly a wide variety of Bind-N-Fly aircraft using pre-programmed setups. Functions include:
• Four Control Surface Channels
• 3-Position Flap Switch
• 2-Position Auxiliary Function Switch
• 3-Position Flight Mode Switch for AS3X/SAFE-Equipped Aircraft
• Bind/Panic/Return Home Button for SAFE-Equipped Aircraft
Key features
Sport radio simplicity + programmable versatility
Programmed via mobile device or PC
Ideal for Bind-N-Fly aircraft
Four control surface channels
3-Position flap switch
2-Position auxiliary function switch
3-position AS3X/SAFE flight mode switch
Requires free programming app or software
Requires SPMA3081 or SPMA3065 programming cable, sold separately
EN328 compatible
Specifications
# of Channels: Depending on configuration, 6 to 9
Modulation: DSMX
Band: 2.4GHz
Programming Features: Airplane
Modes: User Selectable Mode 1-4
Transmitter (Tx) Battery Type: 4 AA Alkaline
Experience Level: Beginner
Data sheet
Manufacturer :

Spektrum

Level of difficulty (1 to 3) :

1
DXe Transmitter Only
69,99 €
Viewed products
MCM undertakes
Deliver within 24/48h
To send your order within 24h (on working days) (according to the limit of the available stock) & to deliver within 24/48h.
MCM Crew
A team of specialists is at your disposal in your language (Fr, Du & En) from Tuesday till Saturday at + 32 2 376 24 05 (No. non-premium rate) from 10:00 to 18:30 or by email.
A few figures
A store of 400m² located south of Brussels.
23 years of experience.
+ 110 000 products ref.
+ 35 500 products in stock.
+ 240 distributed brands.
MCM Group, the R/C specialist since 1996
MCM Racing, MCM Skyshop, MCM Slot, MCM Marine