Meer informatie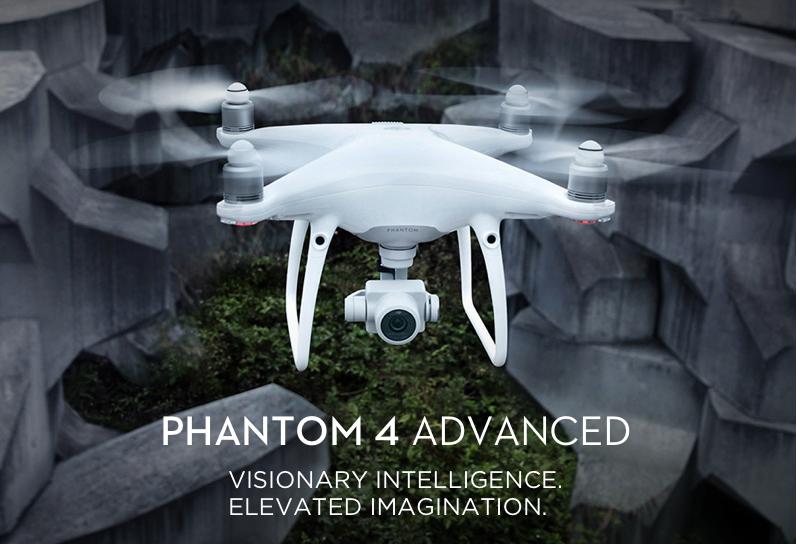 An uprated camera is equipped with a 1-inch 20-megapixel sensor capable of shooting 4K/60fps video and Burst Mode stills at 14 fps. The FlightAutonomy system includes 5 vision sensors for 2-directions of obstacle sensing and forward-vision obstacle avoidance. The adoption of titanium alloy and magnesium alloy construction increases the rigidity of the airframe and reduces weight, making the Phantom 4 Advanced even lighter than the Phantom 4.
CAMERA WITH 1-INCH 20MP SENSOR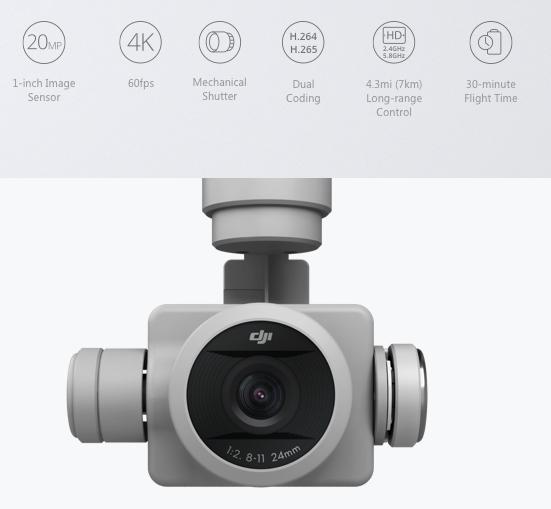 The onboard caméra is equipped with a 1-inch 20-megapixel CMOS sensor. A custom engineered lens made up of eight éléments is arranged in seven groups. A mechanical shutter is used to eliminate rolling shutter distortion which can occur when taking images of fast moving subjects or when flying at high speed. In effect, it is as powerful as many traditional ground caméras. More powerful video Processing supports H.264 4K videos at 60fps or H.265 4K at 30fps, both with a lOOMbps bitrate. Excellent optical performance, sensors and processors ensure everything is captured with high dynamic range and more image detail needed for advanced post-production.
REMOTE CONTROLLER WITH BUILT-IN SCREEN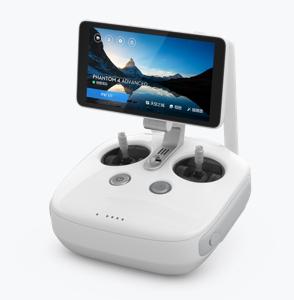 Phantom 4 Advanced+ is equipped with the integrated upgraded Lightbridge HD video transmission System with a maximum video transmission range of 4.3mi (7km)/ A 5.5-inch 1080p screen integrated with the Phantom 4 Advanced+ offers 1000 cd/m2 of brightness, more than twice as bright as conventional smart devices, which means a visibility even in bright direct sunlight. A five-hour battery life makes the Phantom 4 Advanced* a complété aerial imaging solution. The built-in DJI GO 4 app can allow you to live stream, edit and share your aerial videos and photos instantly.
*Unobstructed, free of interférence, when FCC compliant.
5 VISION SENSORS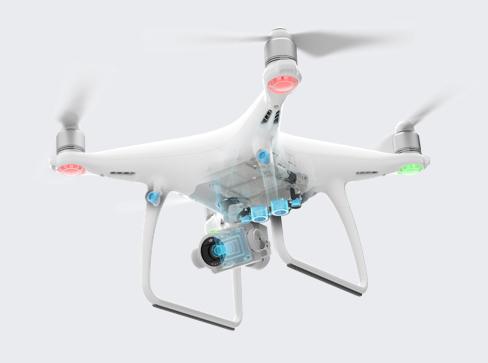 Equipped with the FlightAutonomy System made up of 5 vision sensors, dual-band satellite positioning (GPS and GLONASS), ultrasonic rangefinders and redundant sensors, Phantom 4 Advanced is able to hover precisely in places without GPS and fly in complex environments. The dual forward vision sensors can see as far as 30m out in front, and enable auto brake, hover or détour in front of obstacles within 15-meter range.
Draw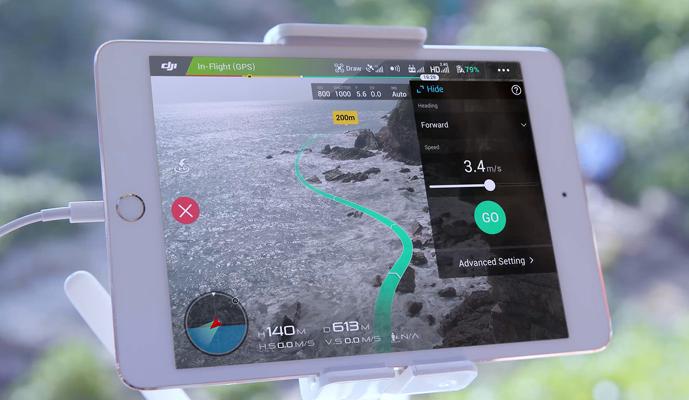 Draw is a brand new technology for waypoint control. Simply draw a route on screen and the Phantom 4 Advanced will move in that direction while keeping its altitude locked. This allows the pilot to focus on caméra control and enables more complex shots. There are two Draw modes that can be used in different scénarios.
Forward: The aircraft follows the route at a constant speed with the caméra facing in the direction of flight.
Free: The aircraft only moves along the route when instructed. In this mode, the caméra can face in any direction during a flight.
ActiveT rack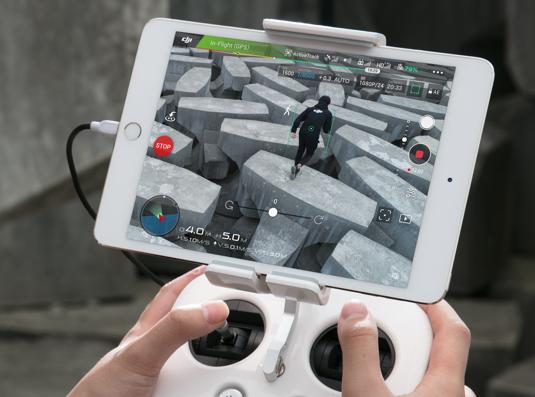 Following fast-moving objects can be very challenging, but advanced image récognition algorithms used by the Phantom 4 Advanced allow it to recognize and track the object while keeping it in frame. This new algorithm also recognizes more subjects, from people to vehicles to animais, and will adjust its flight dynamics accordingly, ensuring smoother shots.
Pilots can now choose between:
Trace - Follow behind or in front of a subject, avoiding obstacles automatically.
Profile - Fly alongside a subject at a variety of angles to get profile shots of the subject.
Spotlight - Keep the caméra trained on a subject while the aircraft flies almost anywhere.
TapFly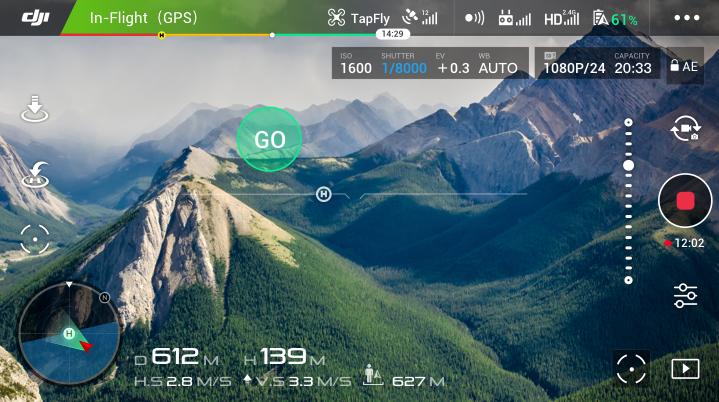 Fiy in any direction visible on-screen with a simple tap. Tap anywhere on-screen to smoothly adjust the direction of flight while automatically avoiding obstacles * and tap the screen again or use control sticks to change direction. A new AR route function shows the aircraft's real-time flight direction for reference as its route is adjusted. As it can be difficult to control altitude, course, speed and caméra pitch simultaneously using joysticks. TapFly Free allows a pilot to set the direction of flight. allowing them to turn the Phantom 4 Advanced or tilt the gimbal as required without changing the direction of flight. In total, there are now two TapFly modes:
TapFly Forward - Tap to fly in the selected direction.
TapFly Free - Lock the forward direction of the Phantom without locking the caméra direction allowing it to turn as it flies.
*Obstacle Avoidance is not available with TapFly Free.
Return to Home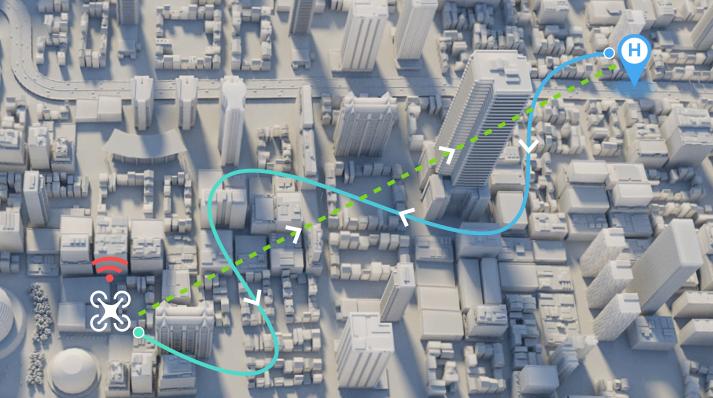 In its Return to Home mode, the Phantom 4 Advanced can automatically choose the best route to return home depending on environmental conditions. It records its route as it flies, allowing it to return along the same route avoiding obstacles if the control signal is disconnected.
Based on its altitude at the time of disconnection, the Phantom 4 Advanced is also able to adjust its flight path to avoid obstacles it has seen during its flight. At takeoff, the Phantom 4 Advanced will record the scene below and compare its recording with what it sees as it returns, for more précisé landing. It can also detect the ground to see whether there is a suitable spot for landing. If any obstacles are found, or there is water on the ground, it will alert the pilot and hover at an appropriate height, helping the aircraft to land more safely.
Gesture Mode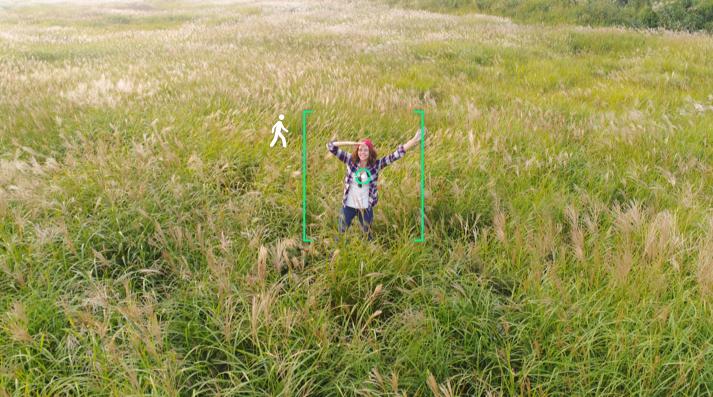 Using Gesture Mode, selfies can be captured easily using a few gestures without the remote controiler. Advanced computer vision technology allows the Phantom 4 Advanced to take instructions through gestures. The subject simply lifts their arms when facing the caméra and the aircraft will recognize this movement by locking on and placing the subject in the center of the frame. When ready for a photo, the subject holds their arms out to signal the aircraft. A three second countdown will begin, giving time to strlke a pose, allowing moments to be captured without the remote control.
Sensor Redundancy


The Phantom 4 Advanced features dual compass modules and dual IMU units, making it more reliable. Compassés and IMUs are important sensors to ensure a stable flight and the Phantom 4 Advanced constantly compares the data it receives through both pairs. This data is run through advanced algorithms to check accuracy and any inaccurate data is simply discarded without affecting flight, keeping flight steady and reliable.
Intelligent Batteries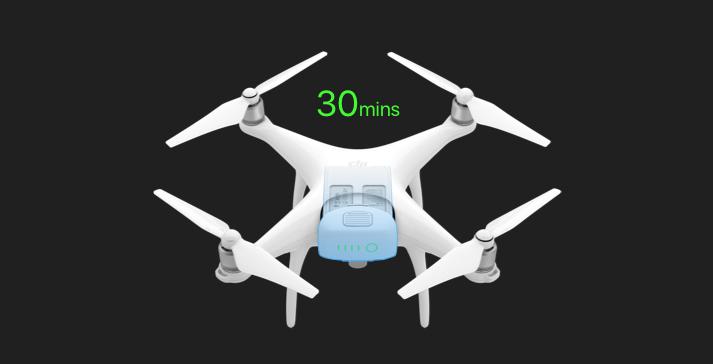 Professional aerial imaging benefits from longer flight times. The Phantom 4 Advanced has a maximum flight time of 30 minutes, provldlng more time in the air to capture the perfect shot. The DJI GO 4 app shows battery lifetime and calculâtes remaining flight time according to distance traveled and more. It will give alerts when it reaches a minimum safe amount required for a safe journey back to the takeoff point. An advanced battery management System is also in place to prevent overcharglng and over drainlng. When placed in longer term storage, batteries will discharge power to maintain good health.
DJI GO 4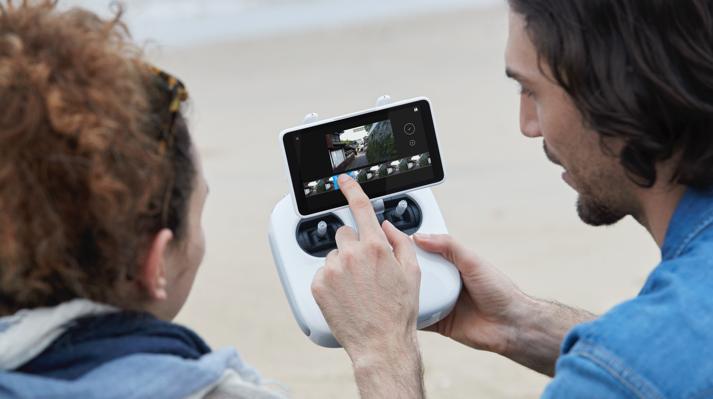 Using the DJI GO 4 app, a large number of Intelligent Fllght Modes are available. It also provides access to full manual caméra Controls, including ISO, aperture, shutter speed, image formats, and more. Any changes in DJI GO 4 will appear almost instantly on-screen. Vital flight data and video transmission status are easy to check in the app, further enhancing control efficiency and
convemence.
Specificaties
Aircraft
Weight (Battery & Propellers Included)
1368 g
Diagonal Size (Propellers Excluded)
350 mm
Max Ascent Speed
S-mode: 6 m/s
P-mode:5 m/s
Max Descent Speed
S-mode:4 m/s
P-mode:3 m/s
Max Speed
S-mode: 45 mph (72 kph)
A-mode: 36 mph (58 kph)
P-mode: 31 mph (50 kph)
Max Tilt Angle
S-mode:42°
A-mode:35°
P-mode:25°
Max Angular Speed
S-mode: 250°/s
A-mode: 150°/s
Max Service Ceiling Above Sea Level
19685 feet (6000 m)
Max Wind Speed Resistance
10 m/s
Max Flight Time
Approx. 30 minutes
Operating Temperature Range
32° to 104°F (0° to 40°C)
Satellite Positioning Systems
GPS/GLONASS
Hover Accuracy Range
Vertical:
±0.1 m (with Vision Positioning)
±0.5 m (with GPS Positioning)
Horizontal:
±0.3 m (with Vision Positioning)
±1.5 m (with GPS Positioning)
Vision System
Vision System
Forward Vision System
Downward Vision System
Velocity Range
≤31 mph (50 kph) at 6.6 ft (2 m) above ground
Altitude Range
0 - 33 feet (0 - 10 m)
Operating Range
0 - 33 feet (0 - 10 m)
Obstacle Sensory Range
2 - 98 feet (0.7 - 30 m)
FOV
Forward: 60°(Horizontal), ±27°(Vertical)
Downward: 70°(Front and Rear), 50°(Left and Right)
Measuring Frequency
Forward: 10 Hz
Downward: 20 Hz
Operating Environment
Surface with clear pattern and adequate lighting (lux>15)
Remote Controller
Operating Frequency
2.400 - 2.483 GHz
Max Transmission Distance
2.400 - 2.483 GHz (Unobstructed, free of interference)
FCC: 4.3 mi (7 km)
CE: 2.2 mi (3.5 km)
SRRC: 2.5 mi (4 km)
Operating Temperature Range
32° to 104°F (0° to 40°C)
Battery
6000 mAh LiPo 2S
Transmitter Power (EIRP)
2.400 - 2.483 GHz
FCC: 26 dBm
CE: 17 dBm
SRRC: 20 dBm
MIC: 17 dBm
Operating Current/Voltage
1.2 A@7.4 V
Video Output Port
GL300E: HDMI
GL300C: USB
Mobile Device Holder
GL300E: Built-in display device (5.5 inch screen, 1920×1080, 1000 cd/m2, Android system, 4 GB RAM+16 GB ROM)
Intelligent Flight Battery
| | |
| --- | --- |
| Capacity | 5870 mAh |
| Voltage | 15.2 V |
| Battery Type | LiPo 4S |
| Energy | 89.2 Wh |
| Net Weight | 468 g |
| Charging Temperature Range | 41° to 104°F (5° to 40°C) |
| Max Charging Power | 100 W |
Gimbal
| | |
| --- | --- |
| Stabilization | 3-axis (pitch, roll, yaw) |
| Controllable Range | Pitch: -90° to +30° |
| Max Controllable Angular Speed | Pitch: 90°/s |
| Angular Control Accuracy | ±0.02° |
Camera
Sensor
1'' CMOS
Effective pixels: 20M
Lens
FOV 84° 8.8 mm/24 mm (35 mm format equivalent) f/2.8 - f/11 auto focus at 1 m - ∞
ISO Range
Video:
100 - 3200 (Auto)
100 - 6400 (Manual)
Photo:
100 - 3200 (Auto)
100- 12800 (Manual)
Mechanical Shutter Speed
8 - 1/2000 s
Electronic Shutter Speed
8 - 1/8000 s
Image Size
3:2 Aspect Ratio: 5472 × 3648
4:3 Aspect Ratio: 4864 × 3648
16:9 Aspect Ratio: 5472 × 3078
PIV Image Size
4096×2160(4096×2160 24/25/30/48/50p)
3840×2160(3840×2160 24/25/30/48/50/60p)
2720×1530(2720×1530 24/25/30/48/50/60p)
1920×1080(1920×1080 24/25/30/48/50/60/120p)
1280×720(1280×720 24/25/30/48/50/60/120p)
Still Photography Modes
Single Shot
Burst Shooting: 3/5/7/10/14 frames
Auto Exposure Bracketing (AEB): 3/5 bracketed frames at 0.7 EV Bias
Interval: 2/3/5/7/10/15/20/30/60 s
Video Recording Modes
H.265
C4K:4096×2160 24/25/30p @100Mbps
4K:3840×2160 24/25/30p @100Mbps
2.7K:2720×1530 24/25/30p @65Mbps
2.7K:2720×1530 48/50/60p @80Mbps
FHD:1920×1080 24/25/30p @50Mbps
FHD:1920×1080 48/50/60p @65Mbps
FHD:1920×1080 120p @100Mbps
HD:1280×720 24/25/30p @25Mbps
HD:1280×720 48/50/60p @35Mbps
HD:1280×720 120p @60Mbps

H.264
C4K:4096×2160 24/25/30/48/50/60p @100Mbps
4K:3840×2160 24/25/30/48/50/60p @100Mbps
2.7K:2720×1530 24/25/30p @80Mbps
2.7K:2720×1530 48/50/60p @100Mbps
FHD:1920×1080 24/25/30p @60Mbps
FHD:1920×1080 48/50/60 @80Mbps
FHD:1920×1080 120p @100Mbps
HD:1280×720 24/25/30p @30Mbps
HD:1280×720 48/50/60p @45Mbps
HD:1280×720 120p @80Mbps
Max Video Bitrate
100 Mbps
Supported File Systems
FAT32 (≤32 GB); exFAT (>32 GB)
Photo
JPEG, DNG (RAW), JPEG + DNG
Video
MP4/MOV (AVC/H.264; HEVC/H.265)
Supported SD Cards
Micro SD
Max Capacity: 128GB
Write speed ≥15MB/s, Class 10 or UHS-1 rating required
Operating Temperature Range
32° to 104°F (0° to 40°C)
Charger
| | |
| --- | --- |
| Voltage | 17.5V |
| Rated Power | 100 W |
App / Live View
Mobile App
DJI GO 4
Live View Working Frequency
2.4 GHz ISM
Live View Quality
720P @ 30fps
Latency
Phantom 4 Advanced: 220 ms (depending on conditions and mobile device)
Phantom 4 Advanced +:160 - 180 ms
Required Operating Systems
iOS 9.0 or later
Android 4.4.0 or later
Productgegevens
Fabrikant :

DJI innovations

Drones & Multirotors :

Quadcopter

Type :

Ready to Fly

Categorieën van drones :

Professionele drones
Phantom PH4 Advanced Plus
1 499,99 €
Bekeken producten
MCM verbindt zich ertoe
Levering in 24/48u
Uw bestelling binnen de 24u te verzenden (op werkdagen) (en volgens de limiet van de beschikbare voorraad) & te leveren in 24/48u.
MCM Crew
Een team van specialisten helpen u in uw taal (Fr, Nl & En) van dinsdag tot zaterdag op het nr. + 32 2 376 24 05 (nr. zonder meerkost) van 10u tot 18u30 of per email.
Enkele cijfers
Een winkel van 400m² gevestigd ten zuiden van Brussel.
23 jaar ervaring
+ 110 000 productreferenties.
+ 35 500 producten in voorraad.
+ 240 verdeelde merken.
MCM Group, de R/C specialist sinds 1996
MCM Racing, MCM Skyshop, MCM Slot, MCM Marine