Meer informatie
Traxxas Stability Management
Rustler® VXL combines Traxxas Stability Management and Velineon® extreme brushless horsepower with the proven fun and durability that have made Rustler the number-1 selling electric stadium racer. The new Velineon Brushless Power System launches Rustler VXL to new heights with speed potential that reaches beyond 70mph! While Traxxas Stability Management keeps you in total control.  Hardcore, wheel-standing acceleration completely blows everything else away. Out of the box, Velineon is optimized to actually deliver the tire-melting horsepower, benchmark speed, and precision throttle response you expect from brushless. Best of all, it's brushless done the Traxxas way: wicked fast and easy to use. There's no tricky programming to figure out or a glossary of new vocabulary to learn. Just plug it in and it works.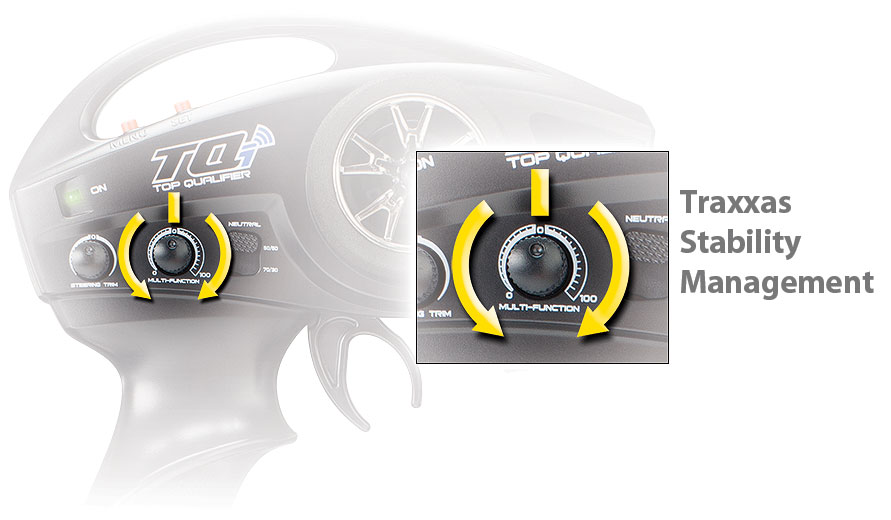 TSM helps provide straight ahead full-throttle acceleration on slippery surfaces, without fishtailing, spinouts, and loss of control. High speed cornering and control is also made possible as TSM makes corrections in the background for you, without intruding on your fun, or creating unexpected side effects.
Velineon Power
The Velineon Brushless Power system takes the guesswork out of enjoying the benefits of world-class brushless power. The system components work together as an optimized package, engineered from the start to deliver the ultimate in efficiency, speed, and run time. With the Rustler VXL, Your battery selection determines your speed and skill level. Velineon accepts the widest range of battery types, including 3-cell Lithium Polymer packs (3S LiPo packs). These packs pump out over 11 volts of power for intense, skill level 5 speeds beyond 70mph! Nothing else even comes close. Built-in low-voltage detection in the VXL-3s™ Electronic Speed Control conveniently helps you maintain your LiPo battery packs in top condition.
The World's Most Advanced Ready-To-Race® Radio System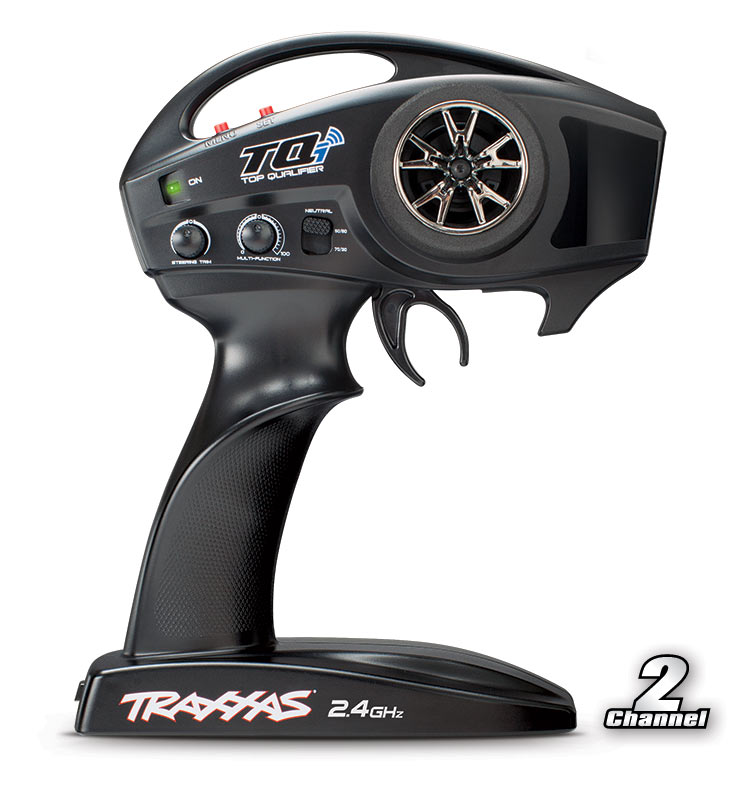 Rustler VXL is equipped with the world's most advanced Ready-To-Race® radio system. The all-new Traxxas® TQi™ arrives with a full complement of tuning features and offers the unbeatable convenience of "no channels, no crystals" 2.4GHz technology—but that's just the beginning. Automatic model recognition instantly recalls your settings for up to 30 Traxxas Link-enabled models. Just switch on and drive, no naming or "model memory" settings required. Power up the transmitter and the model you want to drive, and the settings for that model are dialed in immediately! The new TQi 2.4GHz transmitter is fully adjustable: steering and throttle end points can be set precisely, and the Multi-Function knob can be programmed to control Steering Sensitivity (Expo), Throttle Sensitivity (Expo), Steering Percentage (Dual Rate), Braking Percentage (Dual Rate), or Throttle Trim. TQi's ergonomic case design provides all-day driving comfort, and the unique internal antenna contributes to its sleek, modern look.
Traxxas Link Wireless Module Compatible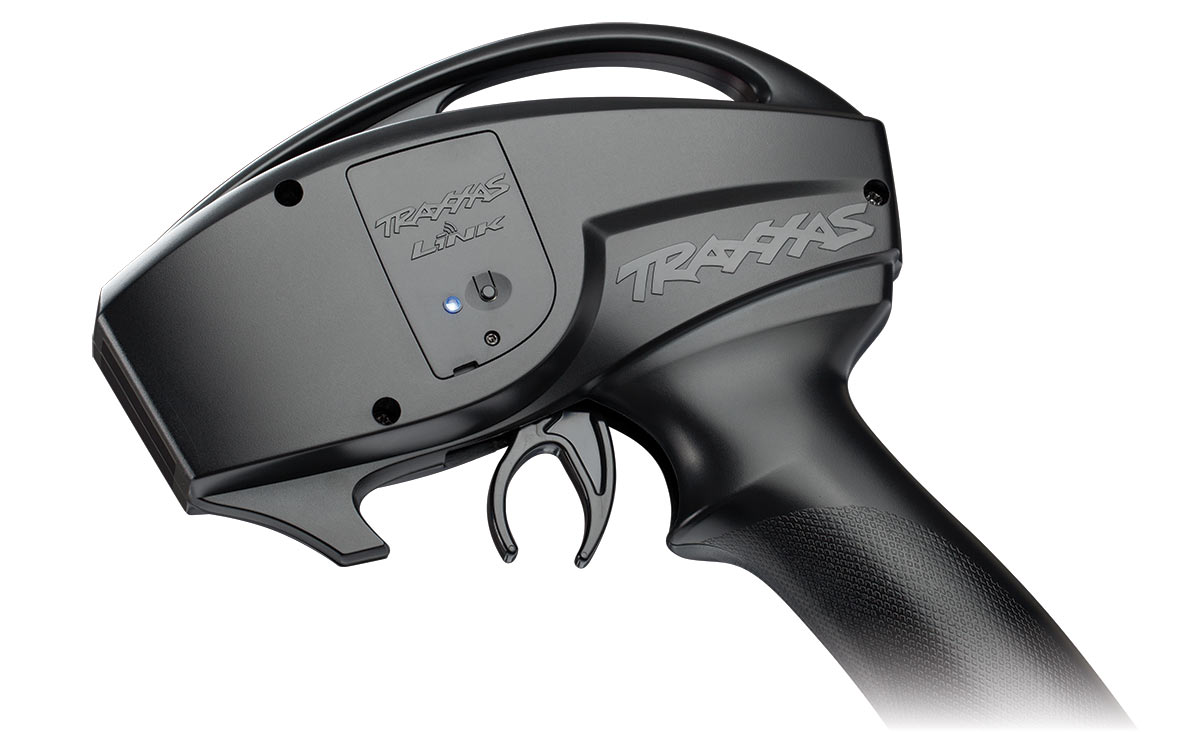 La nouveauté le plus importante avec la TQi est sans doute déjà dans votre poche.La TQi peut être équipée du module sans fil Traxxas Link (#6511, vendu à part) qui transforme votre mobile Android, ou votre iPad® iPhone® ou iPod touch® (vendus à part) en un outil perfomant pour votre modèle Traxxas. L'écran couleur combiné à l'application Traxxas Link gratuite donne une interface intuiotive en haute définition pour débloquer les mystère de l'optimisation de votre ensemble radio, pour un contrôle ultime de votre voiture. Traxxas Link ouvre aussi la porte vers la télémétrie si vous ajoutez des capteurs optionnels à votre modèle.
5-channel Micro Receiver with Fail-Safe Security

The TQi 2.4GHz micro receiver fits easily into any vehicle, and features dual channel-1 outputs for easy installation in vehicles with dual steering servos—no Y-harness necessary! The integrated LINK button makes it fast and easy to bind the receiver, and the two-color LED indicates power-on and bind status for fool-proof control and convenience. Traxxas Link Model Memory allows the receiver to recognize up to thirty TQi 2.4GHz Traxxas Link enabled transmitters—just switch on and drive. In the event of signal loss due to an accidental switch-off or depleted batteries, the receiver will automatically return the throttle to neutral and hold the last commanded steering position. The Fail Safe programming is built-in and does not need to be set or activated. Three telemetry ports are incorporated in the 5-channel receiver to allow real-time data to be transmitted from your Traxxas model to the TQi transmitter.
Sealed Electronics Extend Your Driving Fun
Traxxas shocked enthusiasts with the release of our exclusive watertight, sealed electronics in the E-Maxx that provided the freedom to drive where you want to drive through water, mud, snow, and other wet-running conditions that wouldn't have been possible before. Now the Traxxas Rustler VXL is Ready-To-Race with this waterproof technology. The VXL-3s speed control, high torque servo, and mini receiver are sealed against the elements giving you the freedom go places you might not have thought possible. It opens up a whole new world of adventure and fun. Wet muddy tracks are no problem for the Rustler VXL.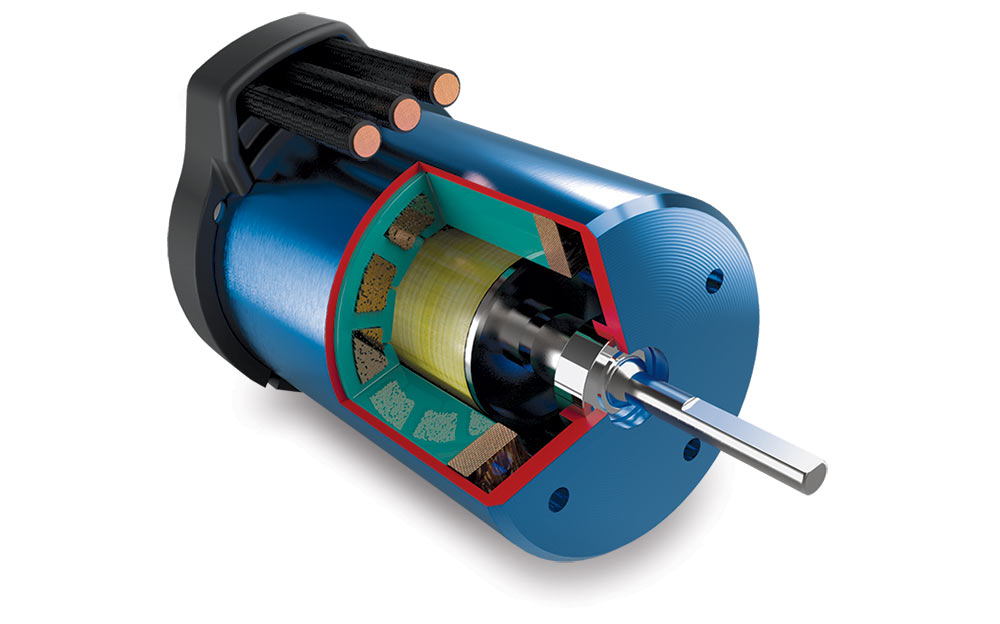 The Velineon 3500 Brushless Motor is precision-matched for use in the 1/10th scale Rustler, delivering the perfect balance of brutal horsepower and efficiency. The sensorless design works with the sophisticated circuitry in the VXL-3s Electronic Speed Control for smooth starts and precise control, without the need for additional sensors and wiring. Since there are no brushes or commutator to cause friction and wear, Velineon brushless power is always fast, run after run.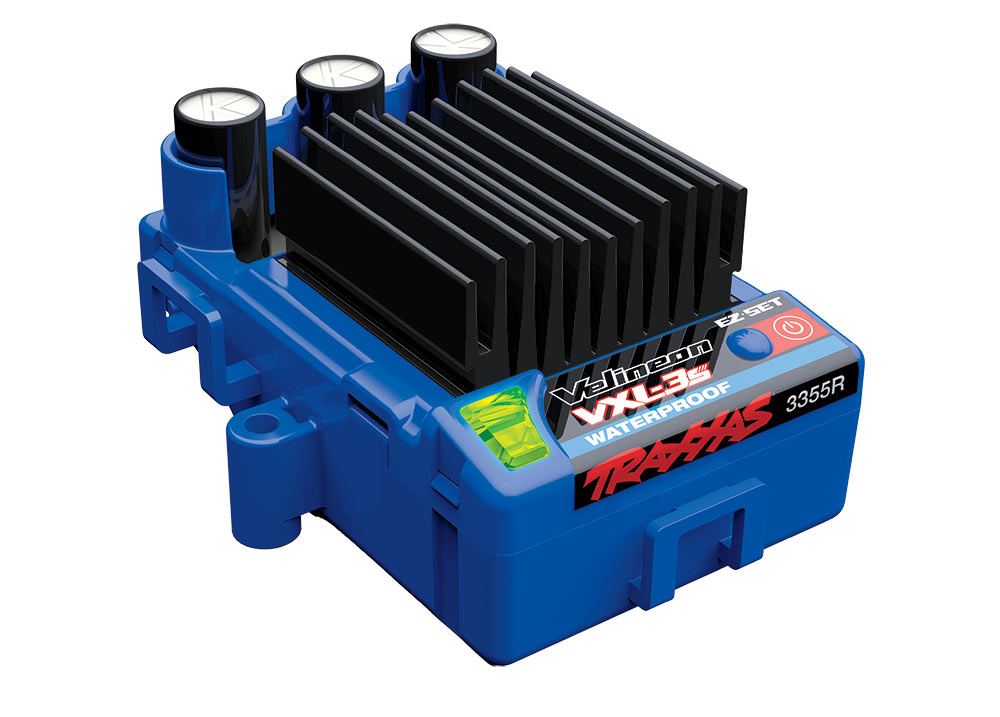 The Velineon VXL-3s forward/reverse electronic speed control simplifies brushless technology with easy operation that gives you all the control you need for maximum fun. Quickly choose from 3 drive profiles in exactly the same manner as other Traxxas electronic speed controls (such as the XL-5). Profiles include: Sport, Race, and Training Mode (patented). Training Mode™ limits full-throttle power to 50% allowing young or new drivers to safely develop their control skills before unleashing the full-throttle capability of the Velineon system. Rustler VXL's performance can be tailored for drivers of any age and experience. High-frequency transistors and advanced circuit design deliver incredibly smooth and refined throttle control. High-current capacity (320 amps peak) and two-stage thermal protection frees you from motor limits.
The Rustler VXL is equipped to handle serious horsepower with features such as the advanced Revo®-spec Torque-Control™ slipper clutch. The patent-pending design delivers smooth operation, precise adjustment, and consistent traction control, even when tortured with massive amounts of horsepower. New upgrades to the Rustler VXL include high-grade hex hardware, precision metal turnbuckle links with heavy-duty rod ends, and larger 5x11mm rubber-sealed ball bearings at the wheels. The transmission is beefed-up as well with tough new steel gears. With so much speed available, the Rustler VXL is equipped with a digital high-torque steering waterproof servo (#2075) for lightning-quick steering response and confidence-inspiring precision.
Belangrijke kenmerken
Traxxas Stability Management
TQi 2.4GHz Transmitter and Receiver
Waterproof Electronics
Traxxas High-Current Connector
Maxx® Cable 12-Gauge Wiring
Digital High-Torque Waterproof Steering Servo
Precision Steel Turnbuckles with Heavy-Duty Rod Ends
Metric Hex Hardware
Steel Transmission Gears
Battery and Charger Sold Separately
Specificaties

RUSTLER VXL (#37076-4) SPECS
Length:
­
17.5" (445mm)
Front Track:
­
12.25" (311mm)
Rear Track:
­
12.25" (311mm)
Weight:
­
59.6oz (1.69 kg)
Height (Overall):
­
7" (178mm)
Wheelbase:
­
11.375" (289mm)
Front Shock Length:
­
Long
Rear Shock Length:
­
XX-Long
Front Tires (Pre-Glued):
­
Alias™ Ribbed 2.8"
Rear Tires (Pre-Glued):
­
Alias™ Step-Pin 2.8"
Front Wheels:
­
2.8" Black-Chrome (All-Star™)
Rear Wheels:
­
2.8" Black-Chrome (All-Star™)
Electronic Speed Control:
­
VXL-3s™ Electronic Speed Control
Motor (Electric):
­
Velineon® 3500 Brushless
Gear Ratio (internal):
­
2.72 (Final Drive: 9.05)
Differential Type:
­
Planetary
Gear Pitch:
­
48-Pitch
Transmission:
­
Magnum 272™
Steering:
­
Bellcrank
Chassis Type:
­
Modified Tub
Chassis Material:
­
Composite Nylon
Radio System:
­
TQi™ 2.4GHz Radio System w/TSM Receiver
Top-Speed:
­
70+mph**
Skill Level:
­
2
*Battery Tray Dimensions:
­
139mm x 47.5mm x 28mm
Required Items:
­
NiMH or LiPo Battery, Charger, 4 "AA" Batteries (Transmitter)
*Battery expansion kit available (#3725X)
**With 3S LiPo battery and optional 31-tooth pinion gear (sold separately)
Productgegevens
Fabrikant :

Traxxas

Moeilijkheidsgraad (1 tot 3) :

2

Schaal :

1/10

Type :

Ready to Run

Aandrijving :

Electrisch Brushless
Wat nodig is om te vervolledigen
NiMH or LiPo battery
Suitable charger
Samenstelling van de kit
Fully assembled with Traxxas Stability Management®,
TQi™ 2.4GHz radio system,
Velineon® Brushless Power System,
ProGraphix® painted body
DISC.. Traxxas Rustler VXL Brushless With TSM
339,99 €
Bekeken producten
MCM verbindt zich ertoe
Levering in 24/48u
Uw bestelling binnen de 24u te verzenden (op werkdagen) (en volgens de limiet van de beschikbare voorraad) & te leveren in 24/48u.
MCM Crew
Een team van specialisten helpen u in uw taal (Fr, Nl & En) van dinsdag tot zaterdag op het nr. + 32 2 376 24 05 (nr. zonder meerkost) van 10u tot 18u30 of per email.
Enkele cijfers
Een winkel van 400m² gevestigd ten zuiden van Brussel.
23 jaar ervaring
+ 110 000 productreferenties.
+ 35 500 producten in voorraad.
+ 240 verdeelde merken.
MCM Group, de R/C specialist sinds 1996
MCM Racing, MCM Skyshop, MCM Slot, MCM Marine