XRAY XB4 - 2018 SPECS - 4WD 1/10 ELECTRIC OFF-ROAD CAR
Meer informatie
Chassis

The new XB4 chassis was redesigned with the main focus to lower the CG to improve cornering speed and stability. The new chassis accommodates the new lower motor mount.

CNC-machined from high-quality Swiss 2mm 7075 T6 aluminum, the chassis is strategically machined in low-stress areas to make it as light as possible without affecting strength or rigidity; additionally black-coated for increased lifespan.

Weight distribution, chassis width & length, and proper flex have key influences on the handling of the car. All of these features were incorporated into the design of the chassis.     
    
    
Motor Bulkhead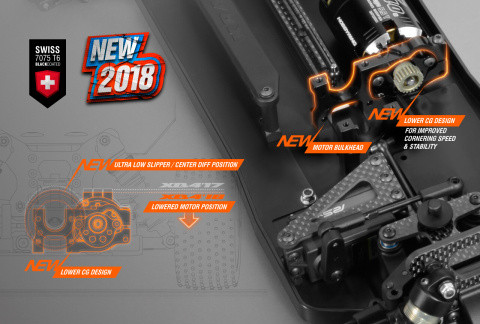 The all-new lower motor bulkhead decreases the weight position of motor and central slipper clutch/diff, improving cornering speed and stability.

Machined from the premium Swiss 7075 T6, the motor bulkhead is strong and lightweight.    
    
    
Central Bulkhead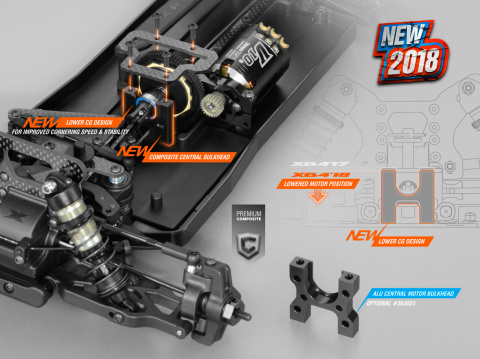 With the lower CG design focus on the new XB4, the central bulkhead was lowered as well.

The graphite central upper deck holds ball-bearings in the motor mount and bulkhead assembly, while the upper deck allows easy access for slipper clutch adjustment.     
    
    
Side Guards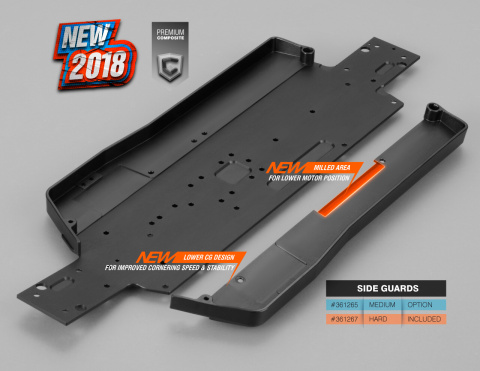 The side guards were redesigned to allow the motor to be positioned as low as possible on the chassis to improve cornering speed and stability.

Tough composite side guards perfectly fit the chassis to seal against dirt and protect from side impacts.

Molded from a hard composite material, the side guards are an important part of the chassis flex adjustment for the majority of track conditions. For very-low-traction tracks, optional medium stiffness side guards are available.


To improve protection against dust, Velcro® double-sided tape is included to ensure a perfect seal of the body to the side guards, to reduce the noise level of the running car.    
    
    
Shocks

To improve the efficiency and performance of the shock absorbers, the lower composite shims are produced from redesigned moulds that allow for more precision and exact diameter. The result is more precise shock shaft movement.

Well-built, reliable shock absorbers are extremely important for super-smooth suspension action on every type of track. The shocks on the XB4 have been specifically designed to be built easily, perform consistently, and last reliably.

The big-bore shocks are membrane free, but still allow for easy, consistent building and rebound setting using a bleed-screw shock cap design.

The aluminum body, lower nut, and bleeder shock caps are all machined from premium Swiss 7075 T6 aluminum.

The shock rods are machined from special steel material, precision hand-ground for maximum smooth operation, and additionally hardened for increased lifespan.     
    
    
Diff Gears

To improve the reliability of the differential and ensure quieter operation, both front and rear differential crown gears construction and production details were improved.

Both front & rear diff crown gears and pinion gears are made from steel which has been additionally hardened to ensure increased lifespan and reliability.

For clay and low-traction tracks, optional graphite diff crown gears can be used for increased traction.     
    
    
Winning Heritage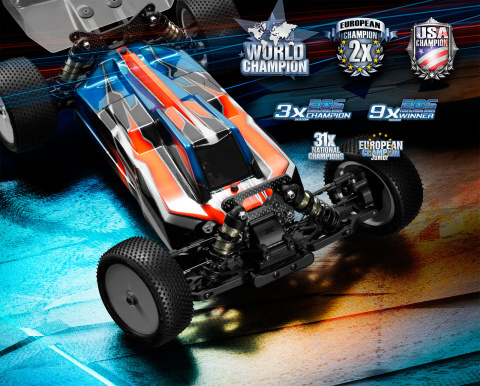 From national titles around the world… through EOS Champion and European Champion titles… all the way to the World Championship title… the XB4 has an astonishingly long & strong lineup of victories to support the winning heritage of the XRAY XB4 platform.    
    
    
World Champions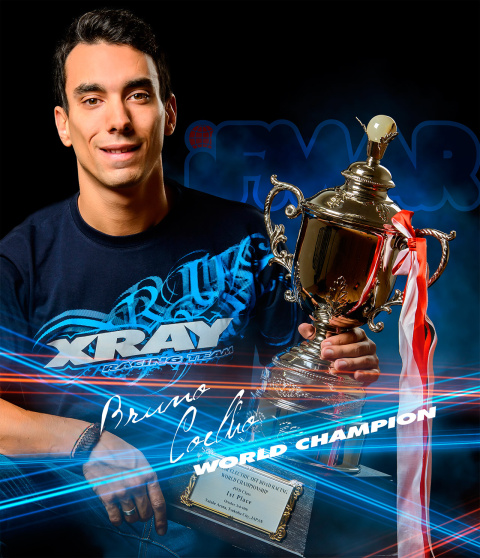 Bruno Coelho made a stunning debut at the last World Championship with his XRAY XB4, setting the TQ and winning the World Championship title!
XRAY XB4 – World Championship winning 1/10 off-road 4WD car to bring you to the Winners' Circle.    
    
    
USA Champion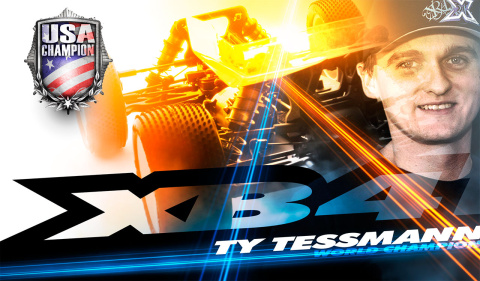 At one of the world's most competitive off-road races – the USA National Championship – it was XRAY's Ty Tessmann who brought the first USA National Champion title for the XB4 platform using prototypes of new 2018 parts. Tested and successfully run in the highest competition races, you can now enjoy the very same car that Ty has been using… the Champion's car.    
    
    
European Champions

With ongoing development of the XB4 platform, Team XRAY continues to win at the highest competition levels including the European Championship. In 2017, Bruno Coelho won another European Championship for Team XRAY team with the XB4 platform.    
    
    
EOS Champions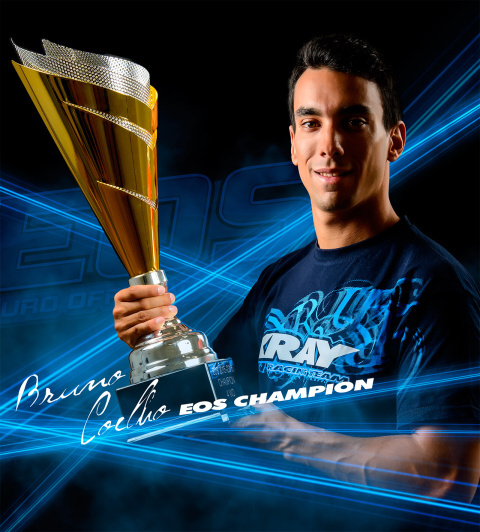 XRAY XB4 and Bruno Coelho are back-to-back EOS Champions. After winning the 2015-2016 season, Team XRAY with Bruno Coelho again wins the 2016-2017 season.    
    
    
Development


Successful development of the XB4 – like all other XRAY platforms – would not have been possible without the involvement of the entire racing team working the entire year to test new ideas, prototypes, and improvements. The 2017 edition of the XB4 was focused on fine improvement of small details, making the car an absolute winner straight out of the box.


Specificaties
Power : Electric
Drive : 4WD
Kit/RTR : Kit
Scale : 1/10
Type : offroad
Productgegevens
Fabrikant :

X-Ray

Moeilijkheidsgraad (1 tot 3) :

3

Schaal :

1/10

Type :

To build
XRAY XB4 - 2018 SPECS - 4WD 1/10 ELECTRIC OFF-ROAD CAR
466,00 €
Bekeken producten
MCM verbindt zich ertoe
Levering in 24/48u
Uw bestelling binnen de 24u te verzenden (op werkdagen) (en volgens de limiet van de beschikbare voorraad) & te leveren in 24/48u.
MCM Crew
Een team van specialisten helpen u in uw taal (Fr, Nl & En) van dinsdag tot zaterdag op het nr. + 32 2 376 24 05 (nr. zonder meerkost) van 10u tot 18u30 of per email.
Enkele cijfers
Een winkel van 400m² gevestigd ten zuiden van Brussel.
23 jaar ervaring
+ 110 000 productreferenties.
+ 35 500 producten in voorraad.
+ 240 verdeelde merken.
MCM Group, de R/C specialist sinds 1996
MCM Racing, MCM Skyshop, MCM Slot, MCM Marine