Meer informatie
Originally introduced in 1966 as a 4x4 compact SUV, the Ford Bronco matured as a full-size truck in the late 1970s, cementing its status as a rugged off-roader. Traxxas honors the classic 1979 Ford Bronco with this beautifully detailed and faithful reproduction mounted on the incredibly capable TRX-4 chassis. From the chrome wheels and bumpers to the gorgeous Sunset or red graphics, the TRX-4 recaptures the Bronco's iconic era with the toughness and technology that could only come from Traxxas.
Innovation
Radically innovative technology combines with precision engineering to create a completely new breed of scale crawler…Only from Traxxas.
TORQUE TWIST ELIMINATED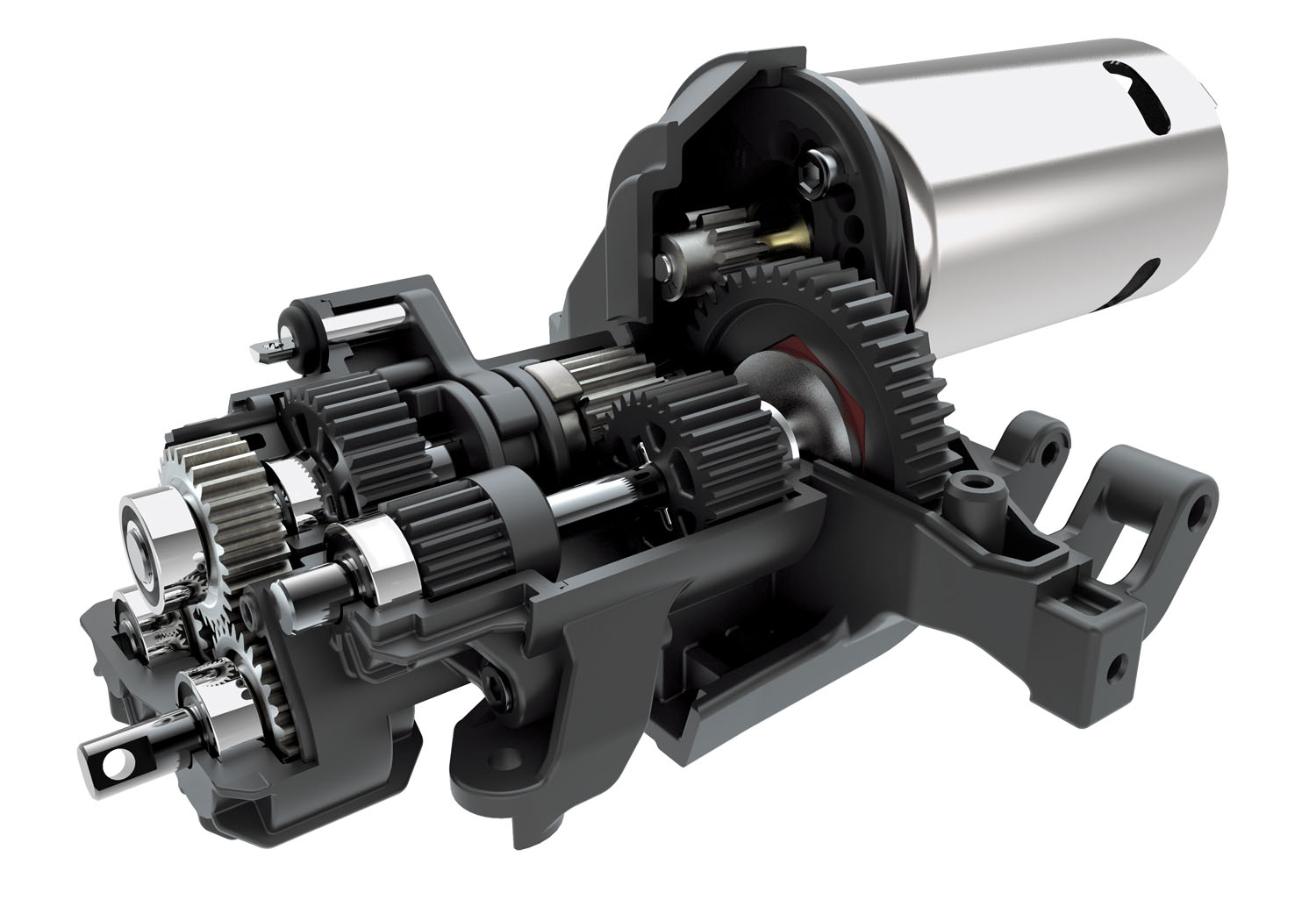 The portal axles use gear reduction at the wheels to virtually eliminate torque twist. The Titan 550 motor's torque translates into straight, powerful, forward motion, rather than wasted energy twisting your rig right off the rocks.
THE POWER OF PORTALS
Portal axles lift the truck at the wheels for huge center pumpkin ground clearance. In order to achieve the same clearance with straight axles, your tires would have to be over an inch taller than the tires on the TRX-4 Bronco.
WATERPROOF ELECTRONICS
The TRX-4 is fully waterproof, not "splash resistant." There is a big difference. Traxxas' patented innovation gives you the freedom to tackle creeks, snow, and mud without worrying about water in your electronics.
TQi RADIO SYSTEM WITH CRUISE CONTROL
The Traxxas TQi features our exclusive cruise control for long-distance treks. Set your speed using the transmitter and then use the multi-function knob to fine-tune it faster or slower to match precisely the pace of your caravan of trail explorers.

3s POWER SYSTEM
The XL-5 HV electronic speed control brings 3s LiPo capability for stronge efficient running. The powerful 2ITTitan® motor provides torque to tackle the steepest climbs and all-out speed on flat terrain. This efficient system provides up to 2 hours of run time with a Traxxas 3s 5000mAh iD LiPo
battery pack!
HIGH/LOW RANGE TRANSMISSION
When the going gets tough, shift into low range for incredible 4WD pulling torque. Shift into high range for blasting down the trail. The TRX-4 Bronco adapts to any situation or driving style.
GTS ALUMINUM SHOCKS
Oil-filled coil-over GTS shocks deliver silky-smooth damping performance and feature threaded aluminum shock bodies for easy ride height adjustments. The convincing scale realism looks great
and they perform even better.
REMOTE LOCKING DIFFERENTIALS

Traxxas allows you to lock and unlock both the front and rear differentials remotely from your transmitter. New sleeved micro cables control the differential action for scale appearance, without
limiting suspension articulation.
RIGID STEEL FRAME
A heavy-duty formed-steel ladder frame with molded cross members creates an extremely rigid backbone. You'll feel the difference on trails when navigating technical terrain.
ALL-NEW CHASSIS DESIGN
The Traxxas TRX-4 Bronco instantly obsoletes the status quo with greatly expanded features, versatility, and capability. Performance and technology combine in a revolutionary new chassis that
looks as good as it performs.
Belangrijke kenmerken
Heavy-Duty Steel Frame Rails
Adjustable Wheelbase
Molded Wire Retainers
Dual Battery Tray
Floor Pans
Aluminum Scale Shocks
Heavy-Duty Steel Links
Precision Hex Hardware
Portal Axles
Torque Twist Eliminated
T-Lock™ Remote Locking Differentials
High/Low Transmission
Hardened Steel U-Joints
Twin Friction Plate Slipper Clutch
Sealed Ball Bearings
Raised Center Driveshafts and Suspension Links
High Steering and Drag Links
45-Degree Steering Angle
Extreme Approach Angles
High Ground Clearance
Front Motor Design
New

XL-5

HV ESC
Titan 21T 550 Motor
Waterproof Metal Gear Servo
TQi™ 4-Channel Radio System
Waterproof Micro Servos with Sleeved Cables
Officially Licensed Replica Body
1.9" Scale Wheels and Tires
Molded Inner Fenders
Rock Sliders
Detailed Front Grill and Chrome-Finish Bumpers
Chrome-Finish Differential Covers
Molded Body Details
Accessory Push Bar and Spare Tire
Specificaties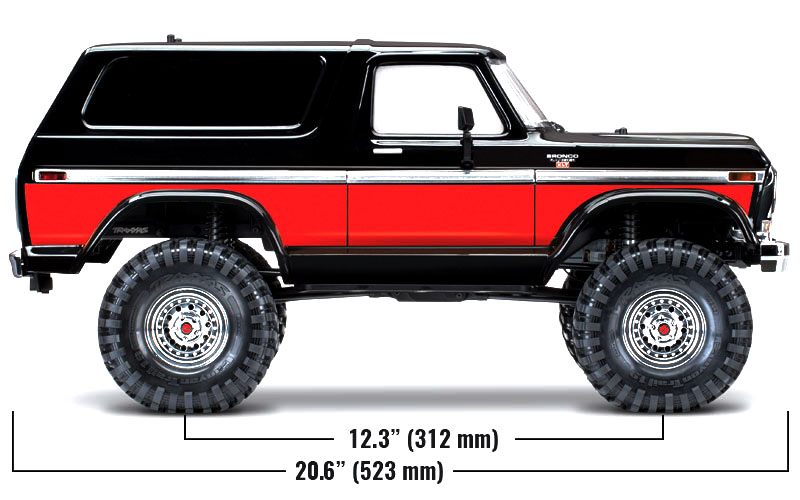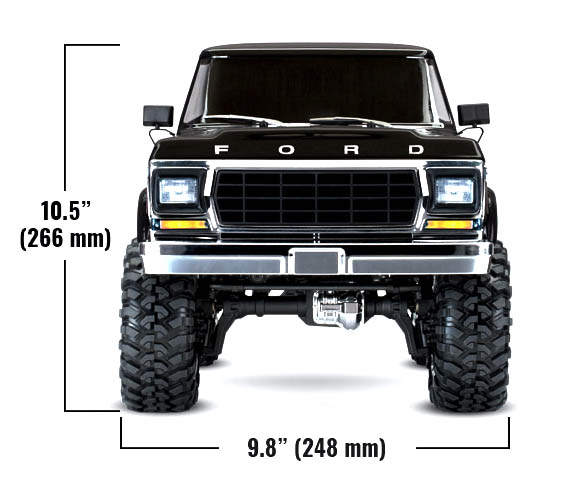 Length:   20.57 inches (523mm)
Front Track: 9.78 inches (249mm)
Rear Track: 9.78 inches (249mm)
Ground Clearance: 3.14 inches (80mm)
Weight: 6.42lb (2.91kg)
Height: 10.47 inches (266mm)
Wheelbase: 12.28 inches (312mm)
Approach Angle:  63.82°
Departure Angle:  43.22°
Breakover Angle: 58.93°
Front Shock Length: 3.54 inches (90mm)
Rear Shock Length: 3.54 inches (90mm)
Front Wheels: 1.9 x 1.02 inches (49 x 26mm)
Rear Wheels: 1.9 x 1.02 inches (49 x 26mm)
Front Tires: 4.64 x 1.89 inches (118 x 48mm)
Rear Tires: 4.64 x 1.89 inches (118 x 48mm)
Hex Size: 12mm
Speed Control: XL-5 HV
Motor (electric): 21T Reverse Rotation
Transmission: 2-speed Hi-Lo, Remote Shifting
Gear Pitch:  32P
Differential Type: 4 Gear, Remote Locking
Chassis Structure / Material: Steel Ladder Frame with Nylon Composite Crossmembers
Brake Type: Electronic "Hill Hold"
Drive System: Shaft Driven 4WD
Steering: Chassis Mounted Servo
Servo: 2075X Metal Gear
Transmitter: TQi™ 2.4 GHz 4-Channel Transmitter
Receiver:     6533
Skill Level: 2
Battery Tray: 158.75 L x 47 W x 23/26mm H
Productgegevens
Fabrikant :

Traxxas

Moeilijkheidsgraad (1 tot 3) :

2

Schaal :

1/10

Type :

Ready to Run

Aandrijving :

electrisch
Samenstelling van de kit
1/10 Scale 4X4 Trail Truck, Fully-Assembled, Waterproof electronics,
Ready-To-Drive®, with TQi™ 2.4GHz 4-channel Radio System, XL-5 HV Speed Control,
Hi/Low Transmission, Remote Locking Differentials, and painted body
TRX-4 Bronco Crawler Red
549,95 €
Bekeken producten
MCM verbindt zich ertoe
Levering in 24/48u
Uw bestelling binnen de 24u te verzenden (op werkdagen) (en volgens de limiet van de beschikbare voorraad) & te leveren in 24/48u.
MCM Crew
Een team van specialisten helpen u in uw taal (Fr, Nl & En) van dinsdag tot zaterdag op het nr. + 32 2 376 24 05 (nr. zonder meerkost) van 10u tot 18u30 of per email.
Enkele cijfers
Een winkel van 400m² gevestigd ten zuiden van Brussel.
23 jaar ervaring
+ 110 000 productreferenties.
+ 35 500 producten in voorraad.
+ 240 verdeelde merken.
MCM Group, de R/C specialist sinds 1996
MCM Racing, MCM Skyshop, MCM Slot, MCM Marine