Meer informatie
Welcome to the exciting world of RC (Radio Controlled) flight! If you've ever dreamed of taking to the skies, Horizon Hobby has you covered. We are committed to engineering aircraft that you can learn to fly with successfully even if you've never flown RC before. Every HobbyZone® aircraft we offer features industry-leading design and technology developed by experts to keep you in control and learning at your own pace so you can turn your dreams of flight into a reality!
The HobbyZone Apprentice® S 2 1.2m is the perfect trainer because it makes learning to fly an RC airplane easier and more fun than ever before! Featuring a more "traditional" trainer design, the Apprentice S 2 is ready to help aspiring pilots get flying in almost no time at all. It's equipped with exclusive SAFE® (Sensor Assisted Flight Envelope) technology that helps to prevent overcontrol, loss of orientation and crashes so nearly everyone can learn to fly successfully. Beginner, Intermediate and Experienced modes allow you to choose the level of stability and control you need, or are ready to try, at the flip of a switch. And you can instantly return to steady flight using Panic Recovery with the push of a button. Oversized tires and a steerable nose wheel make it easy to take off from and land on a variety of surfaces including grass at large parks, sports and other suitable flying fields. Or, you can install the optional floats to fly from water—which adds to its versatility and capabilities!
The Apprentice S 2 is equipped with a 30-amp telemetry-capable ESC that provides a variety of real-time power system related telemetry data including motor RPM, current, battery voltage and more to compatible Spektrum™ AirWare™ equipped transmitters, and even approximate flight battery power remaining via LEDs on the DXS transmitter included with the RTF version. The addition of exclusive Spektrum Smart components including a lithium polymer (LiPo) battery and charger make it more convenient to charge properly and safely (battery and charger sold separately for the BNF® Basic version).
The Ready-To-Fly (RTF) version includes everything needed to fly in one box and is the perfect choice if you're a new RC pilot. From the Spektrum DXS 2.4GHz transmitter you can use with other Bind-N-Fly® (BNF) Basic aircraft after you learn to fly the Apprentice S 2, to the 3S 1300mAh Smart LiPo battery that delivers long flight times and the convenient S120 USB-C Smart charger that can be used with a variety of USB power sources, there's nothing extra you need to buy or provide! A BNF Basic version is also available for experienced pilots who want to use their favorite Spektrum transmitter along with batteries and chargers they may already own. And for both versions, the powerful and efficient brushless power system including a telemetry-capable ESC, receiver and servos, are all factory-installed in the durable EPO airframe that assembles quickly and easily without the need for glue or special tools.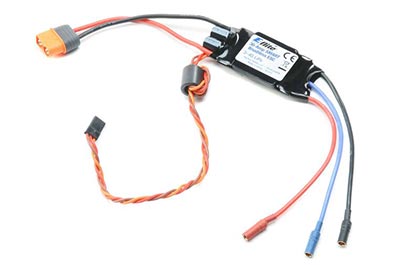 Telemetry Capable
The Apprentice S 2 1.2m is equipped with a telemetry-capable ESC that can provide a variety of real-time power system related telemetry data to compatible transmitters. This includes approximate flight battery power remaining via multiple LEDs and audible alerts from the DXS transmitter included with the RTF version. It will also provide motor RPM, current, overall battery voltage and more to Spektrum AirWare™ equipped transmitters (including the DX6e and 8e, DX6 G2/G3 and 8 G2, the DX9, the NX6, 8 and 10, the iX12, iX20 and others) while you fly.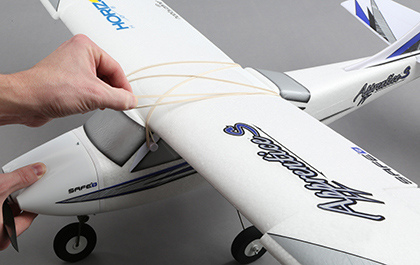 Durable Design
Construction with advanced EPO material delivers a lightweight yet durable airframe that's tough enough to handle everyday flying punishment without getting bent out of shape. The wing attaches to the fuselage with rubber bands so it can twist or "pop" free in the event of a hard landing or crash to minimize damage. And in the unfortunate event you damage any airframe parts or components and can't repair them, a full line of replacement parts is readily available.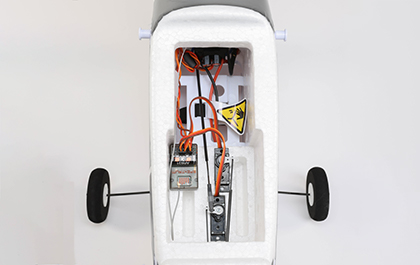 Easy Assembly
The Apprentice S 2 arrives mostly factory-assembled with the power system, servos and receiver installed. All you need to do is finish some quick and easy final assembly, without the use of glue or special tools, and you'll be ready to fly in less time than it takes to charge a battery!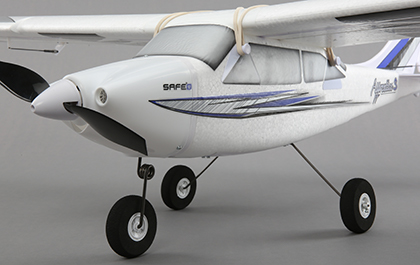 Capable Gear
The wide-stance tricycle landing gear with a steerable nose wheel and oversized tires offers improved ground handling for easier take offs and landings on a wide variety of surfaces from paved runways to grass parks and even dirt fields.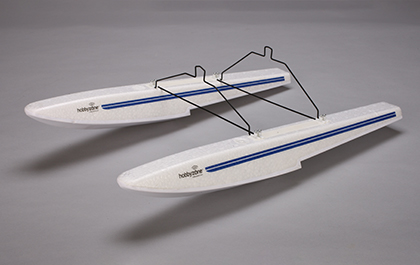 Optional Floats
Turn the Apprentice S 2 into a float plane with the optional float set (HBZ7390; sold separately). Installation takes just a few minutes and all the necessary hardware is included with the airplane and float set.
Belangrijke kenmerken
Scaled down from one of the best platforms ever designed for learning to fly radio controlled (RC) airplanes—the E-flite Apprentice STS 1.5m
The best and most convenient traditional trainer for first-time pilots and experienced pilots who teach others to fly
Equipped with exclusive SAFE® technology that helps prevent crashes and makes it easy to learn how to fly
Panic Recovery mode at the push of a button to prevent loss of control and crashes
Spektrum™ DXS controller/transmitter with industry-leading DSMX® 2.4GHz technology for reliable control without interference
Quick and easy assembly—no glue or special tools required
Full line of replacement/spare parts available
Spektrum AR631 receiver with fly-by range telemetry and industry-leading DSMX® technology
Powerful and efficient brushless power system including a 30-amp telemetry-capable ESC
4-channel control with four factory-installed servos for training to full aerobatic capability
Specificaties
| | |
| --- | --- |
| Material | EPO |
| Product Weight | 25.9 oz (735g) |
| Battery | Not included |
| Connector Type | EC3, IC3 |
| Motor Size | 370 |
| Product Length | 34.2" (869 mm) |
| Approximate Assembly Time | Less than 1 hour |
| Flaps | No |
| Power Type | Electric |
| Servos | Included |
| Skill Level | Level 1 |
| Wingspan | 48" (1219 mm) |
| Charger | Not included |
| Receiver | Included |
| Completion Level | Ready-To-Fly |
| Propeller Size | 8.25 x 5.5 |
| Technology | SAFE |
| Wing Area | 341.80 sq in (22.05 sq dm) |
| Landing Gear | Fixed, tricycle type |
| Speed Control | Included |
| Radio | Included |
Productgegevens
Fabrikant :

Hobbyzone

Type de Kit :

RTF basic

Materie :

EPP / EPO schuim

Kits :

Beginners

Type :

Ready to Fly

Aandrijving :

electrisch
Wat nodig is om te vervolledigen
(1) Spektrum 1300mAh 3S 11.1V 30C Smart LiPo Battery
(1) Spektrum S120 USB-C Smart Charger or any charger with LiPo capacity
Samenstelling van de kit
(1) HobbyZone Apprentice S 2 1.2m
(1) Brushless Outrunner Motor (installed)
(1) 30A Brushless telemetry-capable ESC (installed)
(4) Servos (installed)
(1) Spektrum™ AR631 6-Channel Receiver (installed)
(1) Spektrum DXS 2.4GHz DSMX® Transmitter
(1) Product Manual
Apprentice S 2 1.2m RTF Basic with SAFE
279,99 €
Bekeken producten
MCM verbindt zich ertoe
Levering in 24/48u
Uw bestelling binnen de 24u te verzenden (op werkdagen) (en volgens de limiet van de beschikbare voorraad) & te leveren in 24/48u.
MCM Crew
Een team van specialisten helpen u in uw taal (Fr, Nl & En) van dinsdag tot zaterdag op het nr. + 32 2 376 24 05 (nr. zonder meerkost) van 10u tot 18u30 of per email.
Enkele cijfers
Een winkel van 400m² gevestigd ten zuiden van Brussel open van dinsdag tot en met vrijdag van 12u30 tot 18u30, en zaterdag van 10u tot 18u30.
25 jaar ervaring
+ 110 000 productreferenties.
+ 35 500 producten in voorraad.
+ 240 verdeelde merken.
MCM Group, de R/C specialist sinds 1996
MCM Racing, MCM Skyshop, MCM Slot, MCM Marine