New MST Product : CMX 1/10 RTR Crawler
Publié le : 2017-12-21 13:00:00
Catégories : Articles
MST CMX 1/10th RTR Crawler
Introduction
The MST CMX RTR is a scale truck designed to deliver a balance of scale performance and incredibly realistic looks. With features that include heavy duty steel CVA front driveshafts and 40° of steering angle, combined with 4 link suspension and a forward mounted battery, the CMX is a scale rig that can hang with the big boys. Read on to discover why the CMX is a great option for both new crawlers looking to have fun on the trail, as well as experienced enthusiasts looking for a new platform for their next project.
Included electronics
A water resistant electronics system combines the XB40 ESC, with the M54-26T motor for a balance of smooth low speed control and top speed that is necessary for technical trails. The electronics package is rounded out with a waterproof steering servo and a water resistant receiver box that helps to keep things dry in harsh conditions. The system is compatible with 2-3S LiPo batteries and is easy to program by simply swapping the position of the pin jumpers on the ESC.
Notes
MST classifies this truck as 1/10 scale, but the wheelbase is shorter and the track width is narrower than 1/10 models from other manufacturers. See specifications below for a full listing of measurements.
The body comes factory painted with pre-applied decals, but must be mounted before use. Also, the grill, tail lights, and rear view mirrors must be mounted as well. Detailed instructions are included.
Product photos show body installed, with scale accessories attached. This was done for illustrative purposes only. The body you will receive requires installation and assembly.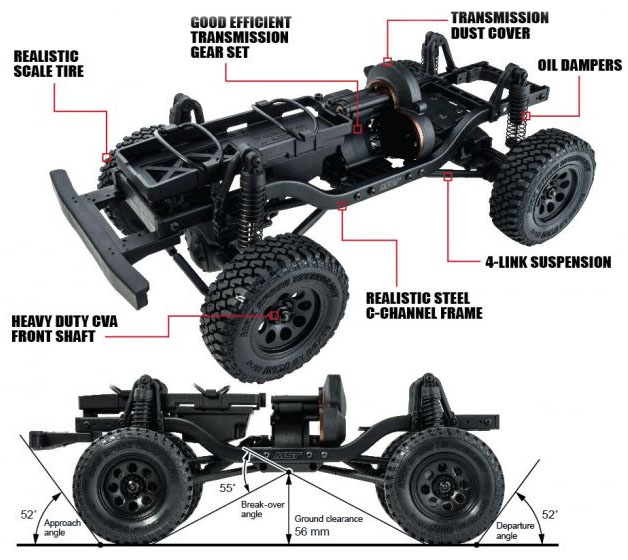 Specifications
Wheelbase : 242mm
Width : 195mm
Gear Ratio : 1:19 ~ 1:42.6
Tire Width/Diameter : 30 x 90mm
Approach Angle : 52°
Departure Angle : 52°
Break Over Angle : 55°
Ground Clearance : 56mm
Needed to Complete :
7.4V - 11.1V LiPo Battery & Compatible Charger
(4) AA Batteries for Transmitter
Partager ce contenu
MCM undertakes
Deliver within 24/48h
To send your order within 24h (on working days) (according to the limit of the available stock) & to deliver within 24/48h.
MCM Crew
A team of specialists is at your disposal in your language (Fr, Du & En) from Tuesday till Saturday at + 32 2 376 24 05 (No. non-premium rate) from 10:00 to 18:30 or by email.
A few figures
A store of 400m² located south of Brussels.
23 years of experience.
+ 110 000 products ref.
+ 35 500 products in stock.
+ 240 distributed brands.
Agenda
MCM Group, the R/C specialist since 1996
MCM Racing, MCM Skyshop, MCM Slot, MCM Marine