Promotion ! SkyHero Little Six Bind Ready Version
Publié le : 2018-01-04 11:00:00
Catégories : Articles
SkyHero Little Six Bind Ready
Introduction
SkyHero is a Belgian company that now makes drones on demand for multiple purposes. However the company made a few very successful products for professional and recreational use, like the Spyder, Little Six, Anakin, OB1 etc. Today these products are not in production anymore, but we had the opportunity to get a few Little Six models. These are now in a superb promotion. If you're looking for a six rotor platform this is the model you'll need.

Little Six model
The Little Six is a hexacopter especially designed for both stability and agility. The Bind Ready model comes with Sky-Hero branded motors, 20 Amp ESC's and a Naza M V2 Flight Controller with GPS module. If you already own a Radiolink radio or if you buy a new Radiolink radio you can set-up your radio as per manual and simply bind the receiver to your new radio.
The six motors and Naza controller will make sure your model is and remains stable, even in windy conditions. The Belgian drone laws state that only a six rotor model is allowed for flight over a crowded area. The model is made for use with 4S 4000mAh - 5000mAh LiPo batteries and already comes with a XT60 connector as standard.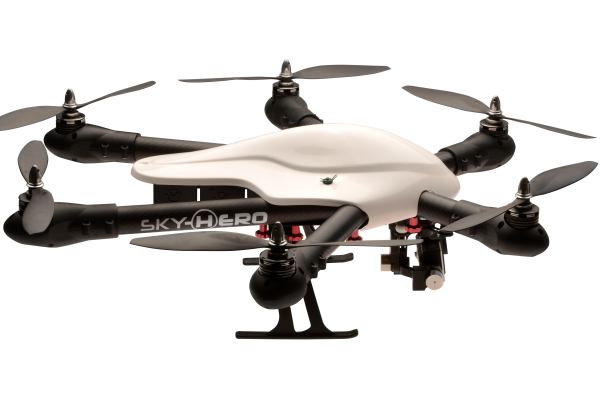 * Camera and camera gimbal not included in BR or KIT versions.
What's in the box ?
In the box you'll find following items:
- 90% completed frame
- Canopy
- Carbon Fibre Propellers
- Radiolink R9D receiver (installed)
- Naza M V2 Flight Controller (installed)
- Naza M V2 GPS Module (to install)
- SkyHero motors (installed)
- SkyHero 20A ESC's (installed)
- Screw set to set arms
- PDB (installed)
- Mounting plate for gimbal
What you'll need to complete :
- RadioLink AT9 radio
- 4S 4000-5000 mAh LiPo battery with XT60 connector (minimum 30C)
- Compatible charger
- Camera gimbal (optional)
- Camera (optional)
- Alan key screwdriver set for build
Where can I buy this model ?
This model is still available in our shop in Huizingen and on our website www.mcmskyshop.com!
Produits liés

DISC.. Little Six Bind Ready kit
Partager ce contenu
MCM undertakes
Deliver within 24/48h
To send your order within 24h (on working days) (according to the limit of the available stock) & to deliver within 24/48h.
MCM Crew
A team of specialists is at your disposal in your language (Fr, Du & En) from Tuesday till Saturday at + 32 2 376 24 05 (No. non-premium rate) from 10:00 to 18:30 or by email.
A few figures
A store of 400m² located south of Brussels.
23 years of experience.
+ 110 000 products ref.
+ 35 500 products in stock.
+ 240 distributed brands.
Agenda
MCM Group, the R/C specialist since 1996
MCM Racing, MCM Skyshop, MCM Slot, MCM Marine