Meer informatie
With the introduction of the Yeti line back in 2014, the bar was set. Axial introduced a vehicle that featured independent front suspension(IFS) with a floating solid rear axle, something commonly reserved only for the full size off-road realm. This time around, the decision was made to make things a wee bit smaller, while still providing a high level of performance. Enter, The Yeti Jr.™ SCORE® Trophy Truck® - RTR. We've taken all that you've come to love and appreciate in the Yeti chassis, but shrunk it down to 1/18th scale. It's powered by a 380 sized brushed motor which provides the perfect amount of torque and speed for this tiny Trophy Truck® monster. Also featuring a bespoke all-in-one programmable Tactic ESC and receiver, paired with a 3-wire micro high torque steering servo. At the end of the day, the goal was to build a simple, fun, and easy to drive Yeti that anyone can handle. The hardest part about the Yeti Jr.™ SCORE® Trophy Truck® is making sure you have enough battery packs charged in order to keep the adventure alive! And to top it off we went straight to Roger Norman, CEO/President of SCORE® International, for his blessing and for official licensing.
READY-TO-RUN COMPLETE - EVERYTHING YOU NEED IS INCLUDED!
In a fast paced world where space is limited and ease of use is paramount, charging the supplied Onyx 6-cell NiMH battery needs to be simple and convenient. This is where the Onyx USB NiMH Charger comes into play. It's small, compact, and easy to operate. That's all that's required. Simply plug into a USB power source and plug the NiMH battery into the charger and you're charging.

DURATRAX ONYX 7.2V NiMH BATTERY
Other batteries make claims to charge / discharge rates that can't be substantiated, but Onyx packs are "true" rated, so they deliver on their performance promises. Now there are more capacity and configuration options to choose from, and all are priced to fit within a sport modeler's budget!

AA BATTERIES
The radio is powered by four AA alkaline batteries (included).
AR18 SOLID REAR AXLE
To help keep the scale premise in check, simply shrinking down an existing axle was just not an option. In keeping the proportions correct along with yielding ample terrain clearance a new axle was designed, the AR18. Features include a compact two-piece design, captured pinion gear, and three-linked rear suspension with integrated sway-bar like support design for improved handling.Rear suspension features:

• 8mm axle with 12mm hex adapter
• Open diff
• 61mm-90mm 7mm diameter shocks with 3mm shocks shafts
• Multiple shock mounting positions

ADJUSTABLE COILOVER SHOCKS
The threaded shock bodies hold a single coilover spring. They are oil filled and allow you to tune the dampening rate.

• 61mm-90mm 7mm diameter shocks
• 3mm shock shafts

INDEPENDENT FRONT SUSPENSION
The Yeti™ Jr. is equipped with an Independent Front Suspension (IFS) system to help maintain high-speed stability when running through a diverse range of terrain. The IFS system allows you to better control the intended direction of travel at high speeds when one side is adjusting to overcome road obstructions.

Front suspension features:
• Machined aluminum CVD's
• 8mm axle with 12mm hex adapter
• Open diff
• 2.50mm hingepins
• 45mm-62mm 7mm diameter shocks with 3mm shocks shafts
• Multiple shock mounting positions

EASY CHASSIS ACCESS
Pull four pins and remove the body for complete access to chassis components.

CENTERED REAR DRIVESHAFT
The rear driveshaft is centered for efficiency, and is mated to the rear differential outdrive which is captured by a bearing to keep things running smoothly.

DIFFERENTIAL OUTPUTS AND CENTER DRIVE SHAFT COUPLER
Made of a genuine DuPont™ material for strength and durability.

1.2/1.55 METHOD BEADLOCK STYLE WHEELS
Based off the popular Method 105 machined wheels, these officially licensed wheels are dressed in an aggressive all black style.

1.2/1.55 (2.65") BFGOODRICH® BAJA T/A® KR2 TIRES
In the full-size off-road world of Trophy Truck® racing, BFGoodrich® Baja T/A® KR2 tires are the obligatory 'go-to' tire and responsible for winning numerous Baja championships, including the 2014 SCORE Baja 500 and 1000. The Axial version of this tire captures the same aggressive look and provides awesome performance on a wide variety of surfaces.

FULL BALL BEARINGS
Just because the Yeti Jr is smaller in size doesn't mean the features need to follow suit. No bushings found here, instead the Yeti Jr drivetrain is freely spinning on sealed cartridge bearings throughout the entire vehicle.
TACTIC RE20 ESC/RECIEVER COMBO - AUTO-BIND EQUIPPED, WATERPROOF
The Tactic RE20 2.4GHz receiver/ESC is an all-in-one unit that uses no crystals and features an internal antenna, so you'll experience worry free driving without frequency conflicts or antenna damage. This lightweight, compact, auto-bind equipped receiver/ESC with LED indicator makes setup easy! It's also 2S LiPo capable with voltage cut-off and features an adjustable drag brake.
TACTIC TSX106 SERVO, WATER RESISTANT
The included water resistant Tactic TSX106 metal gear servo is rated at 26.5oz-in of torque for strong turning power.
48P GEARS
No micro gearing here, instead the drivetrain features 48P gears, which is not only a robust design but also expands the number of possible gearing configurations. The spur gear is mated to a 15T metal pinion gear for optimal gearing.
ADJUSTABLE MOTOR MOUNT
Adjusting gear mesh to accommodate different sized pinion or spurs gears has never been easier with the help of a cam style motor mount design. The front top plate secures the cam motor plate in place and all screws thread down into the chassis, eliminating the need for extra long hex drivers in order to secure the motor and gear mesh.
40T BRUSHED ELECTRIC MOTOR, WATER RESISTANT
Delivering an even balance of speed and technical adventuring, the 380 40T motor features a worry-free design with enlarged cooling ports for extended periods of use. Easy operation: no tuning, no fuel, and no loud exhaust noise. Just plug 'n' go!
TACTIC TTX200 TRANSMITTER
The TTX200 2.4GHz transmitter is a two-channel pistol grip radio with digital channel reversing for both steering and throttle along with digital trim and end point adjustment. The radio is powered by four AA batteries (included) and also features SLT (Secure Link Technology), which creates an unbreakable link between the receiver and your transmitter featuring an auto-bind design.
ADJUSTABLE BATTERY TRAY
The battery tray is fully length and height adjustable with multiple configurations available. It's easily changeable between 6-cell NiMH battery packs or smaller sized 2S LiPo battery packs. The integrated battery tray can be easily accessed by removing four body clips, allowing for quick battery swaps.
Specificaties
Length : 13.0" (330mm)
Width: : 6.9" (175mm)
Height: : 5.0" (128mm)
Wheelbase: : 8.1" (206mm)
Ground Clearance: 1.1" (27mm)
Weight: 1.75lbs (0.80kg) RTR with included battery
Motor : Axial 380 40T Electric Motor
Radio : Tactic TTX200 2-channel SLT radio, 2.4gHz
Servos : Tactic TSX106 Servo
ESC : Tactic RE20 forward/reverse, 2S LiPo max with cut-off enabled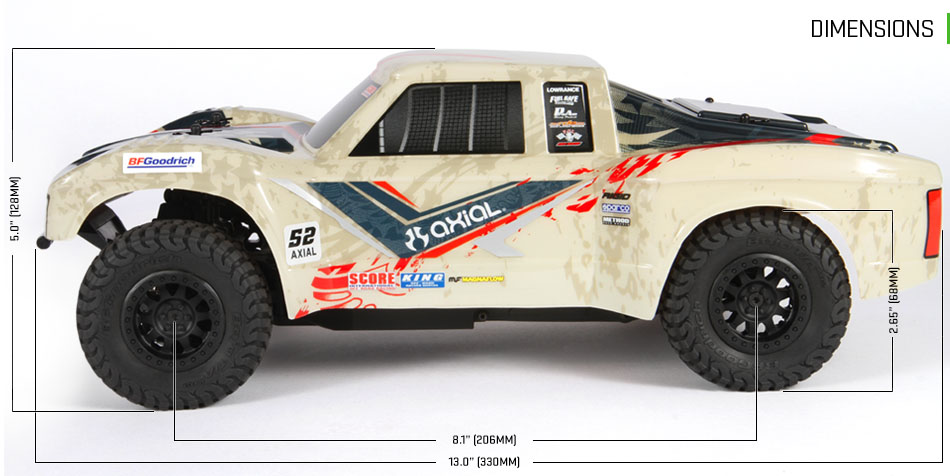 Productgegevens
Fabrikant :

Axial

Moeilijkheidsgraad (1 tot 3) :

1

Schaal :

1/18

Type :

Ready to Run

Aandrijving :

electrisch
DISC.. Yeti JR Score Trophy Truck 4WD 1/18 RTR
209,00 €
Bekeken producten
MCM verbindt zich ertoe
Levering in 24/48u
Uw bestelling binnen de 24u te verzenden (op werkdagen) (en volgens de limiet van de beschikbare voorraad) & te leveren in 24/48u.
MCM Crew
Een team van specialisten helpen u in uw taal (Fr, Nl & En) van dinsdag tot zaterdag op het nr. + 32 2 376 24 05 (nr. zonder meerkost) van 10u tot 18u30 of per email.
Enkele cijfers
Een winkel van 400m² gevestigd ten zuiden van Brussel.
23 jaar ervaring
+ 110 000 productreferenties.
+ 35 500 producten in voorraad.
+ 240 verdeelde merken.
MCM Group, de R/C specialist sinds 1996
MCM Racing, MCM Skyshop, MCM Slot, MCM Marine