Meer informatie
Smart Typhoon H Plus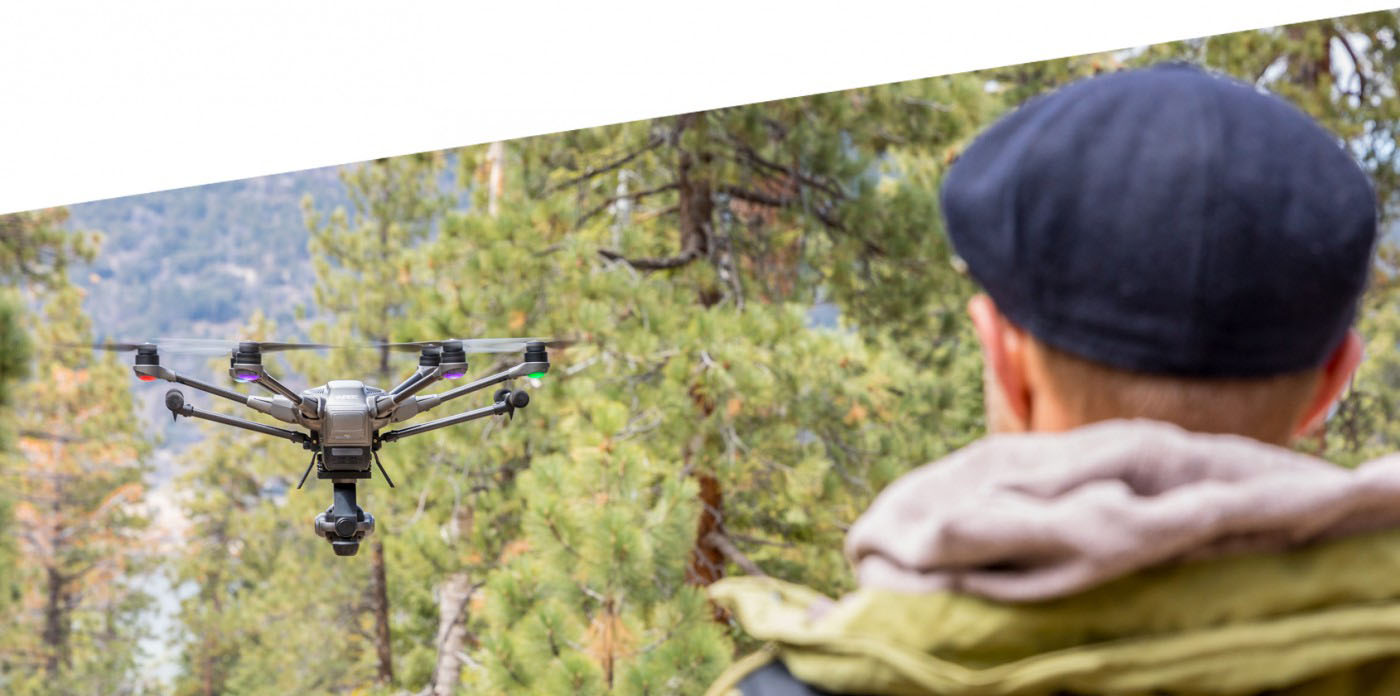 The Typhoon H Plus from YUNEEC provides first-class image quality, outstanding reliability and automatic flight modes that all photographers and videographers dream of. Typhoon H Plus is equipped with a 1" 4K camera, a PX4 based flight controller and flight modes including Follow Me, Point of Interest and Curve Cable Cam. All the key internal components of the Typhoon H Plus now have improved protection against electrical influences and, along with the PX4 controller and 6-rotor design, ensure maximum reliability.
Reliable and efficient
Several new optimisations make the Typhoon H Plus one of the quietest and most efficient camera drones in its class, boasting up to 28 minutes flying time in calm weather and flight conditions. Refined cabling ensures optimised air circulation and improved cooling. The reworked ST16S remote control has a brighter, optimised display, includes a USB port for easy data access, and has a completely new intuitive user interface.
Safe 6-rotor-system
For maximum security, the 'No Fly Zone' function makes it impossible to fly drones near commercial airports. The Geo Fence can also form a user-defined virtual barrier that prevents the Typhoon H Plus from flying outside of a desired area. In the case of a motor or rotor failure, the Typhoon H Plus automatically switches from 6 to 5 motors - an important feature that distinguishes it from a quadcopter.
C23 4K camera with 1" sensor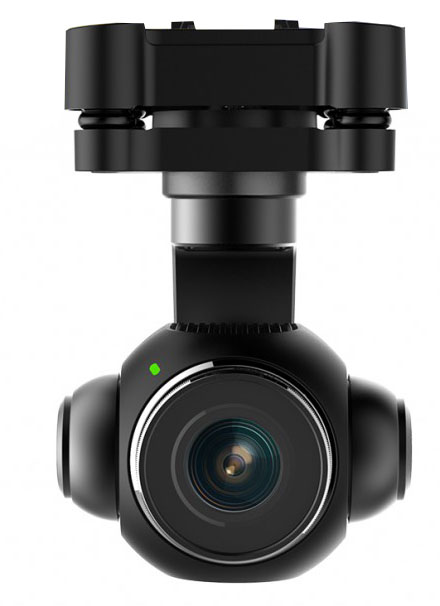 The C23 wide-angle camera is included with the Typhoon H Plus as standard and delivers high-quality photographs and videos from the air. The 1" CMOS sensor takes still images up to 20 megapixels and captures video up to 4K at 60 frames per second, and also has improved low-light performance as well as an increased dynamic range. The integrated 3-axis gimbal can be rotated 360° limitlessly, just like the other cameras from the Typhoon series. Used in conjunction with the retractable landing gear of the Typhoon H Plus, you can enjoy an unimpeded 360° view without having to move the drone.
ST16S remote control unit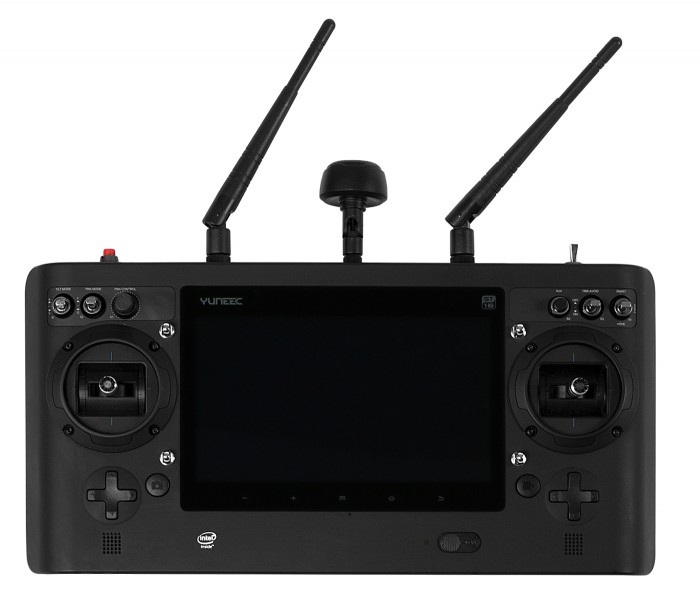 The Android-based ST16S is equipped with a high-speed Intel® Quadcore processor. This gives the pilot full control over the Typhoon H Plus and also makes it easy to take photos and videos. All the important camera settings, such as video resolution, tilting of the camera, white balance, and much more can be controlled directly via the ST16S. You view the camera's live video feed in 720p (HD) on the large 7" display, which also displays detailed telemetry data. The ST16S is fitted with an HDMI port, which facilitates transfer of the image onto a larger screen, so that others can also enjoy the viewing experience.
Retractable landing gear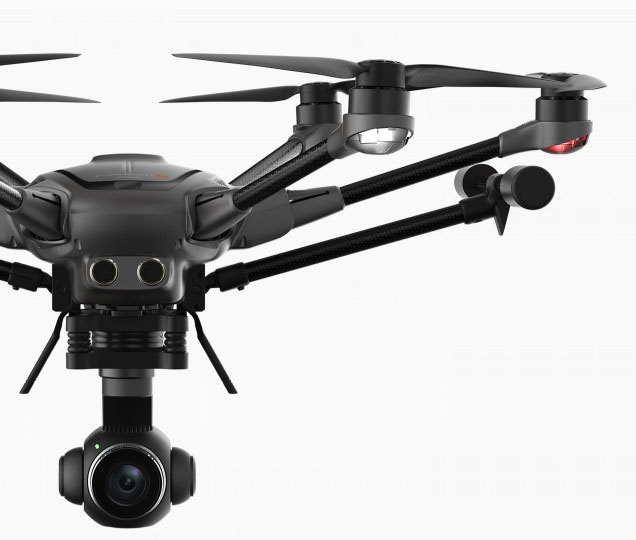 The Typhoon H Plus landing gear can be retracted at the flick of a switch and ensures you can enjoy an unimpeded camera view in any direction. When used in conjunction with the integrated 3-axis gimbal of the C23 camera, which can be rotated 360°, the operator has access to an unimpeded 360° camera view without having to move the drone.
Hexacopter with intelligent auto-flight modes
Whether you choose Follow Me, Curve Cable Cam or Return Home – you can concentrate fully on what you are shooting, while the autonomous flight modes take care of flying the Typhoon H Plus.
Orbit Me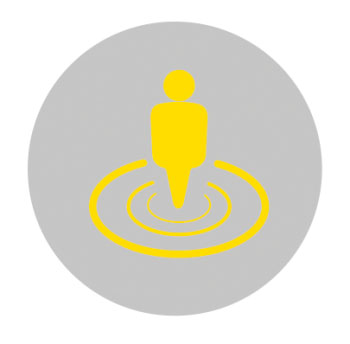 Fly the Typhoon H Plus in a circular flight path at the desired distance and height. The camera always remains focused on you.
Point of Interest
Select an object while in POI (Point of Interest) mode and the YUNEEC Typhoon H Plus will circle this object automatically.
Journey
Depending on the desired setting, the Typhoon H Plus will fly upwards on a linear path and then return automatically – making for the perfect shot.
Follow Me / Watch Me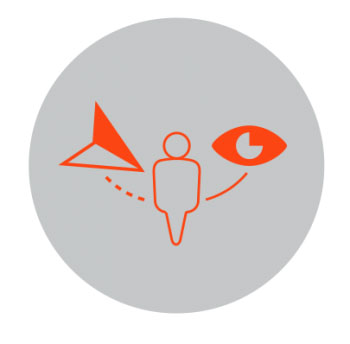 In Follow Me mode, the Typhoon H Plus from YUNEEC moves with you. If the Watch Me function is activated, the camera always remains focused on you.
Curve Cable Cam
Fly a pre-determined flight path. The Typhoon H Plus will fly a user-defined route based on pre-recorded coordinates. The operator is able to focus on the camera, which can still be fully controlled, while the Typhoon H Plus autonomously flies the flight path.
Return Home
The Typhoon H Plus turns around automatically and lands by your side at the touch of a button
Sonar for collision avoidance
The Typhoon H Plus stops automatically if it encounters obstacles thanks to the intelligent front facing sonar. The Typhoon H Plus is also available with Intel® RealSense™ technology: Thanks to 3D and depth-measuring technology, the anti-collision system recognises objects, movements and distance. This allows the Typhoon H Plus to react independently and effortlessly avoid obstacles in its vicinity. As part of this process, obstacles as well as a safer flight path are saved for the next flight.
Compact camera drone with easy propeller mounting
The Typhoon H Plus has been optimally configured for transport so that you can take it with you on any journey. The quick-locking system makes mounting and dismounting the propellers quick and easy – and there is no need for a screwdriver. What's more, each of the six rotor arms are foldable, transforming the Typhoon H Plus into a practical size that fits easily into a suitable rucksack.
Accessories for the Typhoon H Plus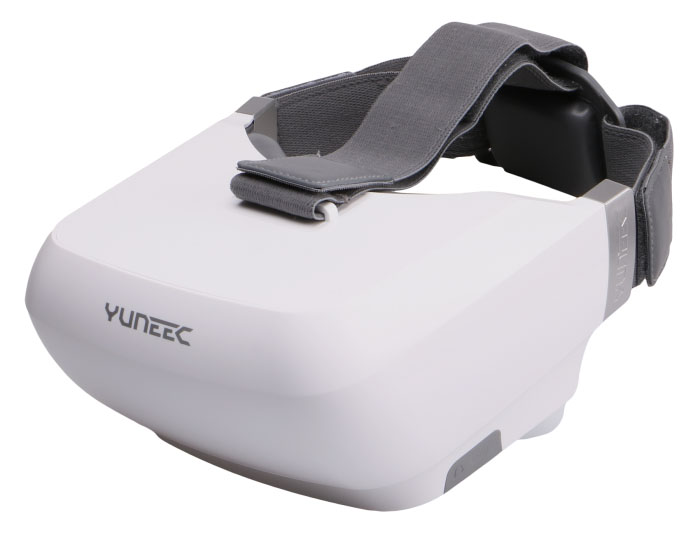 Put on your goggles and dive into a unique immersive experience with the Skyview First Person View Headset (sold separately). The Skyview FPV goggles put you in the cockpit of your drone and enable you to see what the camera sees. The DY5 dual charging device also helps you to charge your batteries in a quick and easy manner.
What sets the Typhoon H Plus apart
New PX4-based flight controller with integrated backup and failsafeC23 1"-sensor-camera with 360° gimbal
20 MP photo resolution and 4K video resolution at 60 frames per secondAvailable with and without Intel® RealSense™ automatic avoidance system
Up to 28 minutes flight time for more flying funIntegrated Android operating systemVersatile and intelligent flight modes (Orbit, POI, Journey, Curve Cable Cam, Follow Me, Return Home)
Increased flight safety thanks to 5-motors mode.
Switch automatically from 6 to 5 motors if one motor breaks down or a propeller gets damaged, while always maintaining flight safety.
Optimised design gives improved airflow for cooling
Specially shielded key areas for increased reliability
High efficiency and quiet flight operation
No transfer of data to external servers
Skyview-FPV headset for FPV shots with the drone (sold separately)
Retractable landing gear for unimpeded 360° all-round view
Foldable rotor arms for easy transport of the drone
Flying also possible in strong winds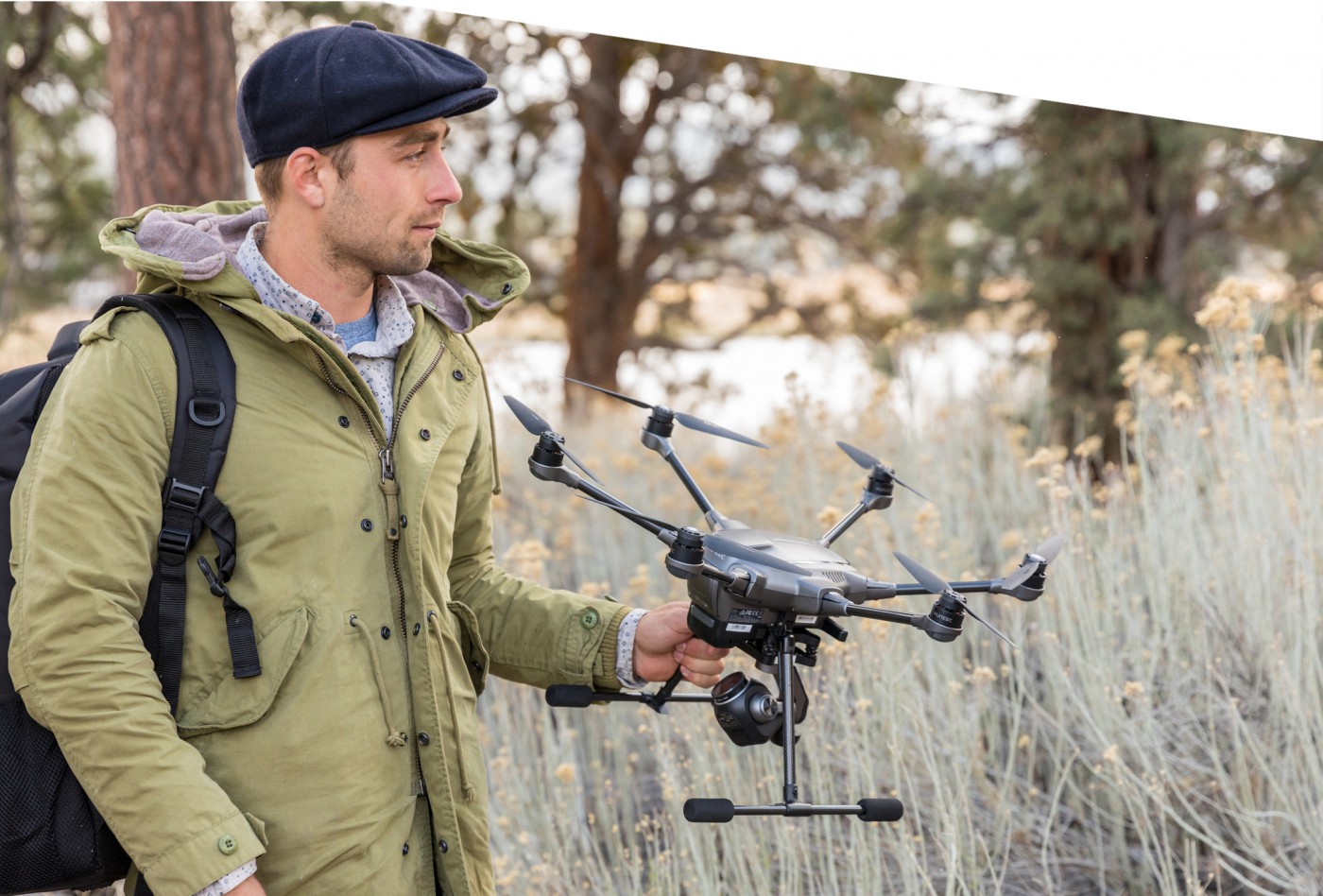 Specificaties
| Obstacle Avoidance | |
| --- | --- |
| Sensor | Ultrasonic Sensor |
| Flight Speed | 4 m/s |
| Operating Environment | Height > 1,5 m / Distance to obstacles < 5 m |
| Remote | |
| --- | --- |
| Operating System | Android™ |
| Number of Channels | 16 |
| Transmission Distance Range (Optimum Conditions) | 1,6 km |
| Frequency Band | 2,4 GHz |
| Video Link Frequency Band | 5,8 GHz |
| Video Link Resolution | 720p |
| LCD Screen Size | 7" |
| Flight System Telemetry Data On Screen | Yes |
| Built-in LiPo Battery (Voltage/Capacity) | 3,6V 8700mAh 31,32Wh Li-ion |
| Working Temperature | 0°C - 40°C |
| Connection Types | HDMI, USB |
| Camera | |
| --- | --- |
| Dimensions | 115 x 80 x 130 mm |
| Weight | 350 g |
| Sensor Size | 1" CMOS |
| EFFECTIVE PIXELS | 20 Megapixel |
| Camera Lens | F2.8 |
| View Field | 91° |
| ISO Range | 100 - 6400 |
| Shutter Speed | 4 - 1/8000s |
| Photo Format | JPEG, JPEG+DNG |
| Video Format | MP4 |
| Photo Resolution | 3:2 (5472x3648) / 4:3 (4864x3648) / 16:9 (5472x3080) |
| Video Resolution | H.264 - 4096x2160 & 3840x2160 & 2720x1530 (24/25/30/48/50/60fps) / 1920x1080 & 1280x720 (24/25/30/48/50/60/120fps) |
| Video Resolution | H.265 - 4096x2160 & 3840x2160 (24/25/30fps) / 2720x1530 (24/25/30/48/50/60fps) / 1920x1080 & 1280x720 (24/25/30/48/50/60/120fps) |
| Photo Modes | Single, Burst (3/5/7), Interval (5/7/10/15/20s), Panorama |
| White Balance | Lock, Daylight, Cloudy, Automatic, Fluorescent, Incandescent, Sunrise |
| Exposure Mode | Auto Exposure, Manual Exposure |
| Exposure Compensation | ± 3.0° |
| Gimbal Axes | 3 |
| ANGULAR VIBRATION RANGE | ± 0.02° |
| Control Range | Pitch: -90 - 15°/ Pan: 360° limitless |
| Storage Temperature | -10°C - 50°C |
| SD Card | 128 GB |
| Compatible Copter | C23 for Typhoon H Plus: YUNC23EU / C23 for Typhoon H: YUNTYHC23EU |
| Aircraft | |
| --- | --- |
| Weight | 1645 g (without camera) / 1995 g (with C23) |
| DIAGONAL LENGTH (WITHOUT ROTOR BLADES) | 520 mm |
| Flight Time | Up to 28 min (with C23) |
| MAXIMUM RATE OF ASCENT | 4 m/s |
| MAXIMUM RATE OF DESCENT | 2,5 m/s |
| MAXIMUM FLIGHT SPEED | 13,5 m/s |
| MAXIMUM FLYING ALTITUDE | 500 m |
| Motors | 730kV |
| Battery | 4S 5250mAh LiPo |
| Charger | SC4000-4H |
| Operating Temperature | 0°C - 40°C |
Productgegevens
Fabrikant :

Yuneec

Type :

Ready to Fly

Drones & Multirotors :

Hexacopter

Categorieën van drones :

Professionele drones
Typhoon H Plus RTF, ST16S, C23, 2 Batteries
1 699,99 €
Bekeken producten
MCM verbindt zich ertoe
Levering in 24/48u
Uw bestelling binnen de 24u te verzenden (op werkdagen) (en volgens de limiet van de beschikbare voorraad) & te leveren in 24/48u.
MCM Crew
Een team van specialisten helpen u in uw taal (Fr, Nl & En) van dinsdag tot zaterdag op het nr. + 32 2 376 24 05 (nr. zonder meerkost) van 10u tot 18u30 of per email.
Enkele cijfers
Een winkel van 400m² gevestigd ten zuiden van Brussel.
23 jaar ervaring
+ 110 000 productreferenties.
+ 35 500 producten in voorraad.
+ 240 verdeelde merken.
MCM Group, de R/C specialist sinds 1996
MCM Racing, MCM Skyshop, MCM Slot, MCM Marine