Meer informatie
THE ONLY 4CH PISTOL GRIP TRANSMUTER WITH GYRO INTEGRATED
400 METERS GROUND CONTROL DISTANCE
Return Real-time Model Battery Voltage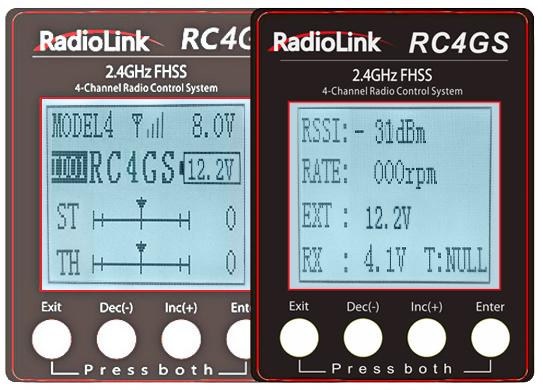 Capable of real-time transmission of RSSI, receiver/model battery voltage. The RSSI value and receiver voltage will be displayed once the binding complété between transmitter and receiver.Model voltage can be displayed by connecting the battery to BAT (positive/negative pins) without extra backhaul module needed while the real-time maximum voltage can be up to 6S battery.To support the two-way transmission function, the corresponding latest firmware needs to be flashed.
Subsidiary ID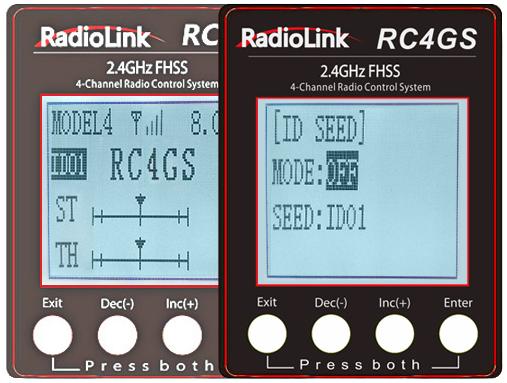 Capable of designating a subsidiary ID among multiple binding receivers to meet spécial need such as long-distance rescue with model cars/ boats.There can be totally 10 subsidiary ID stored.
Configuration Upgrade
RC4GS, with transmitter chip STM32F103RB, the computing speed is much faster than RC3S and RC4G which with chip N572F072.
The chip of R6FG/R6F is 32 bits industrial chip, is much better than the 8 bits chip which use for RC3S and RC4G. 12ms only from transmitter to the receiver, thus provide control synchronous and performance perfect.
Communication Upgrade
With the same FHSS spread spectrum and 67 channels pseudo random frequency sequence hopping of AT9S makes RC4GS hâve superior anti-interference ability both at the same frequency band and different frequency bands. Ground control distance is up to 400 meters.
Programmable Dual Mix Control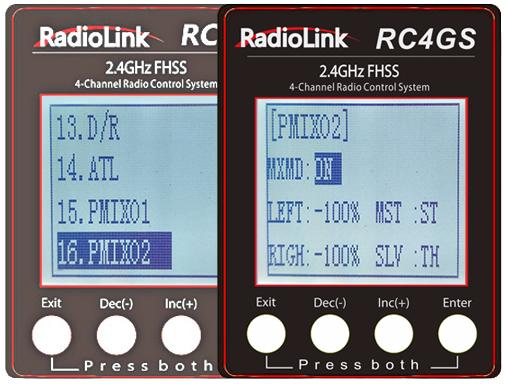 4 channels totally. Every two channels can be mix programmée).
The latest firmware of RC4GS(V4_0_0) is sup-portprogrammable dual mix control setup,both PMIX01 and PMIX02 can be setup every two channels mix programmed. Twin-engine boats or cars such as crawler easily setup the mix control and change the parameters. Enjoy your RC time.
Operating As You Want


Receiver with gyro integrated to hold the vehicle in a straight line during aggressive accélération and braking or get bumped around by rough terrain.
Receiver with gyro integrated to keep the uni-direction and anti-slip.
Gyro Sensitivity Self-setting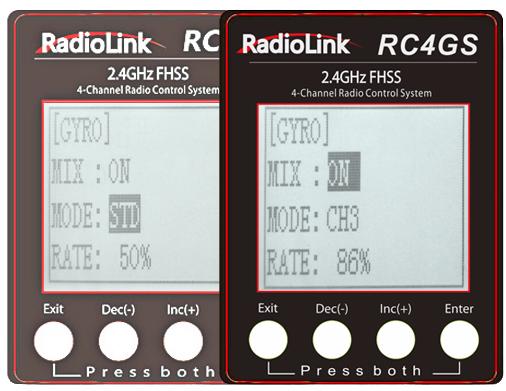 Gyro sensitivity can be adjust by CH3 which default controlled by VR switch to maximize or minimize the functions of gyro.
HV Servo Supported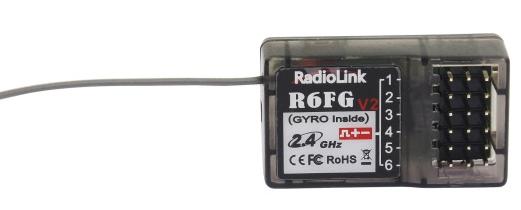 Receiver R6FG/R6F support FIV servo which up to 10V. R6FG/R6F also compatible with transmitters RC3S, RC4G and T8FB.
USB Upgrade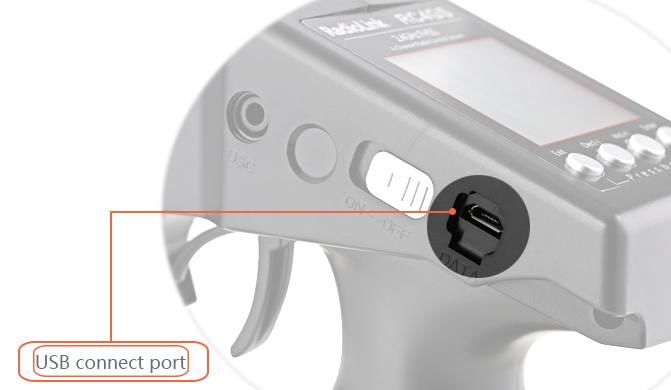 Same as AT10II, upgrade firmware by an android USB cable helps RC4GS always keep the most advanced System and program.
Anti-polarity Connect Protection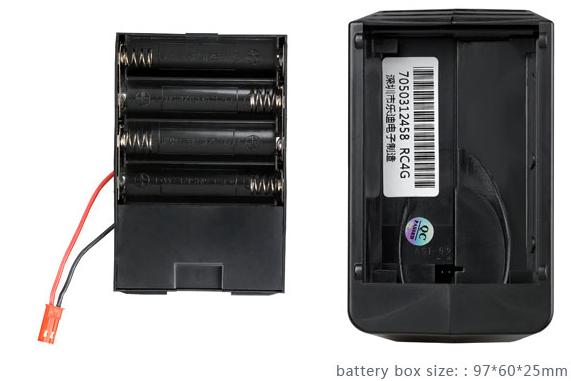 RC4GS, with unique anti-polarity connect protection intelligent, will not damage transmitter or receiver even connect anti-polarity with a long time. Universal JST battery connector supports multiple batteries, include 6pcs AA batteries or 2S-4S LiPo battery.
Fail Safe Self-setting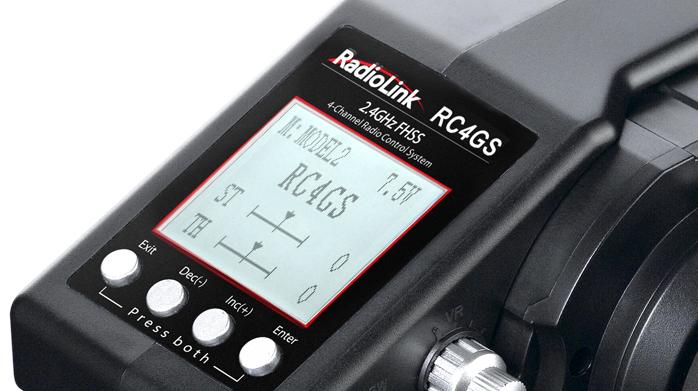 Fail safe can be setup from CH1 to CH4 and fail safe parameters can be setup as you need.
Programmable features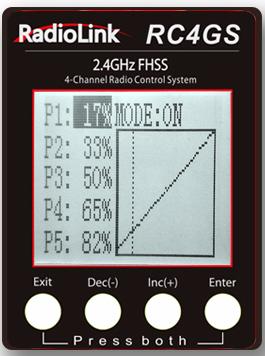 EPA (End Point Adjuster) : Correct the maximum steering angle for left and right steenng angles when there is a difference in the turning radius due to the characteristics.
THSPD (Throttle Speed) : Setting the throttle speed function reduces wasteful battery consumption while at the same time permitting smooth, enjoyable operation.
D/R (Steering Dual Rate/ Throttle Dual Rate) : The steering left and right servo travels are adjusted simultaneously.
THEXP (Throttle EXP) : Make the throttle high side and brake side direction servo operation quicker or milder.
STEXP (Steering EXP) : Change the sensitivity of the steering servo around the neutral position.
It has no effect on the maximum servo travel.
STSPD (Steering Speed) : Quick steering operation will cause momentary understeering, loss of speed, or spinning. This function is effective in such cases.
ACCEL (Throttle Acceleration) : Throttle acceleration simply "jumps" away from neutral and then leaves the remaining response linear.
IDLUP (Idle-Up) : improve engine starting performance by raising the idling speed when starting the engine of a gasoline car (boat).
REV (Servo Reverse) : Reverse the direction of operation of the servos related to transmitter steering, throttle, and channel 3 /4 operation.
A.B.S. (A.B.S. Function) : The generation of understeer can be eliminated and corners can be smoothly cleared by using this function.
ATL (ATL Function) : Decrease the set value when the braking effect is strong and increase the set value when the brake effect is weak.
Specificaties
Size:

RC4GS - 213x117x115.5mm,
R6FG - 35x20x13mm

The size of battery box(L*W*H):89*59*18mm
Channel: 4    Model: cars, boats, robot
Modulation mode: GFSK
Spread spectrum: FHSS 67 channels pseudo random
frequency sequence hopping
10 modes memory storage
Antenna length: 106mm
Control distance: more than 400 meters ground
LCD screen: 128*64 resolution, LCD back light
Transmitter operating voltage: 4.8-15.0V DC, 6*1.5AA or 2S-4S Lithium battery
Transmitter operating current: 80-120mA
Receiver operating voltage: 4.8-10V
Receiver operating current: 30mA
RF power: <20dbm
Low voltage alert: Yes (lower than 4.6V), can be set when using 2S-4S Li-Po battery
Frequency: 2.4GHz ISM band(2400MHz~2483.5MHz)
Channel resolution: 4096, the regular jitter is 0.5us
Compatible Receiver: R6FG(Std), R6F,R7FG,R8F,R8EF, R8FM,R4FGM
Samenstelling van de kit
RC4GS transmitter
R6FG receiver
User manual
RC4GS V2 4-channel radio with R6FG gyro integrated Receiver
69,99 €
Bekeken producten
MCM verbindt zich ertoe
Levering in 24/48u
Uw bestelling binnen de 24u te verzenden (op werkdagen) (en volgens de limiet van de beschikbare voorraad) & te leveren in 24/48u.
MCM Crew
Een team van specialisten helpen u in uw taal (Fr, Nl & En) van dinsdag tot zaterdag op het nr. +31 858887893 (nr. zonder meerkost) van 10u tot 18u30 of per email.
Enkele cijfers
Een winkel van 400m² gevestigd ten zuiden van Brussel.
23 jaar ervaring
+ 110 000 productreferenties.
+ 35 500 producten in voorraad.
+ 240 verdeelde merken.
MCM Group, de R/C specialist sinds 1996
MCM Racing, MCM Skyshop, MCM Slot, MCM Marine