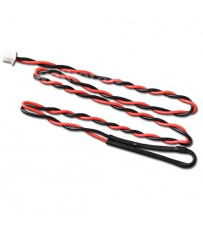 Electronics
Telemetry
There are  28  products.
The 2.4 GHz technology wich is used by some manufacturers for their radio controllers allows to bind in two directions. So its possible to send data from the model to the radio cotroller. Here you can find our range of telemetry sensors to connect your receiver, always take a close look at the comptabillity.
Filters
MCM undertakes
Deliver within 24/48h
To send your order within 24h (on working days) (according to the limit of the available stock) & and delivered quickly.
MCM Crew
A team of specialists is at your disposal in your language (Fr, Du & En) from Tuesday till Saturday at +33 975184596 (No. non-premium rate) from 10:00 to 18:30 or by email.
A few figures
A store of 400m² located south of Brussels open from tuesday till friday from 12.30 till 18.30 & saturday from 10.00 till 18.30.
25 years of experience.
+ 110 000 products ref.
+ 35 500 products in stock.
+ 240 distributed brands.
MCM Group, the R/C specialist since 1996
MCM Racing, MCM Skyshop, MCM Slot, MCM Marine