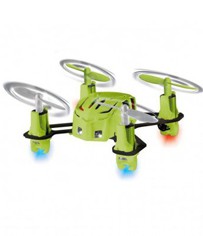 Drones & Multirotors
Mini drones
There are  10  products.
Mini drones are very small quadcopters that are designed for indoor use. Some are equipped with cameras that allow to review the flight as if we were inside the aircraft, a fun way to be a spy. Caution: drones, even "mini" are no toys. The blades spin at a high rate and can be dangerous.
Filters
MCM undertakes
Deliver within 24/48h
To send your order within 24h (on working days) (according to the limit of the available stock) & and delivered quickly.
MCM Crew
A team of specialists is at your disposal in your language (Fr, Du & En) from Tuesday till Saturday at +33 975184596 (No. non-premium rate) from 10:00 to 18:30 or by email.
A few figures
A store of 400m² located south of Brussels open from tuesday till friday from 12.30 till 18.30 & saturday from 10.00 till 18.30.
25 years of experience.
+ 110 000 products ref.
+ 35 500 products in stock.
+ 240 distributed brands.
MCM Group, the R/C specialist since 1996
MCM Racing, MCM Skyshop, MCM Slot, MCM Marine