More info
FOUR CHANNELS INTELLIGENT FAST CHARGER

4 x 1 Cell LiPO/LIHV Battery Charger with JST/MOLEX/MCPX /MCX
The 1s Lipo/LIHV Micro Battery Charger employs the circuit that features four totally independent but identical power outputs which are powered 4.35W each. It is designed for charging single cell LiPo and LIHV.Insert the lead to the right connector in each port,the charger will charge 4 batteries at the same time. And the charging current can be adjusted from 0.1-1 A ,the charging capacity and cell voltage can be displayed in the LED Indicators.
Dedicated for 1S battery fast charging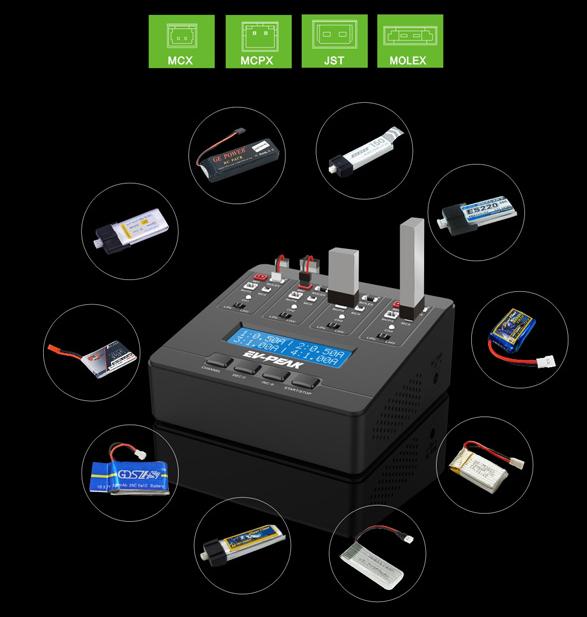 E6 dedicated for 1S battery, four channels output independently, every channel has 4 kinds of connector
Fast charging work efficiency is incomparable
For a 1S battery only about 20mins charge full, 12 batteries can be charge full within one hour, if you had 40 batteries, can you image how many minutes to charge it all full?
USB needs at least 2400mins, but E6 only needs about 200mins! It's amazing, incomparable.
Accept LiPo and LiHv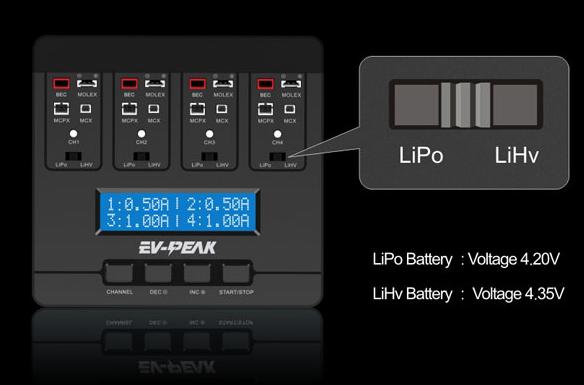 Just change the selector switch, then it can be changed between LiPo and LiHv
AC/DC dual input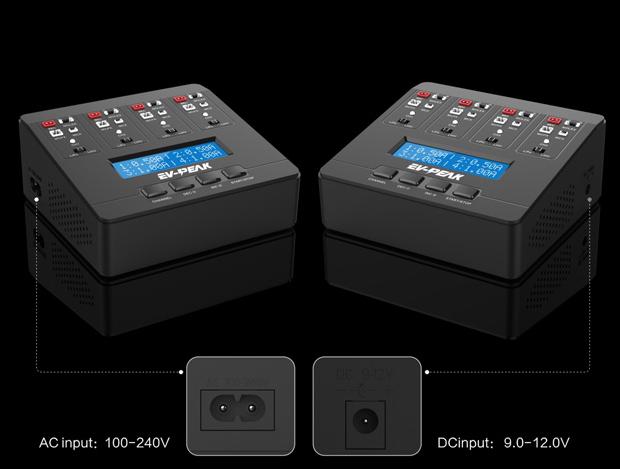 AC input accepts global power grid, not needs extra power adapter DC input accepts vehicle power or battery pack; meets the requirement of using outdoor
LCD screen real-time shows charge voltage and charge current
LCD screen has four areas, every area is independently The current set of every channel can be changed by "Channel"
Multiple protection, safer using
e6 conform to national safety standards, built-in smart safeguard protection System In charging condition, not only protect the charger but also prétend the battery bulge
Protections :
Over current
Over voltage
Leakage
Short circuit
Over temperature
Reverse
DC 9-12.0V input meets the requirement of outdoor use



Charger accepts battery pack power supply or vehicle power supply, never worry about no battery can be used any more when play in the field. You still enjoy yourself and fly when other people corne back home  depressed because of no battery can use.
Excellent material anti-flaming and falling-resistant
The Shell made from PC anti-flaming material, fireproof and higher température résistant Lighter and stronger, Shell never fade, doll polish technology scratch résistant.
Built-in strong convection cooling fan
Built-in strong convection cooling fan, don't worry about the problem of high température, make sure the charger always in safe température
Antiskid rubber pad, placed more stable
Installed antiskid rubber pad on bottom, make sure charger placed stable and not easy to slide, and prevent user's desk or car surface be scratched
Small and light, easy to carry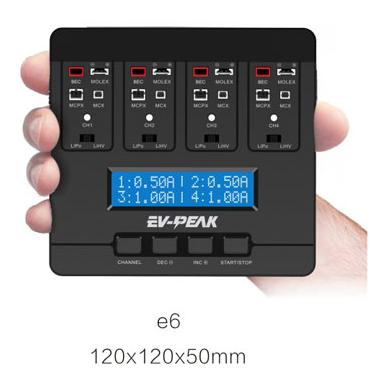 Perfect in size design, very easy to carry on outdoors
Lightweight only 320g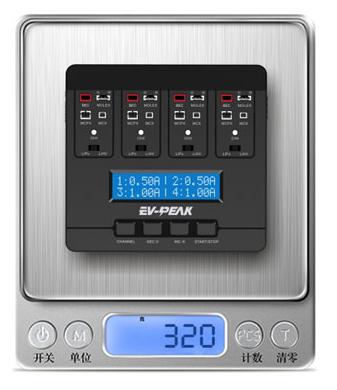 In support of dual input mode and 4 charnel output configuration, but the weight is only 320g,
Key features
Four-channel independent output, which can charge four batteries at the same time
AC / DC dual input 
Simple operation, plug and play
Charge current is adjustable from 0.1A to 1A
LCD display real-time indicates the battery charge current and voltage
Supports LiPo batteries and LiHv batteries
Specifications
AC input voltage:100V-240V
DC input voltage:9.0V-12.0V
Charge power: 4.35Wx4
Charge current: (0.1-1.0A)x4
Battery type:LiPo/LiHV
Battery cell count:1S 
Indication:LCD display+LED light
Support battery port:JST,mCPX,MCX,MOLEX
Dimension:120x120x50mm
Weight: 500g
Composition Kit
e6 charger
AC input cable
DC alligator clip input cable
DISC.. E6 charger 4 output lipo 1S max 1,0A
34,99 €
Viewed products
MCM undertakes
Deliver within 24/48h
To send your order within 24h (on working days) (according to the limit of the available stock) & to deliver within 24/48h.
MCM Crew
A team of specialists is at your disposal in your language (Fr, Du & En) from Tuesday till Saturday at +33 975184596 (No. non-premium rate) from 10:00 to 18:30 or by email.
A few figures
A store of 400m² located south of Brussels.
23 years of experience.
+ 110 000 products ref.
+ 35 500 products in stock.
+ 240 distributed brands.
MCM Group, the R/C specialist since 1996
MCM Racing, MCM Skyshop, MCM Slot, MCM Marine