More info
The FMS Ranger has quickly become well known amongst R/C pilots- Beginners love it for the simple assembly as well as its stable and predictable handling characteristics while experts love the Ranger as a weekend flyer with mild aerobatic capabilities.
So what could be better than the 1200mm Ranger? Well, a 50% larger 1800mm Ranger, of course!
While quite a bit bigger, the 1800mm Ranger is still true to its roots- take off within 10ft and cruise at 1/3 throttle with the flaps down- STOL is in its DNA.
With a patented spring-cushioned nose gear and robust metal main landing gears, the 1800mm Ranger will absorb just about any landing impact. The durable, oversized wheels are designed specifically for rough field operations.
With landing lights, nav lights and strobes, the 1800mm Ranger is realistic and could fly well into the dusk. Optional floats add to the all-terrain fun of the Ranger.
Build the 1800mm Ranger in as little as 3 minutes (for experienced pilots)- the screw-together assembly is very straight-forward and easy to put together.
Want to supersize your experience? The 1800mm Ranger is the right way to start!
Key features
Power: Brushless 3541-750KV outrunner provides ample power, while the high quality 45A ESC has the output to match.
CNC metal landing gear absorbs even the hardest landings
Oversized wheels for all-terrain operations
STOL capable flight characteristics and excellent low speed handling
Realistic light set- Navigation lights, landing lights and strobes
Screw-together assembly
Optional floats
Functional flaps
Specifications
Wingspan : 1800 mm
Length : 1335 mm
Flying weight : 2180 g
Motor : 3541 Kv 750
ESC : 45 A
Servos : 6 x 17 g
Prop : 12 x 7,5"
Recommended battery : LiPo 4S 14,8 V 3300 à 4000 mAh 35C
Flying time approx : 5 minutes
Assembly time : 10 minutes
Wing Area : 45,6 dm2
Wing loading : 47,8 g/dm2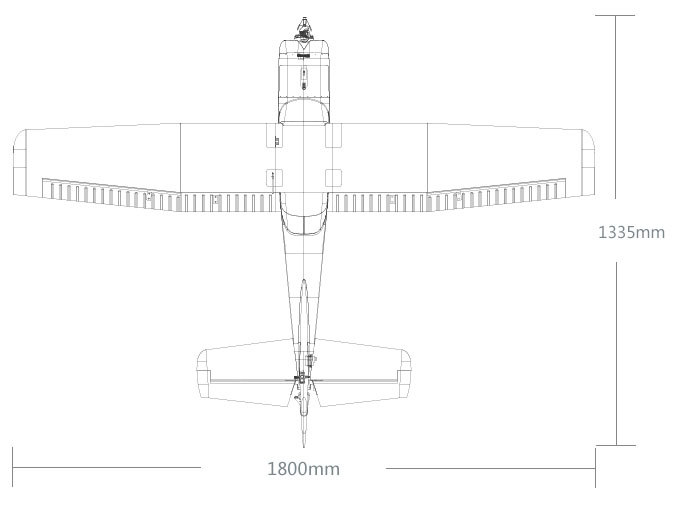 Data sheet
Manufacturer :

FMS

Level of difficulty (1 to 3) :

2

Matter :

EPP / EPO Foam

Kits :

Trainers

Type :

Plug 'n Play

Drive :

Electric
Composition Kit
Plane 1800mm Ranger PNP kit w/ free reflex system
292,99 €
Viewed products
MCM undertakes
Deliver within 24/48h
To send your order within 24h (on working days) (according to the limit of the available stock) & to deliver within 24/48h.
MCM Crew
A team of specialists is at your disposal in your language (Fr, Du & En) from Tuesday till Saturday at + 32 2 376 24 05 (No. non-premium rate) from 10:00 to 18:30 or by email.
A few figures
A store of 400m² located south of Brussels.
23 years of experience.
+ 110 000 products ref.
+ 35 500 products in stock.
+ 240 distributed brands.
MCM Group, the R/C specialist since 1996
MCM Racing, MCM Skyshop, MCM Slot, MCM Marine