More info
Building on the success of our iconic, legendary iMax B6, the SkyRC B6 Nex is a high-performance solution designed for hobbyists.
With the dual power AC/DC input, B6 Nex can charge 1-6 cell Li-ion or LiPo batteries at a maximum charge current of 10A. The built-in Bluetooth 5.0 enables B6 Nex's connectivity with smartphones. The app can push notifications reminding users that charge or discharge is completed or when there is a firmware upgrade. With B6 Nex, charging becomes a faster and more convenient experience!
Small in size, big on power
Thanks to the lightweight structure and optimized firmware, B6 Nex can fit into your pocket. The maximum power of B6 Nex can reach up to 200W.
Stunning VA display - everything at a glance
Menu navigation is made easy with the intuitive three-button control interface.
With the stunning backlit 2.4-inch VA screen, large viewing angle, high WBC and rapid response, all information is clear at a glance.
Cutting edge with GaN power
By replacing silicon with gallium nitride, we've been able to implement our proprietary charging algorithm and optimal thermal dissipation technique to shrink its size, minimize the temperature rise, and deliver more power than ever before! Charging is a breeze!
What is GaN?
Gallium nitride (GaN) is a very hard, mechanically stable, wide bandgap semiconductor. GaN is used in the production of semiconductor power devices as well as RF components and light-emitting diodes (LEDs). GaN has demonstrated the capability to be the displacement technology for silicon semiconductors in power conversion, RF, and analog applications.
The rise of GaN
The leading candidate for taking electronic performance to the next level and reactivation of positive momentum of Moore's Law is gallium nitride. GaN's ability to conduct electrons over 1000 times more efficiently than silicon, while being able to be manufactured at a lower cost than silicon, has now been well established.

Advantages of GaN chargers
Small size, easy to carry, high-wattage porous output, and high wattage output.
Accurate current sensing & high efficiency
Synchronous Rectification (SR) deploys extremely low on-resistance (low RON) MOSFETs to replace the conventional rectifier diodes to reduce rectification losses. It can greatly reduce the rectification loss at the power output, thereby increasing the converter efficiency and minimizing the heating by the power supply.
AC/DC dual power input
B6 Nex comes with both AC and DC power input, which can meet you on power supply in different circumstances.
Multi-purpose for most battery chemistries
The juice box comes with the charging algorithm for the most common battery chemistries:
LiPo
Li-Ion
LiHV
LiFe
NiMH
NiCD
Pb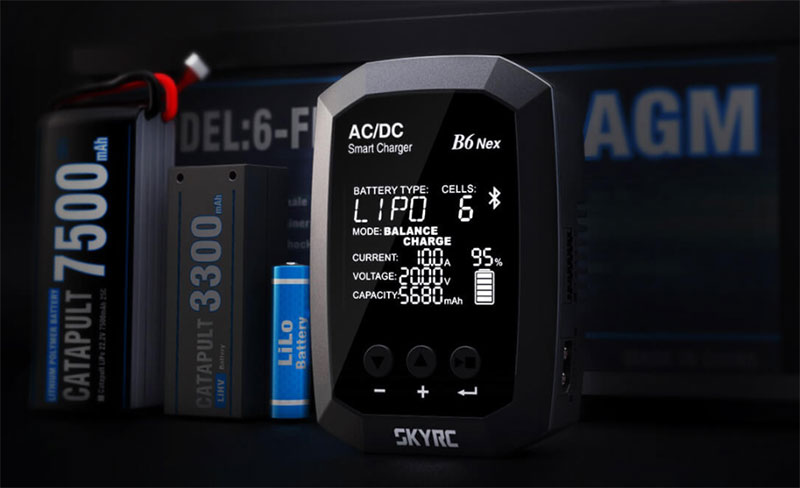 Adjustable cut-off voltage
You can set charging cut-off voltage according to your needs. Furthermore, B6 Nex can memorize the last setting parameters.
Smart & efficient cooling
The temperature-controlled 12000rpm high-speed sleeve bearing cooling fan effectively blows the air through the extruded aluminum heat sink, cooling the unit down.
Bluetooth 5.0
A new generation of Bluetooth technology. Faster and more stable connection.
B6 Nex has a built-in Bluetooth 5.0 chip, which data transmission rate is 2 times higher than that of Bluetooth 4.0, and the connection is faster and more stable.
Prompt push notifications
When charging or discharging is completed, the app automatically pushes to remind the user that the process is completed. The user will also get a push notification whenever there is a software upgrade.
Scan to go, charge on the go
A unique feature of the B6 Nex is SCAN TO GO (automatical charging system): with the SkyCharger app, a unique QR code sticker can be printed and stuck on the battery. Since all the essential information is stored in the QR code, all you need to do is scan the QR code, and the charge or discharge process will start automatically.
Intuitive Android & iOS application
Through the smart app, the charger can quickly be upgraded wirelessly. There is no need to buy an expensive legacy data cable for a firmware upgrade through a computer. Everything is made easy with the smartphone.
Key features
Charges LiFe, LiIon, LiPo, LiHV (1-6 cells), NiMH, NiCd (1-15 cells), and Pb (100-50000mAh) batteries on AC or DC input
VA LCD display
2-6S balance socket output, battery socket, AC and DC input
Supports 11 languages (Simplified Chinese, Traditional Chinese, English, Japanese, Spanish, Swedish,  Polish, French, Czech, Italian, German, Bokmal Norwegian)
Bluetooth 5.0 connection
Specifications
| | |
| --- | --- |
| Length | 112mm |
| Width | 75mm |
| Height | 38mm |
| Weight | 237.7g |
| DC input | 10-30V |
| Charge on DC input | 200W |
| Discharge on DC input | 10W |
| AC input | 100-240V |
| Charge on AC input | 50W |
| Discharge on AC input | 10W |
B6 Nex AC/DC Charger (AC 50w - DC 200w)
79,99 €
Viewed products
MCM undertakes
Deliver within 24/48h
To send your order within 24h (on working days) (according to the limit of the available stock) & and delivered quickly.
MCM Crew
A team of specialists is at your disposal in your language (Fr, Du & En) from Tuesday till Saturday at +33 975184596 (No. non-premium rate) from 10:00 to 18:30 or by email.
A few figures
A store of 400m² located south of Brussels open from tuesday till friday from 12.30 till 18.30 & saturday from 10.00 till 18.30.
25 years of experience.
+ 110 000 products ref.
+ 35 500 products in stock.
+ 240 distributed brands.
MCM Group, the R/C specialist since 1996
MCM Racing, MCM Skyshop, MCM Slot, MCM Marine