More info
Smarter, stronger and more capable
The E-flite Turbo Timber Evolution 1.5m has been evolved into the Smartest, most convenient, capable, and durable Timber yet! Popular features from the original Timber are all there: the shock-absorbing landing gear with oversized, tundra-style wheels; optional-use float set and leading edge slats; functional slotted flaps; and an LED lighting system with landing, navigation and strobe lights. So are the enhancements that gave the Turbo Timber more performance and capabilities, including a turboprop-styled nose, 3-blade prop and spinner, a more powerful 3S and 4S compatible power system, and a stiffer wing with durable, reliable metal-geared servos. Now the Turbo Timber Evolution 1.5m adds a new top hatch for faster, easier battery changes, plus combined connectors for simpler wing installation and removal. Strengthened landing gear mounts improve the model's durability and STOL capability when flying from rough terrain. The proven Turbo Timber power system is upgraded with an exclusive Spektrum Avian 60-amp Smart ESC, and the BNF Basic version is equipped with an AR637TA receiver to provide full-range, real-time telemetry data including battery voltage, current, motor RPM and more — plus motor reversing for special ground handling and other capabilities — along with the benefits of AS3X and optional-use SAFE Select technologies. There's even a fresh, modern trim scheme for the durable, composite-reinforced airframe! The Turbo Timber Evolution 1.5m remains the best "next step", everyday sport and STOL-capable model for a wide range of pilots — only it's now better than ever!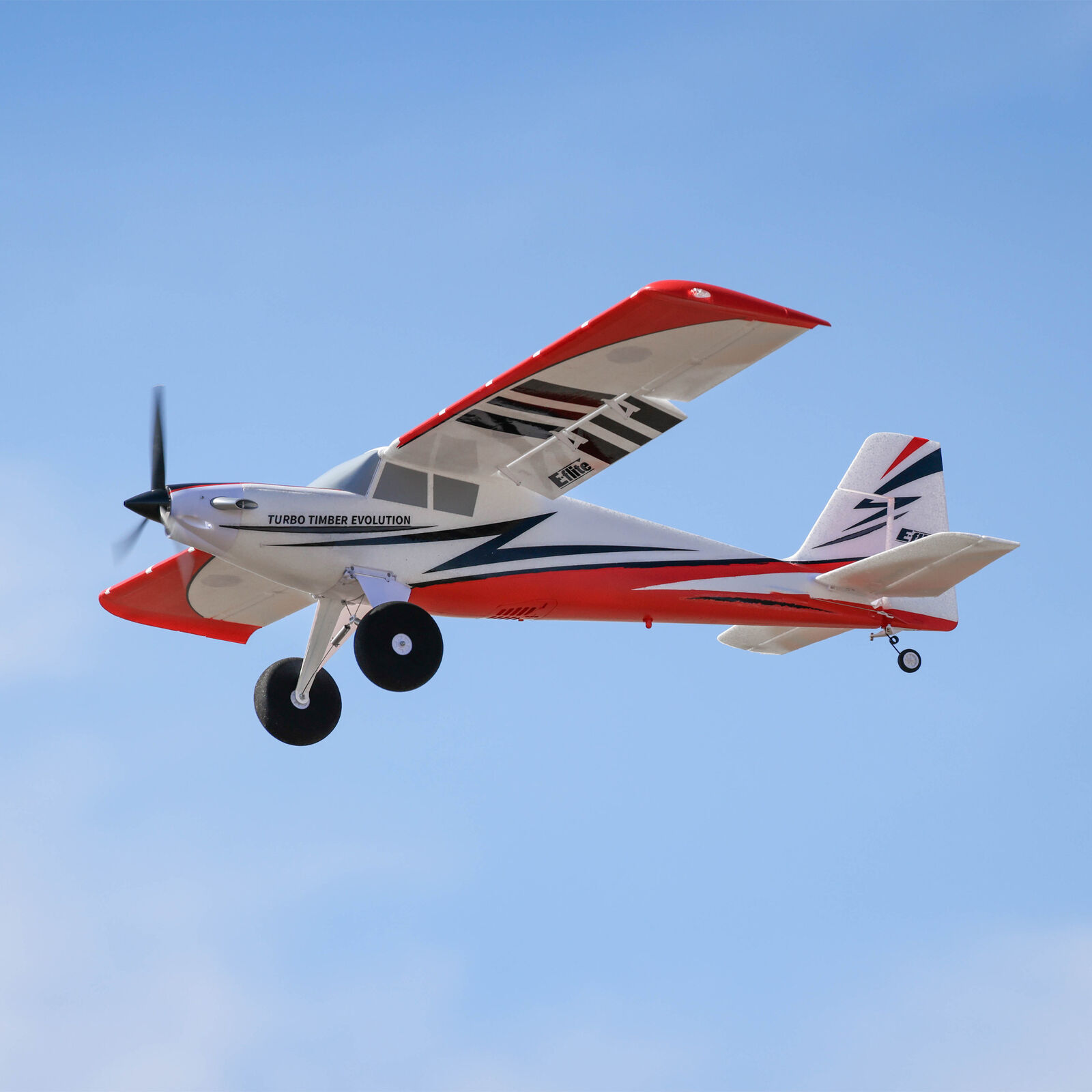 Exclusive technologies
The Turbo Timber Evolution 1.5m is equipped with exclusive Spektrum AS3X and SAFE Select technologies. AS3X works behind the scenes to smooth out the effects of wind and turbulence to deliver a locked-in feel that makes it seem like you're flying a much larger airplane. Optional-use SAFE Select offers pitch and bank angle limits along with automatic self-leveling that can be turned on and off at the flip of a switch! And if you don't want to enable the SAFE Select features, simply bind the receiver normally and only AS3X will be active.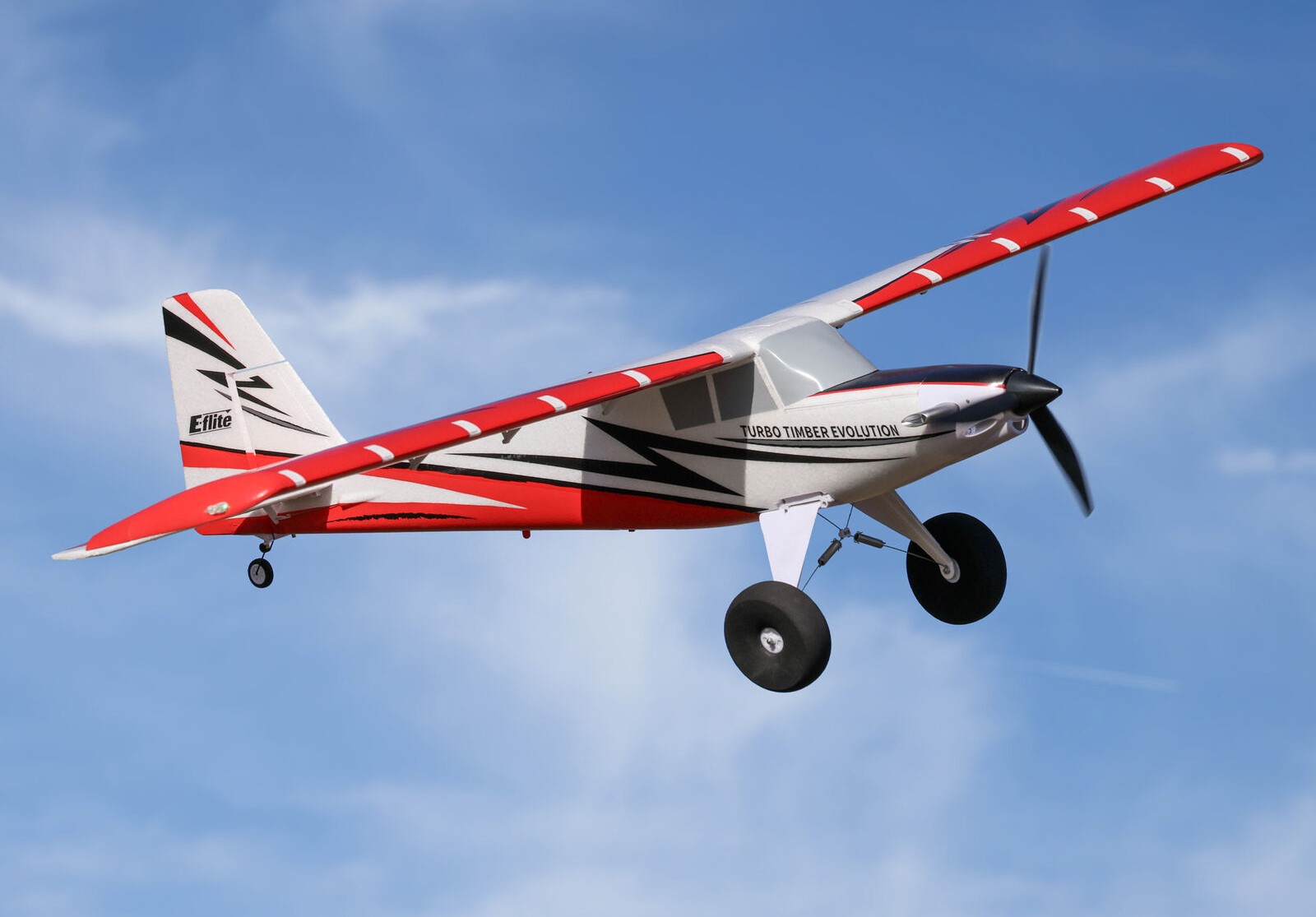 Smart technology
Both the PNP and BNF Basic versions of the Turbo Timber Evolution 1.5m are equipped with an exclusive Spektrum Avian 60-Amp Smart ESC that can provide a variety of real-time power system related telemetry data including motor RPM, current, battery voltage and more via compatible Smart receivers (such as the AR637TA installed in the BNF Basic version) and Spektrum AirWare equipped transmitters (including the DX6e and 8e, DX6 G2/G3 and 8 G2, the DX9, NX6, 8 and 10, the iX12, iX20 and others) while you fly. It also features optional-use motor reversing to offer special ground handling and other capabilities.
Versatile gear options
Thick grass, gravel paths, dirt trails — even local lakes and ponds — you can fly from these and many other surfaces that are impossible for most models of this size to handle. The stronger, reinforced mounts in the fuselage, plus shock-absorbing landing gear equipped with oversized, tundra-style wheels and tires, soaks up the bumps of rough surfaces and provides excellent prop clearance. The included float set features dual water rudders for superb steering control. Whichever gear option you choose to fly with, both are easy to install and can be swapped out in minutes.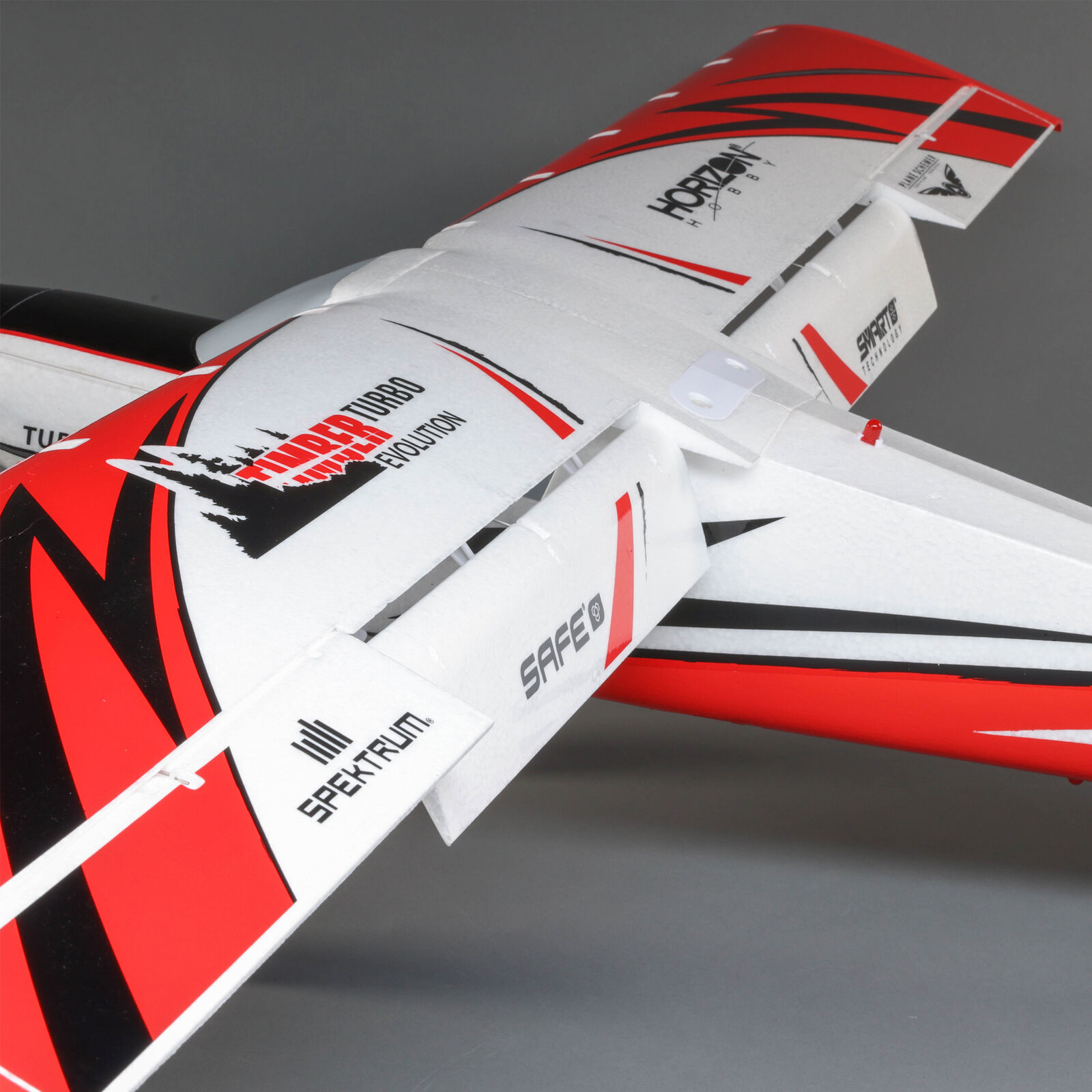 STOL (Short Takeoff and Landing) capable
The Turbo Timber Evolution's wing is designed with features like drooped wingtips and functional slotted flaps, and accepts optional-use leading edge slats (included) for improved slow flight and STOL performance. These features, along with the lightweight design and high-power brushless motor, make it possible to spring into the air or float down to land in as little as 60 cm or less.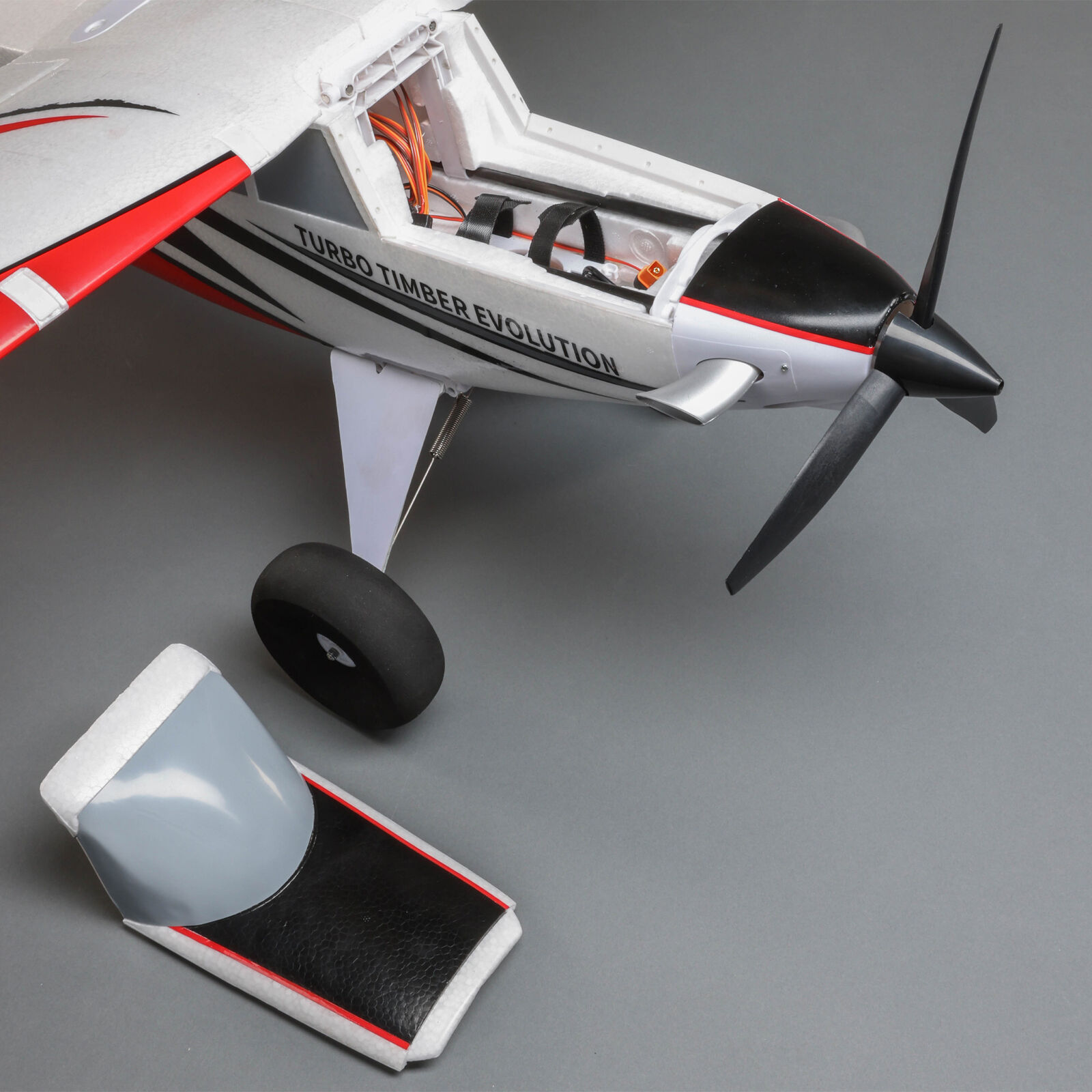 Versatile power
The factory-installed brushless power system features a Spektrum Avian 60-amp Smart ESC along with a specially-tuned motor and 3-blade prop that deliver an abundance of thrust with a 3S LiPo battery, or more power and unlimited vertical performance with a 4S battery without the need for any modifications or upgrades. Plus, the more convenient top hatch and larger battery compartment makes it easier to fit batteries from 3S 2200mAh to 4S 5000mAh to achieve a wide variety of performance and flight times.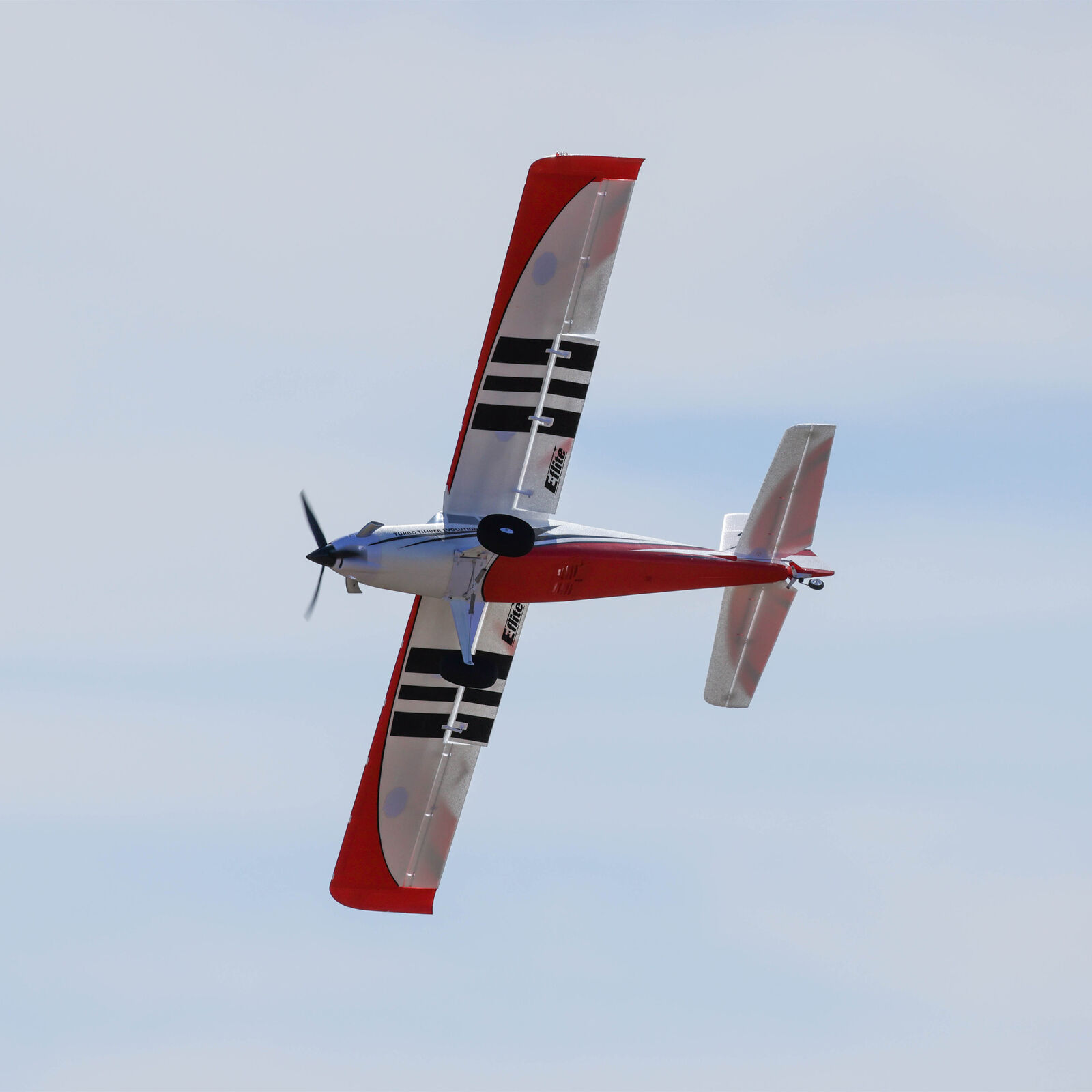 Versatile durability
Composite-reinforced, hollow-core construction with EPO material delivers a lightweight yet durable airframe. The Turbo Timber Evolution 1.5m also features a stiffened wing that improves aileron authority and roll rates, plus it's equipped with durable and reliable metal-geared servos all around.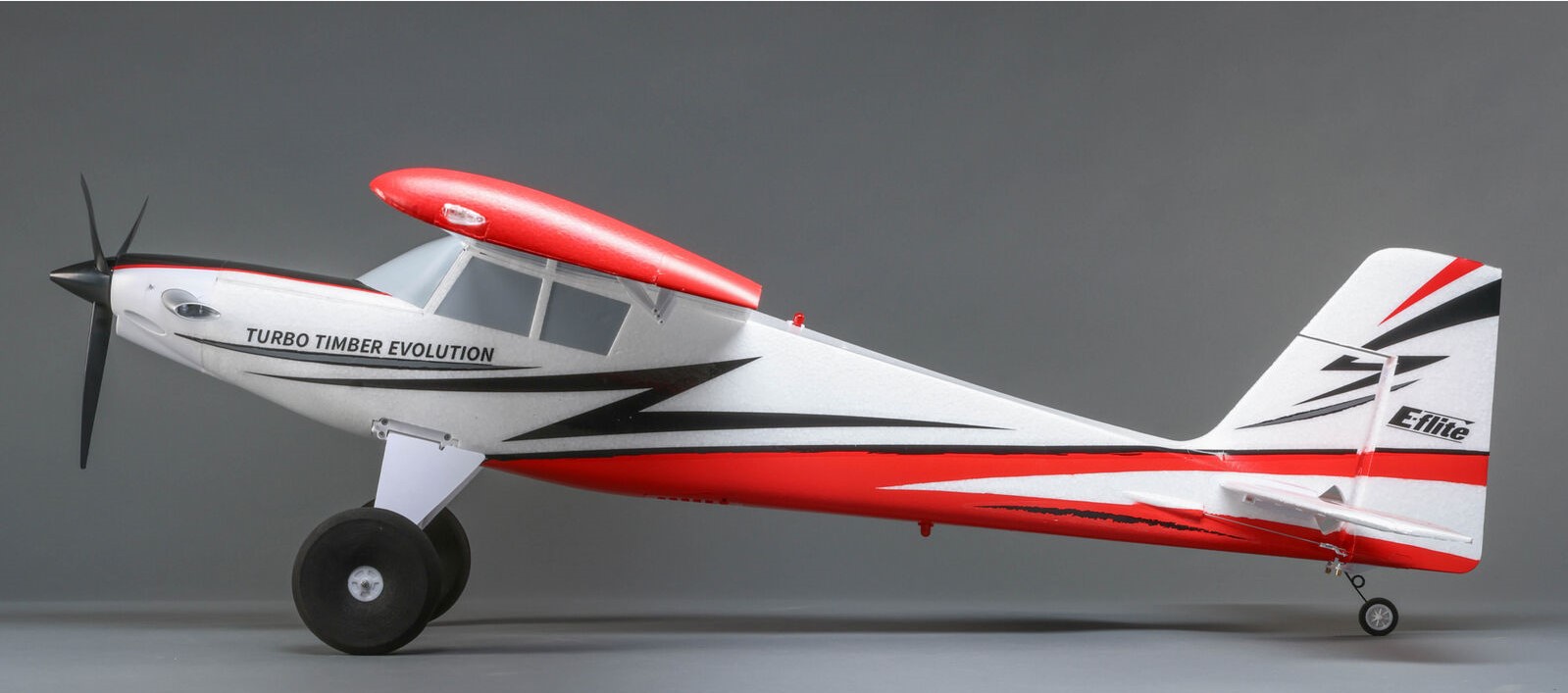 LED Lights
Like the original, the Turbo Timber Evolution 1.5m comes with realistic-looking LED landing, navigation and strobe lights that are factory-installed and powered from the flight battery.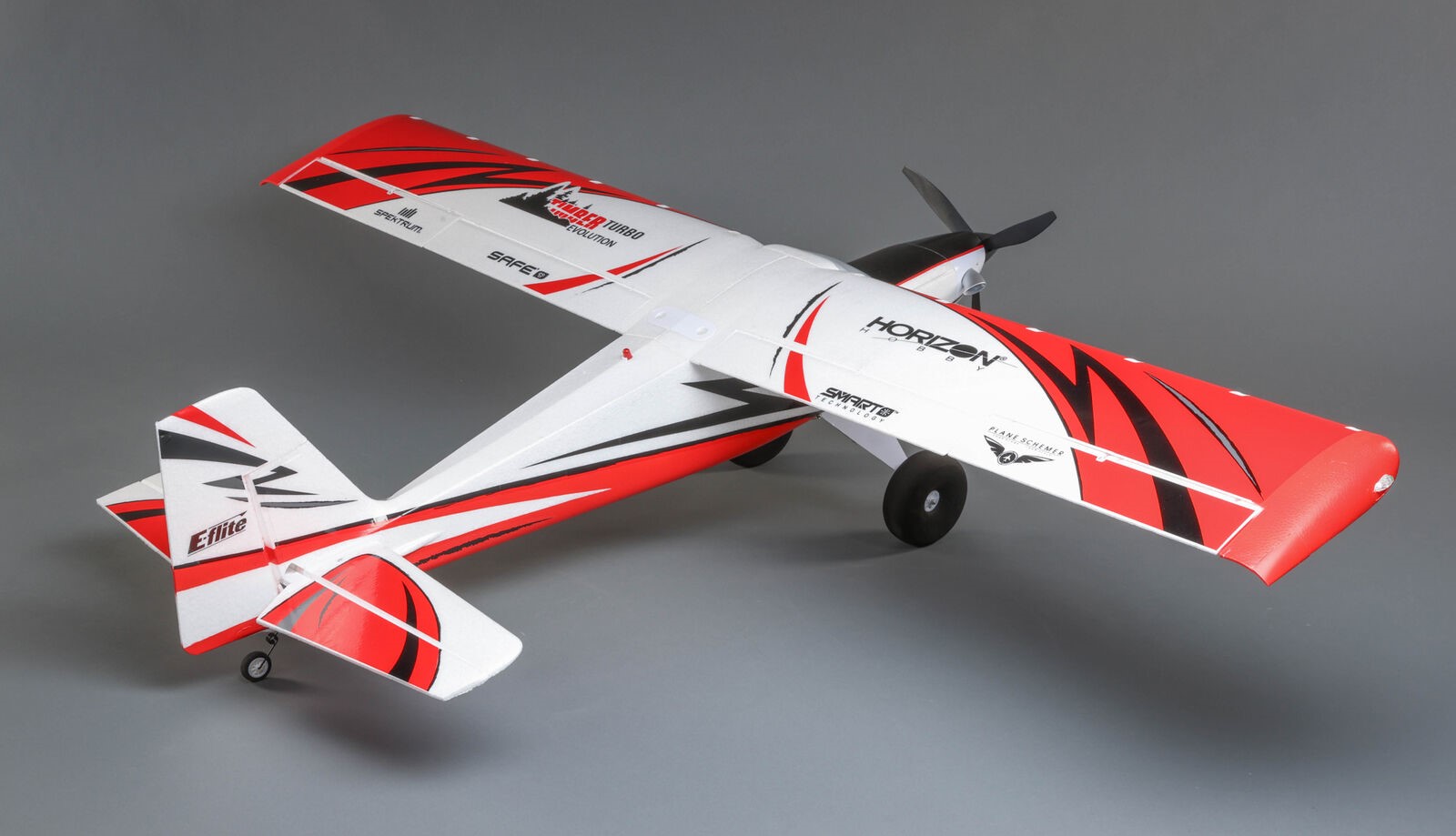 Easy assembly
No glue is required for assembly, and because the few parts that need to be assembled easily bolt into place, the Turbo TimberEvolution 1.5m can be ready to fly in less time than it takes to charge the flight battery. The two-piece wing, now featuring combined servo and LED connectors, also makes transport and storage more convenient than ever before.
Specifications
| | |
| --- | --- |
| Airfoil shape | Semi-symmetrical |
| Approximate assembly time | < 1 hour |
| Battery (sold separately) | LiPo (3.7V per cell) |
| Completion level | Bind-N-Fly Basic |
| Flaps | Yes |
| Power type | Electric |
| Landing gear | 2pc sprung main landing gear with steerable tailwheel |
| Material | EPO |
| Minimum required radio | 6 channel |
| Motor size | 10 size, 800Kv |
| Motor type | Brushless |
| Product length | 1039mm |
| Product weight | 1.53 - 1.7kg |
| Propeller size | 11x7.5 3-blade |
| Servos | Included |
| Speed control | Included |
| Wing area | 36.1 sq dm |
| Wingspan | 1549mm |
Data sheet
Manufacturer :

E-Flite

Matter :

EPP / EPO Foam

Kits :

Trainers

Type :

Bind 'n Fly

Drive :

Electric
What you need to complete
Full-range 6–7+ Channel Spektrum DSMX/DSM2 Compatible Transmitter
3S 11.1V or 4S 14.8V 2200–5000mAh LiPo with EC3 or IC3 Connector
Compatible LiPo charger
LiPo Safe Charging Bag
Composition Kit
E-flite Turbo Timber Evolution 1.5m
Spektrum Avian 60A Brushless Smart ESC (installed)
Brushless Outrunner Motor (installed)
Metal-Geared Servos (installed)
Spektrum AR637TA 6-Channel Receiver (installed)
Set of Optional-Use Leading Edge Slats
Set of Optional-Use Floats
Product Manual
Turbo Timber Evolution 1.5m BNF Basic
339,99 €
Viewed products
MCM undertakes
Deliver within 24/48h
To send your order within 24h (on working days) (according to the limit of the available stock) & to deliver within 24/48h.
MCM Crew
A team of specialists is at your disposal in your language (Fr, Du & En) from Tuesday till Saturday at + 32 2 376 24 05 (No. non-premium rate) from 10:00 to 18:30 or by email.
A few figures
A store of 400m² located south of Brussels open from tuesday till friday from 12.30 till 18.30 & saturday from 10.00 till 18.30.
25 years of experience.
+ 110 000 products ref.
+ 35 500 products in stock.
+ 240 distributed brands.
MCM Group, the R/C specialist since 1996
MCM Racing, MCM Skyshop, MCM Slot, MCM Marine