DISC.. Brushless Motors (2pcs) 4004 Ultralight Antigravity - 400kv
More info
T-Motor is a specialist of components for the aerial photograph systems.
This brushless motor, powered with a 5000 mAh LiPo battery can give power to :
2.6 kg quadcopter - Flight time 30 minutes
3.9 kg hexacopter - Flight time : 20 minutes
5.2 kg octocopter - Flight time : 15 minutes
(Datas only for reference)
Key features
Each set of motors is provided with a CCW and a CV M6 prop adapter.
Ultrathin design, the lightest motor compared to the same level currently.
Single thick copper wire winding by hand
Unique ventilation and cooling design
Excellent assembling wormanship, with great rotor dynamic balance.
Work with T-Motor carbon fiber prop and the prop with M6 hole
Hight grade EZO bearings
Processed by high strength aluminium.
Official test indicate that these motors can complete the flight time of 60-80 hours.
Owing to the bearing is consumable accessories, we strongly advice to change the bearing after your flight getting 60 hours, to ensure your safe flight.
Specifications
Kv : 400
Configuration : 18N24P
Diamètre stator /Stator diameter : 40 mm
Longueur du stator / Stator lenght : 4 mm
Diamètre de l'axe : Shaft diameter : 4 mm
Dimensions du moteur / motor dimensions : diam 44.35 x 19 mm
Poids / Weight : 52 g
Accu / Battery : 4-6S LiPo
Courant maxi / Max current : 12 A
Puissance maxi / Max power : 300 W
Rendement max : (2-6A) >91%
Résitance interne : 359 mΩ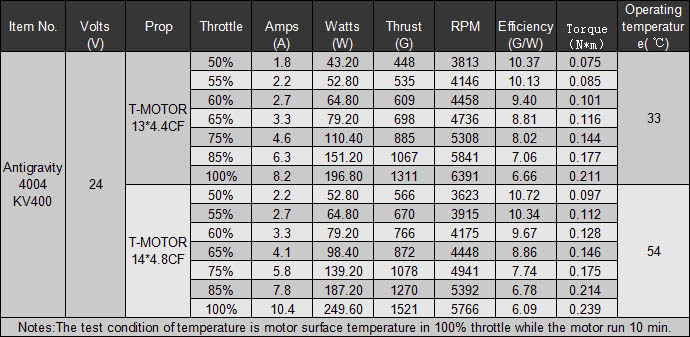 What you need to complete
Composition Kit
2 motors
1 CW prop adapter
1 CCW prop adapter
Screws
30 other products in the same category:
DISC.. Brushless Motors (2pcs) 4004 Ultralight Antigravity - 400kv
97,20 €
MCM undertakes
Deliver within 24/48h
To send your order within 24h (on working days) (according to the limit of the available stock) & to deliver within 24/48h.
MCM Crew
A team of specialists is at your disposal in your language (Fr, Du & En) from Tuesday till Saturday at + 32 2 376 24 05 (No. non-premium rate) from 10:00 to 18:30 or by email.
A few figures
A store of 400m² located south of Brussels.
23 years of experience.
+ 110 000 products ref.
+ 35 500 products in stock.
+ 240 distributed brands.
MCM Group, the R/C specialist since 1996
MCM Racing, MCM Skyshop, MCM Slot, MCM Marine