More info
The World's Ag Plane
Founded in 1978, Texas-based Air Tractor is a leading manufacturer of aircraft built for agricultural, firefighting and other utility applications. Air Tractor aircraft can be found hard at work over fields and forests in more than 30 countries around the world. The AT-500 series of ag airplanes first flew in the U.S. on April 25th, 1986. Since then, it has grown into one of the world's most popular families of general aviation, single-turboprop driven aircraft used for crop dusting, firefighting and other applications. Factory-finished in the familiar, high-visibility yellow and blue trim scheme with molded-in panel lines, rivets and more, the E-flite® Air Tractor 1.5m model offers a superb scale appearance you'll be proud to show off everywhere you go. It's also outfitted with functional features including LED navigation and landing lights, slotted flaps and oversized tires, plus it's capable yet easy to fly making it an ideal choice for your first — or next — scale or low-wing airplane.

Capable And Easy To Fly
Air Tractor ag and utility airplanes have earned a reputation for friendly handling, incredible capabilities and unmatched versatility. Those qualities carry over to this E-flite® Air Tractor 1.5m scale replica to make it a perfect scale low-wing model for intermediate to experienced RC pilots. The specially-tuned motor and 3-blade prop are matched to a 50-amp ESC to provide fantastic scale and sport aerobatic flight performance with 3S 2200-3200mAh LiPo batteries, or you can install a 4S battery for more power and unlimited vertical without the need for any modifications or upgrades. Functional slotted flaps improve slow speed handling while also offering Short Take Off and Landing (STOL) capabilities. Robust landing gear and wheels with oversized tires allow the Air Tractor to fly from paved, grass, dirt, gravel or other surfaces at any suitably-sized park or RC flying field. Add large ponds or small lakes to your possible flying sites by installing optional floats (EFL5261, sold separately) — or attach the optional scale-like skis (EFLA970, also sold separately) to take off from and land on snow. The factory-applied paint and decal finish provides excellent visibility along with striking scale looks that are accented by LED navigation, strobe and landing lights. The E-flite® Air Tractor 1.5m delivers a unique flying experience that a wide range of pilots will enjoy, even if it's your first scale or low-wing model.
Versatile Gear Options
Thick grass, gravel paths, dirt trails; you can fly from these and many other surfaces that are impossible for most models of this size to handle. The robust landing gear is equipped with wheels and oversized tires that soak up the bumps of rough surfaces and provide excellent prop clearance. The optional float set (EFL5261, sold separately) features dual water rudders for superb steering control when flying from lakes and ponds. And the optional, scale-like ski set (EFLA970, sold separately) makes it possible to fly from snow or wet grass.
High Power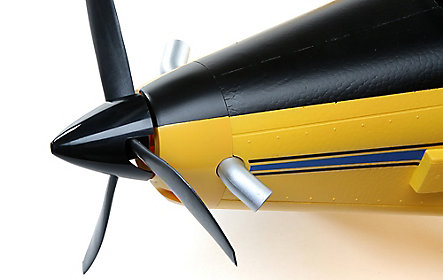 The factory-installed brushless power system features a 50-amp ESC plus a specially-tuned motor and 3-blade prop that deliver an abundance of thrust with a 3S 2200-3200mAh LiPo battery, or more power and unlimited vertical performance with a 4S battery without the need for any modifications or upgrades.
Very Durable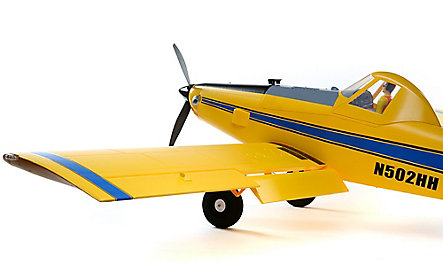 Composite-reinforced, hollow-core construction with EPO material delivers a lightweight yet durable airframe. Plus the Air Tractor is equipped with durable and reliable metal-geared servos on all the primary control surfaces.
LED Lights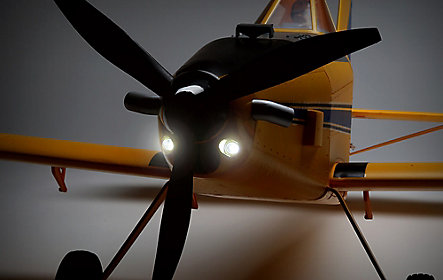 The Air Tractor comes with realistic-looking LED landing, navigation and strobe lights that are factory-installed and powered from the flight battery.
Easy Assembly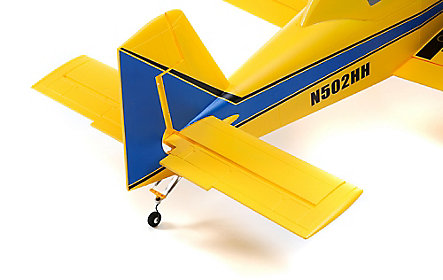 No glue is required for assembly, and because the few parts that need to be assembled easily bolt or snap into place, the Air Tractor can be ready to fly in less time than it takes to charge the flight battery. The two-piece wing and stab also makes transport and storage as convenient as possible.
Scale Trim Scheme
The factory-applied paint and decal finish offers excellent visibility plus a scale look you'll be proud to show off everywhere you go.
Plug-N-Play

Le kit Plug-N-Play est livré avec le moteur, le contrôleur et les servos montés. Tout ce dont vous avez besoin pour le montage final est votre récepteur, une batterie chargée et vous êtes prêt à aller voler.
Key features
Scale replica of the agricultural "crop dusting" utility aircraft including molded-in panel lines, rivets and more
Easy to take off, fly and land, making it a perfect choice for a first scale or low-wing model
Short Take Off and Landing (STOL) plus scale, sport and aerobatic flight capabilities
High-power 3S and 4S compatible 50A ESC and outrunner motor with 3-blade prop
Functional slotted flaps for shorter takeoffs/landings and improved slow-speed handling
Durable, factory-installed metal-geared servos with adjustable linkages on the primary control surfaces
Robust landing gear with oversized tires for operation from a variety of surfaces
Optional EDO-style floats with steerable rudders (sold separately)
Optional scale-like skis for flying from snow (sold separately)
Functional and factory-installed LED landing, navigation and strobe lights
Factory-painted and finished in a scale, high-visibility trim scheme
Lightweight yet durable composite-reinforced EPO construction
Fast and easy bolt-together assembly – no glue required
Easy to install/remove two-piece wing and stab
Specifications
| | |
| --- | --- |
| Airfoil Shape: | Flat bottom |
| Flaps: | Slotted for improved low-speed handling |
| Flying Weight: | 59 - 62oz (1681 - 1766g) |
| Length: | 38.5" (977.9mm) |
| Minimum Required Radio: | 6-ch (sold separately) |
| Minimum Speed Control: | 50A |
| Motor Size: | 10 size brushless outrunner |
| Propeller Size: | 11x7.5 3-blade |
| Receiver: | sold separately |
| Recommended Motor Battery: | 2200 - 3200mAh 3S - 4S (sold separately) |
| Servos: | Four micro metal gear, two micro |
| Trim Scheme Colors: | Yellow and blue |
| Wing Area: | 472 sq in (30.5 sq dm) |
| Wing Loading: | 18.2sq in (1.17 sq dm) |
Data sheet
Manufacturer :

E-Flite

Level of difficulty (1 to 3) :

2

Matter :

EPP / EPO Foam

Kits :

Trainers

Type :

Plug 'n Play

Drive :

Electric (Brushed)
What you need to complete
Full-range 5+ channel transmitter and receiver
3S 11.1V or 4S 14.8V 2200–3200mAh LiPo with EC3™ or IC3™ Connector
Compatible LiPo charger
Composition Kit
(1) E-flite® Air Tractor 1.5m with:

(1) 50A Brushless ESC (installed)
(1) Brushless Outrunner Motor (installed)
(4) Micro Metal-Geared Servos (installed)
(2) Micro Servos (installed)

(1) Product Manual
Viewed products
MCM undertakes
Deliver within 24/48h
To send your order within 24h (on working days) (according to the limit of the available stock) & to deliver within 24/48h.
MCM Crew
A team of specialists is at your disposal in your language (Fr, Du & En) from Tuesday till Saturday at + 32 2 376 24 05 (No. non-premium rate) from 10:00 to 18:30 or by email.
A few figures
A store of 400m² located south of Brussels open from tuesday till friday from 12.30 till 18.30 & saturday from 10.00 till 18.30.
25 years of experience.
+ 110 000 products ref.
+ 35 500 products in stock.
+ 240 distributed brands.
MCM Group, the R/C specialist since 1996
MCM Racing, MCM Skyshop, MCM Slot, MCM Marine