More info
The Valiant™ 1.3m park flyer is a downsized version of the big Hangar 9® Valiant 30cc ARF. Like its giant-scale sibling, it has the inherent stability of a classic high-wing model but with more modern lines and larger control surfaces that can provide sporty response when you want it. This Bind-N-Fly® version comes with the added benefit of a Spektrum™ AS3X® receiver that features optional SAFE Select technology.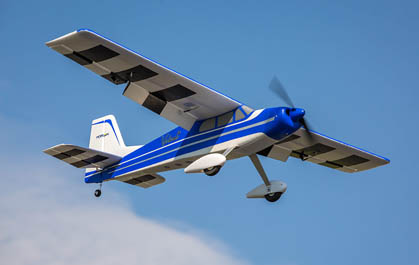 Versatile Performance and Functional Flaps
Some days you just want to unwind with some touch and gos. Others, you want to push the limits with aerobatics. The model's light wing loading, functional flaps and powerful brushless motor give you a big performance envelope to play with so, mild or wild, you can do it all.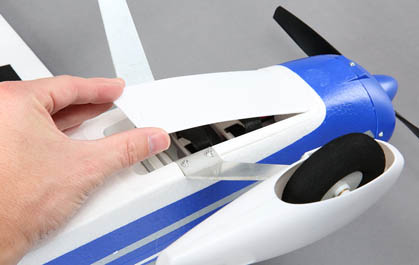 High-Output Brushless Power System
The high-output power system delivers thrilling performance when matched with a 2200mAh 3S 11.1V 30C LiPo battery. You can use a wide variety of other 3S battery sizes too. The big, easy-to-access battery compartment can accommodate everything from 1300mAh to 3200mAh packs.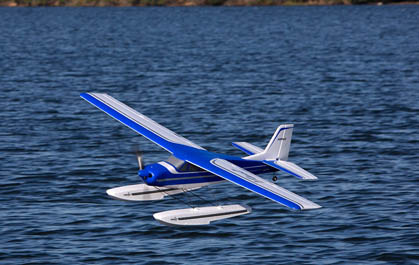 Optional Float Set Available Separately
The model is designed to accept an optional float set (sold separately). Installation takes just a few minutes and all the necessary hardware is included.
Bind-N-Fly completion level
Already own a Spektrum™ transmitter? Bind-N-Fly (BNF) aircraft make getting into the air quickly and with the best control experience possible easier than ever. They come out of the box with the power system, servos and a Spektrum 2.4GHz receiver installed so all you need to do is bind the receiver to a compatible transmitter, finish any final assembly, and fly!
This Bind-N-Fly Basic model is equipped with a Spektrum 2.4GHz DSMX® receiver featuring AS3X (Artificial Stabilization–3-aXis) technology that works behind the scenes to smooth out the effects of wind and turbulence. The result is a heightened sense of stability and precision that makes you feel like you're flying a much larger, expertly tuned aircraft.
If this is your first model of its type, or you want an extra margin of safety while familiarizing yourself with the airplane, you can enable the optional-use SAFE® Select flight envelope protection technology built into the receiver. No programming is required. Simply change up the binding sequence as directed in the manual.
With SAFE Select enabled, you get:
Pitch and Bank Angle Limits
These envelope limits keep the airplane from rolling or pitching upside down. They also prevent excessive climb or dive angles.
Automatic Self-Leveling
The airplane instantly returns to and holds level flight when the sticks are released and in the center position. It's also helpful for keeping the wings level during takeoffs/launches and landings.
Easy Switch Assignment—No Complex Programming Required
The simple procedure for assigning a transmitter switch to turn SAFE Select features on and off doesn't require any complex programming and takes just a few seconds.
If you don't want to enable the SAFE Select features, just bind the receiver normally and it will function like a standard AS3X receiver.
Specifications
| | |
| --- | --- |
| Approximate flight time | 5 minutes |
| Recommended battery (sold separately) | LiPo 3S 11.1V 1300-3200mAh |
| Center of gravity | 65mm |
| Charger | Sold separately |
| Completion leven | Bind-N-Fly Basic |
| Flaps | Yes |
| Flight weight | 251 - 2000g |
| Power type | Electric |
| Material | EPO |
| Required radio | +5 channel |
| Motor | Brushless 480, 960 KV |
| Length | 965mm |
| Weight | 1135g |
| Propeller size | 10.75 x 8 |
| Receiver | Included |
| Servos | Included |
| Skill level | 2 |
| Speed control | Included |
| Wing area | 27.75 sq dm |
| Wingspan | 1346mm |
Data sheet
Manufacturer :

E-Flite

Level of difficulty (1 to 3) :

2

Matter :

EPP / EPO Foam

Kits :

Acrobatic

Type :

Bind 'n Fly

Drive :

Electric
What you need to complete
Full-range, 5+ Channel DSMX®/DSM2® transmitter
3S compatible LiPo charger
1300-3200mAh 3S LiPo flight battery
Composition Kit
Valiant 1.3m Park Flyer BNF Basic
Product Manual
Valiant 1.3M BNF Basic with SAFE & AS3X
249,99 €
Viewed products
MCM undertakes
Deliver within 24/48h
To send your order within 24h (on working days) (according to the limit of the available stock) & to deliver within 24/48h.
MCM Crew
A team of specialists is at your disposal in your language (Fr, Du & En) from Tuesday till Saturday at + 32 2 376 24 05 (No. non-premium rate) from 10:00 to 18:30 or by email.
A few figures
A store of 400m² located south of Brussels open from tuesday till friday from 12.30 till 18.30 & saturday from 10.00 till 18.30.
25 years of experience.
+ 110 000 products ref.
+ 35 500 products in stock.
+ 240 distributed brands.
MCM Group, the R/C specialist since 1996
MCM Racing, MCM Skyshop, MCM Slot, MCM Marine