SMART Fusion 360 3S BNF Basic
More info
Featuring the latest advancements in Spektrum™ technology, the Blade® Fusion™ 360 Smart helicopter continues the legacy of the Blade Fusion line and is the perfect first high-performance collective pitch helicopter for intermediate heli pilots. With the popular 360 size, Blade has taken a fresh approach in redeveloping the Fusion 360 by adding integrated SAFE® and Smart technology, all carbon fiber and aluminum construction, improved power system package, and more. Easy to fly and easy to see in the air, it is designed to help pilots progress from simple maneuvers to advanced 3D stunts with confidence. This powerhouse features lightweight carbon fiber and anodized aluminum construction presenting exceptional rigidity and durability. Plus, with the inclusion of Smart Technology, battery charging and power system management is now easier than ever and virtually worry free. The expertly tuned Spektrum 6250HX flight controller is ready for a non-computer transmitter such as a DXS and expands its capability with a more advanced Spektrum aircraft transmitter. Pilots get kit level quality in a Bind-N-Fly package. For intermediate-level pilots, the Fusion 360 delivers one of the best flying Blade models to date!
SAFE® Technology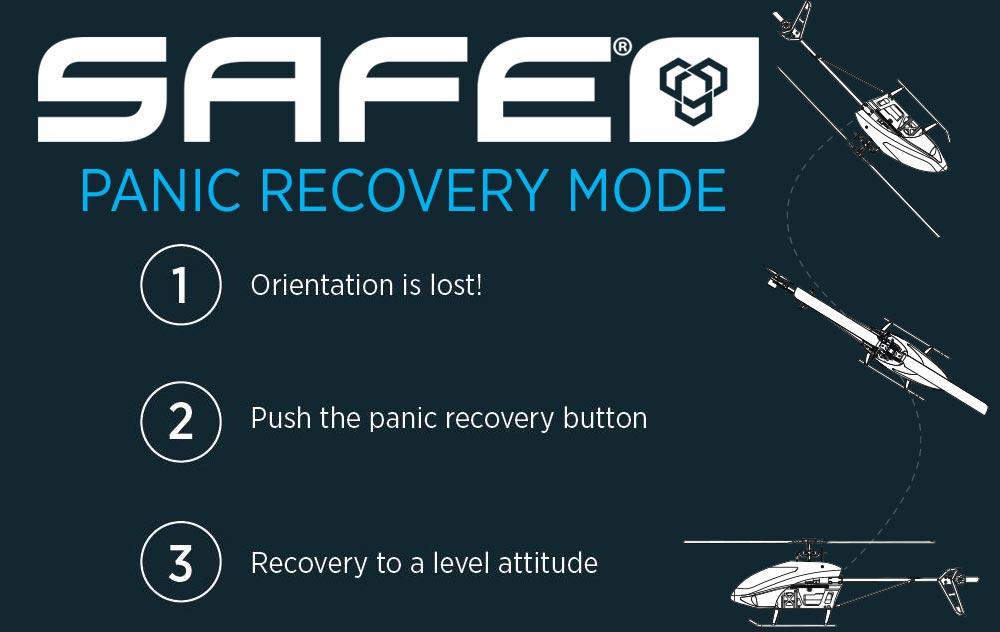 The Blade® Fusion™ 360 Smart helicopter features exclusive SAFE® (Sensor Assisted Flight Envelope®) technology, a revolutionary electronic flight envelope protection system that makes it easy for anyone to fly helicopters with confidence by providing flight mode versatility and Panic Recovery mode that automatically returns the heli to a level attitude.
Spektrum™ Avian™ Smart 45 Amp ESC included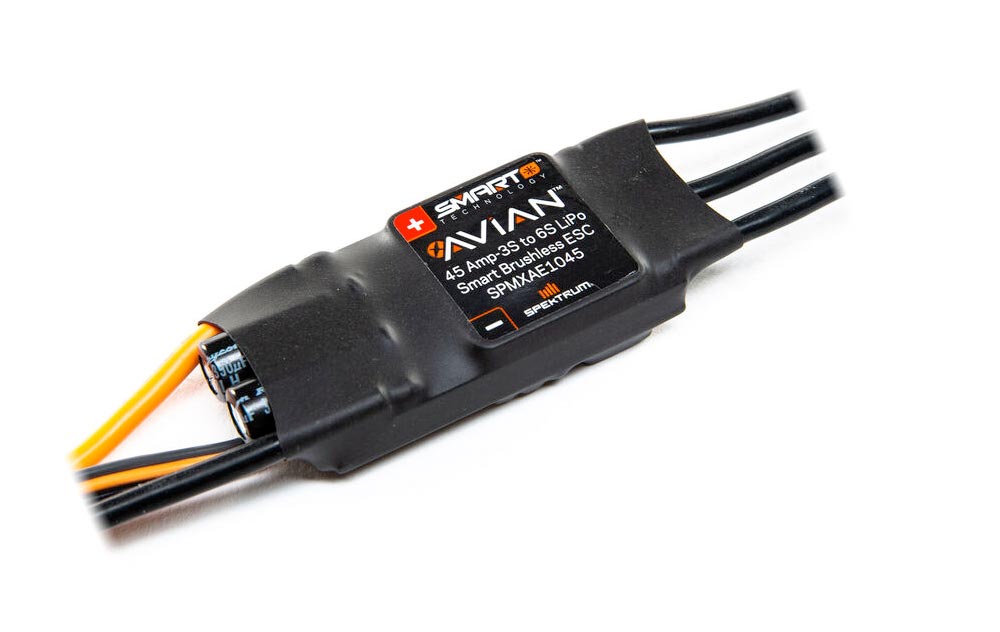 The Spektrum™ Avian™Smart 45 amp ESC transmits Smart Battery and ESC data straight to your Spektrum Transmitter all over one wire. An Avian electronic speed control provides a one-wire solution for obtaining telemetry data such as current, voltage, cell balance, temperature and RPM. The Avian ESC 32-bit M4 processor produces higher resolution signal input and more accurate motor output for a locked in and active throttle response.
Spektrum 6250HX Flybarless Controller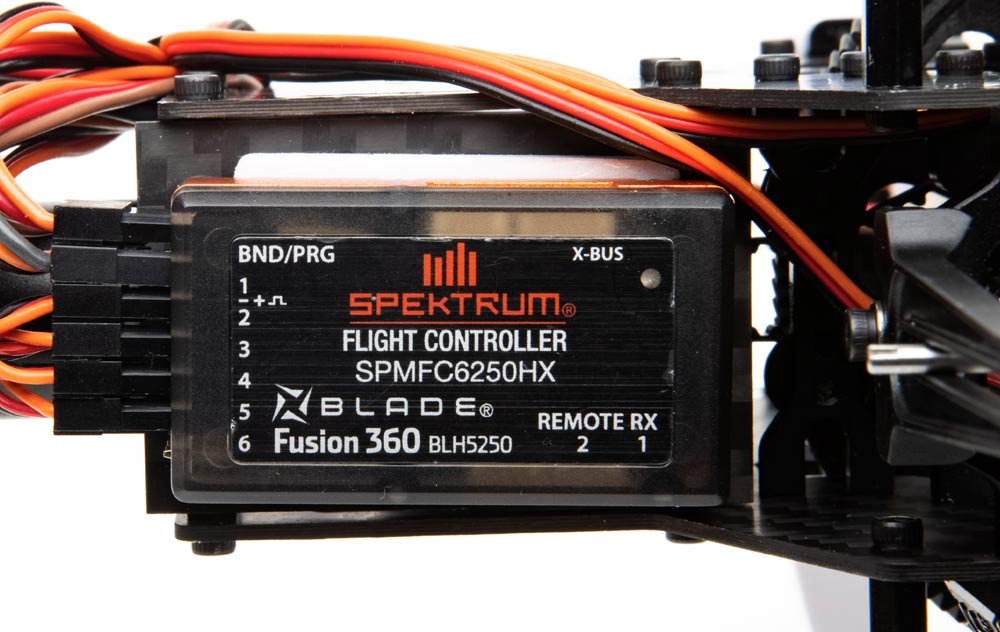 Cutting-edge Spektrum technology is featured throughout this beast from Spektrum 3055 & 3065 servos with Optimized Servo Geometry to the new ground-breaking Spektrum 6250 HX flybarless system. This new flybarless controller features advanced adaptive flight control algorithms, forward programming, 6-axis M.E.M.S. inertial sensor, low-latency high-speed operation, two remote receiver ports for diversity, and a vibration rejecting aluminum lower case.
Optimized Fusion Design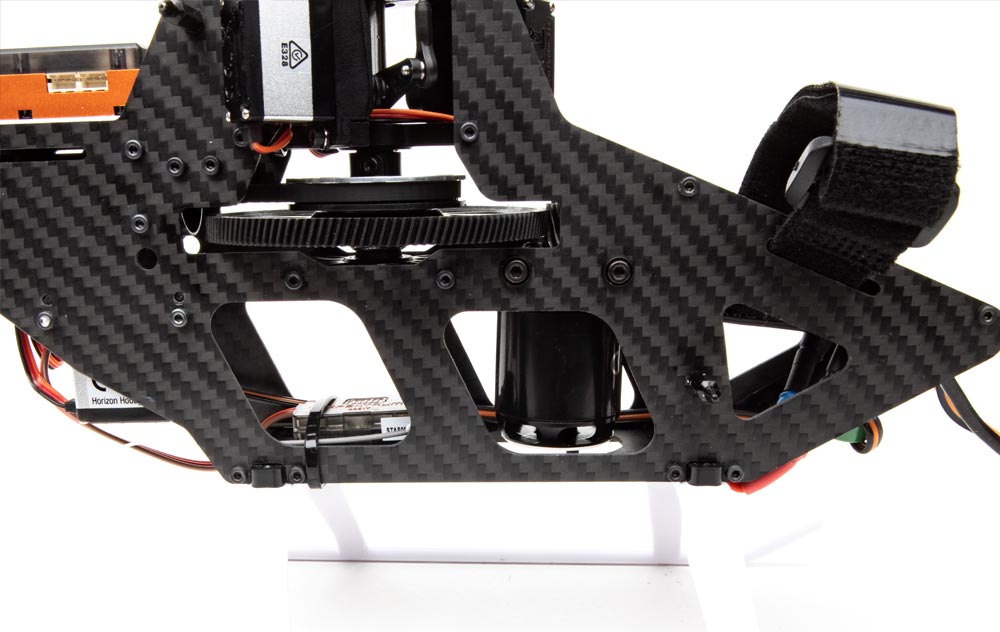 The all-carbon fiber and aluminum main frame takes rigidity to another level for a rock-solid flight experience. The carbon fiber main rotor blades feature an improved aerodynamic design with increases to efficiency and power. An oversized tail boom eliminates the need for boom supports and is crowned by an ABS plastic tail case improving vibration damping and performance.
Wide and Impact Resistant Landing Gear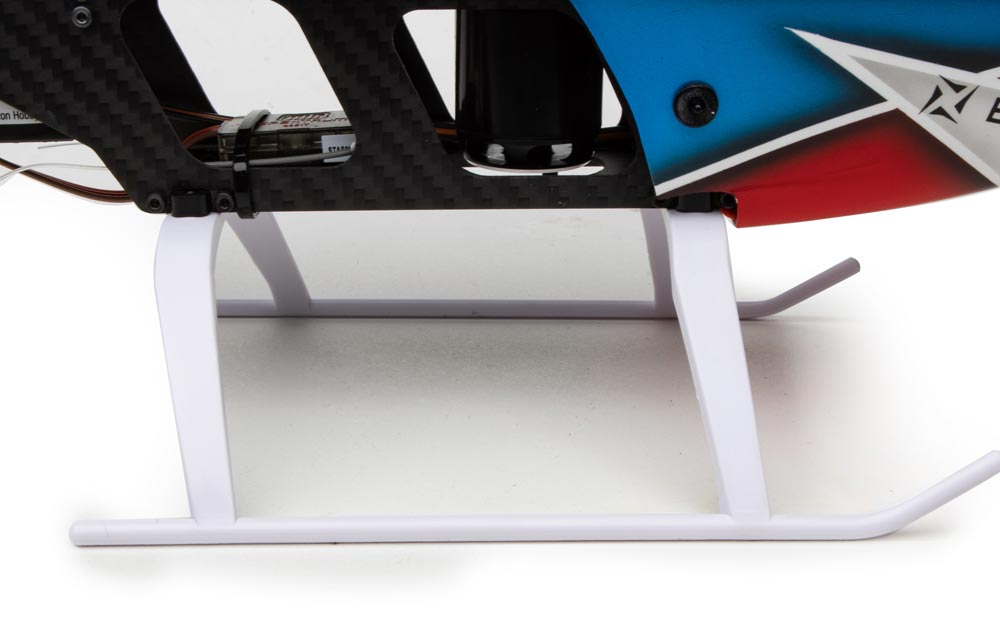 The Fusion 360 Smart features an updated landing gear offering a better stance for take off and landing. It's one piece, ABS plastic design is more resistant to hard landings and crash damage.
Aggressive and Attractive Trim Scheme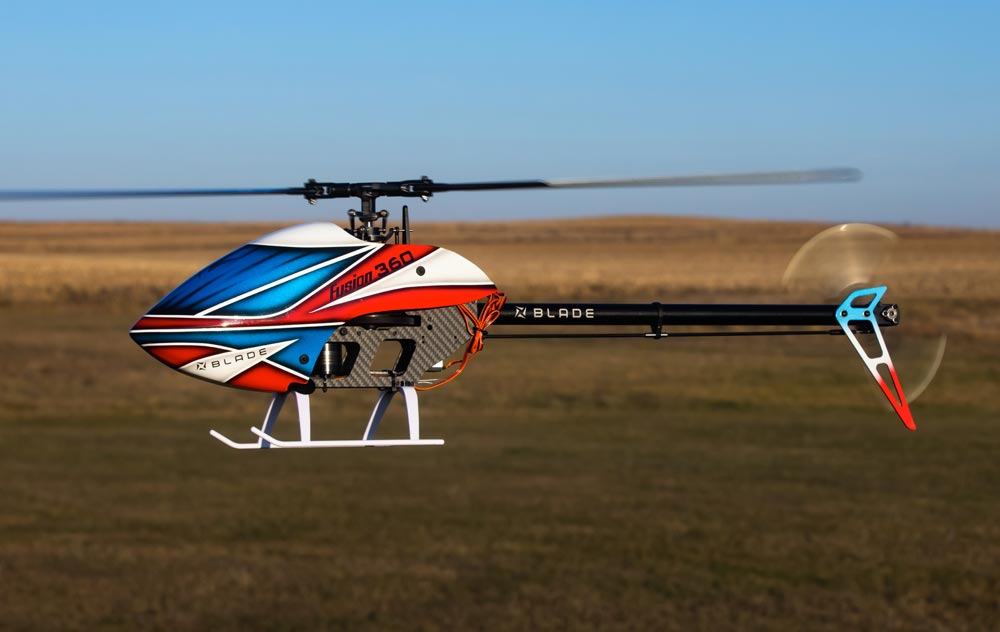 The Fusion 360 features an expertly painted fiberglass canopy and matching tail fin that is both attractive and purposeful. The bright color scheme is easy to see when tearing up the sky and is sure to catch the eye of everyone at the flight line.
Specifications
| | |
| --- | --- |
| Approximate Assembly Time | No assembly required |
| Approximate Flight Time | 4 minutes |
| Battery | Sold Separately |
| Canopy/Body Material | Fiberglass |
| Channels | 6 |
| Charger | Sold Separately |
| Completion Level | Bind-N-Fly Basic |
| Power Type | Electric |
| Gear Ratio | 12.27 |
| Main Blade Material | Carbon Fiber |
| Main Frame Material | Carbon Fiber |
| Main Motor Type | Brushless |
| Main Rotor Blade Length | 13.77" (350 mm) |
| Main Rotor Diameter | 31.33" (796 mm) |
| Main Rotor Head Type | Collective Pitch Flybarless |
| Motor Size | 2221-1800Kv |
| Pinion | 11T |
| Product Height | 7.48" (190 mm) |
| Product Length | 26.96" (685 mm) |
| Product Weight | 32.27oz (915g) |
| Product Width | 3.55" (90 mm) |
| Receiver | Included |
| Servos | Included |
| Skill Level | Level 3 |
| Speed Control | Included |
| Swashplate Type | 120 Degree CCPM |
| Tail Blade Material | Plastic |
| Tail Drive | Belt Drive |
| Tail Rotor Blade Length | 2.55" (65 mm) |
| Tail Rotor Diameter | 6.8" (173 mm) |
| Technology | Smart |
Data sheet
Manufacturer :

Blade

Level of difficulty (1 to 3) :

2

Type :

Bind 'n Fly
What you need to complete
Full-range 6+ channel Spektrum™ 2.4GHz DSM2®/DSMX® Transmitter
2200 3S Spektrum Smart Lipo Battery (or equivalent)
Suitable LiPo Balancing Charger
Composition Kit
(1) Factory Assembled Blade Fusion 360 Smart helicopter
(1) 350mm Carbon Fiber Main Rotor Blade
(2) 65mm Composite Plastic Tail Rotor Blades
(1) Spektrum 6250HX Flybarless Flight Controller
(1) Spektrum 4651T 2.4GHz DSMX® Receiver with Telemetry
(1) Brushless Outrunner Motor, 1800Kv
(1) Spektrum™ Avian™ Smart 45 amp ESC
(3) Sub-Micro Digital Metal Geared Heli Cyclic Servos
(1) Sub-Micro Digital Metal Geared Heli MG Servo
(1) Product Manual
SMART Fusion 360 3S BNF Basic
539,99 €
Viewed products
MCM undertakes
Deliver within 24/48h
To send your order within 24h (on working days) (according to the limit of the available stock) & to deliver within 24/48h.
MCM Crew
A team of specialists is at your disposal in your language (Fr, Du & En) from Tuesday till Saturday at + 32 2 376 24 05 (No. non-premium rate) from 10:00 to 18:30 or by email.
A few figures
A store of 400m² located south of Brussels open from tuesday till friday from 12.30 till 18.30 & saturday from 10.00 till 18.30.
25 years of experience.
+ 110 000 products ref.
+ 35 500 products in stock.
+ 240 distributed brands.
MCM Group, the R/C specialist since 1996
MCM Racing, MCM Skyshop, MCM Slot, MCM Marine