DISC.. Carbon fiber prop 9x3 (4pc) antigravity edition for DJI phanto
More info
This Antigravity propeller set by T-Motor is designed to improve your Phantom DJI performances. The two colors help to identify the orientation of your quad.
These props are for those who want the best quality.
They are lighter than the original plastic props (5.7 g vs 6.2 g).
They offer a best efficiency.
They are perfect with the MN2214 brushless motor from T-Motor, designed to upgrade the Phantom with a power increased by 15%.
Adapters diam 8 mm x diam 5 mm included.
Specifications
Perfomance table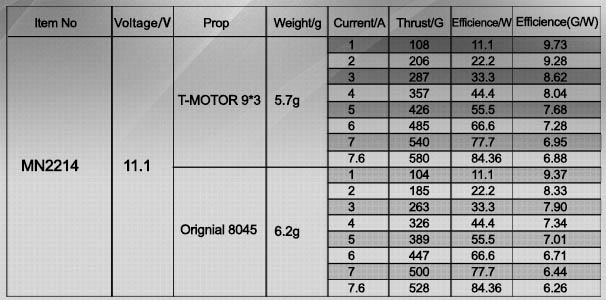 Composition Kit
1 white prop CW
1 white prop CCW
1 black prop CW
1 black prop CCW
4 adapters diam 8 mm > diam 5 mm
DISC.. Carbon fiber prop 9x3 (4pc) antigravity edition for DJI phanto
74,48 €
MCM undertakes
Deliver within 24/48h
To send your order within 24h (on working days) (according to the limit of the available stock) & to deliver within 24/48h.
MCM Crew
A team of specialists is at your disposal in your language (Fr, Du & En) from Tuesday till Saturday at +31 858887893 (No. non-premium rate) from 10:00 to 18:30 or by email.
A few figures
A store of 400m² located south of Brussels.
23 years of experience.
+ 110 000 products ref.
+ 35 500 products in stock.
+ 240 distributed brands.
MCM Group, the R/C specialist since 1996
MCM Racing, MCM Skyshop, MCM Slot, MCM Marine