DISC.. Brushless Motor MN1806 - 1400KV
This small brushless outrunner motor is perfect for small multirotors and especially for quad-racers.
More info
With the navigator design concept, T-Motor Navigator series is mostly used in Aerial photo as the Multirotor - copter Power system. The motor is a high quality, smooth running, durable brushless motor built for multirotor UAV application, the custom assembly methods ans components unique to Navigator series help to provide the reliability required for a dependable aerial platform.
Key features
The best choice of the motor for Micro-multirotor :
Hale construction
Smart aspect
Two mounting prop methods :
M4 Prop adapter for prop with a 4 mm hole and M5 prop adapteur for prop with a 5 mm hole.
Cover and two screws to assemble T-Motor 7x2.4" and 6 x 2.4" CF prop.
Specifications
KV : 1400
Configuration : 12N14P
Stator Diameter : 18 mm
Stator Length : 6 mm
Shaft Diameter : 2 mm
Motor Dimensions(Dia.*Len) : Φ23×18.5 mm
Weight (g) : 18g
ldle current(10)@10v(A) : 0.2 A
No.of Cells(Lipo) : 2-3S
Max Continuous current(A)180S : 12 A
Max Continuous Power(W)180S : 96 W
Max. efficiency current : (2-7A)>85%
Internal resistance : 325 mΩ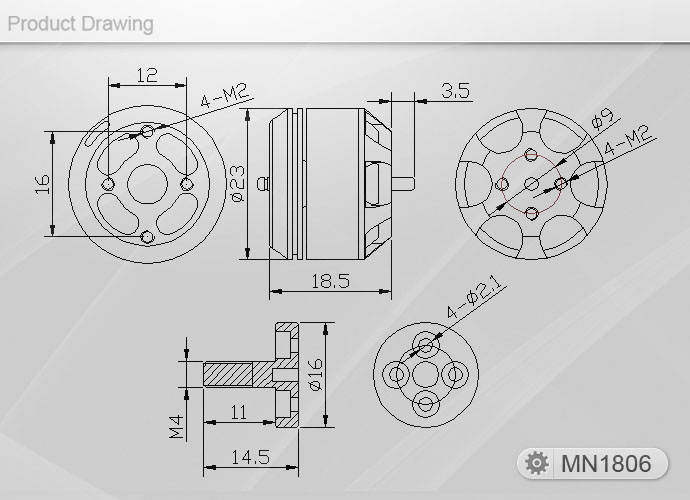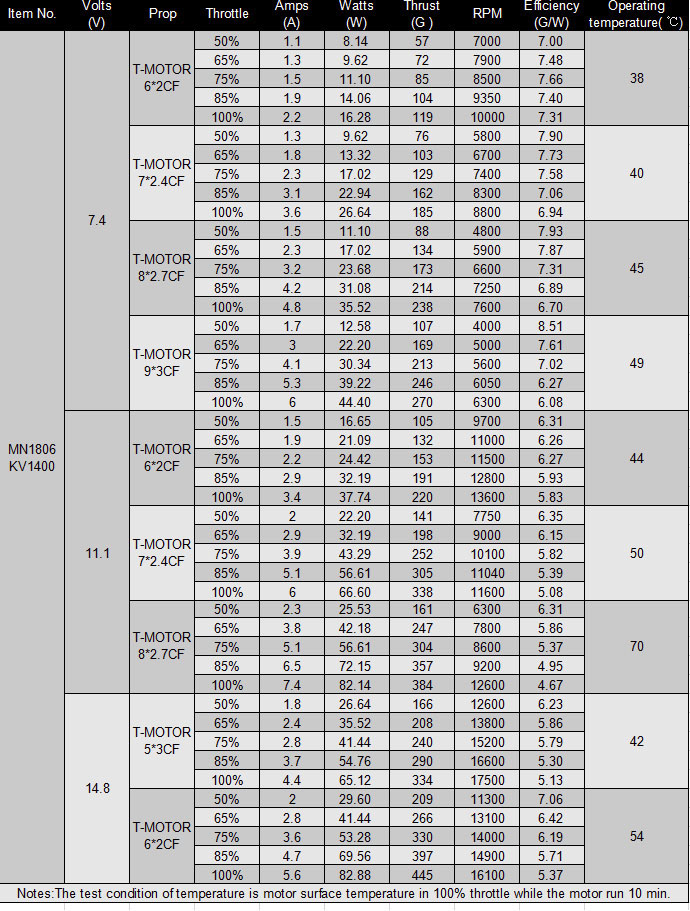 What you need to complete
Propeller
ESC
2-3S LiPo Battery
Composition Kit
MN1806-1400 motor
M4 prop adapter
M5 prop adapter
Cover and 2 screws for CF prop.
30 other products in the same category:
DISC.. Brushless Motor MN1806 - 1400KV
21,28 €
Viewed products
MCM undertakes
Deliver within 24/48h
To send your order within 24h (on working days) (according to the limit of the available stock) & to deliver within 24/48h.
MCM Crew
A team of specialists is at your disposal in your language (Fr, Du & En) from Tuesday till Saturday at + 32 2 376 24 05 (No. non-premium rate) from 10:00 to 18:30 or by email.
A few figures
A store of 400m² located south of Brussels open from tuesday till friday from 12.30 till 18.30 & saturday from 10.00 till 18.30.
25 years of experience.
+ 110 000 products ref.
+ 35 500 products in stock.
+ 240 distributed brands.
MCM Group, the R/C specialist since 1996
MCM Racing, MCM Skyshop, MCM Slot, MCM Marine