DISC.. Carbon fiber prop 9x3 (2pc) White antigravity edition for DJI
More info
This Antigravity propeller set by T-Motor is designed to improve your Phantom DJI performances.
These props are for those who want the best quality.
They are lighter than the original plastic props (5.7 g vs 6.2 g).
They offer a best efficiency.
They are perfect with the MN2214 brushless motor from T-Motor, designed to upgrade the Phantom with a power increased by 15%.
Adapters diam 8 mm x diam 5 mm included.
Specifications
Perfomance table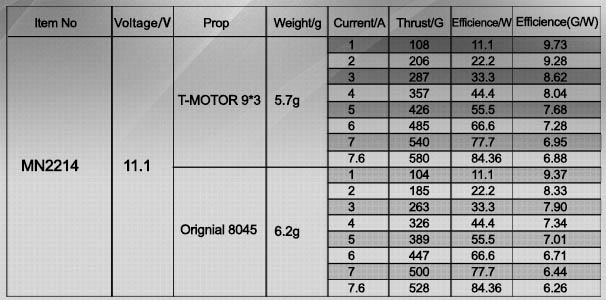 Composition Kit
1 white prop CW
1 white prop CCW
2 adapters diam 8 mm > diam 5 mm
DISC.. Carbon fiber prop 9x3 (2pc) White antigravity edition for DJI
37,92 €
MCM undertakes
Deliver within 24/48h
To send your order within 24h (on working days) (according to the limit of the available stock) & to deliver within 24/48h.
MCM Crew
A team of specialists is at your disposal in your language (Fr, Du & En) from Tuesday till Saturday at + 32 2 376 24 05 (No. non-premium rate) from 10:00 to 18:30 or by email.
A few figures
A store of 400m² located south of Brussels.
23 years of experience.
+ 110 000 products ref.
+ 35 500 products in stock.
+ 240 distributed brands.
MCM Group, the R/C specialist since 1996
MCM Racing, MCM Skyshop, MCM Slot, MCM Marine