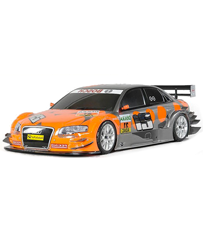 Gas powered cars
Touring
There are  28  products.
Most of the times race cars are reproductions of GT cars, endurance cars but this category also holds Formula 1 cars (F1). These cars are made to drive on a flat surface, they are very stable, they are very responsive and the chassis is very low with short and hard shocks. The low end models use a plastic chassis and the higher end models use carbon fibre and aluminium parts. These cars can be driven in parking lots but you get the best results on radio control car tracks (indoor/outdoor). Here the settings of the car can be changed to match the track and the grip. The most satisfaction is obtained by beating your opponents in a race!
Filters
MCM undertakes
Deliver within 24/48h
To send your order within 24h (on working days) (according to the limit of the available stock) & and delivered quickly.
MCM Crew
A team of specialists is at your disposal in your language (Fr, Du & En) from Tuesday till Saturday at + 32 2 376 24 05 (No. non-premium rate) from 10:00 to 18:30 or by email.
A few figures
A store of 400m² located south of Brussels open from tuesday till friday from 12.30 till 18.30 & saturday from 10.00 till 18.30.
25 years of experience.
+ 110 000 products ref.
+ 35 500 products in stock.
+ 240 distributed brands.
MCM Group, the R/C specialist since 1996
MCM Racing, MCM Skyshop, MCM Slot, MCM Marine