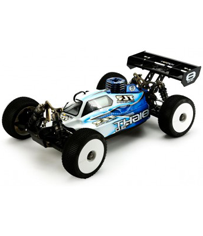 Gas powered cars
Buggy Off Road
There are  55  products.
Buggies are the basic type of the off-road race vehicle, capable of driving on flat surfaces as well as on dirt, gravel, short grass, dust or even mudd. They are made for rough terrain and are equipped with big but rather slim wheels. They shouldn't be mistaken with crawlers. They can be found in different scales : 1:10, 1:8 and 1:5. They have a big wing to improve downforce on the rear axle at high speeds. Different setups of the front and rear geometry of the suspension parts and anti roll bars allow to change the grip and traction in function of the track and the preferences of the driver. These can be found in two and four wheel drive.
Filters
MCM undertakes
Deliver within 24/48h
To send your order within 24h (on working days) (according to the limit of the available stock) & and delivered quickly.
MCM Crew
A team of specialists is at your disposal in your language (Fr, Du & En) from Tuesday till Saturday at +33 975184596 (No. non-premium rate) from 10:00 to 18:30 or by email.
A few figures
A store of 400m² located south of Brussels open from tuesday till friday from 12.30 till 18.30 & saturday from 10.00 till 18.30.
25 years of experience.
+ 110 000 products ref.
+ 35 500 products in stock.
+ 240 distributed brands.
MCM Group, the R/C specialist since 1996
MCM Racing, MCM Skyshop, MCM Slot, MCM Marine