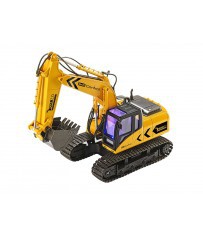 Electric cars
Construction equipment
There are  66  products.
The radio controlled trucks are made for the modellers who are not seaking races, speed, jumps or ruff terrains. This is all about the reproduction, looking for the details, making everything as realistic as possible. The control can be done very precisely so that is can be placed on the right spot in the loading area, park in the right area and all this without forgetting to use the blinkers! Most of the time for a truck there are more than 2 channels used to control sereval accessories. Even a sound module can be added for even more realism.
Filters
MCM undertakes
Deliver within 24/48h
To send your order within 24h (on working days) (according to the limit of the available stock) & and delivered quickly.
MCM Crew
A team of specialists is at your disposal in your language (Fr, Du & En) from Tuesday till Saturday at +33 975184596 (No. non-premium rate) from 10:00 to 18:30 or by email.
A few figures
A store of 400m² located south of Brussels open from tuesday till friday from 12.30 till 18.30 & saturday from 10.00 till 18.30.
25 years of experience.
+ 110 000 products ref.
+ 35 500 products in stock.
+ 240 distributed brands.
MCM Group, the R/C specialist since 1996
MCM Racing, MCM Skyshop, MCM Slot, MCM Marine