DISC.. Summit 1/16 RTR Rock & Roll
More info
Enjoy Big Summit Fun in a More Convenient 1/16 Scale Size!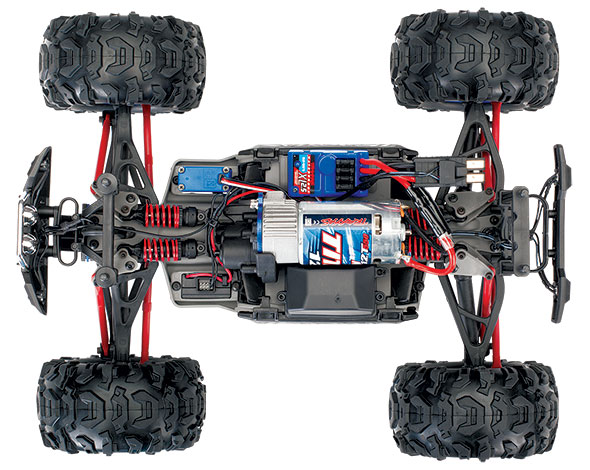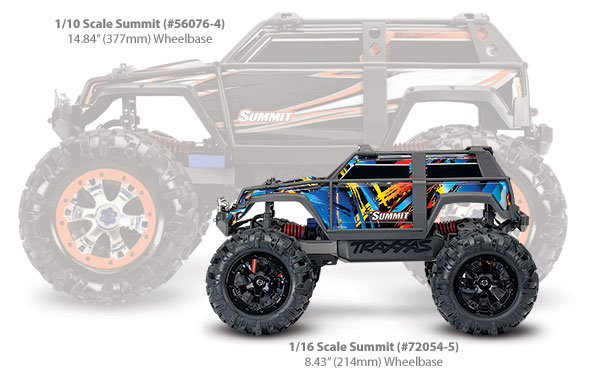 Leave it to Traxxas to stuff a 1/10 scale motor into a 1/16 scale truck! Summit's mighty Titan® 12T 550 motor delivers nearly limitless torque for tire-scorching acceleration and all-terrain capability. With massive suspension travel, extreme Titan power, and 4-wheel drive traction, Summit tackles impossible terrain. Traxxas engineers combined all the big Summit's go-anywhere versatility with waterproof electronics to make even your wildest adventures possible. Summit's bright LED lights blaze a trail, making night runs more exciting than ever. The 1/16 Summit's just-right size lets you enjoy hours of off-road fun anytime, anywhere!
Proven Traxxas Innovation
Traxxas packed all the capability, durability, and excitement of our award-winning models into 1/16 scale for fast, affordable RC fun. The Summit's rocker-actuated suspension is adapted expertly to 1/16 scale with all its functionality and performance intact, right down to the oil-filled, threaded-body GTR shocks. This superior technology provides capability, performance, and tuning functions at the absolute pinnacle of truck design. The suspension and electronics integrate fully into a radically innovative monocoque chassis design. Intricately molded as a single piece, the chassis balances strength and weight with function and performance to surpass the standards of the "mini" category. In 1/16 scale, it is an even more impressive achievement of performance optimization that could only come from Traxxas, The Fastest Name In Radio Control®.
100% Ready-To-Race®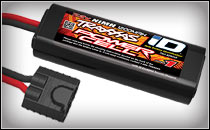 The 1/16 Summit comes fully assembled with TQ 2.4GHz radio system, Titan 12-T power, pre-painted body, pre-glued tires, and detailed instructions. A Traxxas Power Cell NiMH battery and AC wall charger are also included. Only Traxxas could pack this level of performance, innovation, and value into a Ready-To-Race package with the quality you expect. Traxxas backs the Summit and all of our products with top-notch support that is second to none.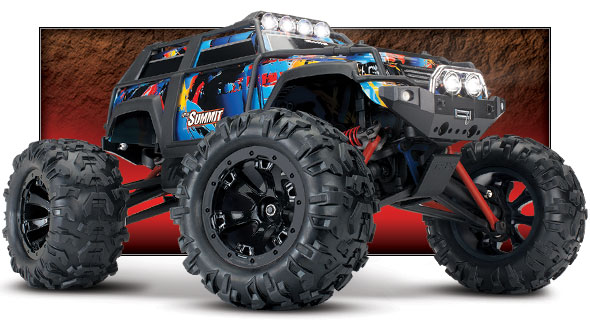 Key features
6-cell NiMH Power Cell Battery with iD
Ready-To-Race® with Included Power Cell™ NiMH Battery
and AC Wall-Outlet Charger
Powerful Titan® 12T 550 Motor—Largest in Class
TQ™ 2.4GHz Transmitter and Receiver
Full-Time 4WD
Bright LED Lights Front and Rear to Illuminate the Trail
Waterproof Electronics for all-Weather Adventures
Torque-Control™ Adjustable Slipper Clutch
Sealed Differentials
Realistic all-Terrain Tires with Foam Inserts
Specifications

1/16 SUMMIT (#72054-5) SPECS
Length:
 
12.6" (320mm)
Front Track:
 
10.43" (265mm)
Rear Track:
 
10.63" (270mm)
Weight:
 
46.4oz (1.31kg)
Height (Overall):
 
7.48" (190mm)
Wheelbase:
 
8.425" (214mm)
Wheel Diameter
 
2.2" (56mm)
Shock Length (Front / Rear):
 
48mm / 48mm
Front/Rear Tires (Glued):
 
Canyon AT
Front/Rear Wheels:
 
Geode™
Electronic Speed Control:
 
Waterproof XL-2.5 ESC
Motor (Electric):
 
Titan® 12T 550
Transmission:
 
Heavy-Duty Single Speed
Gear Ratio (Internal):
 
5.04:1, (Reversed Input: 9.72:1)
Overall Drive Ratio:
 
15.75:1 (stock)
Differential Type:
 
Hardened Steel Bevel, Sealed
Gear Pitch:
 
48-Pitch
Chassis Structure/Material:
 
Molded Composite Nylon Monocoque
Brake Type:
 
Electronic
Drive System:
 
Shaft-Driven 4WD
Steering:
 
Bellcrank
Radio System:
 
Traxxas TQ™ 2.4GHz (2-Channel)
Included Charger:
 
AC Wall-Outlet Charger
Included Batteries:
 
6-cell NiMH with iD Connector
Required Batteries:
 
4 "AA" (Transmitter)
(vehicle includes 6-cell NiMH & charger) 
XL-2.5 WATERPROOF ESC SPECIFICATIONS
Input Voltage:
 
4-7 Cells NiMH, 2 Cells (2S) LiPo
Case Size:
 
26.5mm W x 46.5mm D x 22mm H
Weight:
 
33 Grams
Motor Limit:
 
10-Turns*
On Resistance (@Trans):
 
0.008 Ohms
Reverse Delay:
 
None
BEC Voltage:
 
6.0V DC
Power Wire:
 
16 Gauge / 40mm
Input Harness Wire:
 
26 Gauge / 130mm
Motor Wires:
 
26 Gauge / 130mm
Transistor Type:
 
MOSFET
Low Voltage Detection:
 
2-Stage Indicators, Switchable (On and Off)
PWM Frequency:
 
2300 Hz
Thermal Protection:
 
Thermal Shutdown
Profile Selection:
 
Sport Mode:
    100% Fwd, 100% Brakes, 100% Rev
Race Mode:
    100% Fwd, 100% Brakes, no Rev
Training Mode:**
    50% Fwd, 100% Brakes, 50% Rev
Single-Button Setup:
 
Yes, Traxxas EZ-Set®
Data sheet
Manufacturer :

Traxxas

Level of difficulty (1 to 3) :

1

Scale :

1/16

Type :

Ready to Run

Drive :

Electric (Brushed)
Composition Kit
Fully assembled, Ready-To-Race® with TQ 2.4GHz radio system, Titan® 12-turn motor, XL-2.5 ESC, 7.2 volt iD NiMH battery, AC wall charger, and painted body.
DISC.. Summit 1/16 RTR Rock & Roll
309,95 €
Viewed products
MCM undertakes
Deliver within 24/48h
To send your order within 24h (on working days) (according to the limit of the available stock) & and delivered quickly.
MCM Crew
A team of specialists is at your disposal in your language (Fr, Du & En) from Tuesday till Saturday at + 32 2 376 24 05 (No. non-premium rate) from 10:00 to 18:30 or by email.
A few figures
A store of 400m² located south of Brussels open from tuesday till friday from 12.30 till 18.30 & saturday from 10.00 till 18.30.
25 years of experience.
+ 110 000 products ref.
+ 35 500 products in stock.
+ 240 distributed brands.
MCM Group, the R/C specialist since 1996
MCM Racing, MCM Skyshop, MCM Slot, MCM Marine