DISC.. ARES PRO V2.1 STOCK Brushless Motor 1/10 Sensor 10.5T
More info
Effective ventilation
Extreme performance
In more dazzling shape featuring multiple cooling engraved fins for added heat-dissipating surface area, the motor is implementing thermal silicone insulator between the endbell and stator to conduct the internal heat to the case with the temperate reduced efficiently, and power output multiplied!
The V2.1 Edition is EFRA approved.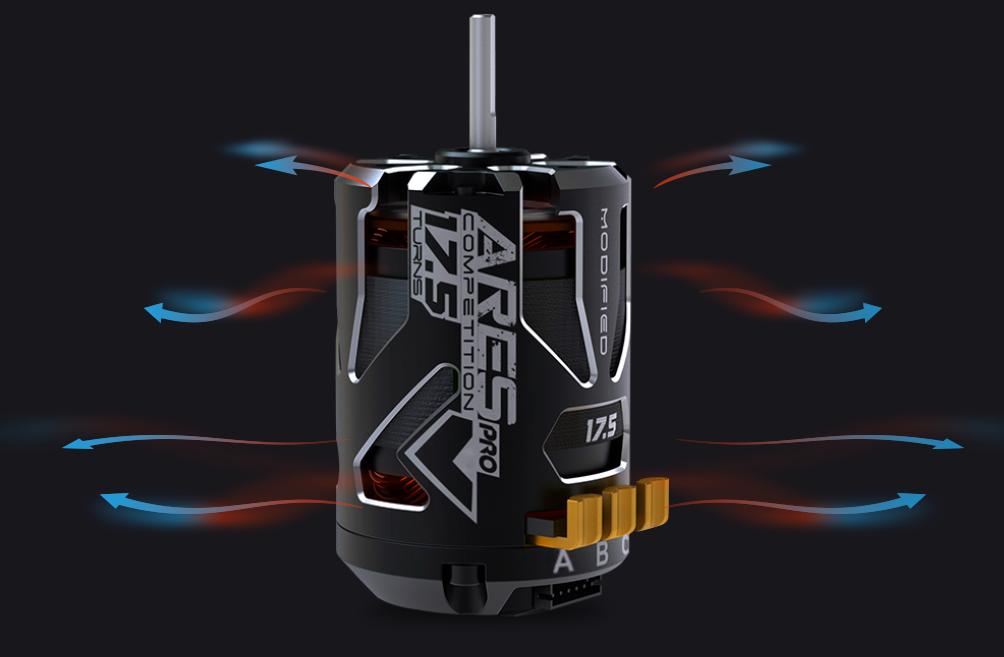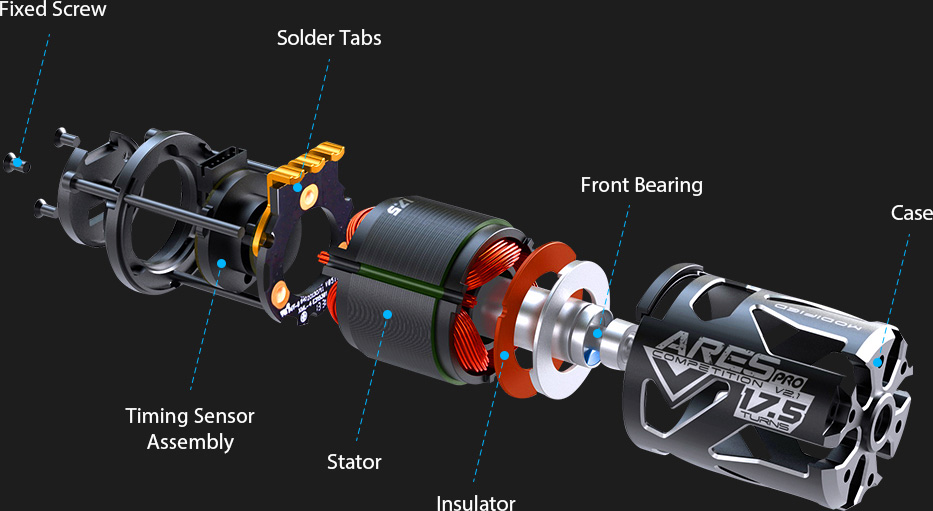 Key features
Aluminum Shell with CNC Forming Process
Pure Copper Coil with High Conductivity
High Power Welding Pieces
Replaceable Rotor
Powerful Sintered Neodymium Magnet
Seiko in Manufacturing with Maximum Energy Conversion
Dual Sensor Port
Adjustable Timing (Up to 60°)
Compatible with Any Sensored/Sensorless ESC
IFMAR, ROAR Compliance
EFRA approved
Specifications
Turns : 10.5
Power (Watt) : 250
Rotor (mm) : Diam 12.5 x diam 5
Rotor (Pole) : 2P
Kv (RPM/V): 3450
LiPo : 1-3S
Max current (A) : 63
Unload current (A) : 1.9
Internal resistance (Ohm) : 0.0208
Net Weight (g) : 178
Racing type : Modified
DISC.. ARES PRO V2.1 STOCK Brushless Motor 1/10 Sensor 10.5T
65,99 €
Viewed products
MCM undertakes
Deliver within 24/48h
To send your order within 24h (on working days) (according to the limit of the available stock) & to deliver within 24/48h.
MCM Crew
A team of specialists is at your disposal in your language (Fr, Du & En) from Tuesday till Saturday at + 32 2 376 24 05 (No. non-premium rate) from 10:00 to 18:30 or by email.
A few figures
A store of 400m² located south of Brussels.
23 years of experience.
+ 110 000 products ref.
+ 35 500 products in stock.
+ 240 distributed brands.
MCM Group, the R/C specialist since 1996
MCM Racing, MCM Skyshop, MCM Slot, MCM Marine