More info
Engineered to bash, designed to thrill - the 1/8 scale ARRMA® TALION™ 6S BLX 4WD speed truggy reaches 70+ mph right out of the box. Now comes complete with the 2.4GHz Spektrum™ STX2® radio system, it's tough as nails and ready for fast action on any terrain!

Powerful, 6S-capable brushless electronics enable this new TALION™ Speed Truggy to satisfy any intermediate-level basher's need for speed. Its 2050Kv brushless motor is paired with the BLX185 ESC, featuring IC5™ connectors and compatible with standard EC5™ connectors. The waterproof electronics accommodate all-weather bashing. Add your favorite 4S or 6S LiPo battery and watch this truggy smash your bashing speed expectations, especially while running with the optional recommended pinion gear.
Low-drag MT wheels with extra-strong hubs arrive outfitted with aggressive, multi-surface DBoots® KATAR tires. A multi-element, high downforce wing helps keep the truggy grounded. Both contribute to confident control and responsive handling on- or off-road.
The TALION™ 6S BLX 4WD speed truggy blasts over dirt, rocks, asphalt, grass, mud, and snow - through all terrain and all conditions - with adjustable 16mm big bore oil-filled shocks soaking up the bumps. The shocks are mounted on low, black-anodized aluminum shock towers engineered for the truggy's low profile design. Included aluminum shock caps and protectors help maintain their super-smooth damping for supreme handling.
For the toughness needed to support its intense performance, ARRMA® builds the TALION™ 6S BLX 4WD on a strong, 3mm anodized aluminum chassis. Chassis components are all positioned to provide the best weight distribution for speed. Composite side pods, a center support and new aluminum center brace maximize chassis durability. All-metal diff outdrives and gearbox internals plus durable steel driveshafts contribute to an efficient, heavy-duty drivetrain that withstands extreme bashing. A new, "never loose" aluminum steering servo saver and "never pop" ball ends supply more precision, reliability, and confidence.
ARRMA® cuts your maintenance downtime to the bone with its smart, driver-friendly design. A sliding mount allows quick, hassle-free motor access. The center diff is easy to reach and can be removed by taking out just five bolts. Topping it all off is an aerodynamic truggy body that cuts through resistance for maximum speed - while its low profile helps keep the wheels planted and pouring on power.
The ready-to-run TALION™ 6S BLX 4WD includes the new Spektrum™ 2.4GHz STX2® radio, with its SRX200 receiver and ADS-15M metal-geared servo factory-installed. The only required items are a 4S or 6S LiPo battery, compatible charger, safe charging bag, and four AA transmitter batteries. ARRMA® recommends the Dynamite® Powerstage™ Stage 6 bundle (DYN1540), which includes a Passport™ Ultra P2 100W AC/DC Multi-Charger and two Reaction HD 5000mAh 3S hardcase LiPo batteries with EC5™ connectors.
PREMIUM LOOKS
New body includes forged composite details and a matte painted finish.
TAKES THE ROUGH WITH THE TUMBLE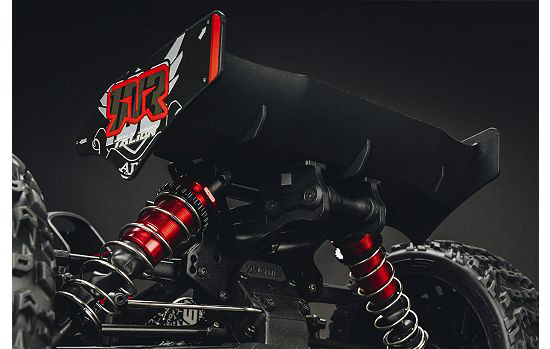 New high-downforce wing includes strengthened wing mounts to take the hits and keep going.
READY FOR ANYTHING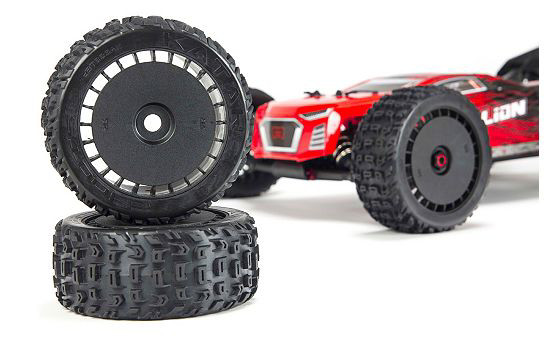 Low-drag MT wheels and multi-terrain DBoots® Katar tires for responsive handling, agressive driving, and fun in all conditions.
SLIP & SLIDE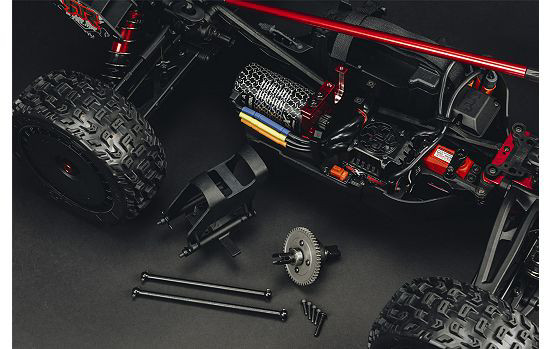 Sliding motor mount for easy meshing and removal, and easy-access 5-bolt center diff
TIGHT & TRUE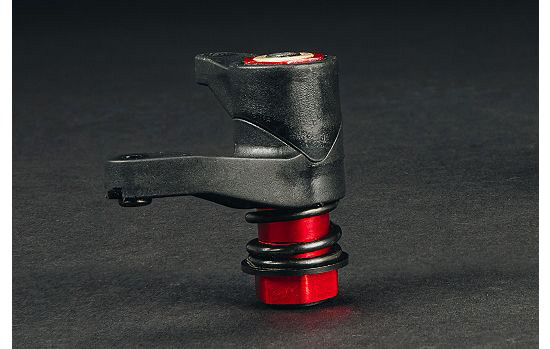 New servo saver design that will never loosen, for maximum servo protection.
CAPTIVATING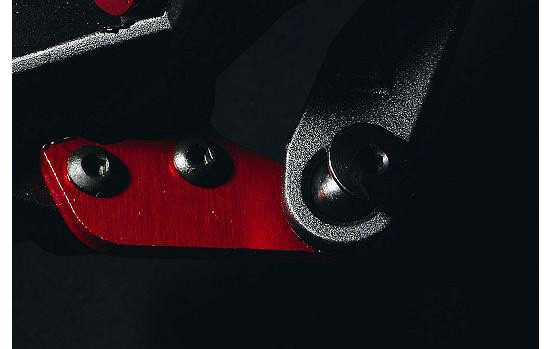 Captured steering ball ends that will never pop off
SIGNED, SEALED, & DELIVERED
New, updated hubs and hub nut o-rings that will never come loose
ANODIZED ALUMINUM SHOCK CAPS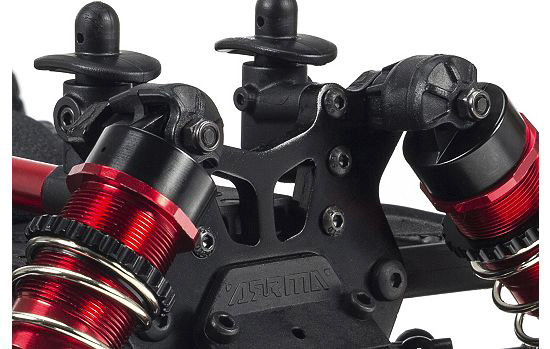 Black Anodized aluminum shock tower caps feature adjustable collars and shock cap protectors
HEAVY-DUTY SHOCK DESIGN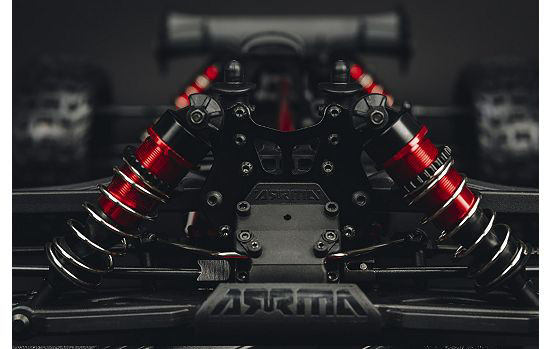 Black anodized aluminum front and rear shock towers with 4mm shock shafts
TOWER TO TOWER BRACE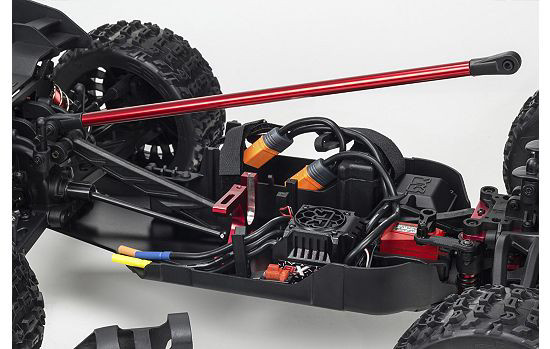 The aluminum center brace maximizes chassis durability
BLX185 ESC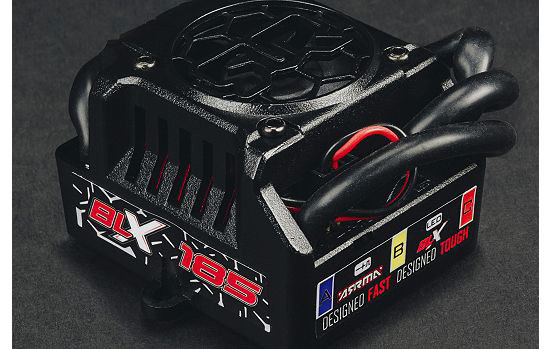 Waterproof and dustproof design *
150A, 6S LiPo ready (3S, 4S and 6S LiPo compatible)
Fitted with reliable IC5™ connectors (EC5™ compatible)
Integrated fan for reduced heat during extreme running
High quality 10awg wires
Low voltage cut off and thermal overload protection
User programmable punch and brake settings
Capable of 60+ mph (113+ km/h) speeds **
* For details on waterproof standards, please refer to the product instruction manuals.
** Speed achievable in optimum conditions on 6S LiPo with optional pinion gear.
BLX4074 2050Kv BRUSHLESS MOTOR
Beautifully etched aluminum can
4-pole construction for smooth and consistent power
Gold bullet connectors for reliable and efficient connection
Finned motor can for increased heat dissipation
Super strong 5mm shaft
Capable of 60+ mph (113+ km/h) speeds *
* Speed achievable in optimum conditions on 6S LiPo with optional pinion gear.
OPTIONAL SPEED PINION INCLUDED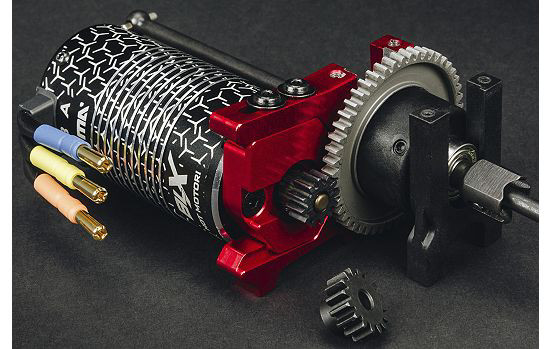 Red anodized motor mount and mod 1 spur and pinion gears to handle increased speed and optimum performance.
HEAVY-DUTY DRIVETRAIN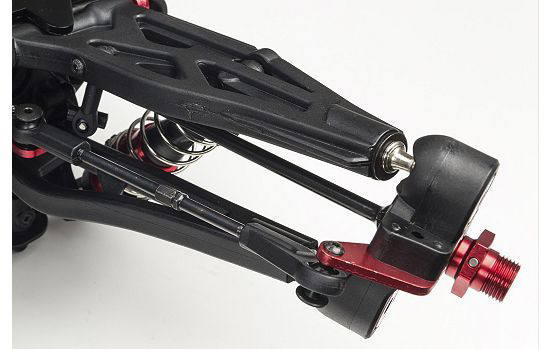 Tough A-arms and durable steel driveshafts and components keep you bashing for longer
SPEKTRUM STX2 RADIO SYSTEM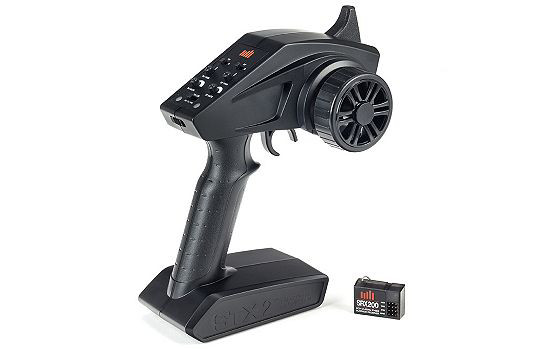 Complete 2.4GHz radio system including a 2Ch waterproof receiver *
Built-in 3-position throttle limiter
Steering & throttle rate & trim adjustments with throttle and steering reversing
FHSS 2.4GHz protocol** offers extended range and interference free performance
* For details on waterproof standards, please refer to the product instruction manuals.
** Not compatible with DSM, DSM2 or DSMR 2.4GHz protocol
ADS-15M SERVO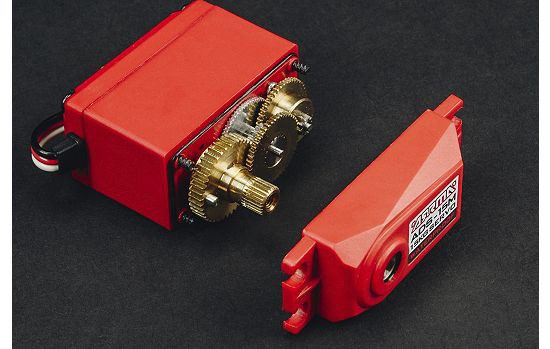 Strong metal gears used throughout
Waterproof and dustproof case *
25 tooth output spline
Torque: 14kg-cm @6V
Speed: 0.16sec/60degree @6V
Dimensions: 40x38x20mm (Industry standard size)
* For details on waterproof standards, please refer to the product instruction manuals.
Specifications
| | |
| --- | --- |
| Approximate Assembly Time: | No assembly required |
| Ball Bearings: | Full set included |
| Battery Dimensions: | 6.22 x 2.76 x 1.89" (158 x 70 x 49mm) |
| Body: | Low profile with multi-element high downforce wing with updated wing mount and new internal support for better durability, Length: 17.4" (442mm) Width: 7.83" (199mm) Height: 4.09" (104mm) |
| Charger: | Required, compatible with selected battery |
| Chassis: | 0.12" (3mm) thick 6061-T6 aluminum |
| Completion Level: | Ready-To-Run |
| Differential: | Three, metal gear, front & rear filled with 10,000cst silicone diff oil, center filled with 100,000cst silicone diff oil |
| Drivetrain: | 4WD Shaft Drive |
| Final Drive Ratio: | 16.54 |
| Gear Pitch: | 1.0 Module |
| Height: | 7.09" (180mm) |
| Internal Gear Ratio: | 4.3:1 |
| Length: | 21.7" (550mm) |
| Motor Size: | 4074, 2050Kg with new sliding mount for eaisier maintenance |
| Motor Type: | Non-sensored brushless |
| Pinion: | 13T |
| Radio: | Spektrum STX2 2-channel |
| Servos: | Spektrum high-torque |
| Shock Type: | Oil filled coil over, filled with 2000cst silicone shock oil |
| Size/Scale: | 1/8 |
| Speed Control: | BLX185 150A w/cooling fan, 6.0V/3A continuous output, 12A max, IC5 battery connector, (EC5 compatible) |
| Spur Gear: | 50T |
| Suspension: | Independent |
| Tire Diameter: | 5.71" (145mm) |
| Tire Tread: | dBoots KATAR |
| Vehicle Type: | Truggy |
| Water-Resistant: | Yes |
| Weight: | 9.22 lb (4.19kg) |
| Wheel Diameter: | 4.09" (104mm) |
| Wheel Hex Size: | 17mm Hex |
| Wheel Type: | MT 4.2 |
| Wheel Width: | Rear, 1.6" (41mm) |
| Wheelbase: | 14.88" (378mm) |
| Width: | 16.46" (418mm) |
Data sheet
Manufacturer :

Arrma

Level of difficulty (1 to 3) :

2

Type :

Ready to Run

Drive :

Electric Brushless
What you need to complete
(2) 2S or 3S 50C LiPo batteries with IC5/EC5 connector or
(1) 4S or 6S 50C LiPo battery and harness with IC5/EC5 connectors
Suitable LiPo balancing charger
(4) AA batteries (for transmitter)
LiPo charging bag or case (recommended)
Composition Kit
(1) ARRMA TALION 6S BLX 4WD 1/8 Spped Truggy RTR
(1) Spektrum 2.4GHz STX2 Radio Transmitter
(1) Product Manual
1/8 TALION 6S BLX 4WD Brushless Sport Performance Truggy RTR, Red/Bla
509,99 €
MCM undertakes
Deliver within 24/48h
To send your order within 24h (on working days) (according to the limit of the available stock) & to deliver within 24/48h.
MCM Crew
A team of specialists is at your disposal in your language (Fr, Du & En) from Tuesday till Saturday at + 32 2 376 24 05 (No. non-premium rate) from 10:00 to 18:30 or by email.
A few figures
A store of 400m² located south of Brussels.
23 years of experience.
+ 110 000 products ref.
+ 35 500 products in stock.
+ 240 distributed brands.
MCM Group, the R/C specialist since 1996
MCM Racing, MCM Skyshop, MCM Slot, MCM Marine