More info
Beneath its 1950s "Real Steel" body, the 1/8 scale NOTORIOUS™ 6S BLX 4WD has an ARRMA® tough design that's ideal for wheelie-popping, back-flipping stunts — now made even easier with a Spektrum™ SLT3™ radio, dual protocol receiver, Smart ESC and more.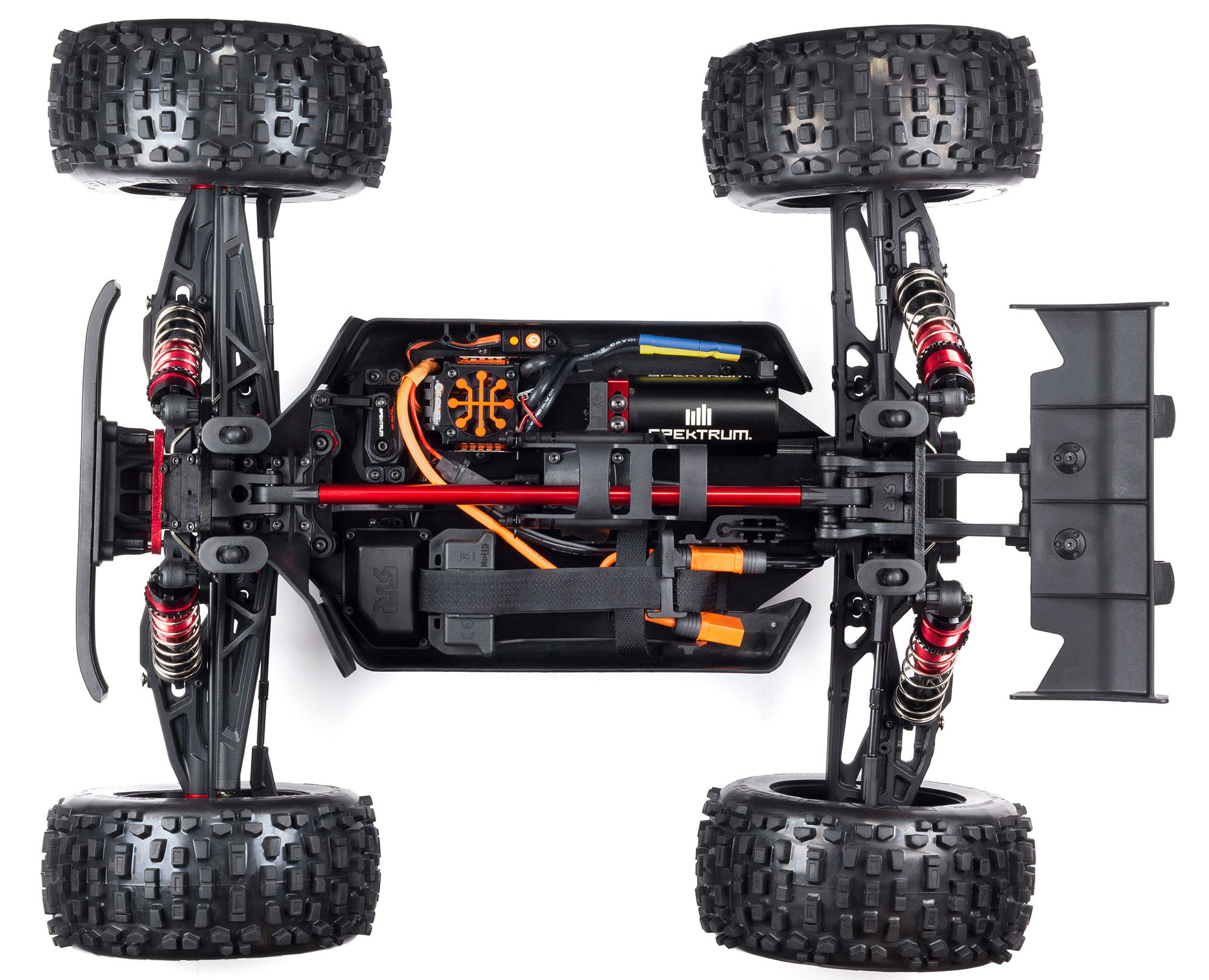 Key Features
Updated with Spektrum™ components and Smart compatible
60+ MPH (97 km/h) speeds achievable in optimum conditions using a 6S LiPo battery and the include optional speed pinion gear
EXB compatible front brace
Large volume waterproof receiver box
Ready-to-run - just install a charged 4 cell or 6 cell LiPo battery of your choice
Introduction
The 1/8 scale NOTORIOUS™ 6S BLX Stunt Truck 4WD unleashes wheelie-popping, back-flipping, outrageous action with one-of-a-kind style. Its custom 1950s body offers more than streamlined good looks and a matte black or matte blue factory finish. Its exclusive ARRMA® "Real Steel" effect adds eye-catching realism that only improves with severe bashing. The more scratched and scarred your Stunt Truck becomes, the more authentic and amazing it looks.
Overview
From its heavy-duty front bumper through the short wheelbase chassis to the wheelie bar in back, the NOTORIOUS™ 6S BLX 4WD is engineered to make you a stunt superstar. Its stiff roll cage and underbody will take all kinds of punishment and come back for more. The NOTORIOUS™ 6S BLX 4WD can do it all: long, tall wheelies…tight, fast donuts…standing and aerial backflips…high leaps into the air…and more.
For the power to perform that kind of stunt action, ARRMA® now equips the NOTORIOUS™ 6S BLX 4WD with a potent, 6S-capable brushless system featuring the Spektrum™ Firma™ 150A Smart ESC and Firma™ 2050Kv brushless motor. The combination lets you cut loose with incredible torque, acceleration and speed, while the heavy-duty aluminum and steel chassis and transmission components take it all in its stride. For improved steering, ARRMA® also includes a new, steel gear Spektrum™ S652 Digital Servo — which is 32% stronger and 5% faster than the previous version's ADS-15M servo. Thanks to waterproof electronics, bashing is a "go" even through mud and snow. Just add your favorite 4S or 6S LiPo battery.
The ready-to-run Stunt Truck now also includes a 3-channel Spektrum™ SLT3™ radio and Spektrum™ SR315 dual protocol receiver. Perfect for long hours of fatigue-free bashing, the transmitter's ergonomic design features a foam steering wheel for precise fingertip control and an improved hand grip and trigger feel. If you're a new driver, you'll be able to set throttle limits at 50% or 75% until you're ready to use the full speed potential. The SLT3™ is compatible with Tactic® SLT™ receivers to run other RTR vehicles you may own, and includes a third channel to control optional features such as lights and winches on models that have them.
Because the SR315 receiver can use SLT™ and DSMR® protocols, you can easily upgrade to a Spektrum™ DSMR® transmitter later — then, download the free Spektrum™ Dashboard™ app for your mobile device and take full advantage of the Smart telemetry capabilities already present in the Firma™ electronics. You'll be able to receive real-time updates of ESC temperature, receiver (BEC) voltage, drive pack voltage and motor RPM.
With adjustable 16mm oil-filled shocks on aluminum towers soaking up bumps, the NOTORIOUS™ 6S BLX 4WD Stunt Truck blasts over dirt, asphalt, and grass — over all terrain, in all conditions. Its tough stunt truck wheels come outfitted with multi-terrain dBoots® BACKFLIP™ tires that provide all the traction you'll need to flip, grip, wheelie and spin. A high downforce wing helps keep the vehicle grounded. Everything about the NOTORIOUS™ 6S BLX 4WD contributes to confident control and responsive handling at thrilling high speeds.
For the toughness needed to support extreme stunts, ARRMA® uses a strengthened anodized aluminum chassis as the foundation. A center body support and aluminum center brace plus composite chassis side pods add more durability. All-metal diff outdrives and gearbox internals plus durable steel driveshafts provide a reliable, heavy-duty drivetrain that holds up to extreme stunts and high-speed bashing. A "never loose" aluminum steering servo saver and "never pop" ball ends supply more precision, reliability and confidence.
ARRMA® keeps your maintenance downtime to the minimum by giving the NOTORIOUS™ 6S BLX 4WD an efficient, driver-friendly design. A sliding mount allows quick, hassle-free motor access. The center diff is easy to reach and can be removed by taking out just five bolts.
STANDING BACKFLIP?
No Problem. The NOTORIOUS 6S flips for fun.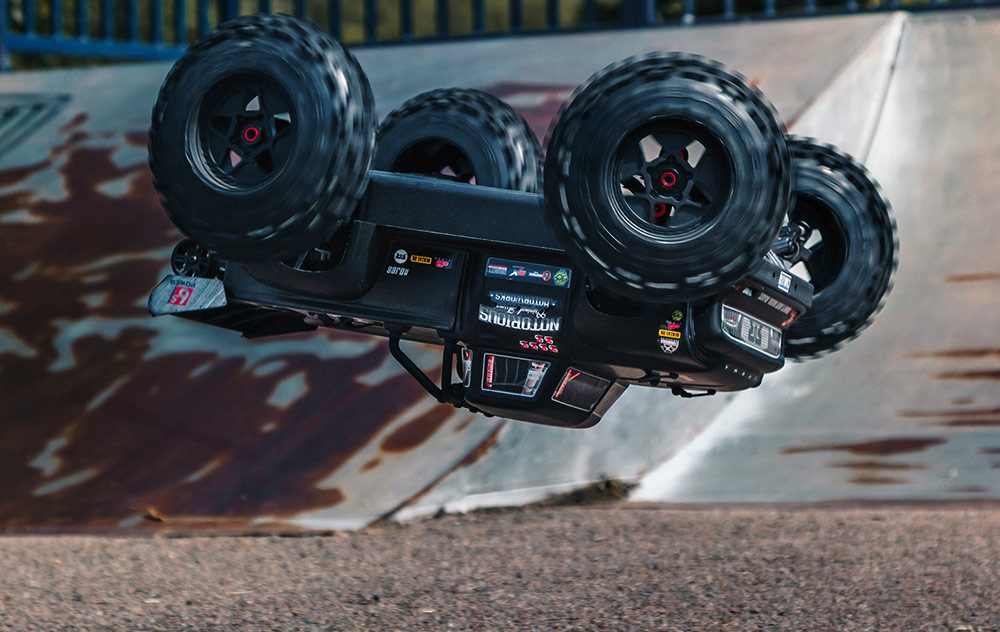 CATCH THE DRIFT
Can you control this much power long enough?
UPDATED CHASSIS DESIGN
Wider rear section and 3D form introduced in key areas to greatly improve strength.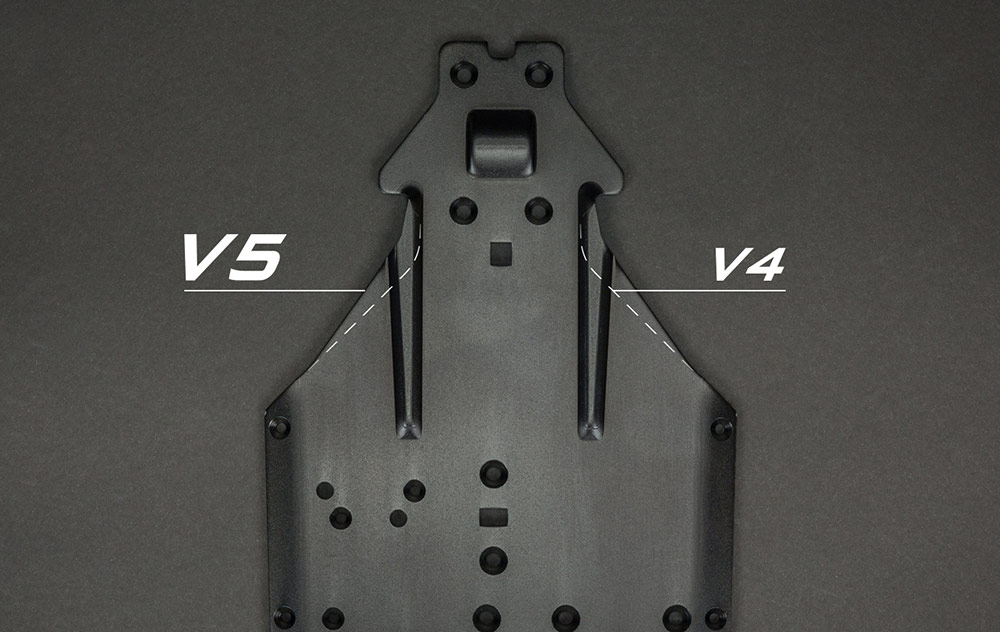 UPDATED REAR SUSPENSION GEOMETRY
Updated rear shock tower geometry works in conjunction with updated rear suspension arm geometry to provide a plusher rear end
More compact rear shock tower, being less exposed, is better protected from being bent during upside-down impacts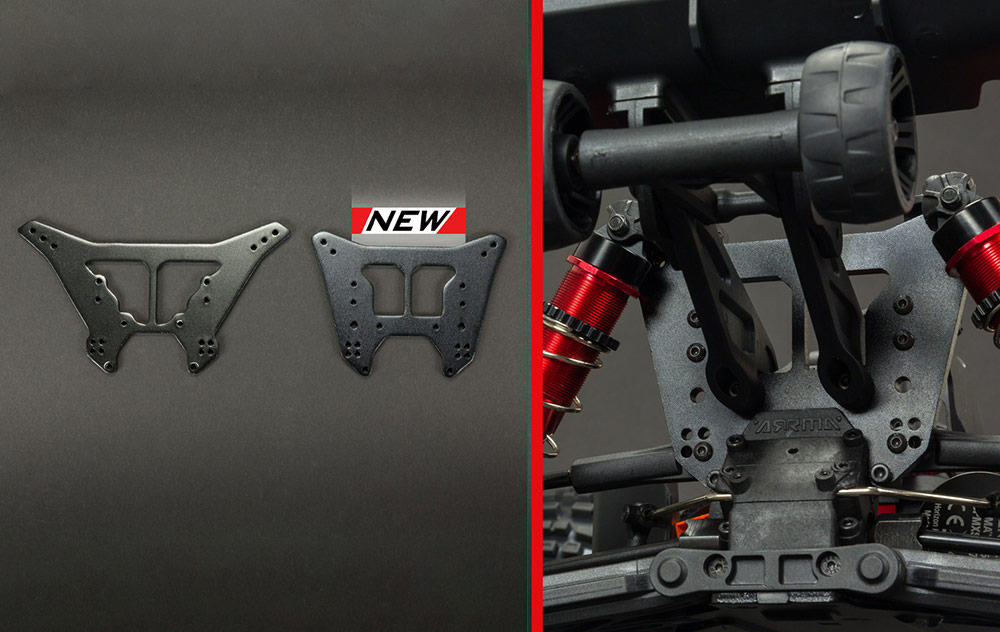 FRONT PIVOT BALL SUSPENSION
For precise handling at top speeds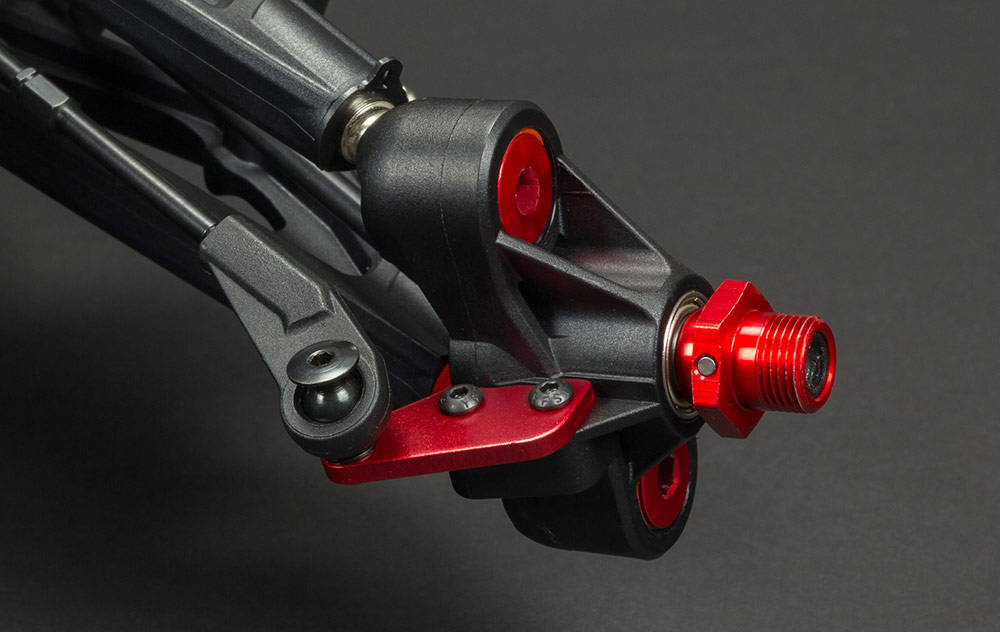 QUICK MAINTENANCE
5 bolt center diff removal for easy access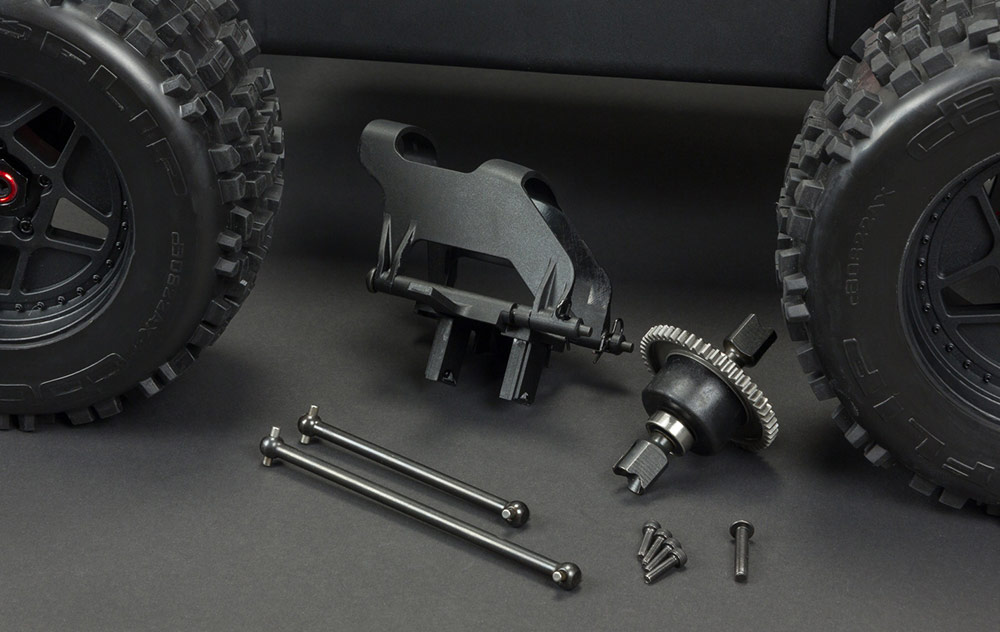 SPEKTRUM® SMART TECHNOLOGY INCLUDED
FIRMA™ 150A SMART Brushless ESC and FIRMA™ 4074 2050Kv Brushless Motor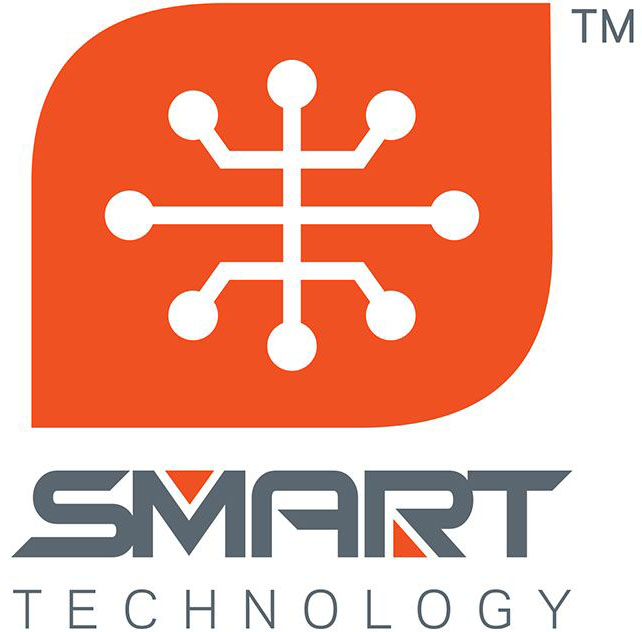 GO LARGE
Large volume waterproof receiver box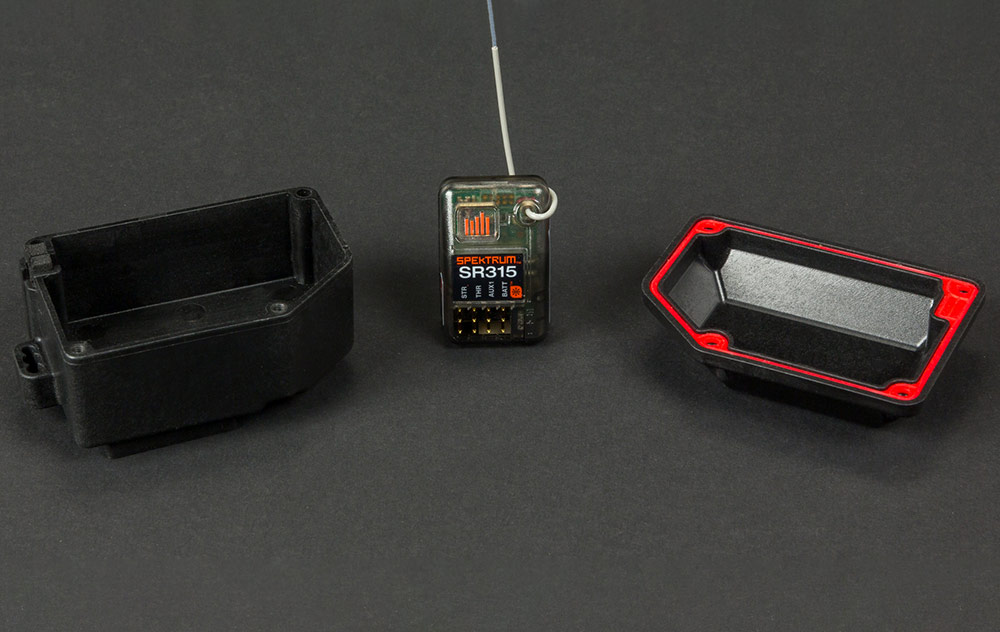 RUBBER SHIELDED BEARINGS
Longer life, less maintenance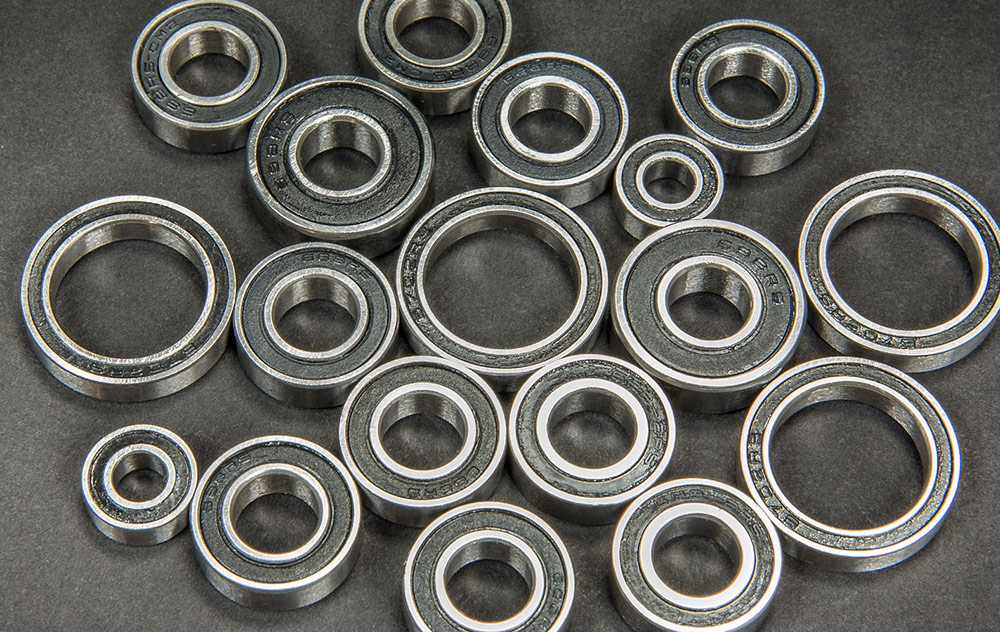 OPTIONAL SPEED PINION INCLUDED
Red anodized motor mount and Mod 1 spur and pinion gears to handle optimum performance.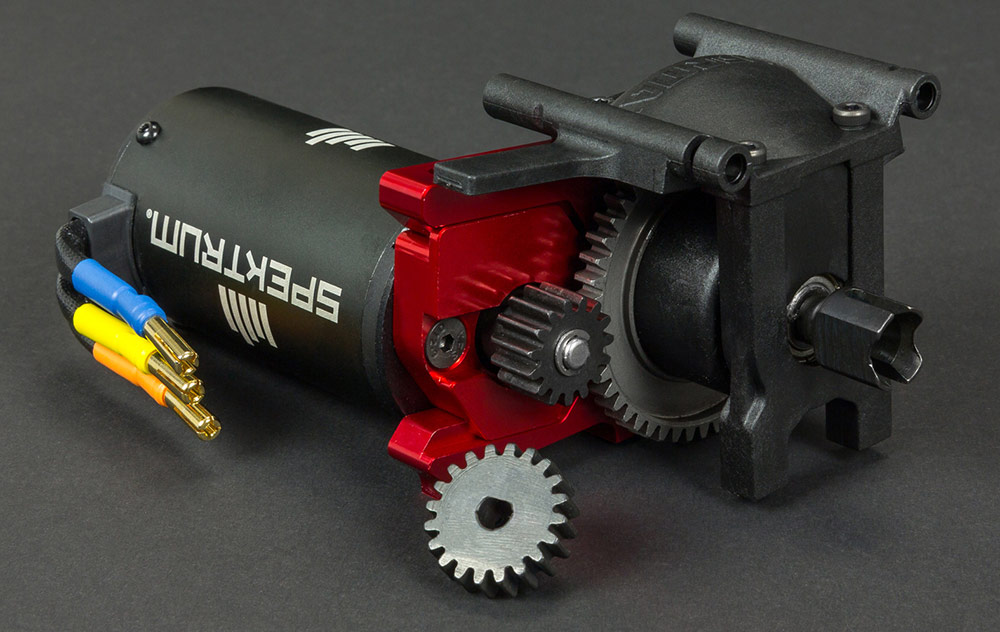 FIRMA™ 150A SMART Brushless ESC
Waterproof* and dustproof design
150A, 6S LiPo ready (3S, 4S & 6S LiPo compatible)
Spektrum® SMART Technology
Fitted with reliable IC5® connectors (EC5™ compatible)
Integrated fan for reduced heat during extreme running
High quality 10awg wires
Low voltage cut off and thermal overload protection
User programmable punch, brake, BEC, reverse speed and motor timing settings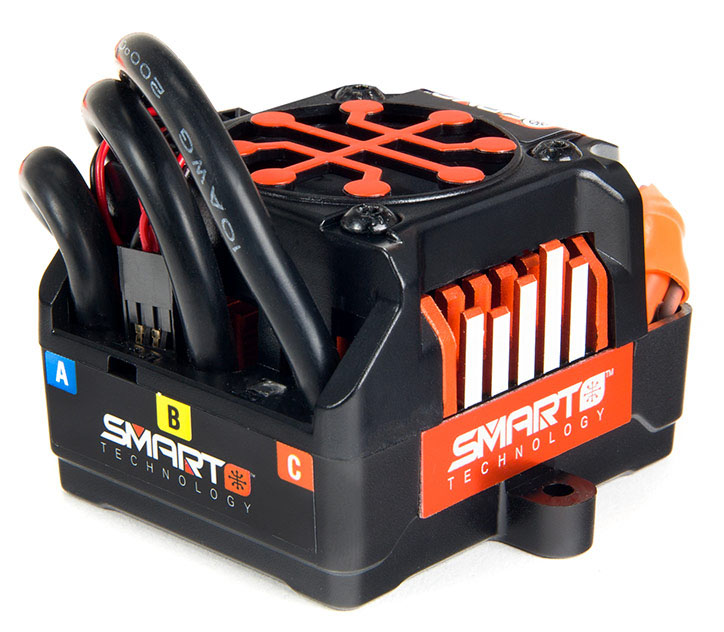 FIRMA™ 4074 2050Kv Brushless Motor
2050Kv 4074 size 6S brushless motor
Beautifully etched aluminum can
4-pole construction for smooth and consistent power
4mm gold bullet connectors for reliable and efficient connection
Black anodized aluminum motor can for increased heat dissipation
Super strong 5mm shaft
Groove at the end of the motor shaft allows the installation of a pinion retaining E-Clip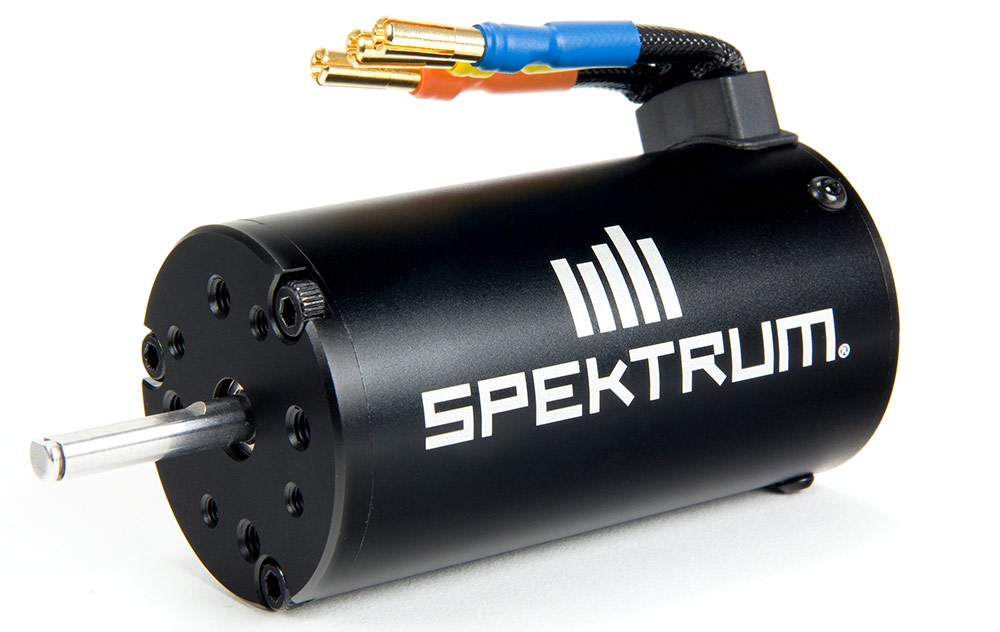 SPEKTRUM® SLT3® RADIO
Superb SLT response rate
50% and 75% throttle limited switch - great for beginners
Steering & throttle rate & trim adjustments with throttle and steering reversing
Foam steering wheel grip
Compatible with Tactic Receivers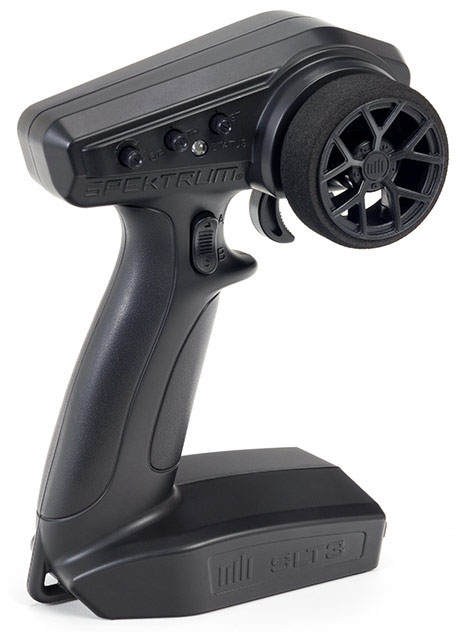 SPEKTRUM® SR315 RECEIVER
Dual Protocol - Compatible with SLT and DSMR® 2.4GHz protocol transmitters
Fast reponse rate and outstanding range
No tool binding and protocol switching
SMART telemetry compatible (in DMSR mode and with SPEKTRUM dashboard app)
3-Channels
SPEKTRUM® SPMS652 DIGITAL SERVO
All Steel Gears
Waterproof*
19.08kg-cm/265oz-in Torque @7.4V
32% More Torque & 5% Faster than ADS-15M Servo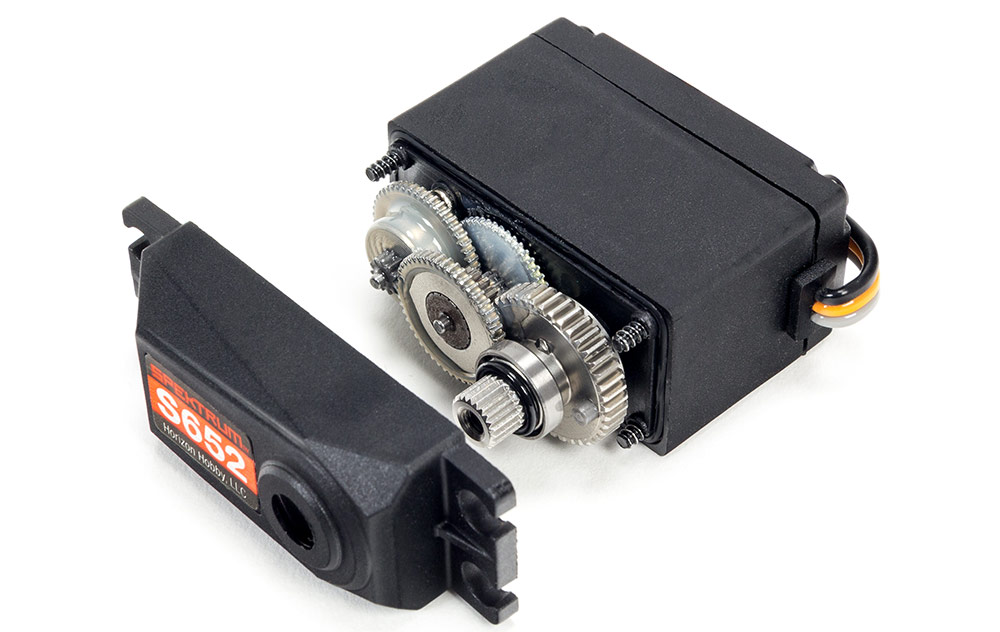 Key features
Ready-to-run
Spektrum™ SLT3™ 2.4GHz 3-Channel Radio
Spektrum™ SR315 Dual Protocol 3-Channel Receiver
Spektrum™ S652 Digital Servo
Spektrum™ Firma™ 150A Smart ESC
Spektrum™ Firma™ 4074 2050Kv Brushless Motor
Stronger chassis design
EXB compatible front brace
Heavy-duty arms front and rear
Updated Rear shock tower geometry
Large volume waterproof* receiver box
Anodized aluminum chassis
Strong composite chassis side pods
Center body support and brace for maximum durability
Internal body protection roll bar
High downforce wing
Wheelie bar
Oil-filled adjustable shocks
Black-anodized aluminum front and rear shock towers
Durable steel driveshafts throughout
Heavy-duty drivetrain
All-metal diff outdrives and gearbox internals
Never-loose red aluminum servo saver
Never-pop ball ends
5-Bolt center diff removal
Easy-access sliding motor mount for quick motor removal
Hub nut O-rings
Super-durable wheel hubs for increased strength
Tough stunt truck wheels
Multi-terrain dBoots® BACKFLIP™ tires
"Real Steel" effect body for enhanced realism
IC5® connectors (EC5™ compatible)
2-year limited warranty (see manual for details)
Specifications
| | |
| --- | --- |
| Approximate Assembly Time | No assembly required |
| Ball Bearings | Full set |
| Battery | Sold Separately |
| Body | Painted, trimmed and decaled |
| Brakes | User programmable |
| Charger | Sold Separately |
| Chassis | 0.12" (3mm) 6061-T6 aluminum |
| Completion Level | Ready-To-Run |
| Differential | Front center and rear geared differentials |
| Drivetrain | 4WD |
| Drive Type | Forward/Brake/Reverse |
| Final Drive Ratio | 17.92 |
| Front Shock Spring Rate | 5.0lbs/in (0.87n/mm) |
| Front Track | 18.15" (461mm) |
| Power Type | Electric |
| Gear Pitch | 1.0MOD |
| Internal Gear Ratio | 4.3 |
| Motor Size | 4074 |
| Motor Type | Brushless - Sensorless |
| Pinion | 12T |
| Product Height | 9.06" (230 mm) |
| Product Length | 21.26" (540 mm) |
| Product Weight | 11.37lbs (5.17kg) |
| Product Width | 18.15" (461 mm) |
| Radio | Included |
| Rear Shock Spring Rate | 6.2lbs/in (1.09n/mm) |
| Rear Track | 18.15" (461mm) |
| Receiver | Included |
| Scale | 1/8 |
| Servos | Included |
| Shock Type | Aluminum body oil-filled adjustable |
| Speed Control | Included |
| Spur Gear | 50T |
| Suspension | Independent |
| Tire Tread | dBoots BACKFLIP |
| Tire Type | Multi-terrrain |
| Water-Resistant | Yes |
| Wheelbase | 12.91" (328mm) |
| Wheel Hex Size | 17mm |
| Wheel Type | MT, 3.8" (97mm) diameter |
| Wheel Width | 3.0" (77mm) |
Data sheet
Manufacturer :

Arrma

Level of difficulty (1 to 3) :

2

Type :

Ready to Run

Drive :

Electric Brushless
What you need to complete
4S or 6S LiPo Battery
LiPo Compatible Charger
LiPo Charging Bag
(4) AA Batteries
Composition Kit
ARRMA® NOTORIOUS™ 6S BLX 1/8 Stunt Truck 4WD RTR
Spektrum™ Firma™ 150A Smart 4S/6S ESC (installed)
Spektrum ™ Firma ™ 4074 2050Kv Brushless Motor with ARRMA® Heatsink (installed)
Spektrum ™ S652 Metal-Geared Digital Servo (installed)
Spektrum ™ SR315 3-Channel Dual Protocol Receiver (installed)
Spektrum ™ SLT3™ 2.4GHz 3-Channel Radio
Product Manual
NOTORIOUS 6S 4WD BLX 1/8 Stunt Truck RTR Black
499,99 €
Viewed products
MCM undertakes
Deliver within 24/48h
To send your order within 24h (on working days) (according to the limit of the available stock) & to deliver within 24/48h.
MCM Crew
A team of specialists is at your disposal in your language (Fr, Du & En) from Tuesday till Saturday at +33 975184596 (No. non-premium rate) from 10:00 to 18:30 or by email.
A few figures
A store of 400m² located south of Brussels open from tuesday till friday from 12.30 till 18.30 & saturday from 10.00 till 18.30.
25 years of experience.
+ 110 000 products ref.
+ 35 500 products in stock.
+ 240 distributed brands.
MCM Group, the R/C specialist since 1996
MCM Racing, MCM Skyshop, MCM Slot, MCM Marine